10 Perfect Gifts for Yoga Lovers Under $100 in 2023
Is the birthday of your favorite yogi coming up?
Or did you pick the office yoga enthusiast as your secret Santa and have no idea what to get them?
If so, this guide to gifts for yoga lovers is for you!
From travel yoga mats to candles and journals, there are so many affordable and unique yoga gifts available.
Read on to learn how to choose a great gift for the yogi in your life and the 10 best gifts for yoga lovers under $100.
How to choose the perfect Yoga gift
First, here are a few things to consider when choosing presents for yoga lovers:
Their yoga level – For example, a chakra-themed gift may not be appropriate if they have just started practicing yoga. Likewise, if they are a yoga teacher, they probably already have their own mat and props.
Their preferred yoga style – Do they love fasted paced Vinyasa or relaxing yin yoga? Knowing what they practice will determine the best yoga gifts for them. For example, an eye pillow is ideal for a yin lover but not so much for someone who practices more dynamic yoga as part of their fitness routine.
Where they practice yoga – Do they go to studio classes or prefer a home practice? Gifts like incense and candles may not be the best choice if they don't practice at home.
Pin this image!
*As Amazon Associates we may earn a commission from qualifying purchases made through links on this website, at no extra cost to you.
10 Best Gifts for Yoga Lovers
Here are 10 of the best gift ideas for yoga lovers, suitable for birthdays, Christmas, or any other occasion.
Want to see the eyes of any travelling yogi light up? Then, buy them a lightweight travel yoga mat like the Voyager from Jade Yoga. This is as high-quality as the Manduka Pro yoga mat but has a much more affordable price tag.
This yoga mat is super cool as you can roll or fold it, which means it easily fits in backpacks – when folded, it is the size of a yoga block. It also weighs just 680 grams, so there is no worry about adding weight to their carry-on. Moreover, it's made from eco-friendly natural rubber with a non-slip open-cell design for extra grip.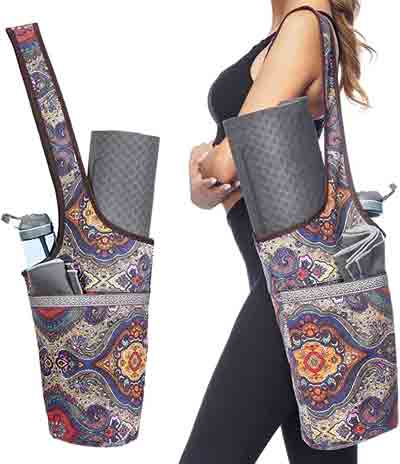 Do you have a friend or family member who is always seen lugging their yoga mat back and forth to the studio? Make their life so much easier with the practical yet stylish yoga mat bag.
My mum once brought me this yoga bag for Christmas, which was undoubtedly the best gift I got that year! You can fit your mat, water bottle, small hand towel, phone, and purse – everything you need to take to the yoga studio! Oh, and it just happens to have a beautiful, eye-catching design!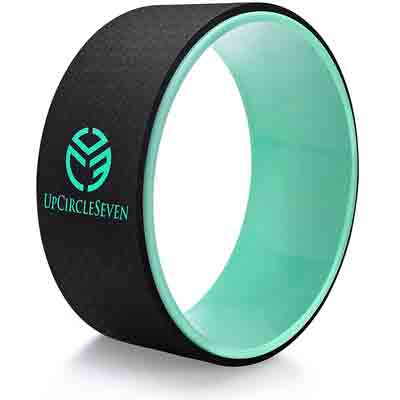 As someone who worked in an office for several years, I know how detrimental sitting at a desk for 8 hours a day can be. So if you have a friend who loves yoga, works in an office and is always complaining about back pain, the UpCircleSeven yoga wheel will change their life!
This Myofascial Release rolling wheel gets right into the shoulder blades, where tension often builds up, and is sturdier than a traditional foam roller. It also massages the lower back, fixes poor posture, and stretches the chest and neck. Trust me, it feels so good to lean your back over this after a long day!
Are you seeking Christmas gifts for yogis you don't know well? If so, you can't go wrong with this gorgeous yet simple and affordable Lotus Flower Incense Holder.
The lotus flower is an important symbol in yoga, representing spiritual enlightenment, so your yoga-loving colleague will be incredibly grateful to receive such a thoughtful yoga gift. It also comes with one pack of incense sticks so they can use it immediately.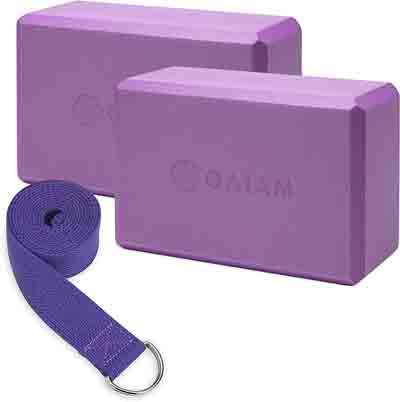 If your mum, neighbor, or a work colleague has recently started yoga, show your support and enthusiasm with this Gaiam Essentials yoga block and strap set. It contains two foam yoga blocks, and a strap – handy for many beginner yoga poses.
Whether you're looking to buy a Christmas present for your yoga instructor or your friend has just completed yoga teacher training, this set is perfect.
It contains 7 essential oils, one for each chakra. The oils work with electric and candle-based diffusers, diffusing discreetly during each yoga class. Moreover, as they are handcrafted using natural ingredients, each oil has a unique and calming scent.
This soft yet durable yoga rug gives a strong grip and stability during tough poses. It also has a highly absorbent textured surface to wick up any sweat during challenging Ashtanga or hot yoga classes. What's more, doubles up as a yoga blanket for extra support in restorative yoga practice, and you can even roll it to create a mini yoga bolster.
If you know both a meditation and yoga lover, this mindfulness and yoga journal makes an ideal birthday gift for them. You can also gift it to asana-loving yoga practitioners to introduce the meditation aspect of the practice to them.
The journal is jam-packed with daily practices, and journaling prompts. It increases self-awareness and presence while reducing stress and anxiety, so it is fab for any yoga lover looking to protect their mental health.
You can never have too many yoga pants! So if you're looking for a yoga-themed gift for a friend who is a fashionista or shopaholic, these high-waist leggings will surely be a winner.
They feature handy side pockets and tummy control and are super stretchy. Plus, there are 40 colour styles available, from bright pink to army camo to black leopard print!
Buying Christmas presents for children is always challenging, especially if they already have too many toys! So why not gift them something fun and educational, like this yoga dice set?
The set contains four wooden dice with 18 different poses, colourfully illustrated. The game makes yoga accessible for children and is something they are unlikely to already have!
Final Thoughts On Gifts For Yoga Lovers
So there you have it; you don't have to spend hundreds of dollars on the latest Manduka yoga mat or Lulu Lemon yoga pants to impress your yogi friend.
There are many lovely (and low-cost) gifts ideas for yoga lovers of all ages and levels that are perfect for a birthday present, Christmas gift or any occasion where you want to show them how much you care. If your yogi is an bookworm or avid readers then one of these yoga books might make a great gift.
If you've got a bit more to spend and know a yoga lover who is always dreaming about escaping on a yoga vacation then a yoga retreat gift voucher is a great idea!
With a Book Yoga Retreats gift voucher they can choose any retreat, anytime, anywhere in the world. With over 17,000 yoga and wellness experiences around the world they are sure to find the ideal experience to use their gift voucher. It's also a great save if you forgot to buy a gift and want to send a surprise by email asap! 😉
I hope this blog has given you plenty of inspiration and ideas and made it easy to find the perfect gift for the yoga enthusiast in your life.
* This post may contain affiliate links. When you make a purchase through links on our site we may make a small commission, at no additional cost to you. We only recommend products that we love and genuinely use ourselves. All prices stated are correct on the date of publishing, but can be subject to change.
© loveyogalovetravel.com 2022-2023. Unauthorized use and/or duplication of this material without express and written permission from this site's author and/or owner is strictly prohibited. Excerpts and links may be used, provided that full and clear credit is given to loveyogalovetravel.com with appropriate and specific direction to the original content.