5 Best Travel Yoga Mats for 2023: Lightweight, Portable & Sustainable
I remember years ago when I was travelling around Europe and would have to lug my heavy and cumbersome yoga mat from city to city.
Luckily nowadays, this is no longer an inconvenience! There are now many ultra-lightweight yoga mats available, which can be folded up into the size of a book or yoga block.
But how do you know what the best travel yoga mats are and what to consider when buying one?
Read on to learn what to consider when choosing a lightweight yoga mat and discover my five personal favourite mats for practising yoga while travelling.
How To Choose The Best Yoga Mat For Travel
Just like with standard yoga mats, there are various things you should consider when choosing one. Here are four essential considerations for portable yoga mats.
Weight – Standard yoga mats typically weigh between 3 and 7 pounds, while travel mats are between 1.5 and 3 lbs. Go for the former if airline weight restrictions are a concern.
Foldability – Many travel mats can either be folded or rolled, others are only foldable, and others cannot be folded. If you plan to carry your mat around in a handbag or rucksack, ensure your travel mat is foldable.
Material – Travel yoga mats can be made from rubber, PVC and TPE. I highly recommend natural rubber as it's sustainable and offers the best grip. However, rubber mats are more expensive than PVC or TPE ones and may have an aroma.
Thickness – Most travel yoga mats are very thin, around 1.5 to 2 mm. However, you can still find some lightweight ones with 3mm thickness or more if you don't want to entirely sacrifice padding for portability.
Pin this image!
The 5 Best Travel Yoga Mats in 2023
*As Amazon Associates we may earn a commission from qualifying purchases made through links on this website, at no extra cost to you.
Yogo's incredibly compact and lightweight foldable yoga mat was rated the number one travel yoga mat by Wall Street Journal in 2022. Its highlights include:
Eco-friendly natural rubber that gives a sticky, non-slip grip
An innovative origami fold design, making it quick and easy to pack
Easy to clean thanks to its drip-dry design (simply spray, hang, and leave to dry)
Multi-functional carry strap and hanging system
Available in Standard length (173cm) and Long length (182cm)
The Yogo ultralight folding mat is 1.5mm thick and weighs 2.1 lbs (0.91 kg). When folded, it measures 12″ x 2″ x 4.5″, easily fitting into any daypack or rucksack. What's more, Yogo plants a tree for each mat sold as part of their Food Trees for Poverty reforestation program in Africa!
Discover the renowned Yogo mat here on Amazon or through the Yogo website.
The eKO Superlite portable yoga mat can be rolled or folded to fit in any type of luggage, making it one of the best travel yoga mats for frequent travellers and digital nomads. It features:
An ultra-grippy surface texture that prevents slipping, even under sweater conditions
Open-cell fabric design to wick away sweat and prevent bacteria build-up
An all-natural manufacturing process using sustainably harvested tree rubber and zero toxic chemicals
This popular lightweight yoga mat is 1.5mm thick, weighs 2.2 lbs (1 kg), and comes in three colours/designs: Acai, Lapis, Orchid Marble, and Cayo.
Choose your favourite shade here on Amazon or on the Maduka website.
The Voyager mat by JadeYoga is, by far, one of the most popular yoga mats for travel as it folds up to the size of a yoga block and weighs just 1.5 pounds (680 grams). It's the smallest and lightest travel mat, so if you want to travel light, this is the one for you.
Made from renewable natural rubber
Contains no toxic materials
Can be rolled or folded
The Voyager mat is 1.5mm thick and 68 inches long. Four shades are available: midnight blue, purple, olive green, and black. Jade also has a similar initiative to Yogo, planting a tree for every yoga mat sold.
See it for yourself here on Amazon or on the JadeYoga website.
If you want a high-quality but purse-friendly portable yoga mat, look no further than Gaiam. Their 2mm foldable mat is available in four stylish designs, such as the 'Midnight Blue Mandala'. Its highlights include:
Folds into a compact, almost flat 10″ x 12″ square, fitting in any average-sized rucksack or handbag
Super sticky texture to minimise slipping
Weighs just 2 pounds (900 grams)
The Gaiam foldable mat has a lifetime guarantee, so you'll never need to buy another. However, note that, unlike the other best travel yoga mats on this list, this one is made from PVC, not natural rubber, hence the lower price tag.
Take a look here on Amazon or on the Gaiam website.
Most yoga mats for travel are super thin, around 1.5mm. This is what makes them so compact, foldable, and lightweight, but the downside of this is there is minimal padding. The Jade 3mm travel yoga mat is a top choice if you prefer a thicker but still light and portable mat.
3mm thickness yet still lightweight, weighing 3 pounds (1.36kg)
Made from renewable natural rubber and a chemical-free manufacturing process
Four colour options
Top-notch grip thanks to the open-cell design
Unlike the other best travel yoga mats on this list, the Jade travel mat is not foldable, so it is one for your suitcase or backpack rather than your day bag.
Check out this comfy travel mat here on Amazon or via the JadeYoga website.
Pros and Cons of Travel Yoga Mats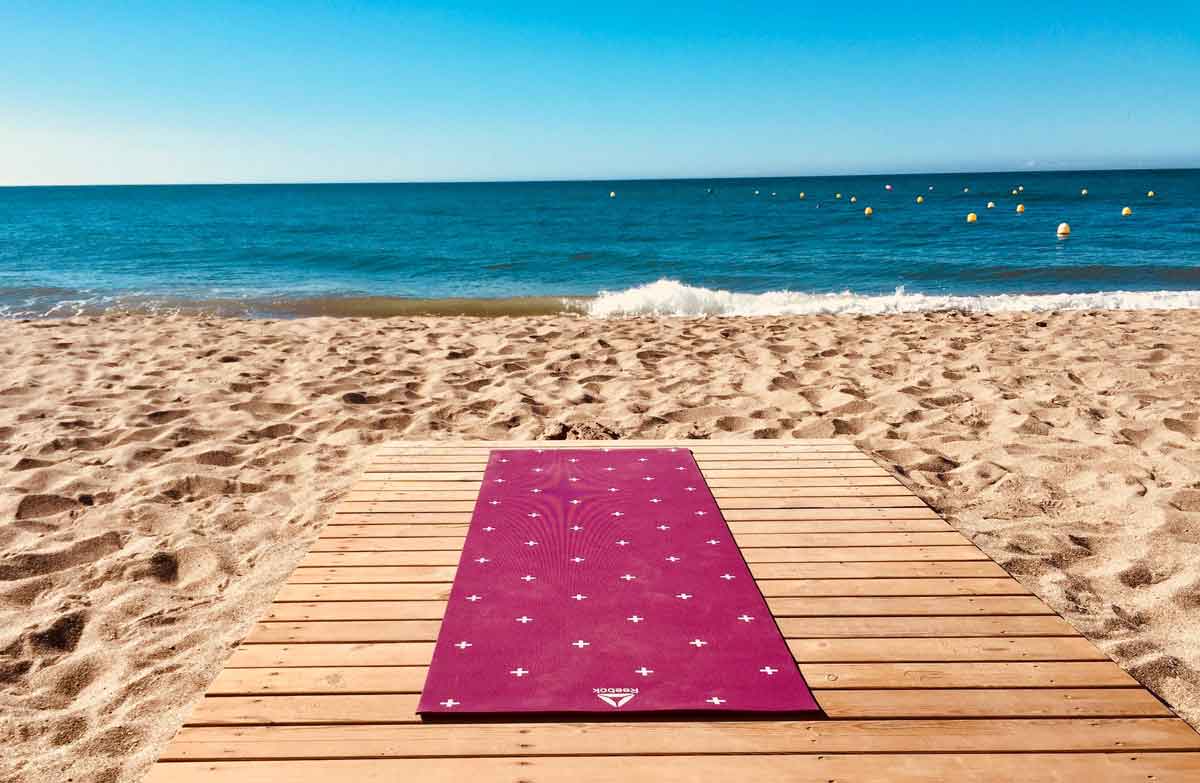 Travel mats certainly make yoga while travelling much easier! But are they really as good as they sound? Here are the pros and cons of yoga mats specially designed for travel.
Pros
They are much smaller and lighter than standard size yoga mats
They can be folded (unlike traditional yoga mats)
They are super versatile
They are very grippy
Most are easy to clean
Cons
In my opinion, there is only one significant con with a travel yoga mat;
You'll immediately notice the difference if you're used to standard yoga mats. They have minimal padding, if any at all, so you may feel like your joints are unprotected, especially when practising on hard surfaces. If it feels uncomfortable you could get some little knee cushions or pads which are small enough to pop in your bag too to give you a bit more padding where you need it the most.
So should you buy a travel yoga mat?
Investing in a portable yoga mat is a no-brainer if you travel often. But foldable mats are not just for travel. You can use them when practising yoga in the park, as a topper to give additional padding on your standard mat, or even as a yoga block when folded up.
* This post may contain affiliate links. When you make a purchase through links on our site we may make a small commission, at no additional cost to you. We only recommend products that we love and genuinely use ourselves. All prices stated are correct on the date of publishing, but can be subject to change.
© loveyogalovetravel.com 2022-2023. Unauthorized use and/or duplication of this material without express and written permission from this site's author and/or owner is strictly prohibited. Excerpts and links may be used, provided that full and clear credit is given to loveyogalovetravel.com with appropriate and specific direction to the original content.