12 Most Affordable Yoga Retreats in the World in 2023 (From $126!)
Do you dream of going on a yoga retreat but don't want to splash out thousands of dollars? I feel you, we could all do with some more time out to relax and reconnect to ourselves and a retreat is the perfect chance to do just that.
Wellness retreats have a reputation for being expensive, but there are plenty of affordable yoga retreats available for all budgets around the world. It's totally possible to find amazingly cheap yoga retreats, where the teaching is top-class and the experience is unforgettable if you know where to look!
But how do you find budget yoga retreats that are low-cost yet high-quality? In this post, I'll explain what to look out for and how to find affordable retreats and share my favourites in each part of the globe – I think you'll be surprised with how cheap these retreats are!
Where To Find Budget Yoga Retreats
There's a wide range of yoga and wellness retreats available these days but you may wonder if it's possible to find cheap yoga retreats in all countries. While you can find multiple price points for retreats everywhere, there are certain places where retreats are generally more affordable.
If you don't have a specific location in mind for your upcoming retreat check out our pick of the 10 best yoga destinations in the world and the most spiritual destinations to take a retreat in.
If you're searching for a budget retreat look for ones in countries where the cost of living is lower. For example, Asia and Central/South America typically have many more budget retreat options than Europe, the USA, and Australia.
The cheapest place in the world to take a yoga retreat is Asia – it's also home to the most authentic ashrams and retreats. India, the birthplace of yoga, Thailand and Bali all offer some very affordable retreats with too many yoga studios, budget friendly retreats and low cost yoga teacher training programs to mention.
Latin America is where you'll find cheaper yoga retreats within a short flight from the US. Popular yoga hotspots include Costa Rica and Mexico, while Peru is great for spiritual retreats but the most affordable retreats are found in countries like Nicaragua and Guatemala. There's also some fairly affordable yoga retreats in the US.
There's also plenty of surprisingly cheap yoga retreats in Europe. Portugal is super popular these days for affordable yoga and surf retreats, while Spain and Greece also offer budget friendly options for sunny yoga holidays with cheap flight connections from the UK and rest of Europe.
Morocco also has plenty of cheap flight connections to Europe, an exotic culture to explore and a plethora of low cost yoga and surf camps.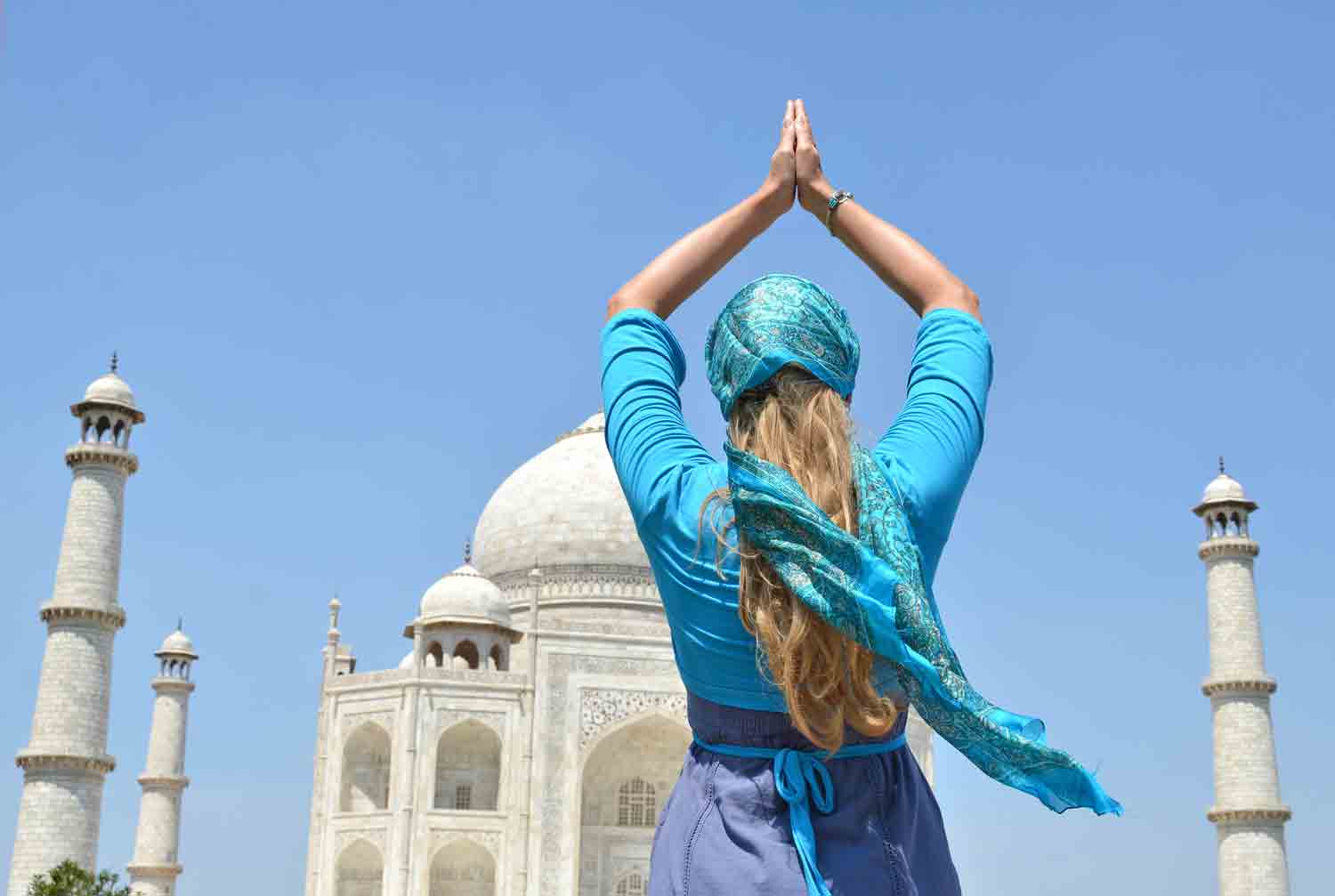 What's the Catch with these Cheap Yoga Retreats?
We all know the saying 'you get what you pay for,' so if you are looking for cheap yoga retreats make sure you do your research and don't just pick the first one that fits your budget.
Remember that cheapest is not always best – so make sure to check the retreat reviews on an unbiased website like BookYogaRetreats before signing up. The reviews or testimonials on a retreat's own website or social media pages may not tell the whole story.
Traveling to a developing country, or one with a lower cost of living, will enable you to enjoy the cheapest yoga retreats in the world, but of course you need to take into account the cost of flights and other travel expenses like transfers and, if required, entry visas. We recommend checking Skyscanner to find the cheapest deals and dates and checking with the organisers if they include transfers.
Often the flights are the most expensive part and the day to day living and traveling costs in places like Asia or Central America can be very cheap, often more affordable than life in the US or Europe. So if you have time to explore more of the country before or after your retreat will make the airfare more cost effective.
Be aware that if you travel to somewhere like India the facilities will not be luxurious, but you will get an authentic and unforgettable cultural experience. It just depends on what you are looking for from your yoga vacation, take a look at our guide on how to choose the right yoga retreat for you.
One of the best ways to save money on a retreat is to choose shared accommodation. Many retreat centres offer dormitories for budget-conscious yogis, and some also have camping or glamping options, which are generally cheaper than private rooms.
Also check what's included, an all inclusive retreat that includes meals and transfers is often better value for money overall than a cheaper option that doesn't. Plus, you'll need to know what to budget for.
If meals aren't included in the retreat package then choosing a centre that offers access to a kitchen so you can cook your own meals will save you a lot of money on eating out in restaurants.
The best way to narrow down the many options and see real reviews from previous guests is to use a trusted yoga retreat site like BookYogaRetreats. Here, you can select the price range you want or search directly for budget retreats, along with other filters like dates and style, and most importantly read the reviews so you know what to expect.
But if you want to know what the best rated and most affordable yoga retreats in the world are for 2023 then we've done the work for you and listed them in price order!
We've scoured the globe for you and found 12 of the best – all are less than $1000!
Pin this image!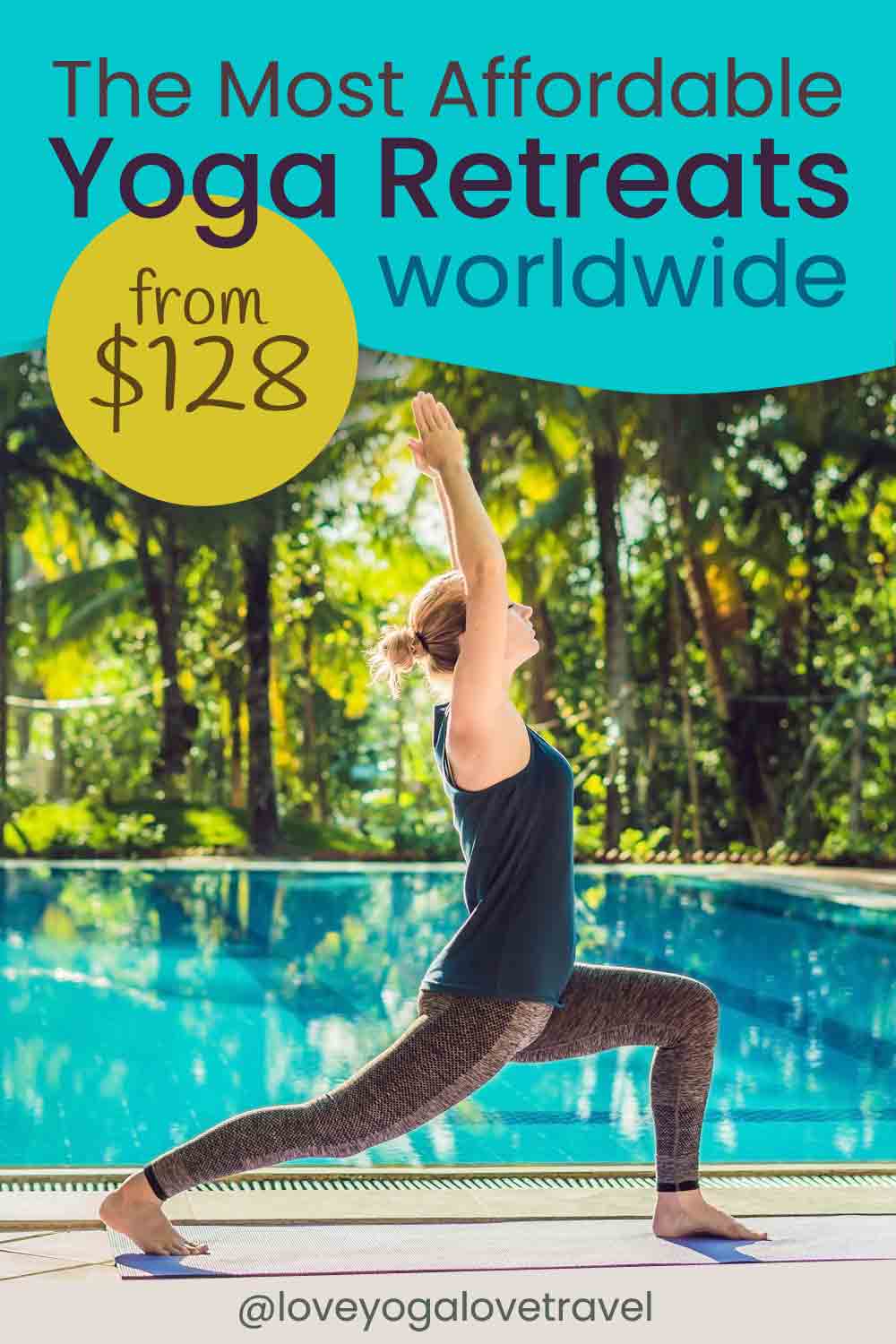 The Best Affordable Yoga Retreats (at a glance)
Carry on reading as we will describe what to expect from each retreat in more detail.
(Be aware that the price can vary depending on the currency exchange rates, and prices for retreats held in the peak season may be higher. So check the most up to date prices and availability for your dates through the links provided)
Affordable Yoga Retreats in Asia
Asia is the best place to head if you are looking for low cost and authentic yoga retreats and to explore the deeply spiritual cultures and religions of the East.
India, the birthplace of yoga, offers the biggest selection of cheap yoga retreats in the world, while Bali and Thailand are also popular yoga destinations with many great value retreat packages.
If you want a week of unlimited yoga in a tropical paradise for an ultra-low price, look no further than this Bali retreat at Serenity Eco Guesthouse in Canggu. The retreat includes:
Unlimited yoga classes (a choice of up to 10 a day)
Learn various yoga styles – ​​Enjoy traditional Hatha, creative Vinyasa, relaxing Yin, Acro, Aerial and more.
Vegan buffet breakfasts
This budget yoga retreat is suitable for all levels and is a fab way to try new yoga styles. What's more, as you can join as many classes as you want, it's easily one of the best and most affordable yoga retreats in the world for anyone looking for a cheap and fun yoga vacation. Choose between shared or private accommodation (for an additional fee).
This 6-day low-cost retreat by Island Yoga is one of the most affordable yoga retreats in Thailand and Asia. It includes:
Twice daily Hatha yoga
Daily Tai Chi
Daily vegetarian breakfast
One Thai massage
Set on the untouched island of Koh Yan Noi, this retreat allows you to experience Thai culture while immersing yourself in yoga and meditation. No matter your previous experience, the immersive Island Yoga Method is not only designed to help you relax but to make positive changes in your daily life.
The jam-packed retreat offers yoga, meditation, Tai Chi, and pranayama sessions and additional workshops and excursions. Keep costs low by staying in the shared dorm, or choose one of the three private accommodation options.
India, the birthplace of yoga, offers some of the cheapest yoga retreats, including this 7-day holistic healing experience in Rishikesh. The retreat includes:
Daily yoga and pranayama
Meditation and Nidra
Two Ayurvedic massages
Excursions and activities like rafting and cave visits
The retreat takes place at Vinyasa Yoga Shala at the foothills of the Himalayas and alongside the sacred Ganga river. You'll sleep at the school with shared and private accommodation options and be able to explore Rishikesh, the world's yoga capital, in your free time.
Affordable Yoga Retreats in Latin America
You don't need to go all the way to Asia to find affordable yoga retreats, there are also some great options in Latin America.
Mexico and Costa Rica have a huge variety of wellness, yoga and surf retreats with some surprisingly affordable offers, but for the cheapest options head to Nicaragua.
This affordable, all inclusive, 4 day yoga vacation in Nicaragua invites you to develop healthier habits while being immersed in nature and soaking up dreamy sea views during your yoga practice at Eden on the Chocolata.
The retreat includes:
3 nights eco-luxury accommodation
2 small group yoga classes daily in a variety of styles
Free use of the swimming pool and outdoor gym
Daily vegetarian breakfast and dinners
Eden on the Chocolata invites you to reconnect with nature, to reset and adapt to a healthy lifestyle while relaxing and enjoying a yoga holiday in this tropical paradise. Yoga classes are taught twice daily in a variety of styles including hatha, vinyasa, ashtanga and restorative yoga and groups are kept small and are suitable for beginners.
After class, there's plenty of time to relax at the luxury eco lodge and soak up the views, hike to private beaches or explore the lively and popular beach town and surf spot of San Juan del Sur, which is a 10 min shuttle ride away.
You'll stay in wooden jungle cabanas, choose a twin room and share to save money or opt for a private room. Nutritious vegetarian breakfasts and family style dinners are also included in the package.
This short but transformative yoga immersion at OmShanti Forest is one of Mexico's most affordable yoga retreats. It includes:
Daily yoga and meditation
Daily spiritual and personal development workshops
Nature walks, singing circles, and dance celebrations
This yoga and nature immersion retreat is located 100 kilometres away from the hustle and bustle of Mexico City. Here you will stay in a glamping tent with relaxing gardens, sunbeds, and a unique geo-dome shala.
All meals are included, serving nourishing and mouth-watering vegetarian and vegan dishes.
If practicing yoga with views of the Arenal Lake and Volcano and having 22 acres of rainforest and organic farm to explore sounds like heaven then check out Essence Arenal Wellness Center in Costa Rica.
The retreat includes:
Morning Hatha yoga class
Jungle spa circuit – jacuzzi, steam room, sauna
Unlimited access to forest walks, permaculture farm and pool
3 nights accommodation and all meals
Gourmet, organic vegetarian farm to table cuisine
After an energizing morning yoga class you'll spend your days immersed in nature, exploring the farm, rainforest trails and waterfalls, relaxing in the pool or enjoying a range of treatments in the jungle spa.
This 4 day rainforest yoga retreat is not only one of the most affordable wellness retreats in Costa Rica, it's also one of the very best for nature lovers. There's no shared dorms here, you'll stay in a private room with ensuite bathroom. All meals are also included, freshly cooked from ingredients from the organic farm.
Affordable Yoga Retreats in Europe
I was so surprised at how many budget friendly retreats I found in Europe in charming locations like Greece, Spain and Portugal. Plus, the network of low cost airlines in Europe makes budget travel easy.
Portugal's yoga and surf scene is exploding and offers some amazingly affordable retreats. This 4 day affordable yoga retreat in Portugal is held at Vida Pura, a beautiful, eco-friendly farm on the unspoilt southwest coast of Portugal.
Highlights
Yoga and meditation classes on an outdoor yoga deck with stunning views
Relax in the middle of the nature reserve or on the pristine Odeceixe beach
3 nights self catering accommodation in a homely lodge
Daily delicious breakfast
Yoga classes are offered twice a day in a variety of styles including hatha, vinyasa, ashtanga and yin and massages can be arranged onsite for an additional cost.
A healthy breakfast is served after yoga and you can use the fully equipped kitchen to cook other meals. There's also a dining room, living room and plenty of communal outside areas to relax in and make friends which gives it an intimate, homely vibe. Choose from a shared room to keep costs low or treat yourself to a private room.
Vida Pura is located on the wild coastline near the authentic small town of Aljezur. In your free time you can explore these charming Portuguese towns, go hiking, take a surf lesson, try stand up paddle boarding or just relax on unspoilt Odeceixe beach – one of the best in the whole of Portugal.
This beach yoga retreat in Greece is amazing value for money. Enjoy 3 active days on the beautiful island of Corfu with plenty of yoga, walking, swimming and time to relax on the beach with Corfu Yoga Holidays.
Highlights:
Yoga and meditation classes by the beach
Kayaking, Hiking and Corfu Old Town day trips
3 nights accommodation in a sea view room
Healthy breakfasts and home cooked Greek dinners
Airport transfers
Hatha and Ashtanga yoga and meditation classes are held twice a day on a terrace overlooking the beach. Relax on the beach or join in with a range of activities, from exploring the history and museums in Corfu's Old Town, to joining a guided kayaking or hiking trip.
Corfu Yoga Holidays offer shared, single and double rooms, all with private bathrooms, air conditioning and balconies with sea views only 400 meters from a beautiful sandy beach. So you choose the option that best suits your budget. Breakfast, home cooked Greek dinners and airport transfers are also included.
If you're looking for the best and most affordable yoga retreats in Europe to improve your overall health and well-being, La Crisalida in Alicante, Spain, is the place to be.
Their budget yoga vacation includes:
Twice daily yoga (Hatha, Yin, Restorative, Kundalini)
All healthy plant-based meals. A juice cleanse is also available
Guided walks, meditations, exercise classes, workshops and other activities
Transfer from Alicante airport
La Crisalida have a huge range of facilities, exercises and workshops to help you meet your fitness and wellbeing goals. You'll have the opportunity to do a juice detox, try various fitness activities, and partake in life makeover workshops.
They also have a range of detox and weight loss programs so whatever your wellness goals might be they will be able to help. Longer programs are also available for an additional fee.
Accommodation is in spacious, air conditioned apartments with lovely gardens, two pools and plenty of communal areas. The shared room is the cheapest option, but you can also get private rooms or a private apartment if you prefer.
Affordable Yoga Retreats in the USA
The USA is home to a huge variety of wonderful retreats and ashrams – many originate from India itself!
It may not be home to the cheapest yoga retreats in the world but at least you'll save on the flight tickets! We've managed to find some surprisingly affordable yoga retreats in the US that are perfect for a weekend escape.
This authentic ashram style yoga retreat in LA is run by Sivananda Yoga Vedanta Center, one of the most well reputed ashrams from India who now bring authentic Indian yogic teachings to their centers around the world.
This retreat includes:
Traditional Hatha yoga classes
Satsang and workshops on yoga philosophy
Vegetarian brunch and dinner each day
2 nights accommodation
Not only is this the cheapest yoga retreat in the USA, it's also the most authentic. The traditional Hatha yoga classes include meditation and pranayama. You'll also learn about yoga beyond the physical postures by attending satsang (spiritual discussion), lessons on yoga philosophy and by doing 1 hour of karma yoga (community selfless service) each day.
Accommodation is provided in private single rooms with shared same sex bathrooms in the ashram center. As this is a low cost, ashram style retreat you can expect authentic and traditional teachings, but don't expect anything too luxurious.
Make sure you read the daily program and understand which sessions you are required to attend before deciding if this is the right yoga retreat for you.
If you're looking for an affordable weekend yoga retreat near New York check out Earth Mind Wellness in the beautiful Catskills.
The retreat includes:
Tai Chi and Qigong classes
Unique yoga classes
2 nights accommodation in a countryside hotel
All meals and access to the spa and swimming pools.
Earth Mind Wellness are passionate about giving you the tools to improve your holistic wellbeing and find deep relaxation. The yoga style taught here is quite unique and incorporates aspects of restorative yoga with Qigong and Tai Chi, which you'll also receive classes in.
Unlike other low-cost retreats, you'll get to stay in your own private room here and all meals are included making this amazing value for money. The hotel has a spa, pool, lake, spacious grounds and is surrounded by nature, which you'll explore with some easy hikes and nature meditations.
The sunshine state is one of the most popular places to take a yoga retreat in the US.
Zen Den Yoga School is one of the best and most affordable yoga retreats in Florida, committed to offering an authentic and diverse yoga experience in beautiful Boca.
The retreat includes:
Unlimited yoga classes in various styles
A 50-minute massage
3 nights accommodation
Breakfast and lunch smoothies
Daily yoga and meditation classes are offered in a variety of yoga styles including Hatha, Vinyasa, Sivananda and Restorative. There's also the chance to join Tai Chi classes and breathwork sessions.
For breakfast and lunch, you'll be given personalized ingredients and instructions to make your own nutritionally balanced smoothies. For dinner you can cook in the fully equipped kitchen or explore the many nearby restaurants.
The retreat center's shared rooms are the cheapest option, but private rooms with en-suites are also available at extra cost if you need more privacy. Whichever option you choose, you'll get free use of a bicycle to explore the area and the beautiful beaches nearby.
Tips for planning a Budget yoga retreat trip
Now you know just how inexpensive some yoga retreats can be, however if you are searching for affordable yoga retreats remember that cheapest is not always best.
Make sure to do your research, be sure to read the reviews on BookYogaRetreats so you know what to expect. Don't forget to ask the organisers to confirm exactly what's included to help you budget for any costs outside the retreat package.
Don't be tempted to skimp on travel insurance though, ensure you have insurance that covers emergencies, COVID-related cancellations, and all activities you plan to do on the retreat. It may be an extra cost now but can save you alot of money in case an unexpected emergency happens.
We hope this post has given you some inspiration for your next yoga vacation and shown you that not all yoga retreats are super expensive!
Read More Yoga Retreat Blog Posts:
* This post may contain affiliate links. When you make a purchase through links on our site we may make a small commission, at no additional cost to you. We only recommend products that we love and genuinely use ourselves.
© loveyogalovetravel.com 2022-2023. Unauthorized use and/or duplication of this material without express and written permission from this site's author and/or owner is strictly prohibited. Excerpts and links may be used, provided that full and clear credit is given to loveyogalovetravel.com with appropriate and specific direction to the original content.