5 Top Tips For Your First Time At A Yoga Retreat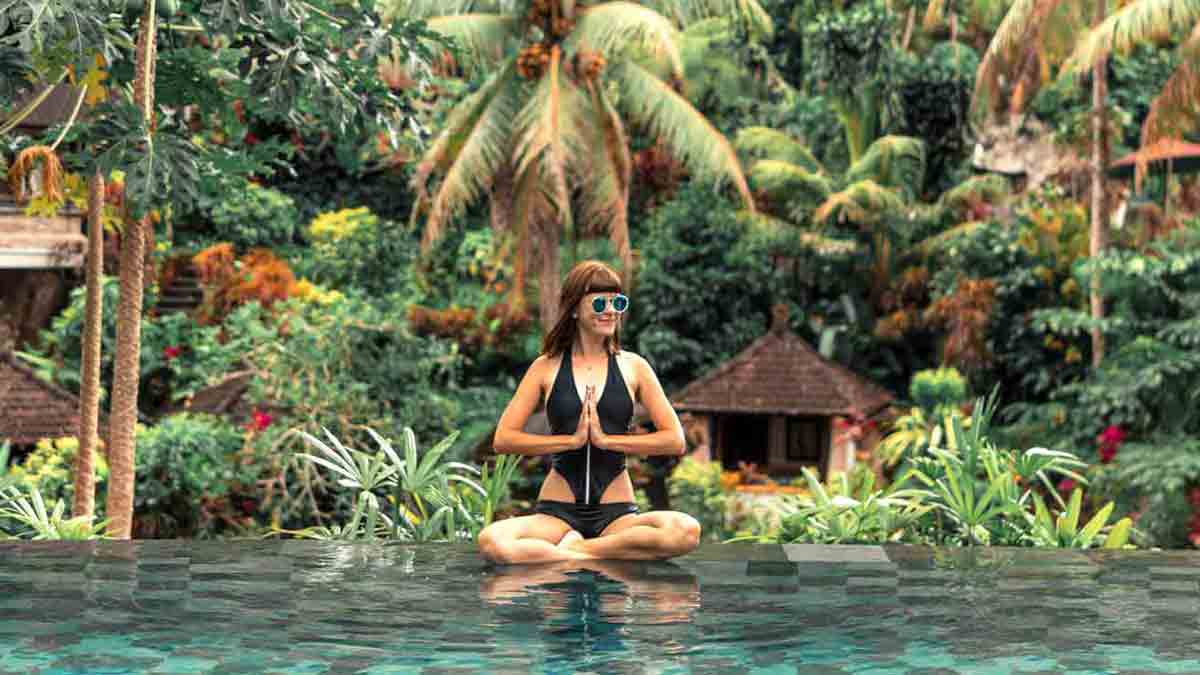 Are you about to go on your first-time yoga retreat? If so, you're probably feeling mixed emotions right? Excited to dive deeper into the practice you've fallen in love with but a little apprehensive about what to expect from your first time at a yoga retreat!
I remember my first yoga retreat; a beginner yoga retreat in a beautiful part of Alicante in Spain. As well as being my first retreat, it was my first time travelling solo. So, as you can imagine, I was pretty nervous.
But you know what? As soon as I arrived at the welcoming and inclusive retreat environment, all my worries washed away.
Still, I picked up several handy tips and tricks from that first retreat and the many others that followed. So today, I'm sharing with you how to get the most out of your first-time yoga retreat experience.
Pin this image!
Tips for your first time at a yoga retreat
1. Ask For The Retreat Schedule Beforehand
There are so many different types of retreats and if you are new to yoga make sure you choose your retreat carefully and book a beginners yoga retreat in the style of yoga that you want to learn. It's also important to check what's included and to check the retreat schedule before you sign up.
Beginner yoga retreats vary; what you envision a yoga holiday to be like may not be the reality of the one you've booked. Therefore, to avoid misunderstanding or disappointment, get a clear understanding of what the schedule is like, especially if it's your first yoga retreat.
At the time of booking, you may only see a sample schedule. But this is enough to gauge things like the style of yoga you'll be practising and what additional classes or workshops the retreat includes. You'll also understand how much free time you have, if excursions are included, or if you need to arrange your own.
Nearer the time, you can email the retreat organiser to ask for the final schedule. If you're someone like me who likes to know exactly what to expect beforehand, having the program before you arrive will help settle your nerves.
Yoga retreats are often set in beautiful locations or spiritual destinations. The most popular yoga travel destinations are places like Bali, Costa Rica and Thailand, and many more can be found across the Americas, Europe, Asia & Oceania So if you're keen to explore the surrounding area and visit nearby towns or beaches, you can start planning all that fun travel stuff around your yoga classes.
2. Book A Private Session With The Yoga Instructor
The teaching style at a yoga retreat is much more intimate than your usual studio classes. You will get much more individualised teaching and attention in this setting.
Even so, if there is something specific you are working on or struggling with, I highly suggest booking a private session with the instructor during the retreat, especially if you are a beginner or it's your first yoga retreat. Almost all retreats offer this opportunity, and although private classes can be pricey, it's well worth it.
I like to do a private class near the beginning of the retreat. That way, I can let the teacher know what I want to achieve during the retreat and start working on it. Then, during the group classes on the following days, the teacher will likely continue giving prompts and assistance regarding that.
3. Take A Social Media Detox
Yoga vacations are not just about deepening your asana practice; they are about taking a break from everyday life and all the responsibilities that come with it.
If you're checking your phone every five minutes and answering work emails and calls, you're gonna find it really hard to be in the moment, which is the only place you should be on a yoga retreat. So, to ensure the experience is as relaxing and rejuvenating as possible, keep your phone off while you are there.
If it's your first-time yoga retreat or you went on the retreat alone then I know that taking time away from your phone may feel difficult. If it's not possible, set boundaries instead. For example, if you need to check in with loved ones while you are away, schedule a specific time to do this each day, like in the evening.
Oh, and if, like many of us, you find your finger automatically goes to the Facebook or Instagram app when you pick up your phone, consider deleting those apps for the duration of your retreat. That way, you remove all temptation to distract yourself from what you should be focusing on while on your retreat – connecting with yourself! Read this if you need more convincing about the benefits of taking a social media detox.
4. Keep An Open Mind And Ask Questions
Regardless of your previous experience, you always learn something new on a yoga retreat, whether it's about the practice or yourself. However, if you're a newbie, you'll likely come across some concepts you've never heard of before.
This is because yoga retreats go much deeper into the practice than studio classes, and many include meditation sessions and teachings on the philosophy and history of yoga, too.
Thus, you might hear the instructor talking about energy centres, chakras and energetic locks, etc. They might also use Sanskrit words and chant mantras during the classes.
If you've only been practising asana (yoga postures) until this point, you might feel overwhelmed with all this new information. You might also feel a bit sceptical, which is totally normal.
However, remember that you are there to learn more about the practice, so keep an open mind as much as possible. Ask questions if you need help understanding certain concepts. The more insights and knowledge you invite in, and the more you engage, the more profound the retreat experience will be for you.
If you want to prepare you could check out these commonly used Sanskrit yoga words and read some yoga books to learn about yoga philosophy beforehand so you'll feel confident and knowledgeable once your on your retreat. A yoga retreat is a great time to relax with a good book too – here's 25 perfect books to take on a yoga retreat to inspire you.
Also, note that not all beginner's yoga retreats will cover yoga philosophy. Some focus solely on asana or even combine yoga with other physical movement practices like hiking or surfing. If it's important for you to learn more about yoga off the mat make sure you choose a retreat that offers this.
So get clear on what you want from the retreat and choose one that matches your desire. Read our tips on how to choose a yoga retreat that is right for you for more ideas.
5. Incorporate What You've Learned Into Your Daily Life
Many people come back from their first yoga retreat full of inspiration, peace, and joy. However, once they return to their regular life, it doesn't take long for all those positive feelings to vanish again.
The purpose of a yoga retreat is not to experience temporary relaxation; that's what vacations are for! Yoga retreats have way more benefits than regular vacations and are about discovering how to bring more presence, stillness, and mindfulness into your day and then incorporating those lessons into your life back home.
Let's say you enjoyed starting the day with a walk in nature and meditating before going to bed while on your retreat. Then why not make this a habit you do all the time?
With the new knowledge you've gained from the retreat, you have the power to make positive changes in your daily life. By doing so, you'll experience a sense of calm and happiness all the time, not just when you go on a retreat!
So are you ready for your first Yoga Retreat?
I hope you find these tips helpful in making the most of your first-time yoga retreat. You might also want to check out on articles on what to pack for a yoga retreat and the most commonly used Sanskrit yoga words you'll want to learn to help you prepare for what is sure to be an unforgeable experience.
Keep in mind that every retreat will be different, whether it's your first beginners yoga retreat, a solo retreat, or a yoga teacher training there's always more to learn about yoga and about yourself – that's why it's called a practice and it's what makes everyone's yoga journey unique.
If you've just returned from your first yoga retreat experience, let us know in the comments what insights you gained.
Read More Yoga Retreat Blog Posts:
* This post may contain affiliate links. When you make a purchase through links on our site we may make a small commission, at no additional cost to you. We only recommend products that we love and genuinely use ourselves. All prices stated are correct on the date of publishing, but can be subject to change.
© loveyogalovetravel.com 2022-2023. Unauthorized use and/or duplication of this material without express and written permission from this site's author and/or owner is strictly prohibited. Excerpts and links may be used, provided that full and clear credit is given to loveyogalovetravel.com with appropriate and specific direction to the original content.