How To Find The Best Yoga Teacher Training in India (2023)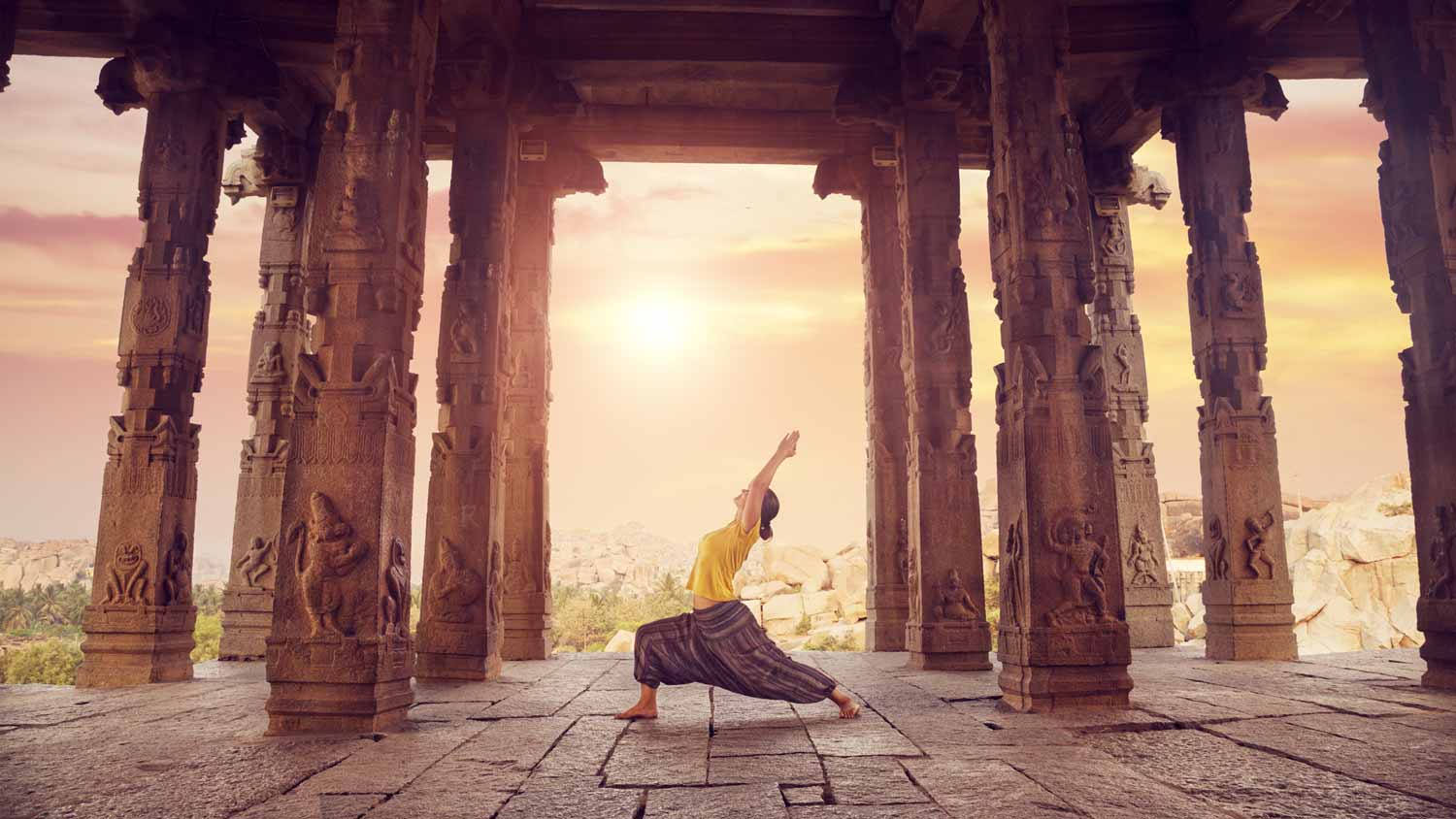 As the birthplace of Yoga and Ayurveda, yoga teacher training in India is the obvious choice if you are looking for an affordable and authentic course where you can immerse yourself in the rich culture and traditions of this deeply spiritual country.
Whether you want to change your career and become a certified yoga teacher, or if you just want to deepen your yoga practice, there are many great reasons to do yoga teacher training and India is the best place to learn authentic traditional yoga from the source.
Yoga in India is so much more than just a physical practice. When you do a yoga teacher training program in India (YTT) you will not only gain a yoga teacher certification, you will also learn all about yoga philosophy from experienced yoga teachers who live the yogic lifestyle. By doing so you will discover the spiritual side to this complex ancient science which is often a truly life changing and transformative experience on so many levels.
A Guide to Yoga Teacher Training in India
Whether you are looking for yoga teacher training in Rishikesh, the world capital of yoga, or elsewhere in India, there's an overwhelming amount of options to choose from when it comes to yoga teacher training in India.
India is one of the cheapest places in the world to get your yoga teacher certification, and most programs include accommodation and meals throughout the course. Many yoga schools in India are registered with Yoga Alliance so, once qualified, you'll be able to teach yoga all over the world as a registered yoga teacher.
I started my own yoga journey in India, completed my YTT here, and have travelled extensively across this incredible country. I know how confusing it can be to choose the best India yoga teacher training programs, so I've put together this guide to help you.
In this article I'll guide you through the best destinations for yoga teacher training courses in India, give you my recommendations for some of the best yoga teacher training programs and include tips for traveling to India and how to choose the best yoga course for you.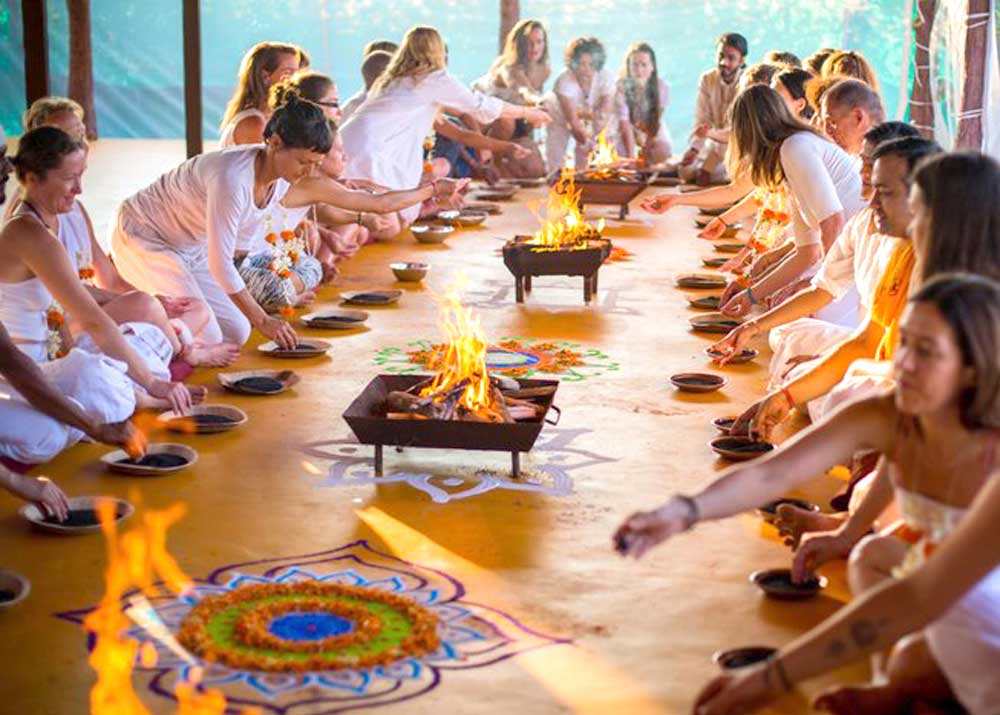 How to Choose the Best India Yoga Teacher Training Program for you
Before you start looking through the hundreds of yoga teacher training courses in India, and getting confused and overwhelmed not knowing which one to pick, have a think about your personal preferences and requirements to make sure you find a course that suits you.
Some of the most important things to consider when looking for a yoga teacher training program include:
The style of yoga taught
Your experience level
The certification you'll gain
The length and price of the course
The reputation of the yoga school and instructors
The facilities and location
Style of Yoga and Experience Level
There's so many different yoga styles these days, so choose a program in the same style you want to learn and teach. If you're unsure which type of yoga you want to specialise in then go for a multi-style program or traditional classical Hatha 200 hour yoga teacher training program.
Some schools will accept beginners but it's generally expected that students undertaking India yoga teacher trainings should have at least 6 months of regular yoga practice. Check the level and entry requirements with the organizers.
Certification Options
The most popular, and basic requirement to start teaching yoga is the 200 hour yoga teacher training course.
After completing the initial 200 hours, there's also the option of the more advanced yoga course – the 300 hour yoga teacher training if you want to go deeper. Many schools offer both options.
If you want to do them both together you could go for a 500 hour yoga teacher training. This is a intensive combination of the 200 hour and 300 hour training in succession and takes about 60 days.
If you don't have time for a full YTT, or are looking for a shorter yoga course, there's also the option of doing a 100 hour yoga teacher training course to learn the basics. You could do another 100 hours later to complete your certification.
If you can't make it to India right now some Indian yoga schools now offer online yoga teacher training courses. The quality of these courses varies a lot. One of the best is this comprehensive, self-paced online 200 hour yoga teacher training with World Peace Yoga School.
Always make sure you go with a registered yoga school. If you want to register as a Yoga Alliance certified yoga instructor then make sure you choose a course that is approved by Yoga Alliance.
Most of the best programs are, and this means that the core curriculum covered by the programs offering yoga training in India are very similar. However the teaching quality, facilities of the school and any extra activities and excursions offered can vary hugely.
What you will learn
A 200 hour yoga teacher training course should contain twice daily yoga classes which include meditation, pranayama and yoga asana practice. Most courses will teach you the traditional Sanskrit yoga words and introduce you to yogic cleansing techniques (kriyas) the body's energy centres (chakras) and mantra changing (mudras).
On the theoretical side you'll receive lectures on the history of yoga and yoga philosophy, you'll learn about the yoga sutras and the 8 limbs of yoga as well as anatomy and philosophy, alignment and the art of adjustment.
You'll also learn about teaching methodology and get teaching practice, starting with one to one and often leading up to teaching the whole class towards the end of your training. This is a really important element of a yoga instructor course to prepare you for being a registered yoga teacher.
Some courses have written exams, others just have a practical exam where the students teach a class at the end of the course. Ask the course organizer what they expect from you.
Successful completion of the 200 hour yoga teacher training course will give trainees a yoga teacher certification and the qualification to register with Yoga Alliance, become a certified yoga teacher and start teaching yoga.
Cost and Length
India is the most affordable place in the world to get your yoga instructor certification and has some of the cheapest yoga teacher training courses in the world.
The average cost for a 200 hour yoga teacher training in India is around $1000 for an intensive course with accommodation and vegetarian meals included.
But prices can range from $600 – $3000 depending on location, teachers and the quality of the facilities.
Most 200 hour YTT's take place over 15 – 30 days, with one day off each week. As these programs are intensive, with long days, I recommend going for the course with the longest duration as this will often mean the pace can be a little more relaxed.
Authentic Indian yoga teacher training is not a relaxing yoga retreat holiday – your days will be packed and it's an challenging, physical, emotional, mental and spiritual life changing journey!
You'll also need to budget for flights, visas and travel insurance. Nearly all nationalities (apart from citizens of Bhutan, Nepal and the Maldives) must apply for an Indian visa before travelling. You can do this quite easily online on the official India E-Visa website.
Check Skyscanner to find the cheapest deals on flights and ask the yoga centre if they can offer an airport transfer to take the hassle out of getting to your destination. I highly recommend this if it's your first time in India!
Also make sure your travel insurance covers you for all the activities you plan to do on your trip and for any covid related cancellations or illness.
The Reputation of the Yoga School and Instructors
One of the most important things to check is the reputation of the yoga school and the yoga teachers, especially if you're a solo female traveller.
Unfortunately, there are still some fake gurus, concerns around sexual harassment and many yoga centres who care more about profit than quality teaching and students safety. So to make sure you have a safe and enjoyable experience try to get recommendations or read reviews from pervious students.
A good way of checking out the school's reputation is to read real reviews and testimonies from past students on unbiased websites like bookyogateachertraining.com. This way you will have a much more accurate picture of what a yoga centre is really like and know what to expect. Be careful with the reviews and testimonies on a centres website or social media pages as these can be easily manipulated and may not tell the whole story.
I'll include some of my recommendations in this post and give you the links so you can check out the reviews yourself too.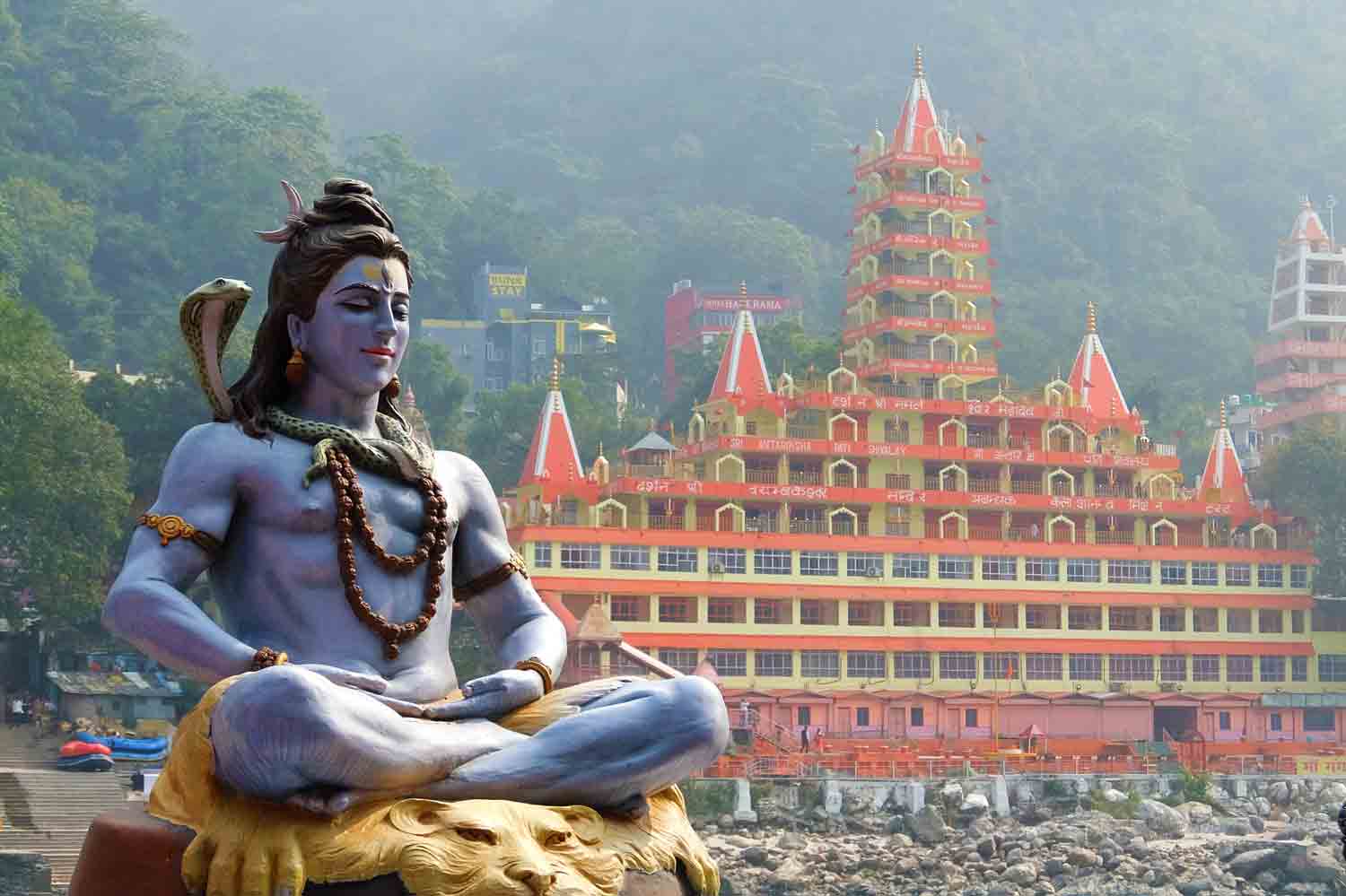 Facilities
There are many beautiful and inspiring places in India, but you should be aware that the standards of facilities in India may not be the same as you are used to at home.
India is a developing country and still has frequent power outages. Many buildings do not have air conditioning, heating or a constant supply of hot water. You cannot drink the tap water in India.
Food hygiene is a concern, beds are often hard, the traffic is crazy, streets can be noisy, crowded and dirty and the internet can be erratic. India can be a culture shock and can be challenging – but overcoming all this is what makes it so transformative!
While there are many cheap YTT packages in India, it's often worth paying a bit more for some comfort, better facilities and safer food. Choose locations that are away from main roads as they will likely be noisy, and check if the school has power back up.
Pin this image!
The Best Locations for Yoga Teacher Training in India
India is a huge and incredibly diverse country with numerous destinations offering yoga teacher training courses, from spiritual places, holy towns, to tropical beaches, and the Himalayan mountains.
Each location offers a unique experience, so an important step in choosing your ideal course is to select which location you prefer. The best destination for you might also depend on when you are planning to travel to India as they all offer different climates.
While you can find yoga teacher training courses all over India, there are some destinations that really stand out.
Rishikesh
Known as 'the yoga capital of the world' there are literally hundreds of schools offering yoga teacher training in Rishikesh. The Tapovan and Laxman Jhula area is filled with yoga schools and cafes..
This holy town is situated in the north of India at the foot of the Himalayas. It's nestled along the banks of the revered river Ganges and is home to many ashrams and temples.
The best time to do yoga teacher training in Rishikesh is October and November and February – April . (It can get quite chilly in Rishikesh in December and January and many buildings do not have heating.)
Goa
If your looking for a relaxed yoga training by the beach where you can dip into the warm Arabian sea there are some excellent options for yoga teacher training in Goa.
This small state is India's most popular beach holiday destination also offers a unique fusion of Indian and Portuguese culture and history and exciting nightlife. North Goa is where the wild parties are but South Goa is quieter and better for yoga practice.
The best time to do yoga teacher training in Goa is between December and April – after that it's too hot or too rainy. Check out this Goa travel guide for more.
Dharamasala
Located in the Himalayan mountains the area around Dharamasala, also known as Dharamshala, is an inspiring and peaceful place to practice yoga, go trekking and learn about Tibetan culture and meditation.
Most yoga schools are not actually in Dharamshala city but in McLeod Ganj, the home to the Dalai Lama and Tibetan government in exile, and the peaceful mountain villages of Bhasgu and Dharamkot.
Many of Goa's yoga schools run their courses up here in the summer and the best time to do yoga teacher training in Dharamsala is from April – September.
Kerala
The birthplace of Ayurveda and a laid back tropical state with luscious jungles, languid backwaters, wildlife sanctuaries, tea plantations and beautiful beaches.
Yoga teacher training in Kerala offers the most relaxed experience you can find in India and Varkala Beach is the best place to head. The best time to do yoga teacher training in Kerala is between December and April.
Mysore
Famous as the birthplace of Ashtanga Yoga, this colourful town in south India is home to the opulent Mysore Palace. The best time to do yoga teacher training in Mysore is from November – March but the most popular traditional Ashtanga yoga schools here can be hard to get into and the traditional teaching style can be very regimental.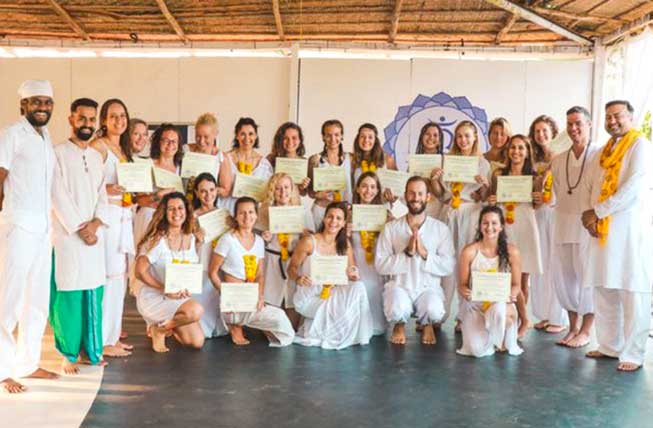 The Best Yoga Teacher Training Courses in India
To save you from trawling through hundred of listings, here are my recommendations for the best reviewed yoga teacher training courses in India.
All of these programs are approved by Yoga Alliance. Upon completion you will receive a certificate which can be registered with Yoga Alliance allowing you to be recognized as a Registered Yoga Teacher worldwide.
School: Vinyasa Yoga Shala
Location: Tapovan, Rishikesh
Duration: 25 Days
Style: Hatha, Ashtanga, Vinyasa Flow, and Yin Yoga
Price: From $999
Vinyasa Yoga Shala, situated just steps from the sacred Ganges river, offers a comprehensive 25-day, 200-hour yoga teacher training program in Rishikesh which combines traditional teachings with innovative approaches to provide a complete and transformative experience.
This program offers a deep understanding and well-rounded training for aspiring yoga teachers in both the theory and practical aspects of yoga. Led by experienced yoga teacher Ashish, who has studied at the prestigious International Vishwaguru School of Yoga Vedniketandham in Rishikesh. The training covers various aspects of yoga, including daily mantra chanting, meditation sessions, asana practice in multiple yoga styles and lectures on anatomy and philosophy.
A unique aspect of Vinyasa Yoga Shala's training is its integration of trauma and emotional healing sessions which introduce practices that help trauma survivors reconnect with their bodies in healthy and meaningful ways. These sessions equip students with valuable tools to guide others on their own healing journeys.
In addition, students will benefit from a Reiki session, astrology consultation, sound healing and cultural excursions to ancient temples, such as Kunjapuri Temple and Vashishta Caves. Activities like learning classical Indian dance and experiencing rejuvenating Ayurvedic massages are organized to deepen the students' understanding of yoga in its historical and cultural context.
The yoga centre includes a dedicated yoga shala, dining area, and a cozy lounge space with magnificent views. Accommodation options include shared, single, or double occupancy rooms, are all spacious, clean and comfortable. Fresh, healthy, and organic vegetarian meals are provided throughout the course.
Vinyasa Yoga Shala also offer 100-hour, 300-hour and 500-hour yoga teacher training courses at their Rishikesh yoga school.
School: Kashish Yoga
Location: Palolem, Goa
Duration: 24 days
Style: Hatha, Ashtanga, Vinyasa, Yin, Acro and Aerial yoga.
Price: From $1,364
Kashish Yoga offers a fun multi-style 24-day 200-Hour Yoga Teacher Training in Goa, South India. The training takes place in a beautiful resort near Palolem beach, one of the most beautiful beaches in serene South Goa, India.
This comprehensive program equips you with the knowledge and skills to become a certified yoga teacher in various styles, including Hatha, Ashtanga, Vinyasa, Yin, Aerial, and Acro yoga. The training covers a wide range of topics, such as yoga philosophy, anatomy, teaching ethics, and pranayama techniques.
During the training, you'll stay in bamboo cottages with attached bathrooms, providing a comfortable and peaceful environment for your practice. The campus features multiple yoga shalas equipped with props, gazebos for relaxation, and an open-sided dining area.
Kashish Yoga pays special attention to food, following Ayurvedic principles to prepare nutritious and sattvic meals that nourish both the body and mind. The program also includes workshops, excursions, airport pick-up, and access to amenities like the swimming pool and bicycles to explore the local area.
With skilled and experienced teachers, an updated curriculum, and a supportive environment, Kashish Yoga provides a unique and enriching yoga teacher training experience in the vibrant setting of South Goa
School: Om Yoga Ashram
Location: Mcleod Ganj, Dharamsala
Duration: 25 days
Style: Ashtanga, Hatha
Price: From $750
Head into the Himalayas and embark on a transformative journey with this 25-day 200-Hour Yoga Teacher Training in Dharamsala, India. This program, offered by Om Yoga Ashram near Dal Lake, Mcleod Ganj, is designed to deepen your yoga practice, expand your knowledge of yogic art and science, and empower you to become a confident and unique yoga teacher.
Highlights of the program include daily yoga classes, meditation sessions, ashram classes, fire pujas, and the opportunity to explore different yoga philosophies. You'll also enjoy delicious vegetarian meals, comfortable accommodation with attached Western-style toilets, and access to the yoga hall.
The program follows a packed schedule, dedicating ample time to cover various aspects of yoga, including meditation, asanas, philosophy, and pranayama. Led by experienced instructors such as Swami Rashpal Yogi and Yogini Shakti Sadhana, you'll receive expert guidance and support throughout your training.
Located in McCleod Ganj, the home to the Tibetan governement in exhile surrounded by lush forests and mountains, this centre offers a serene and peaceful environment for yoga practice and contemplation. You'll be provided with three healthy vegetarian meals per day, along with fruit and purified water.
As part of the program, you'll have access to the ashram library and the opportunity to participate in evening programs, including music and kirtan. You'll be able to join regular ashram classes and fire pujas, immersing yourself in the rich spiritual traditions of India.
School: Mathatitu Yoga Ashram
Location: Varkala, Kerala
Duration: 28 Days
Style: Ashtanga, Vinyasa, and Hatha.
Price: From $675
If you are looking to learn yoga and ayurveda in it's birthplace then a tropical yoga teacher training in Kerala is the perfect choice. This 28-day 200-Hour Ayurveda and Multi Style Yoga Training in Varkala, Kerala is run by Mathatitu Yoga Ashram.
This program, held near the beautiful Varkala Beach, aims to provide students with a deep understanding of yoga asanas, meditation, and much more. The emphasis is on creating teachers who possess practical knowledge and the ability to teach at various levels.
The training includes yoga and meditation classes, pranayama practices, an introduction to Ayurveda and yoga therapy, anatomy and physiology, yoga philosophy, teaching practices and sequencing.
During your stay, you'll be accommodated in well-furnished rooms in a resort with the option of shared or single occupancy. You'll be provided with a balanced and nutritious vegetarian diet, offering a blend of Ayurvedic and wholesome food prepared using traditional ingredients.
With a combination of excellent teaching, affordability, and a supportive environment, Mathatitu Yoga Ashram offers a unique and enriching yoga teacher training experience in Varkala, Kerala.
School: Yogada In The Himalayas
Location: Shivpuri, Rishikesh
Duration: 24 Days
Style: Ashtanga, Vinyasa, Hatha
Price: From $ 999
Experience a peaceful and authentic yoga ashram experience with this 24-day Multi Style 200-Hour Yoga Teacher Training with Yogada in the Himalayas Ashram. Immerse yourself in the beauty of nature and spirituality of Rishikesh while embarking on a transformative yoga journey.
Located in a serene setting along the river Ganges just outside Rishikesh, this authentic yoga school offers a unique experience for anyone wishing to immerse themselves in studying yoga. Yogada Ashram follows the Guru Shishya Parampara tradition, creating a unique ashram-style institution on the banks of the holy Ganga river. The yoga training courses provide a deep exploration of Sattya yoga, a traditional practice rooted in the Himalayas.
The accommodation comprises vibrantly designed cottages and rooms that blend comfort with nature. At Yogada Ashram, delicious vegetarian organic meals, prepared with ingredients sourced from the high Himalayas, are provided as part of the program.
Amidst the pure nature and serene atmosphere of the Himalayan foothills, you'll immerse yourself in daily yoga and meditation sessions, awakening your inner yogi and gaining the skills you need to become a great yoga teacher.
During the program, you'll have the opportunity to explore different yoga styles, including Ashtanga, Vinyasa, Hatha and Ayurveda. The experienced teachers, with their profound knowledge of Himalayan yogis and Indian mythology, provide guidance and teachings that go beyond the physical practice. You'll also receive personal 1-on-1 sessions with Guru yogis or Ayurveda Doctors.
To enhance your experience, the program includes weekly excursions to sacred places in the Himalayan foothills, such as Kunja Puri Goddess and Vasistha Goofa. You'll also enjoy activities like guided meditation sessions in nature and river rafting trips.
If you want to be immersed in the serene and spiritual nature of a peaceful ashram environment and learn authentic yoga beyond the asanas, then this is an ideal yoga teacher training program.
Final Thoughts on Yoga Teacher Training in India
Yoga teacher training in India can be a rewarding and transformative experience for anyone interested in deepening their yoga practice or becoming a certified instructor.
There's no shortage of choice and much to consider when it comes to choosing the best yoga teacher training in India. By investing in a comprehensive and high-quality training program, you will gain a deeper understanding of the techniques and philosophy of yoga, learn how to teach safely and effectively, and have an incredible experience with a supportive community of fellow yogis.
Whether you're looking to teach full-time or simply enhance your personal practice, a yoga teacher training program can help you grow and evolve as both a practitioner and a person.
This is just a small selection of the best reviewed programs and I hope this article has helped you find the ideal course for you. Whether you choose Rishikesh, Goa or somewhere else, as long as you have followed the tips given here your experience in India should be a life changing adventure!
If you're not decided on India, check out our articles on yoga teacher training in Bali, Thailand, Costa Rica, Europe and the USA.
* This post may contain affiliate links. When you make a purchase through links on our site we may make a small commission, at no additional cost to you. We only recommend products that we love and genuinely use ourselves. All prices stated are correct on the date of publishing, but can be subject to change.
© loveyogalovetravel.com 2022-2023. Unauthorized use and/or duplication of this material without express and written permission from this site's author and/or owner is strictly prohibited. Excerpts and links may be used, provided that full and clear credit is given to loveyogalovetravel.com with appropriate and specific direction to the original content.