The Best Yoga Travel Destinations in the World
With yoga's rise in popularity more of us are looking for destinations where we can relax and immerse ourselves in our yoga practice while also exploring the culture, nature and spirituality of different countries.
Yoga travelers are no longer limited to ashrams in India to learn more about yoga, wellness and spirituality. From nature retreats in Costa Rica, to beach resorts in Thailand, nowadays there are many incredible yoga travel destinations all over the world with a huge variety of options, each offering something unique, special and a potentially life changing experience.
In this blog, we will explore the benefits of yoga travel and take a journey through the best yoga destinations in the world that boast a combination of stunning nature and landscapes, rich cultural and spiritual experiences, and top-notch yoga facilities offering a unique blend of ancient wisdom and modern luxuries.
What is Yoga Travel?
Like travel, yoga is a journey to self-discovery, wellness and inner peace so why not combine the two together?!
Yoga travel is an exciting and unique concept that has been gaining popularity in recent years. Yoga travel isn't just a vacation, it is a unique blend of travel and wellness that offers an opportunity to rejuvenate your mind, body and soul. Yoga travelers love to explore new places and learn from different cultures around the world where yoga is a lifestyle and not just an exercise.
Yoga travelers are people who seek to combine their love for travel and yoga – explorers at heart with a passion for wellness, self-discovery, and spiritual growth. Yoga travel is a great way to experience different types of yoga and learn new techniques and philosophies to elevate your practice to the next level. It can also help you reconnect to nature, have a spiritual experience and discover yourself and the world in new ways.
Yoga travel is not just about performing impressive asanas (yoga poses) in exotic locations for Instagram; it's about seeking more meaningful and transformative experiences from your vacations and moving away from superficial tourism to engage more deeply with local cultures, traditions and spirituality. A yoga vacation also provides a much-needed respite from daily stresses which allows you to focus taking care of your mental, emotional, and physical health and well-being.
Yoga destinations usually offer tranquil settings perfect for yoga practice and meditation, self-care, introspection and rejuvenation. This could include serene beaches, lush mountain landscapes, and ancient spiritual sites. These locations are ideal for yoga travel and provide the perfect space for deepening your yoga practice while broadening your perspectives and experiencing the beauty and diversity of different cultures around the world.
Many yoga hotspots are also situated in spiritual places or on energetic vortexes which is said to be the source of their special healing energy. These destinations often offer specialized yoga retreats led by experienced instructors and also emphasize holistic wellness.
In addition to yoga classes, many retreat centres provide nutritious meals, meditation sessions and other wellness therapies and activities like spa treatments, cooking classes or adventure sports that complement the yoga practice and enhance the overall travel experience. Moreover, many yoga destinations prioritize sustainability and eco-friendly practices and conscious living.
So if you're a yoga enthusiast looking for a vacation that offers more than just sightseeing, consider embarking on a yoga travel adventure. Not only will you get to indulge your wanderlust, but you'll also have the opportunity to deepen your yoga practice, enhance your well-being and embark on a transformative journey of self-discovery and personal growth.
And you don't need to be rich, slim, flexible or an expert yogi to experience the transformative benefits of yoga travel. Some of the best yoga travel destinations are surprisingly affordable and all offer a wealth of options whatever your experience level whether you are a beginner or an experienced yogi.
Factors to Consider When Choosing a Yoga Destination
Choosing the perfect yoga travel destination can be overwhelming because there are so many different options available. So we have curated a list of the best yoga destinations in the world to help you find the ideal yoga vacation or retreat that suits your needs and preferences.
Before we dive into the list of the best yoga travel destinations, it's important to consider a few factors that will help you make an informed decision:
Type of Yoga – The first factor is to consider the type of yoga you practice or want to learn, as different destinations specialize in various styles of yoga from traditional Hatha yoga in India to more modern and dynamic styles like Vinyasa Flow or Power yoga practised in Europe or America. Make sure to research the offerings at each location to ensure they match your interests and goals.
Culture – Think about the cultural experience you desire during your yoga vacation. Each destination offers unique opportunities to immerse yourself in the local customs, traditions, and spiritual practices which can elevate your yoga practice and overall experience.
Climate and Environment– Next, consider the climate and environment you prefer. Some people love practicing yoga in warm tropical settings on a beach or island, while others prefer cooler temperatures or mountainous regions. There's even urban yoga retreats where you can explore exciting cities while leveling up your yoga practice.
Budget – Your budget is another important factor to consider. Yoga retreats can vary greatly in cost, so it's essential to find one that fits your financial constraints. Luxurious, all-inclusive retreats are often the most relaxing experience, but surprisingly affordable yoga retreats can be found in developing countries where the cost of living is lower. Also consider yoga destinations within your own country to avoid paying for flights.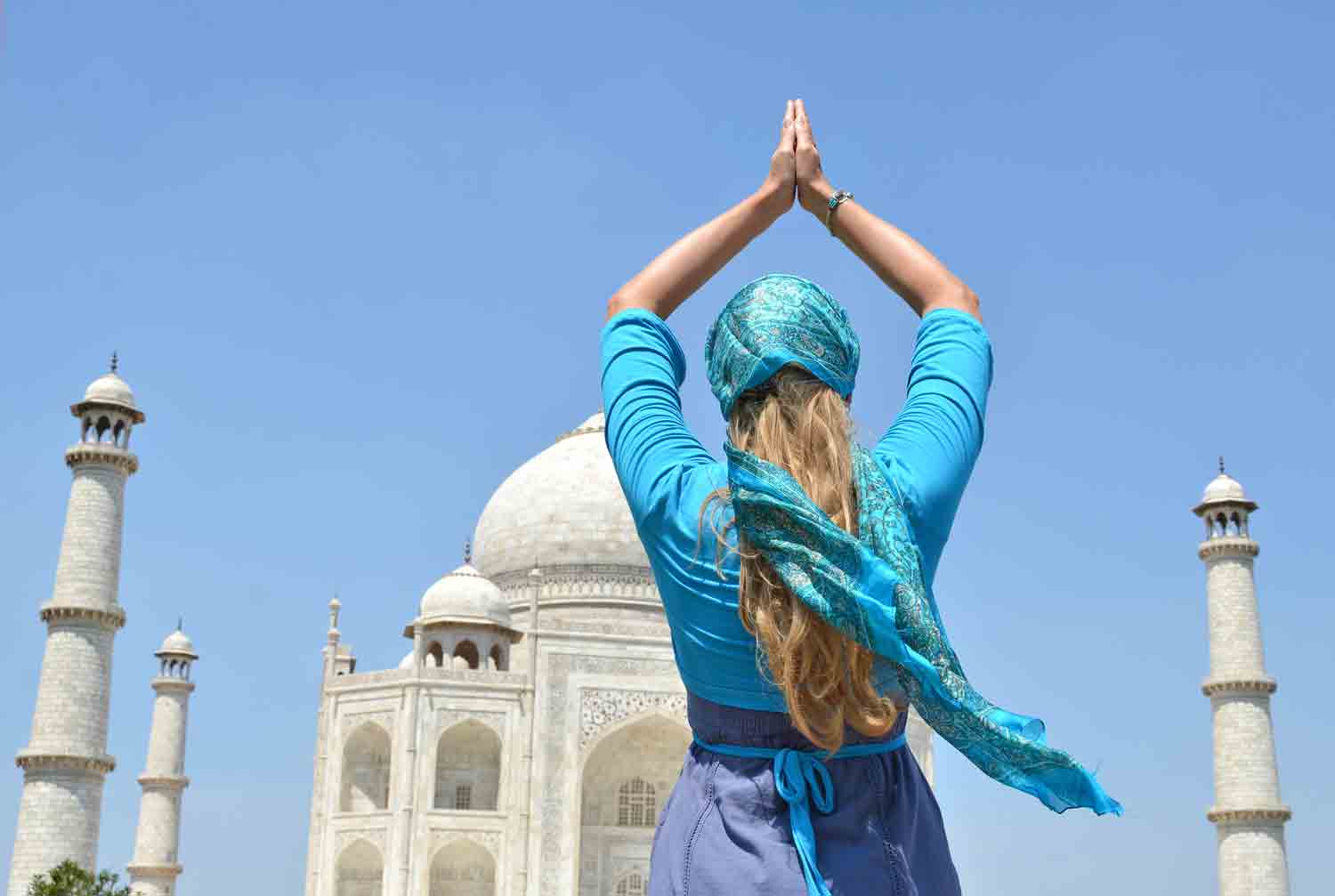 The Best Yoga Travel Destinations Around the World
Now that you know a bit more about why yoga travel is so amazing and what to consider when choosing your destination let's dive into the ultimate list of the best yoga travel destinations around the world from North America all the way over to Australia.
Yoga Destinations in North America
USA
Home to stunning scenery and diverse landscapes, the United States offers an equally diverse range of yoga destinations, catering to the needs of every yogi.
The USA has a richer yoga history than you might realize and is home to some of the best yoga centres in the world. Many yogis and gurus from India migrated to the US and started ashrams and yoga centers which helped to spread the practice worldwide.
California, with its sunny weather and laid-back vibes, is home to numerous yoga retreats and studios. Ojai and Big Sur are popular choices for their scenic beauty and peaceful atmosphere. Sedona, Arizona, is another fantastic option, known for its stunning red rock formations and spiritual energy.
The beaches of Florida and the islands of Hawaii are also top US yoga destinations while those who prefer a colder climate will love Colorado and the Rocky Mountains.
See our handpicked recommendations for the best yoga retreats in the USA and the top yoga teacher training programs in the USA.
Mexico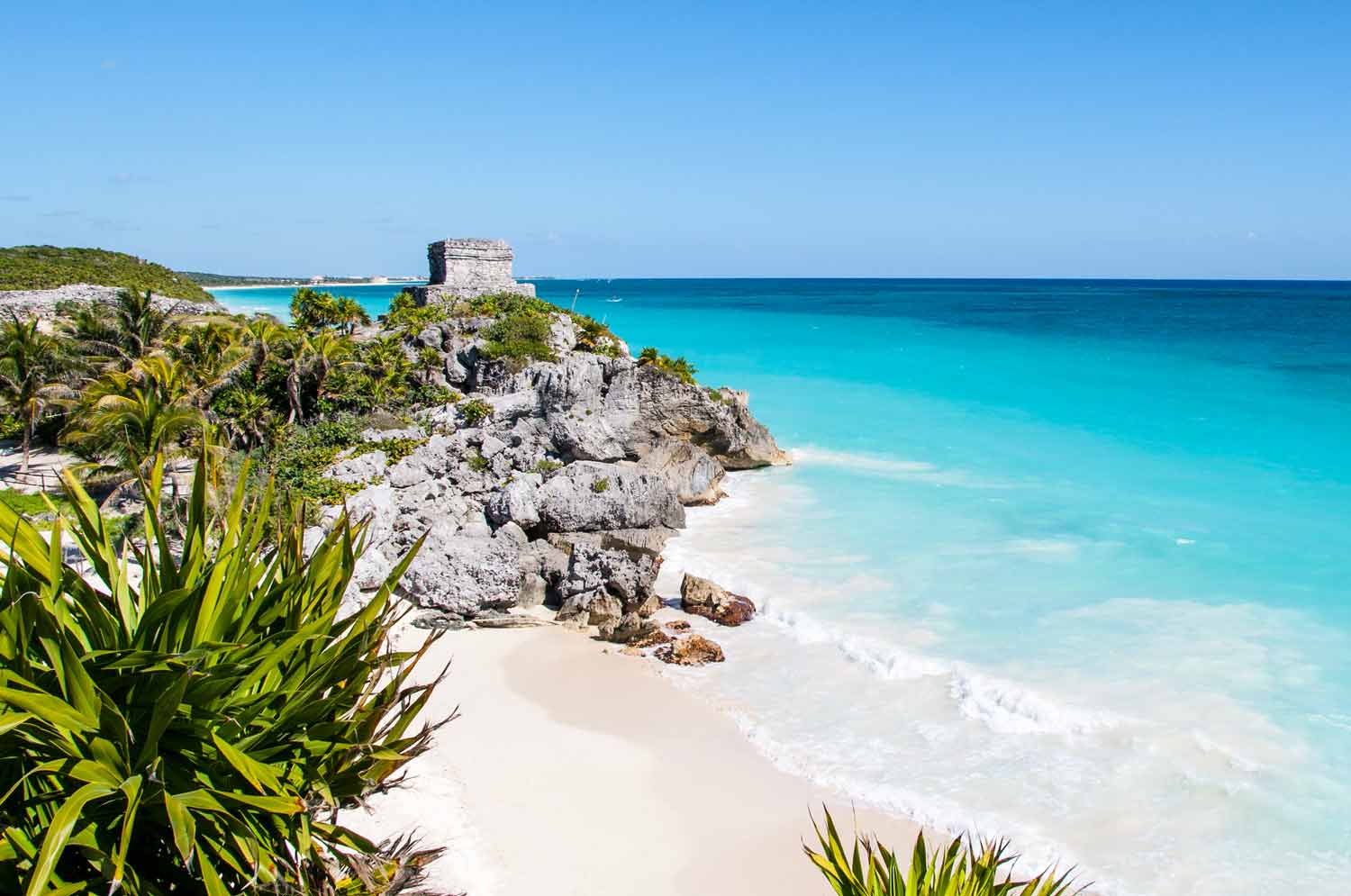 Mexico is a vibrant and colorful country that boasts some of the best yoga vacation destinations in North America with many stunning beaches, ancient Mayan ruins , colorful colonial cities and a fantastic cuisine to explore.
Tulum, located on the Yucatan Peninsula, is a popular choice for its pristine beaches and ancient Mayan ruins. Puerto Vallarta and nearby Sayulita, a charming surf town on the Pacific coast, is another excellent option, with a thriving yoga community and numerous retreats to choose from. Oaxaca is also one of the safest states in Mexico with plenty of options for yoga travelers and culture lovers.
Many yoga retreats in Mexico also offer traditional temazcal (sweat lodge) and cacao ceremonies, surfing lessons and Spanish lessons in addition to daily yoga sessions and meditation classes.
See our handpicked recommendations for the best yoga retreats in Mexico
Canada
Canada is a great choice for yogis looking for a peaceful and beautiful yoga travel destination. British Columbia has some of the best yoga retreats in the world, with its majestic mountains, lush forests and refreshing lakes providing the perfect backdrop for meditation and yoga practice.
Vancouver Island is another popular option, with its peaceful beaches and stunning views while The Rocky Mountains offer breath-taking scenery and numerous relaxing retreats that are sure to leave you feeling refreshed, rejuvenated and reconnected to nature.
Yoga Destinations in Central and South America
Costa Rica
Costa Rica is a paradise for nature lovers and yogis alike. With its lush rainforests, pristine beaches, and abundant wildlife, it's no wonder that this Central American country has become a popular yoga travel destination.
Costa Rica is not only one of the world's best yoga destinations, but also one of the most eco friendly, bio diverse, happiest and healthiest countries on the planet and home to incredible unspoilt natural beauty. If you want to be immersed in nature and experience the 'Pura Vida' (meaning pure or simple life) philosophy you'll love the yoga retreats in Costa Rica.
The best yoga destinations in Costa Rica include the laid back beach towns of Tamarindo, Nosara, Santa Teresa and Montezuma in the Guanacaste Province and on the Nicoya Peninsula. These are a favorite among yogis for its beautiful beaches, world-class yoga studios, and healthy living culture.
In addition to daily yoga classes, many Costa Rica yoga retreats emphasize a laid back and healthy living culture, offer stunning outdoor swimming pools, surf lessons and a whole host of other exciting activities like zip lining through the rainforest, horseback riding, volcano trekking, diving, snorkeling and kayaking.
As well as being one of the very best places for yoga retreats abroad, If you're looking to really deepen your practice or change your career, Costa Rica is also one of the best places in the world to do yoga teacher training.
See our handpicked recommendations for the best yoga retreats in Costa Rica and our favorite yoga teacher training retreats in Costa Rica.
Nicaragua
Nicaragua is another popular yoga destination in Central America. From the colonial city of Granada to the stunning beaches of San Juan del Sur, Nicaragua offers a unique cultural experience with a variety of activities to enjoy.
Yoga retreats in Nicaragua are some of the most affordable in the region and offer plenty of opportunities for relaxation and adventure and exploring the local culture and wildlife. It's also a top surf destination and many yoga retreats also offer surfing lessons.
Guatemala
Guatemala is an increasingly popular yoga destination in Central America. With its stunning volcanic lakes and majestic Mayan ruins, it's a great place to practice yoga and explore tradtional healing therapies. The colonial city of Antigua with its cobbled streets, colorful markets and nearby hot springs is a beautiful place to explore.
Lake Atitlan is a popular option for yoga travelers with its breathtaking views and numerous yoga retreats to choose from. Guatemala also offers plenty of opportunities for outdoor activities like hiking and exploring the Mayan ruins, making it the perfect place for a holistic yoga vacation.
Peru
Peru offers an adventurous and spiritual yoga experience with its rich history, stunning landscapes, and spiritual energy. Yoga travelers in Peru can learn about the ancient Incan culture and reconnect with the healing energy of Pachamama.
From the Andes to the Amazon, Peru has plenty of stunning scenery and yoga retreat centers and offers a life changing adventure for the yoga traveler. The Sacred Valley, nestled in the Andes Mountains, is an ideal location for yoga retreats, with its breathtaking views and tranquil atmosphere. Cusco, the former capital of the Inca Empire, offers a vibrant culture and access to iconic sites like Machu Picchu while Lake Titicaca is another popular choice.
For those who want to go deeper there are also spiritual retreats and ayahuasca ceremonies in Peru where you can partake in ancient plant medicine ritual with shamans.
See our recommendations for the best yoga retreats in Peru.
Yoga Destinations in Europe
Europe is packed with charming historic towns, incredible food, stunning landscapes and world class yoga retreat centres.
While you can find yoga retreats in Europe in almost every country and many fantastic options for yoga teacher training in Europe there are some countries that stand out from the rest and shouldn't be missed off any yoga travelers bucket list.
Here are the very best destinations for a yoga holiday in Europe:
Spain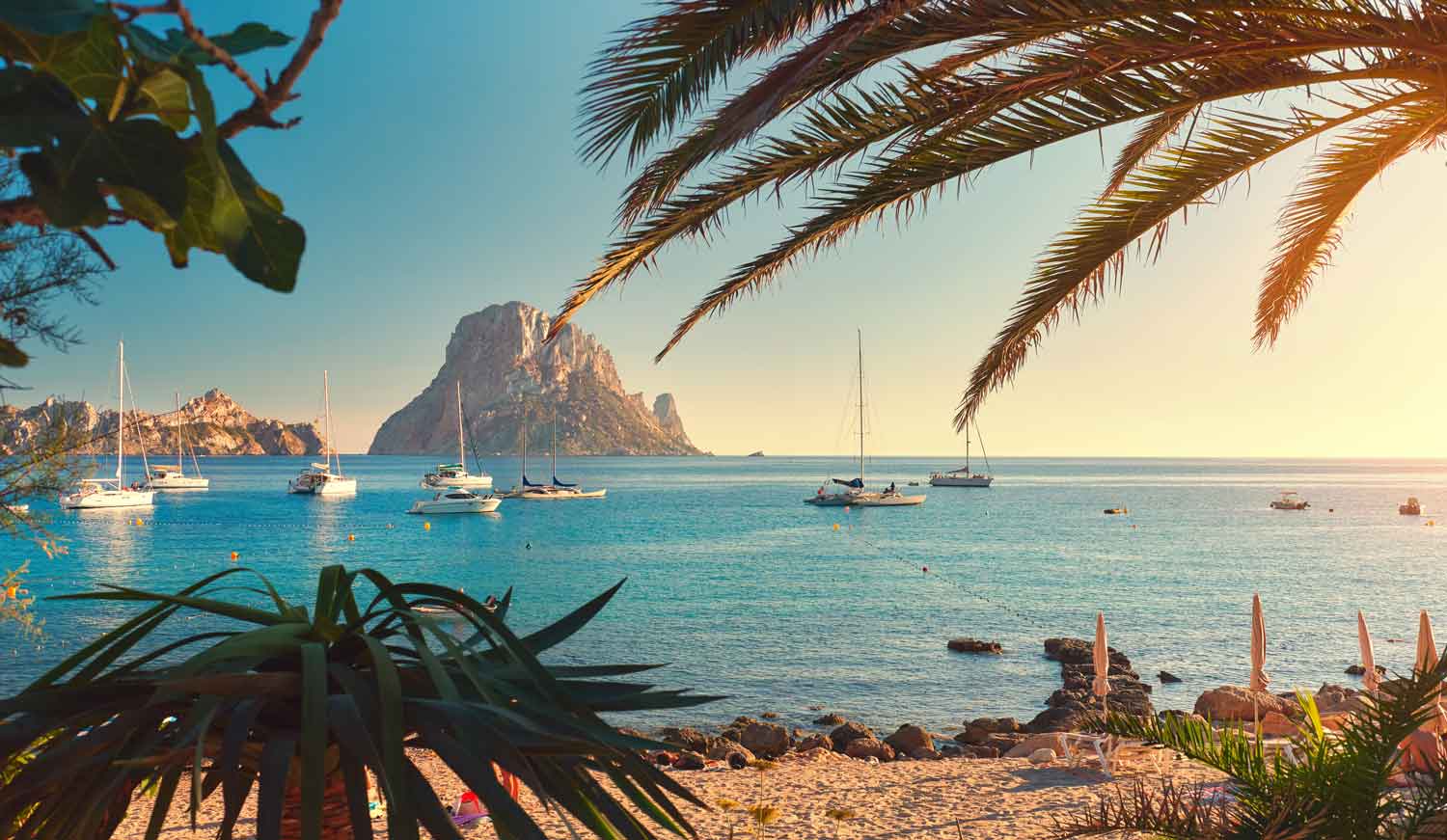 Spain boasts the largest number of yoga retreats in Europe, with many stunning yoga destinations to explore. Whether you want to explore the beaches and delicious cuisine or the charming white villages of Andalusia or the artsy and hip culture of Barcelona, Spain is the ideal location for a yoga holiday in Europee.
The party island of Ibiza is famous for its wild nightlife, but it also has a hippie, spiritual side and is home to many spectacular yoga retreats. The Canary Islands offer fun yoga and surf holidays, basking in year-round sunshine and tropical temperatures. Known as 'the Hawaii of Europe,' the Canaries are the best yoga travel destination for winter sun in Europe.
See our recommendations for the best yoga retreats in Spain
Portugal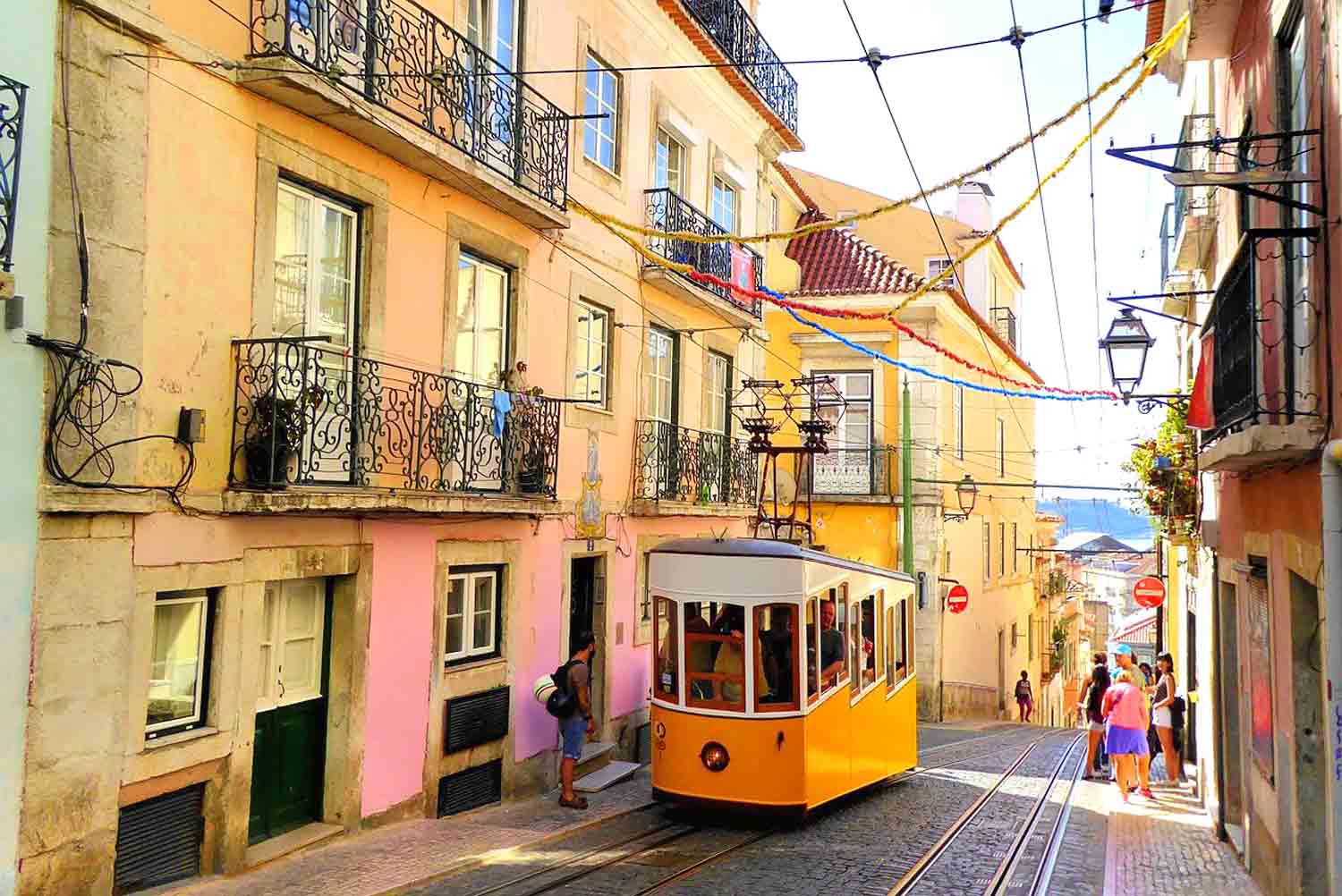 If you're looking to combine yoga and surfing into one incredible trip, Portugal offers some of the best options in Europe. Home to historic towns, picturesque beaches and an increasing number of eco-communities, there are so many yoga retreats popping up all over Portugal where you can find like-minded people and make new friends.
Portugal's colorful and charismatic capital Lisbon is one of Europe's most beautiful and unique cities, and the enchanting castles, palaces, and national parks of Sintra make a lovely day trip from the capital.
The best destinations for yoga and surfing in Portugal include Peniche, Ericeira, and Cascais, all just a short train ride from Lisbon. The southern region of the Algarve is also a favorite among yogis and surfers for its stunning beaches, picturesque cliffs, and numerous yoga retreats.
See our recommendations for the best surf and yoga retreats in Portugal
Greece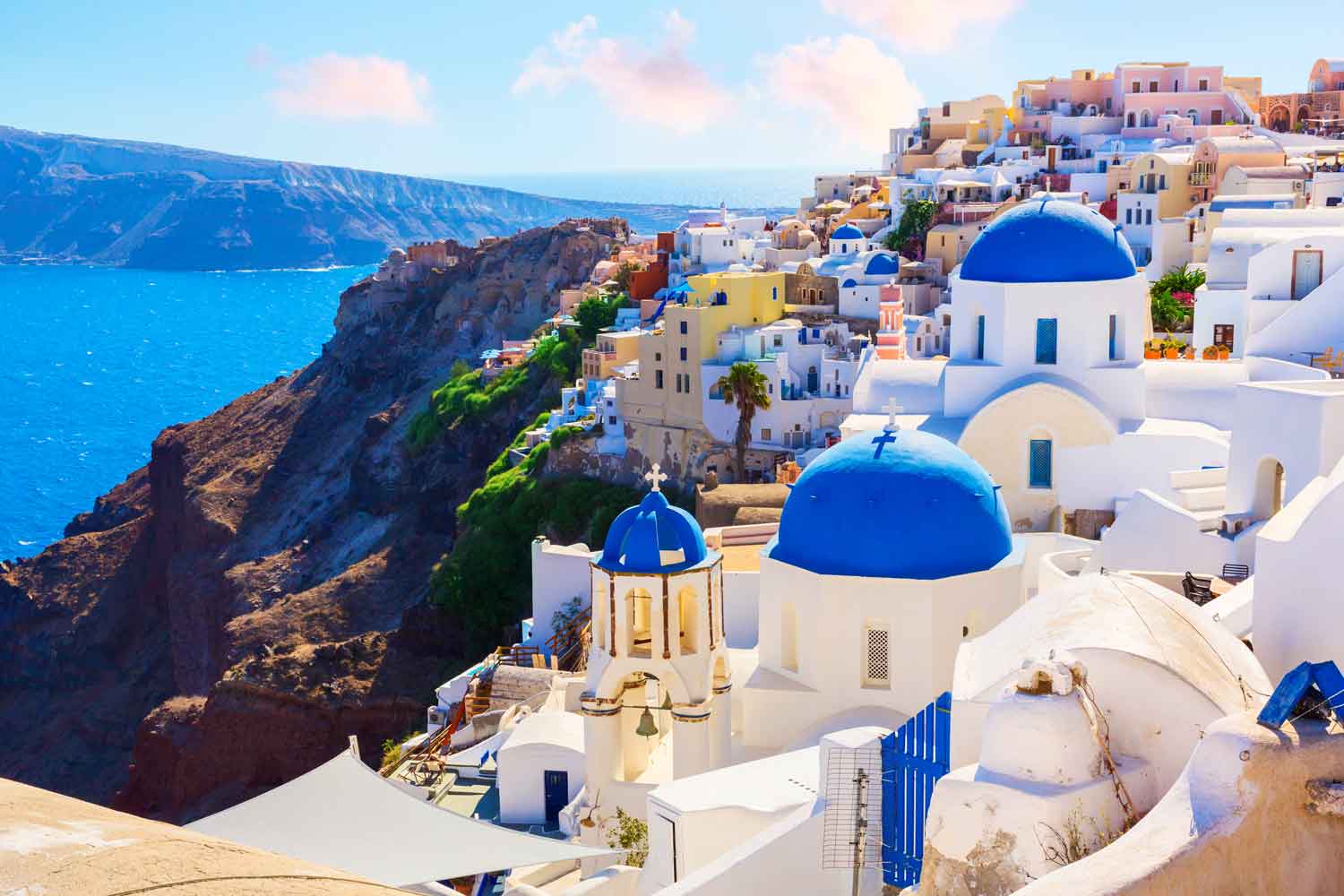 With its spectacular islands, crystal-clear waters, laidback lifestyle and ancient history, Greece has so much to offer for yoga travelers.
If you're looking for beautiful beaches and vibrant culture, the islands of Santorini, Crete and Corfu are popular choices for a yoga vacation. There, you'll find world-class yoga centers, stunning scenery and delicious, healthy food. If you're seeking tranquility and seclusion, you can also find retreats on secluded islands are easily found with plenty of space to get away from it all.
No matter where you go in Greece, you'll have access to impressive ancient monuments, myths and legends. Make time to visit Athens, the capital, for a dose of history and culture.
See our recommendations for the best yoga retreats in Greece.
The UK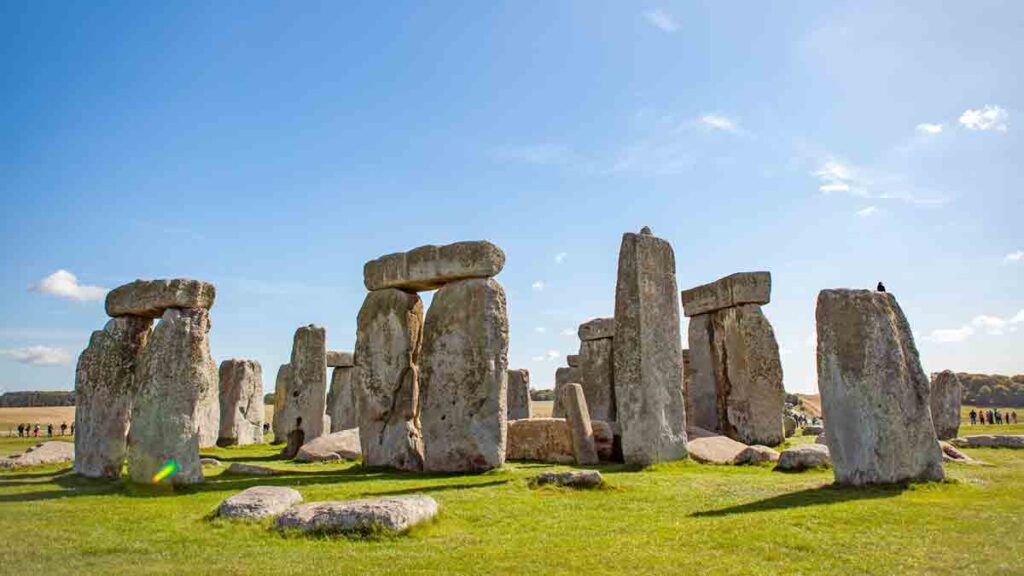 The UK is also a great yoga destination for weekend retreats and for yoga travelers looking to combine seeing the historic sites with a relaxing countryside retreat. Whether it's the rolling hills of the British countryside, the iconic sights of London, the stunning coastline of Cornwall, or the serene Lake District, there are plenty of options for a yoga holiday in the UK.
There are plenty of rural retreats in England and Wales where you can reconnect with nature and enjoy beautiful scenery and quaint villages. Scotland is also an ideal destination for a yoga holiday – take in breathtaking views from Edinburgh Castle or explore some of the country's many lochs and glens.
The UK is also home to many sacred sites such as Stonehenge, Avebury and Glastonbury Tor which make great day trips that offer a unique opportunity to connect with ancient energy points.
See our recommendations for the best weekend yoga retreats in the UK.
Yoga Destinations in Asia
Bali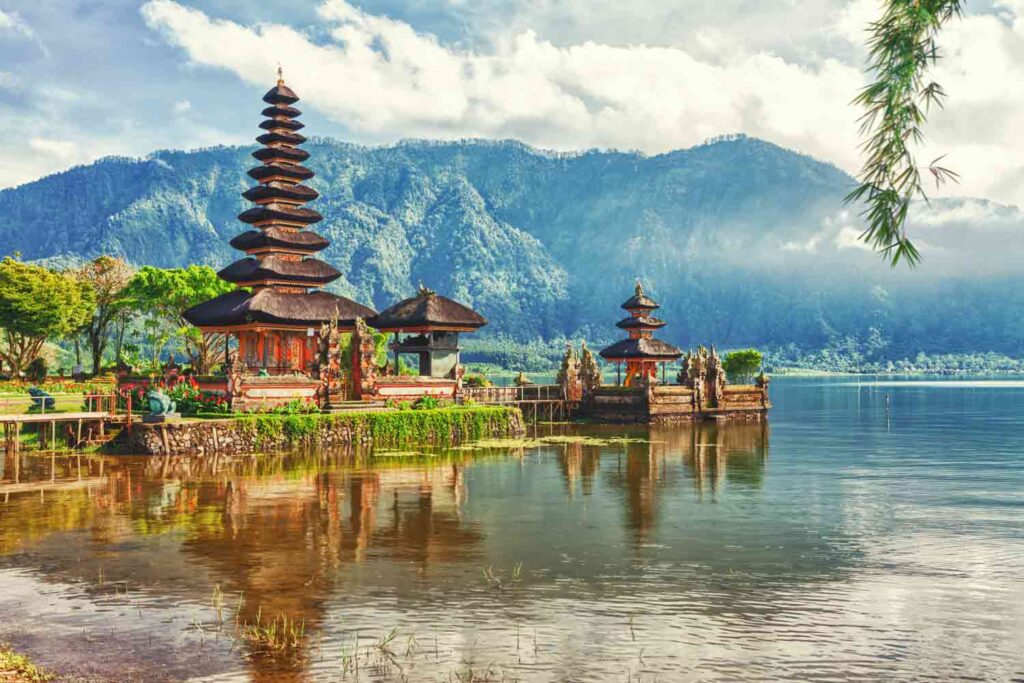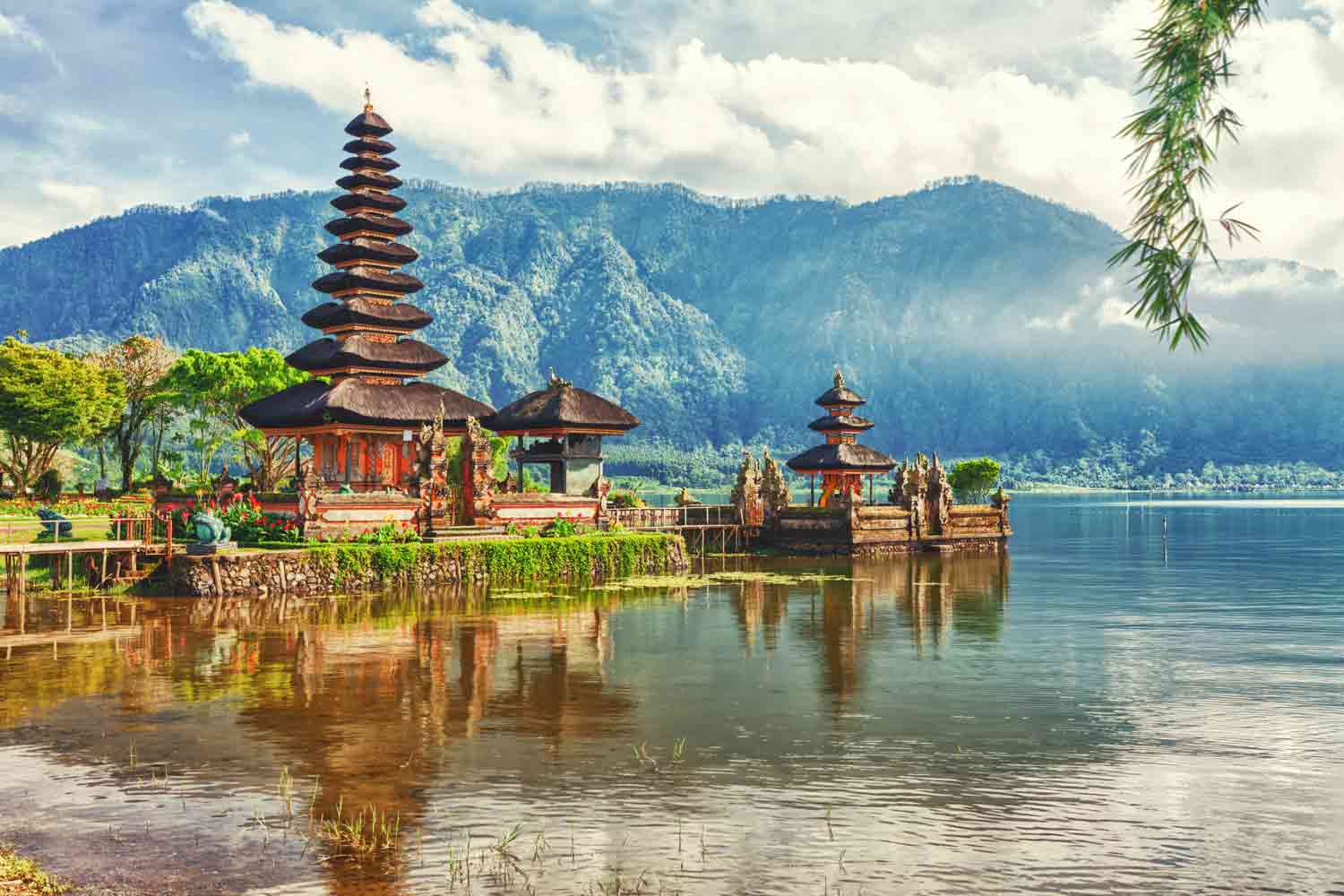 The stunning island of Bali in Indonesia is a haven for yoga enthusiasts and spiritual seekers and one of the best yoga travel destinations. Aside from practicing yoga with views of the luscious rice terraces and relaxing in the luxurious spas, yoga travelers can explore Bali's ancient Hindu temples, beaches, rainforests and waterfalls, hike Mount Agung and dive or surf in the warm tropical waters.
Bali is also known as 'the Island of the Gods' and is a deeply spiritual Hindu island with a rich cultural heritage. The popularity of the movie 'Eat Pray Love' placed Bali firmly as one of the world's top yoga hotspots – but Bali also has a long, rich history of healing and spiritual practice. If you want to combine yoga and surfing, there's also some amazing yoga and surf retreats in Bali.
The best yoga destinations in Bali include Ubud, Canggu and Ulu Watu, where yoga travelers will find a plethora of luxurious and affordable yoga retreats, spas and raw vegan cafes. The friendly yoga community also makes Bali perfect for solo travelers. Bali is also one of the best places to do yoga teacher training abroad with many incredible courses to choose from.
Read our full guide to Yoga in Bali, our recommendations for the best yoga retreats in Bali and our favorite yoga teacher training courses in Bali
India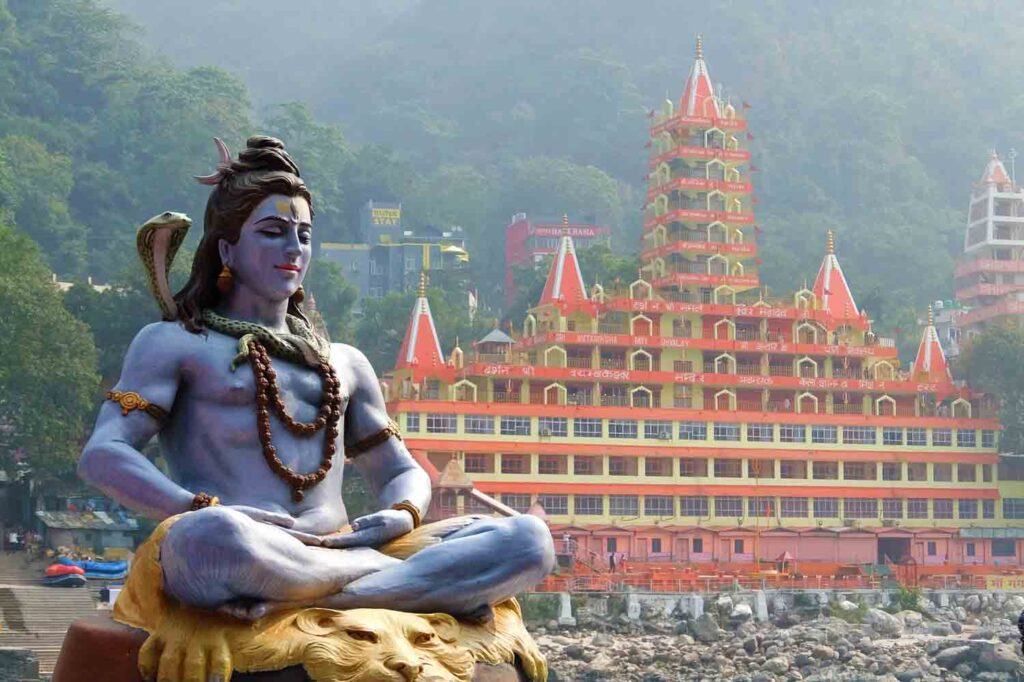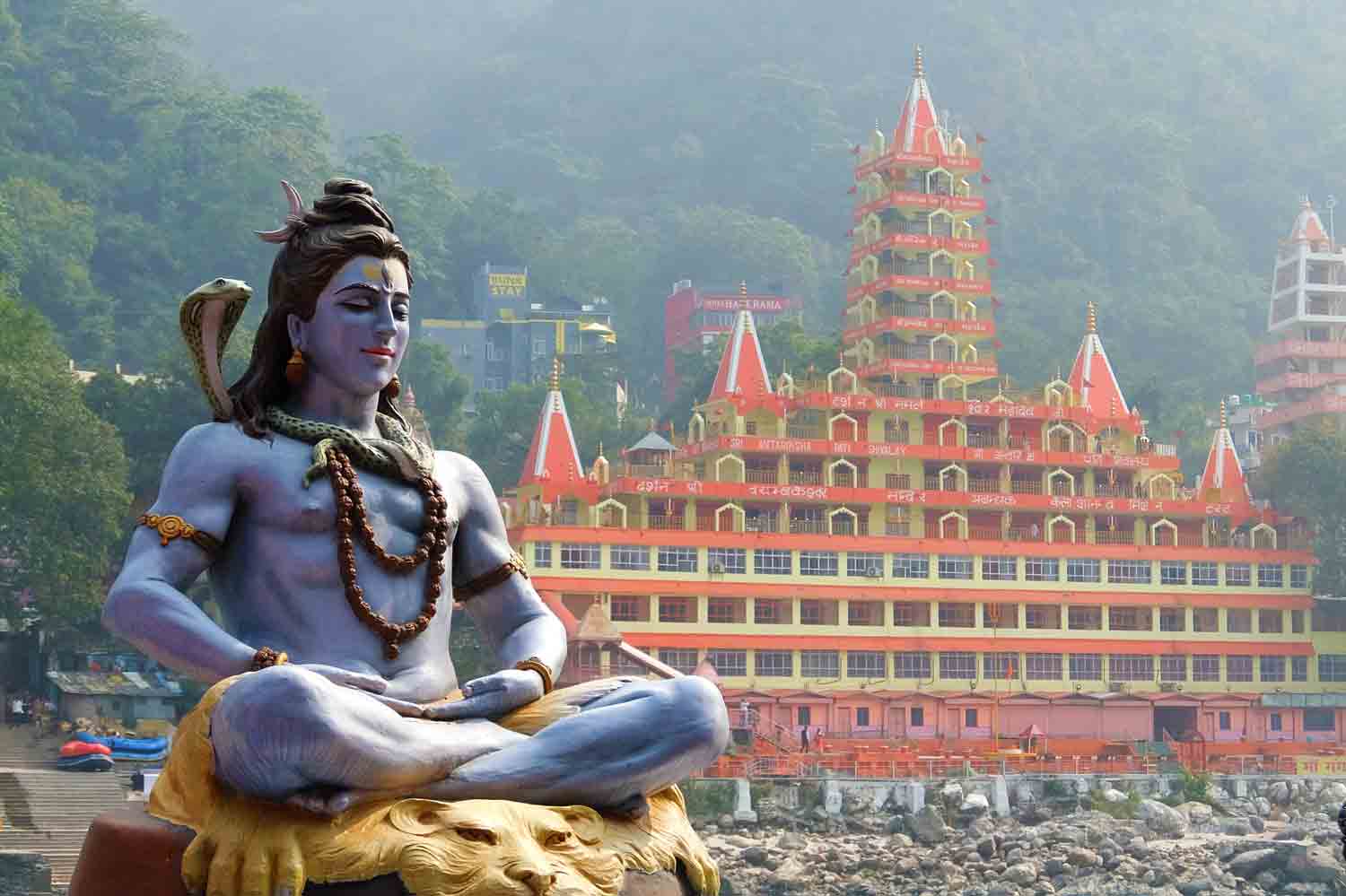 If you want to deepen your yoga practice both on and off the mat and experience a transformative journey, India is one of the best yoga travel destinations. As the birthplace of yoga, India offers an unparalleled experience that combines wellness, culture, spirituality, and incredible experiences.
The holy city of Rishikesh, located on the banks of the Ganges river, is known as 'the Yoga Capital of the World.' Here, you'll have the chance to practice yoga with experienced teachers and stay in traditional ashrams. If you want to deepen your practice or become a yoga instructor you'll also find some of the most affordable and authentic yoga teacher training programs in the world in Rishikesh.
If you prefer tropical beaches, head down to Goa or Kerala where you can experience tropical beaches and authentic Ayurvedic spa treatments combined with yoga sessions. If you want to feel the energy of the Himalayan mountains and learn about Tibetan culture, head to Dharamshala, home to the Dalai Lama. If you love Ashtanga then visit Mysore, the birthplace of Ashtanga yoga.
To experience more of India's deeply spiritual heritage, yoga travellers should visit the Taj Mahal, the Golden Temple, and take a boat ride on the Ganges River in holy Varanasi. Whatever you are looking for India is one of the best and most transformative yoga travel destinations in the world.
See our full Guide to Yoga in India and our recommendations for the best yoga teacher training programs in India.
Thailand
Thailand's warm climate, stunning beaches, and ancient temples make 'The Land of Smiles' an ideal destination for anyone seeking a yoga vacation on a tropical island paradise.
Koh Phangan, an island in the Gulf of Thailand, is a favorite among yogis for its laid-back atmosphere, world-class yoga centers, and picturesque beaches. Koh Samui and Phuket, both located in southern Thailand, are other popular options for yoga retreats.
But Thailand is much more than just a beautiful backdrop for yoga practice. The vibrant city of Bangkok offers exciting nightlife, street food, and traditional landmarks to explore. The culturally rich city of Chiang Mai and its surrounding jungle provide opportunities to immerse yourself in Buddhist culture and visit ancient temples.
If you're looking for more than just a yoga retreat, Thailand has something for everyone. Experience traditional Thai massage and spa treatments, island hop, explore steamy jungles and elephant sanctuaries, or participate in healing and tantra workshops.
Check out our guide to yoga in Thailand, our recommendations for the best yoga retreats in Thailand and top yoga teacher training programs in Thailand.
Sri Lanka
Sri Lanka, an island nation in the Indian Ocean, is another top yoga travel destination. With friendly people, diverse landscapes, a rich culture and spiritual heritage, this beautiful island nation offers a more relaxing yoga experience than neighbouring India.
From the ancient Buddhist stupas to the scenic railway journey through tea plantations and national parks filled with hundreds of elephants Sri Lanka packs so much into a small island. Sri Lanka's tropical southern coast is dotted with beautiful beaches and makes a fantastic choice for yoga retreats and vacations. Many Sri Lanka yoga retreats also include surf lessons and excursions around the island, allowing you to explore historical sights, cultural gems, and stunning natural landscapes.
Whether you head to the beaches near the historic town of Galle, the surfing paradise of Arugam Bay on the east coast or the cultural capital of Kandy and the picturesque hill country, Sri Lanka is sure to captivate you with its natural beauty, warm hospitality, and exquisite yoga experiences.
See our recommendations for the top 10 yoga retreats in Sri Lanka – from Ayurvedic retreats in the hills to yoga and surf holidays by the beach.
Yoga Destinations in Africa
Morocco
Morocco is a fascinating destination for yoga travelers looking to combine their practice with cultural exploration. The country's vibrant cities, stunning landscapes, and diverse culture make it a perfect choice for an exciting yoga holiday.
The city of Marrakech is home to beautiful riads offering yoga classes and and retreats while the Atlas Mountains provide a magnificent backdrop for yoga and hiking vacations. Another great option is Essaouira and Taghazout, coastal towns on the Atlantic Ocean known for its beautiful beaches, surf and traditional architecture. Further south, the Sahara Desert offers an incredible opportunity to connect with nature while deepening your practice.
Explore our recommended yoga retreats in Morocco for more inspiration.
South Africa
South Africa is a great destination for those looking to combine their yoga practice with an adventurous outdoor experience. Here you can find yoga centers offering classes in various styles of yoga, as well as safaris and other outdoor activities.
The Kruger National Park is a great option for yogis looking for an immersive wildlife experience. In addition, the coastal towns of Hermanus and Plettenberg Bay offer stunning views of the ocean and plenty of opportunities for beachside yoga practice.
The Garden Route, a scenic stretch of coastline between Cape Town and Port Elizabeth, is also worth exploring, with its breathtaking views and numerous yoga centers.
Yoga Destinations in Australia and Oceania
Australia
Australia is a great destination for a yoga holiday, with its stunning beaches, vibrant cities, and diverse landscapes. Queensland is a popular choice for yogis looking to relax and enjoy the sunshine with numerous yoga centers offering classes in various styles of yoga. in Queensland you will find beautiful beaches, the world's oldest rainforest and the opportunity to explore The Great Barrier Reef.
Byron Bay, in New South Wales, is another excellent option, with its laid-back atmosphere and world-class yoga studios. While in Australia don't miss the chance to visit Sydney, one of the most beautiful cities in the world and Uluru (Ayers Rock) one of the most spiritual places where you can learn about Aboriginal culture.
New Zealand
New Zealand's stunning landscapes, vibrant cities, and friendly locals are sure to inspire your yoga practice. The North Island is a popular choice for yoga retreats and holidays, with its beautiful beaches and lush forests and cosmopolitan city of Auckland. The Coromandel Peninsula, in particular, is renowned for its picturesque scenery and numerous yoga centers.
The South Island also offers a great selection of yoga vacations, with its rugged coastlines, stunning mountains and aquamarine glacial lakes. From the snow-capped peaks of Mount Cook to the adventure sports hub of Queenstown New Zealand offers spectacular hiking and every other kind of outdoor activity possible. Don't forget to leave to time to learn about the fascinating Maori culture too.
Tips for Planning Your Yoga Vacation
Now that you have an idea of the best yoga destinations in the world, here are some tips to help you plan your perfect yoga vacation:
Research the destination and retreats thoroughly to ensure they match your interests, budget, and preferences. Check what level and style of yoga is taught, the yoga teachers, the food served, accommodation and facilities. Don't forget to confirm exactly what's included so there's no surprises. All inclusive yoga vacations can be a better experience than budget retreats that may require additional payments. Most importantly check the real reviews from previous guests on www.bookyogaretreats.com
Consider the time of year and climate, as this can greatly impact your yoga experience. Traveling outside of the high season can offer the advantage of lower prices and less crowds, but check that the retreat centers are open in the off season as some may close due to monsoons.
Look for retreats that offer additional activities and experiences, such as cultural excursions, outdoor adventures, or wellness treatments, to make the most of your vacation. Whether you want to detox or try surfing, go hiking or horseback riding, enjoy cooking classes or spa treatments, the options are endless so you should be able to find the perfect retreat.
Make sure to book your flights and accommodations well in advance to get the best deals and availability. We always use Skyscanner to compare flights and find the best dates and deals and Booking.com if you need a hotel. Ask the retreat organiser if they offer an airport transfer.
Check if you need a visa and get travel insurance. If you're going on a yoga retreat abroad you should check if you need a tourist visa or an ETA (electronic travel authority). Most of these yoga destinations (apart from India) don't but some may do, depending on your nationality. Wherever you go, make sure you have travel insurance that covers all of the activities you plan to do on your yoga trip.
Pack your bags. Check if yoga mats are provided or if you'll need to bring your own and if you're unsure what to pack for your yoga holiday check out our yoga retreat packing list and our guide to the best travel yoga mats.
Keep an open mind and embrace the unique experiences that each destination offers.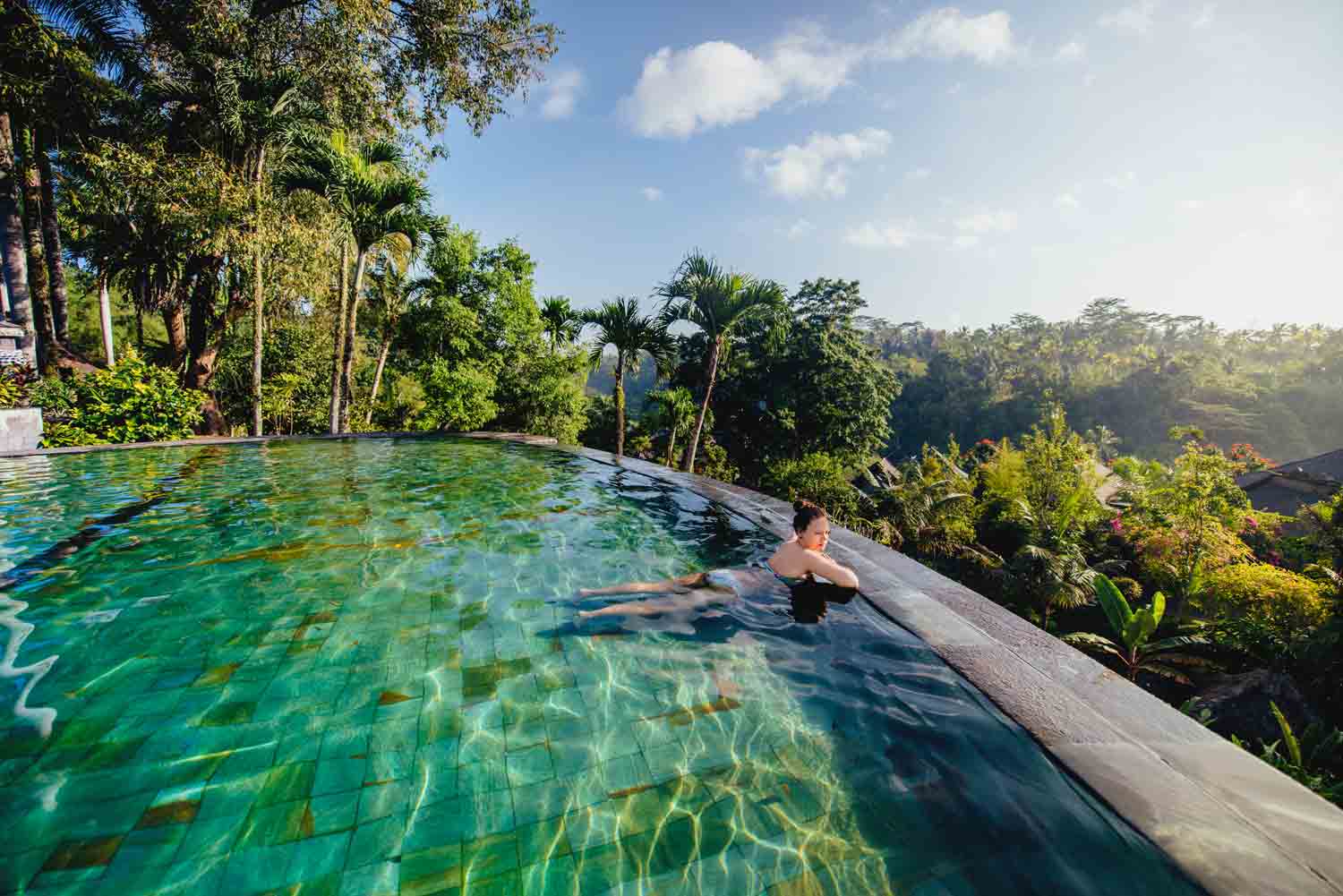 Conclusion: Finding Your Ideal Yoga Destination
The world is full of incredible yoga destinations, each with its unique offerings, landscapes, and cultures. With so many amazing options, it can be overwhelming to choose the perfect yoga retreat.
By carefully considering your intention, requirements and budget, and using the tips provided in our blog, you will be well on your way to finding the ideal yoga destination that will leave you feeling rejuvenated, inspired, and more connected to yourself and the world around you.
If you're feeling overwhelmed at the amount of retreats available, take a look at our guide to choosing a good yoga retreat and if it's your first time then check out our tips for what to expect from your first yoga retreat.
Check out our blogs for advice and handpicked recommendations for amazing retreats in the best yoga destinations across the world and let us know where you pick for your yoga vacation!
Happy travels, and namaste!
Also Read:
* This post may contain affiliate links. When you make a purchase through links on our site we may make a small commission, at no additional cost to you. We only recommend products that we love and genuinely use ourselves. All prices stated are correct on the date of publishing, but can be subject to change.
© loveyogalovetravel.com 2022-2023. Unauthorized use and/or duplication of this material without express and written permission from this site's author and/or owner is strictly prohibited. Excerpts and links may be used, provided that full and clear credit is given to loveyogalovetravel.com with appropriate and specific direction to the original content.