How To Choose a Yoga Teacher Training Program
Have you recently decided to take the next step on your yoga journey and sign up for a yoga teacher training (YTT) course?
If so, congrats! Yoga teacher training is the best way to learn about this amazing practice on a deeper level and the YTT experience can be life changing.
Deciding you're ready to do a YTT is the first step to take to become a qualified yoga teacher, but figuring out how to choose a yoga teacher training program that is perfect for you is a bit more complicated as there are so many options!
Nowadays, you can find numerous yoga courses in every country and city and your options for an authentic YTT are no longer limited to flying all the way to India.
While it's great to see yoga's popularity increase, having so many options can cause confusion and overwhelm. So if you are wondering how to choose the right yoga teacher training program for you this blog post is for you.
Pin this image!
5 Things To Consider When Choosing A Yoga Teacher Training Program
While there are many options for YTT's, a 200-hour yoga teacher training course is the best option as it covers all the basics and allows you to start teaching once you graduate.
Here are five essential things to think about before choosing and signing up for one.
Yoga Style
Chances are you've been practising yoga for a while and know that there are many different styles. Moreover, you've probably tried many of these styles and found your favourite. Thus, you should look for a YTT that teaches the style you know and love.
For example, if Vinyasa is your jam, a course focusing on Iyengar yoga is not going to be for you. Or if you've fallen in love with the slow, passive style of Yin Yoga, you may not enjoy an Ashtanga YTT.
If you don't want to specialise in one style just yet look for a multi-style yoga teacher training course that teaches more than one style. For example, you could learn to teach Hatha, Vinyasa, and Yin yoga in the same course. A multi-style YTT is great for yogis who love variety and want to teach or practise more than one style.
So, the first thing you should get clear on is what yoga style you want to learn and if you want to focus on one or learn multiple.
Overall Focus of the Course
Aside from the style of yoga, it's crucial to understand the objective of the course you're interested in. Yoga schools have some freedom when it comes to the course structure. Thus some are more asana based, whereas others dive deep into philosophy; some focus heavily on meditation, while others feature many in-depth anatomy lectures.
So think about what you are itching to learn the most. For example, if you're intrigued about the roots of this ancient practice, look for a YTT that focuses on the philosophy side, with lessons on things like Sanskrit, mantras, mudras, and chakras. (If these words sound unfamiliar then read my article on essential yoga words and phrases first.)
Or, if you're interested about what happens in the body when you do yoga poses, find a course that focuses more on the scientific side of yoga.
Also note that not all schools are registered with Yoga Alliance. You do not have to do a Yoga Alliance accredited YTT in order to teach, but some studios prefer to hire teachers with these credentials. You can find a list of registered yoga schools on the Yoga Alliance website.
Course Duration
For a course to be approved by Yoga Alliance, it has to include 200 (or 300) teaching hours. However, this doesn't mean all YTTs are around the same length. In fact, the duration can differ drastically.
Most 200-hour yoga teacher trainings are intensive full-time courses, typically running for 3 to 5 weeks. As the name implies, they are very intensive, with long days (up to 12 hours!). So if you're choosing an intensive YTT, you'll need to ensure you can press pause on all your other commitments including work responsibilities during the course duration.
Many intensive YTTs offer onsite accommodation and food included, but this is not always the case so check beforehand. I also recommend asking about the class size. Some YTTs accept up to 30 students per course, whereas others cap it at 10 to 15 yogis for a more intimate experience.
Note that there are also part-time, long-term courses in certain cities. For these courses, you attend classes once or twice a week for a year or so. These courses can be a good idea if you cannot take more than a couple of weeks off work to attend an intensive YTT.
Location
If you decide to do an intensive course, the world is your oyster, as there are YTTs worldwide. Many yogis take advantage of this by combining learning with travelling. So, if you can do a YTT away from your hometown or country, consider choosing a course in a place you've also wanted to visit.
Many yoga enthusiasts who want to dive deeper into the practice naturally choose to study in India, the birthplace of yoga. While yoga teacher training in India offers an authentic and affordable option with plenty of choice, experience like no other, there are many other beautiful places to do a yoga teacher training.
For example, if you love tropical islands, why not head to Thailand to the Thai island and spiritual hub, Koh Phangan? Bali, in Indonesia, is known as 'the island of the gods' and is also a popular option with many YTTs to choose from.
Or, if you prefer mountains, why not do a YTT in the Himalayas in Nepal? Or, how about learning yoga in one of the earth's most sacred and spiritual spots, Machu Picchu?
It's also worth mentioning that it's possible to do yoga teacher training online as a part-time or an intensive course. This is something that has become more popular since Covid and can be an affordable option, but it does offer a different experience to an in-person course.
Reviews
Lastly and perhaps most importantly, even if a course sounds like your dream YTT on paper, it doesn't necessarily mean it will be. So many things can determine your experience, like the quality of teaching, accommodation, the general vibe, and even the food!
You cannot tell these things by reading a course description. But you can get a gist of what a YTT is really like by reading reviews on a trusted, impartial site like BookYogaTeacherTraining.
Reviews on a yoga school's website and Facebook page can be altered to make them look good, but the reviews on BookYogaTeacherTraining cannot. Therefore, checking what people say on a site like this can help you determine if a particular yoga teacher training course is right for you.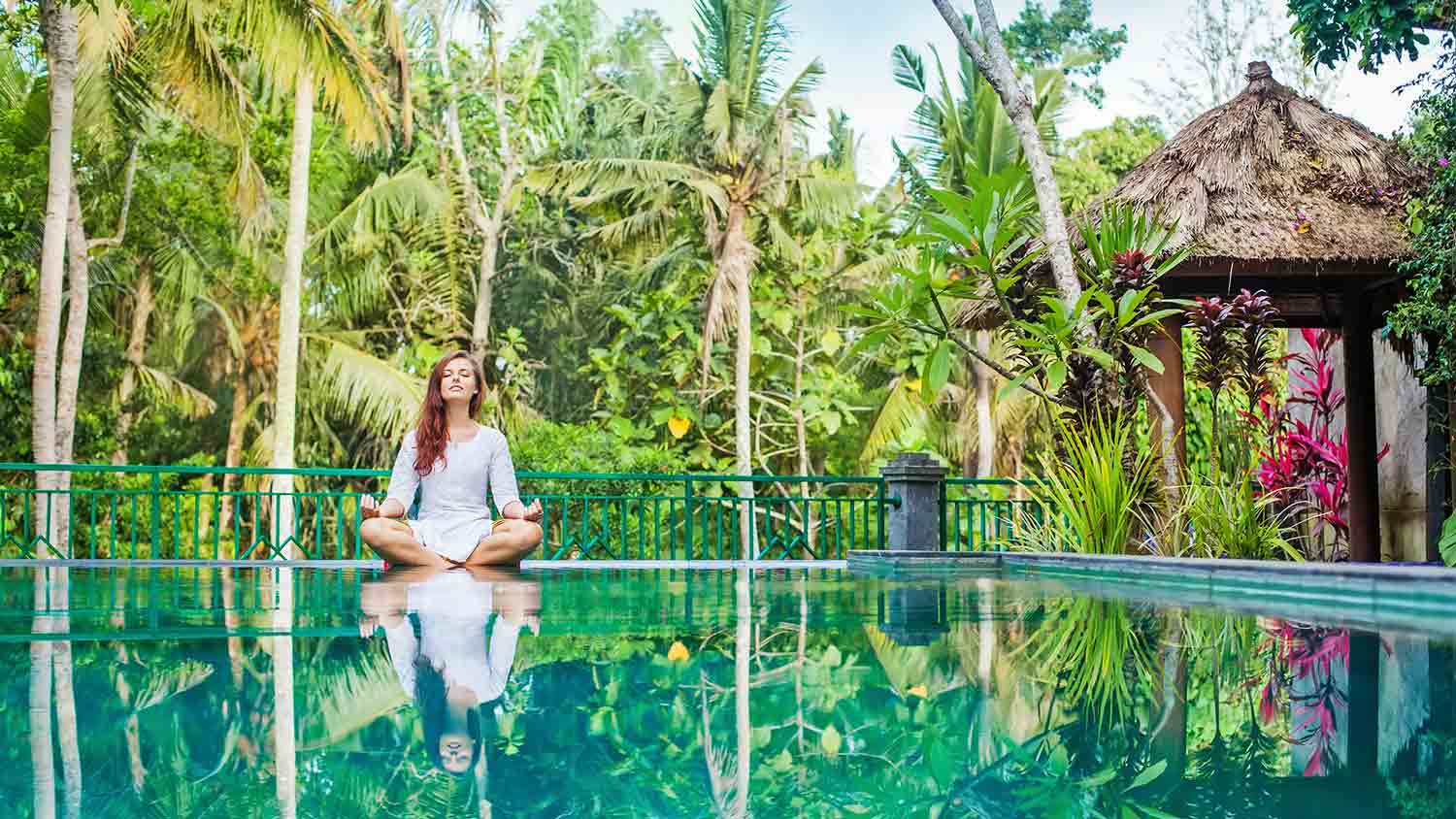 Final Thoughts on How To Choose a Yoga Teacher Training Program
Deciding to do yoga teacher training is a big decision, and so is choosing which yoga school to do the course with!
By carefully considering the five aspects listed above, we hope you'll have the confidence and assurance to know how to choose the right yoga teacher training program for you and soon be on your way to becoming a certified yoga teacher!
Read our articles about The 5 Steps to Becoming a Certified Yoga Teacher and What to Pack for Yoga Teacher Training and books to read before yoga teacher training for more tips.
* This post may contain affiliate links. When you make a purchase through links on our site we may make a small commission, at no additional cost to you. We only recommend products that we love and genuinely use ourselves. All prices stated are correct on the date of publishing, but can be subject to change.
© loveyogalovetravel.com 2022-2023. Unauthorized use and/or duplication of this material without express and written permission from this site's author and/or owner is strictly prohibited. Excerpts and links may be used, provided that full and clear credit is given to loveyogalovetravel.com with appropriate and specific direction to the original content.