A Guide to Yoga in Bali – Best Studios, Retreats & Teacher Training
The stunning natural beauty, tropical landscape, unique cultural and spirituality has lead Bali to be known as 'the island of the gods' and become one of the best places in the world to practice yoga. Yoga in Bali has become very popular and there are literally hundreds of studios, resorts and yoga retreats in Bali.
Whether you're looking for the best Bali yoga studios to try some drop in classes during your vacation, or want to treat yourself to a luxury wellness retreat, a rejuvenating or spiritual yoga holiday or even do your yoga teacher training, Bali has it all.
We've spent a lot of time on this beautiful island, some of us even did our yoga teacher training here so we've been lucky enough to try out many of the best studios and retreats – we hope our guide to yoga in Bali will help you find your zen on the 'island of the gods.'
Pin this image!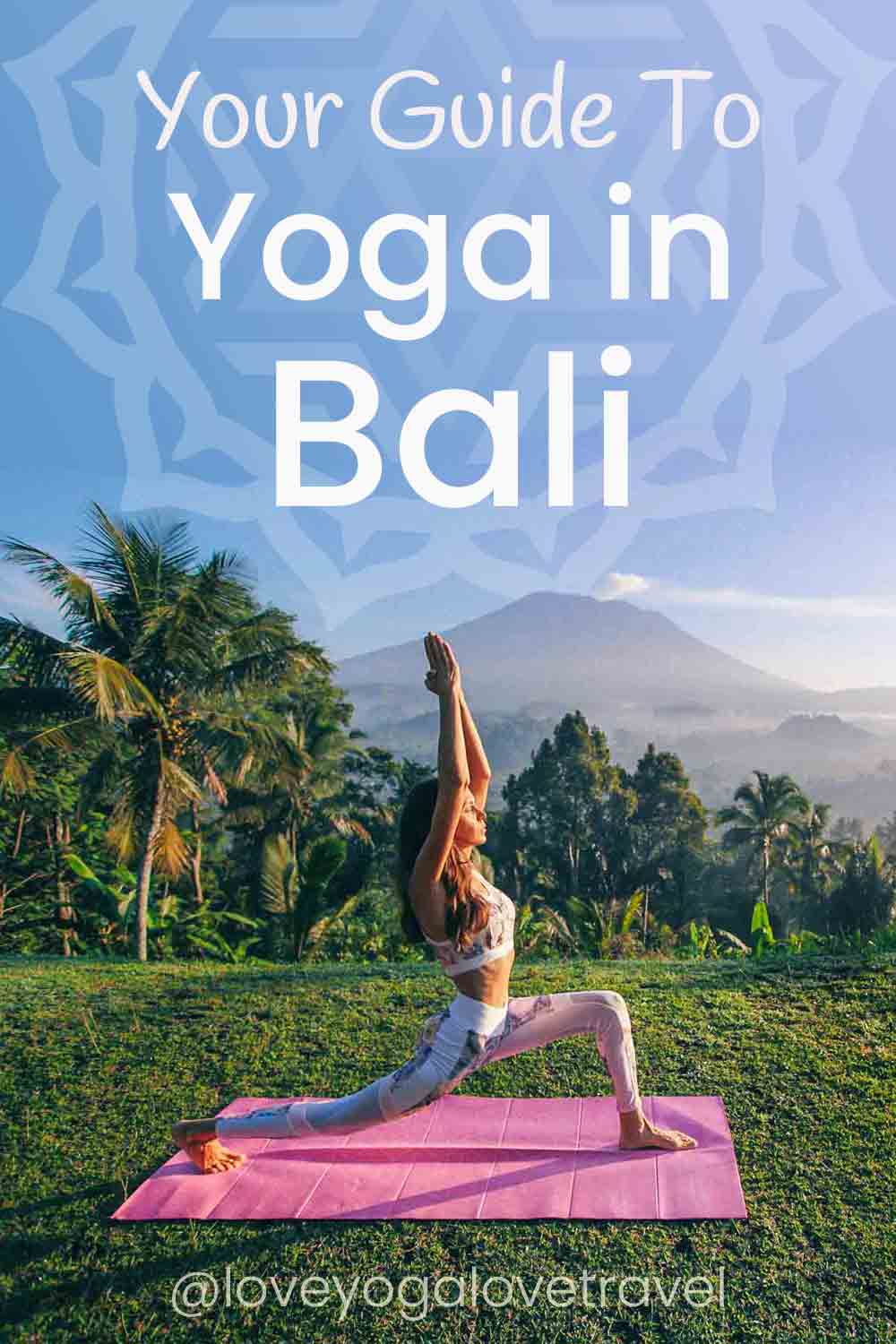 Why is Yoga so popular in Bali?
Yoga in Bali has become extremely popular, and not just because of the movie 'Eat Pray Love'. Bali has a long history of healing and a deeply spiritual culture and the island's warm tropical climate, natural beauty and peaceful and serene environment creates the perfect setting for practicing yoga outdoors. It's also one of the best spiritual destinations in the world to visit.
Bali's laid-back and friendly culture, and its emphasis on balance, serenity, and harmony, aligns well with the philosophy of yoga and makes it an ideal place for those looking for a holistic approach to wellness and to connect with like-minded yogi travellers.
Despite the island's popularity, Bali is still an affordable destination for wellness retreats with a huge variety of spas, resorts, studios and retreat centres to choose from. The thriving wellness community means there's many highly-skilled and experienced yoga teachers offering a wide variety of classes in different styles to suit all levels.
Traditionally yoga is much more than a physical exercise, it's is a spiritual discipline rooted in Hindu philosophy. Bali, like India the birthplace of yoga, is also Hindu which makes it the perfect place to dive deeper into yoga philosophy or do yoga teacher training, in a cleaner and safer environment for solo female travellers than India.
Bali's also a really safe place for solo female travellers, the Balinese people are genuinely lovely and you'll meet plenty of like minded people.
The Best Time to Visit Bali
Bali has two main seasons: the dry season (April to September) and the rainy season (October to March). The dry season is the peak tourist season and the best time to visit to practice yoga in Bali outdoors and enjoy other outdoor activities.
The rainy season offers cooler temperatures and lower prices but places like Ubud, the island's main yoga hotspot, can receive a lot of rain in December, January and February.
Bali has only has one airport – the Ngurah Rai International Airport (DPS) also known as Denpasar airport. There re direct flights from Australia but if you're traveling from Europe or the US you will usually have to transfer flights in Singapore, Kuala Lumpur or Bangkok.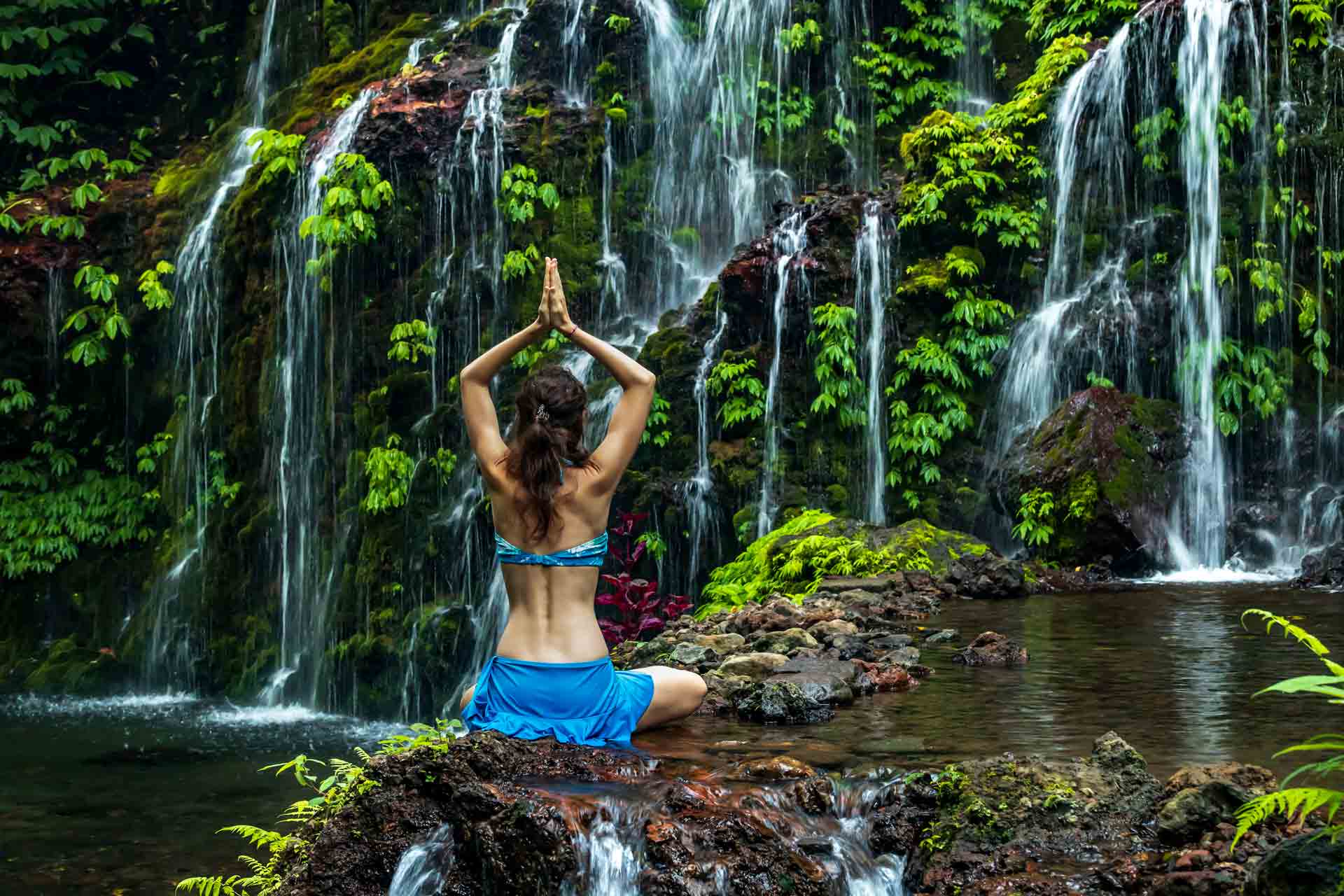 The Best Places for Yoga in Bali
While you can find yoga resorts and retreats all over the island, the best places for yoga in Bali are undoubtedly Ubud and Canggu.
Additionally, Seminyak is home to several yoga studios, spas and upscale hotels, whilst Ulu Watu also has a growing yoga scene and is home to some world famous surf breaks and the beautiful Ulu Watu temple.
Ubud
Located inland, Ubud is the cultural, spiritual and artistic heart of the island and where you'll find the famous Yoga Barn and numerous yoga retreats and spas with inspiring views over the luscious rice fields. There is a huge variety of beautiful yoga resorts and places to stay in Ubud to suit all budgets.
Ubud is also home to many temples, the famous Tellagang rice terraces, the sacred monkey forest and an amazing raw vegan food scene. Some of our favorite raw vegan restaurants are Alchemy, Seeds of Life, Zest, Sayuri Healing Food and Klear Café.
As well as yoga classes, all sorts of workshops, healing therapies and yoga teacher training courses are on offer in Ubud. One of our favorite things to do after yoga in Ubud is walking over camphun ridge and including in the affordable massages, spa treatments and even flower baths at beautiful Karsa Spa.
Canggu
Situated on the coast, Canggu, is the best place for surf and yoga and in Bali. The beaches have a vibrant surf scene with many breaks that are perfect for beginners and many Canggu yoga retreats combine yoga and surfing lessons.
Canggu is home to many yoga studios, cool boutiques, healthy cafes and even coworking spaces as it has become really popular with digital nomads.
Canggu is also a great location to try a surf retreat. Often these have elements of yoga included as the two have much in common.
Other destinations for Yoga in Bali
If yoga hotspots aren't your thing and you want to really get away from it all then head to Amed or Bali's islands.
Amed, on Bali's East Coast, which offers empty black sand beaches, excellent diving, snorkeling and views of Mount Agung. Amed is home to Blue Earth Village Yoga Retreat – one of our favourite hang-out spots catering to the yogic lifestyle.
Or for an island escape consider a yoga retreat on Bali's neighbouring small islands like Nusa Lembongan or the Gili Islands. See a more detailed description of all the different areas to stay in Bali here.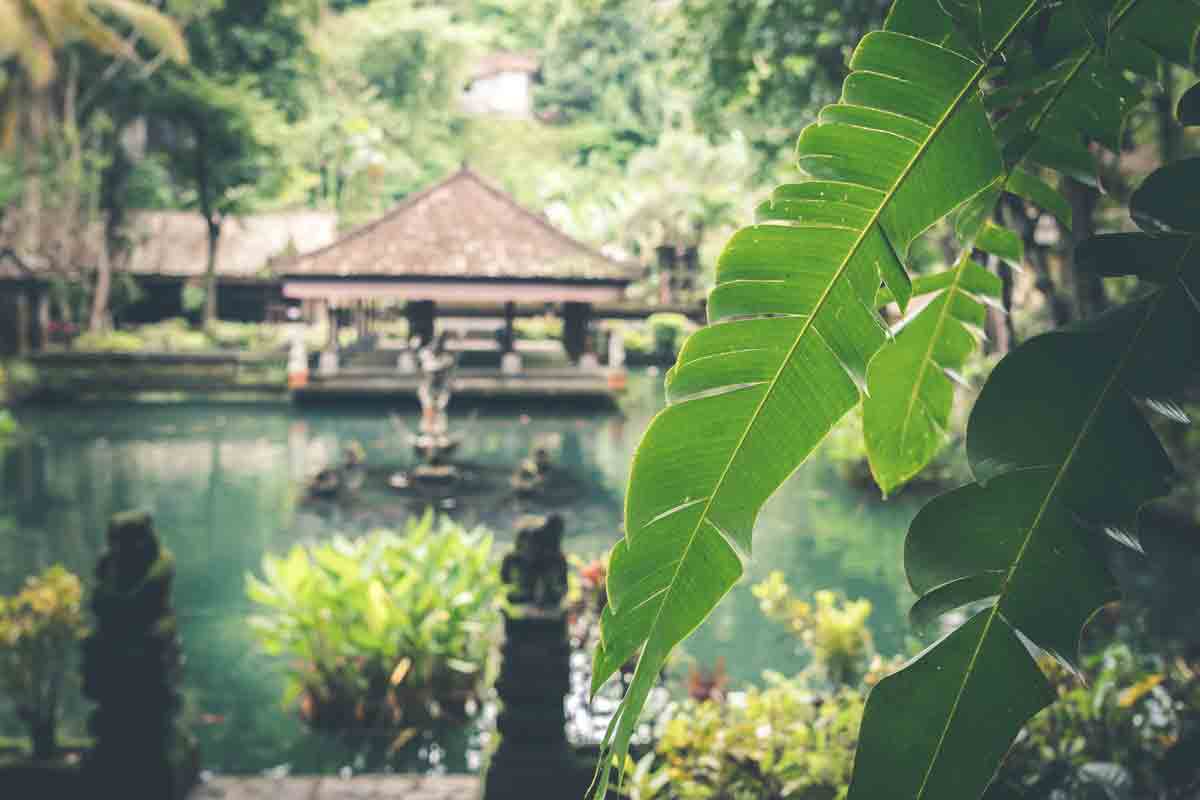 The Best Bali Yoga Studios for Drop In Yoga Classes
If you are looking for casual drop in yoga classes there is no shortage of amazing yoga studios in Bali, especially in Ubud and Canggu. These studios are perfect if you want to try out different teachers and yoga styles or don't have time for a full yoga retreat.
The price of yoga classes in Bali varies depending on a number of factors, including the location, the type of class, and the teacher. Generally, yoga classes in Bali cost around IDR 150,000 (about $10) for a single 90 minute class. Many yoga studios in Bali offer discounts for multiple class packages or for booking in advance.
The Best Drop-In Yoga Studio in Ubud – The Yoga Barn
The Yoga Barn in Ubud is one of the most famous and best yoga studios in Bali with a huge ranges of yoga classes and workshops in all styles and for all levels.
Situated in a quiet street but near the centre of Ubud, the Yoga Barn has 7 yoga studios and offers 100 yoga and meditation classes each week as well as acro yoga jams, kirtan and movie nights and a popular ecstatic dance workshop.
They also provide healing and ayurvedic treatments and serve delicious raw, vegan and ayurvedic food in the Garden Kafe. The only downside is that the classes sizes can be pretty large as it's such a popular studio and you'll need to book in advance for some of the popular classes and the ecstatic dance. Check out the Yoga Barn's website for more info.
More of our favorite yoga studios in Ubud include Radiantly Alive, Ubud Yoga House, Intuitive Flow and Ubud Yoga Centre.
The Best Drop-In Yoga Studio in Canggu – Samadhi
For drop in yoga classes in the heart of Canggu our favorite studio is Samadhi. Located in a lush and inspiring environment close to the popular Echo beach, this is the best Canggu yoga studio because of the extensive and diverse schedule of Pilates and yoga sessions, workshops, events, breathwork, sound healing, dance and yoga training.
From surf flow motion to capoeira to kirtan and blue flower tea ceremonies, I'm sure you'll find what you're looking for a Samadhi – and probably a couple of new things to try that you never knew existed! The friendly team of Indonesian and international teachers and therapists are dedicated to healing and renewal, and believe in "learning to dance with the universe".
They also have a spa, vegetarian cafe, organic and sustainable supermarket and host a popular farmers market on Sundays. Check out Samadhi's website here.
For more yoga studios in Canggu, also check out Desa Seni, The Practice, Pranava and Serenity Eco Guesthouse.
Although Ubud and Canggu are Bali's biggest yoga hotspots, you'll find studios all over the island. More Bali yoga studios we can't fail to mention include:
· Seminyak Yoga Shala, Seminyak
· Morning Light Yoga, Ulu Watu.
· The Yoga Rescue, Ulu Watu
· Power of Now Oasis, Sanur
· Blue Earth Village, Amed
· Yoga Bliss, Nusa Lembogan
· Serenity Yoga, Nusa Lembogan
· H20 Yoga, Gili Air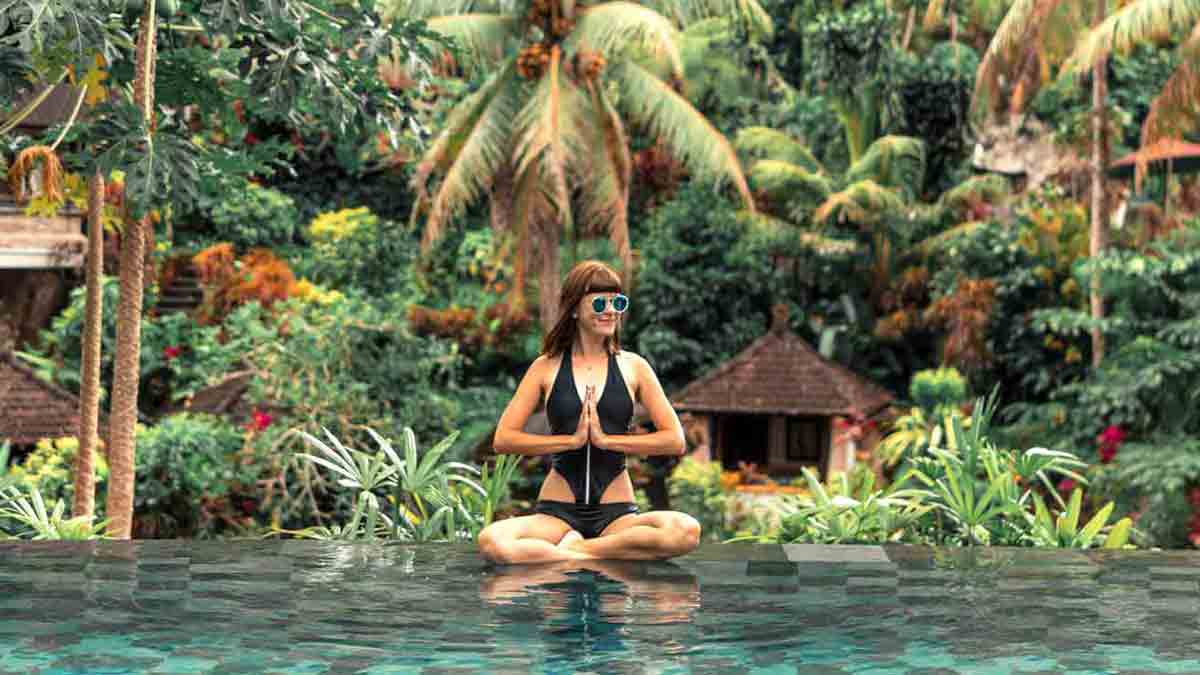 The Best Yoga Retreats in Bali
Whether you dream of practicing hatha yoga with views over the rice fields and ancient temples, pampering yourself in the beautiful spas, or combining yoga with tai chi or learning how to surf, you'll be able to find the perfect yoga retreat in Bali.
In fact, there's so many incredible Bali yoga retreats that it can be overwhelming trying to choose the right one for you. Whether you are looking for a fun and affordable yoga holiday, a beginners yoga and meditation retreat or a luxury wellness retreat there's no shortage of choice.
The best yoga retreats in Bali can be really great value as they include not only daily yoga sessions, but also accommodation, healthy meals and often spa treatments and excursions for an affordable wellness holiday.
We also recommend searching on BookYogaRetreats where you can narrow it down to the best yoga retreats for your level, style, dates and budget. The best thing about this site is that you can also read the reviews from previous guests so you know what to expect.
We can't possibly cover all the yoga retreats in Bali in one article, so here's a few of our favourites to help you narrow it down.
3 of the Best Bali Yoga Retreats
Beginner friendly wellness and yoga retreats in Ubud
Firefly is our favorite affordable Bali yoga retreat, not just because of the serene rice field setting and stunning views. The yoga classes and guided meditation sessions are ideal for beginners and will allow you to find balance in your body and mind.
Their yoga retreat offers accommodation overlooking a picturesque rice field, daily yoga sessions in multiple styles, traditional Balinese cultural activities and excursions, and organic vegetarian meals.
This is the best yoga retreat if you're looking for a relaxing Bali yoga vacation with included excursions and activities to help you to learn about the unique Balinese culture.
There's also plenty of free time to relax by the pool in a peaceful spot in the rice fields and it's just a short walk to explore everything happening in the yoga hotspot of Ubud.
Award-winning, luxurious eco-retreats
For a luxurious, eco-conscious, wellness and healing retreat that is deeply rooted in the ancient traditions of Bali look no further than the award winning Five Elements.
Fivelements luxury yoga retreat in Bali provides stunning riverside suites nestled in the jungle, a vast selection of holistic therapies including traditional Balinese massage, personalized wellness treatments, and three nutritious gourmet meals served daily.
After a special healing consultation, the luxury yoga retreat is personalised to suit your exact needs and include daily yoga classes, meditation sessions, spa treatments, energy and water healing sessions and Balinese blessing ceremonies.
This retreat is pure bliss and the location on the sacred Ayung River is the perfect setting for relaxation, healing and getting back in touch with yourself and with nature.
Super value yoga eco-lodge close to the beach
Our favorite budget yoga retreat in Bali is Serenity Eco Guesthouse. This amazing Canggu yoga retreat offers a week of unlimited yoga and a one-hour Balinese massage at an amazingly affordable price.
Serenity Eco-lodge offers unlimited yoga classes where you can try various yoga styles including traditional Hatha, Vinyasa, Yin, Acro, and Aerial yoga. They also provide tasty vegan buffet breakfasts.
With a choice of up to 10 sessions of daily yoga practice in a huge variety of styles this retreat is perfect for beginners wanting to try out new styles. After yoga, relax by the resort's swimming pool or head to the beach or explore hip Canggu.
This is one of the most affordable retreats in the world, choose between shared dorms or, for an additional fee, upgrade to a private room.
Yoga Teacher Training in Bali
If you're thinking of combining traveling with becoming a certified yoga teacher then Bali is a great choice – Bali is actually one of the best places in the world to do yoga teacher training.
There's a huge range of YTT programs available in all styles of yoga. Many yoga teacher training courses in Bali are registered with Yoga Alliance. Graduates of these programs will be eligible to register with Yoga Alliance as Registered Yoga Teachers (RYT).
The most popular way to gain your yoga teacher training certification in Bali is on an intensive 200 hour yoga teacher training course which takes between 2 weeks and 1 month.
Most programs include accommodation and meals and the cost starts from as low as $1000 USD, and can go up to $4000 USD. The average cost of a 200-hour yoga teacher training program in Bali is around $2000-3000 USD. You can get a good overview of what's on offer at the BookYogaTeacherTraining website.
During the training, you'll learn not just about asanas, pranayama, and meditation, you'll also be taught about the history and philosophy of yoga, anatomy and physiology as well as learning how to lead a yoga class, how to adjust students, and how to create a safe and inclusive environment for students.
The best 200 hour Yoga Teacher Training course in Bali
Our favourite Bali yoga teacher training course is with Yoga Union who have been delivering highly respected and internationally recognized YTT's for over a decade.
Located in Ubud, the spiritual heart of Bali, and surrounded by lush rice fields and temples, Yoga Union offers 200-hour Yoga Alliance certified course focusing on Ashtanga Vinyasa Flow which is designed for both aspiring yoga teachers and dedicated students looking to deepen their yoga practice.
You'll practice in an open air yoga shala surrounded by tropical greenery and stay in the beautiful resort learning from international teachers who are experienced, knowledgeable and passionate about sharing their love and wisdom of yoga. Yoga Union is also one of the most affordable yoga teacher training courses in Bali.
Final thoughts about Yoga in Bali
Bali is a true haven for yoga enthusiasts, with such a wide range of yoga classes. teachers, healing therapies and affordable retreats available in beautiful surroundings.
With its rich culture, beautiful landscapes, and spiritual energy, Bali is the perfect place to nourish the mind, body, and soul. It's really no wonder that the island attracts yogis and spiritual seekers from all over the world.
Whether you're a beginner looking to try yoga for the first time or an experienced practitioner looking to gain your yoga teacher certification, you'll find everything you need to enjoy yoga in Bali.
We hope this guide to yoga in Bali helps you plan an amazing trip to the island of the Gods and that you fall in love with Bali as much as we did!
Do you have any more questions about yoga in Bali? Leave us a comment below!
* This post may contain affiliate links. When you make a purchase through links on our site we may make a small commission, at no additional cost to you. We only recommend products that we love and genuinely use ourselves.
© loveyogalovetravel.com 2022-2023. Unauthorized use and/or duplication of this material without express and written permission from this site's author and/or owner is strictly prohibited. Excerpts and links may be used, provided that full and clear credit is given to loveyogalovetravel.com with appropriate and specific direction to the original content.