7 Magical Yoga Retreats in Morocco (2023)
From hiking in the Atlas mountains, to adventures in the Sahara desert, and culture-filled Marrakech yoga vacations, Morroco's wellness retreats are always EPIC!
Whether you adore nature, culture, history, or adventure, you will love a yoga experience in this fascinating North African country. Morocco's yoga and wellness scene has really grown in recent years and offers amazing surf and yoga camps and exotic and affordable yoga retreats within easy reach from the UK and Europe.
In this guide, I'll share the best yoga retreats in Morocco, including luxury and budget options and everything in between.
So read on to learn where to go if you want to explore the medinas of Marrakech, try surfing, learn to cook Moroccan cuisine, or experience traditional spa treatments – you can do it all on a yoga holiday in Morocco!
Pin this image!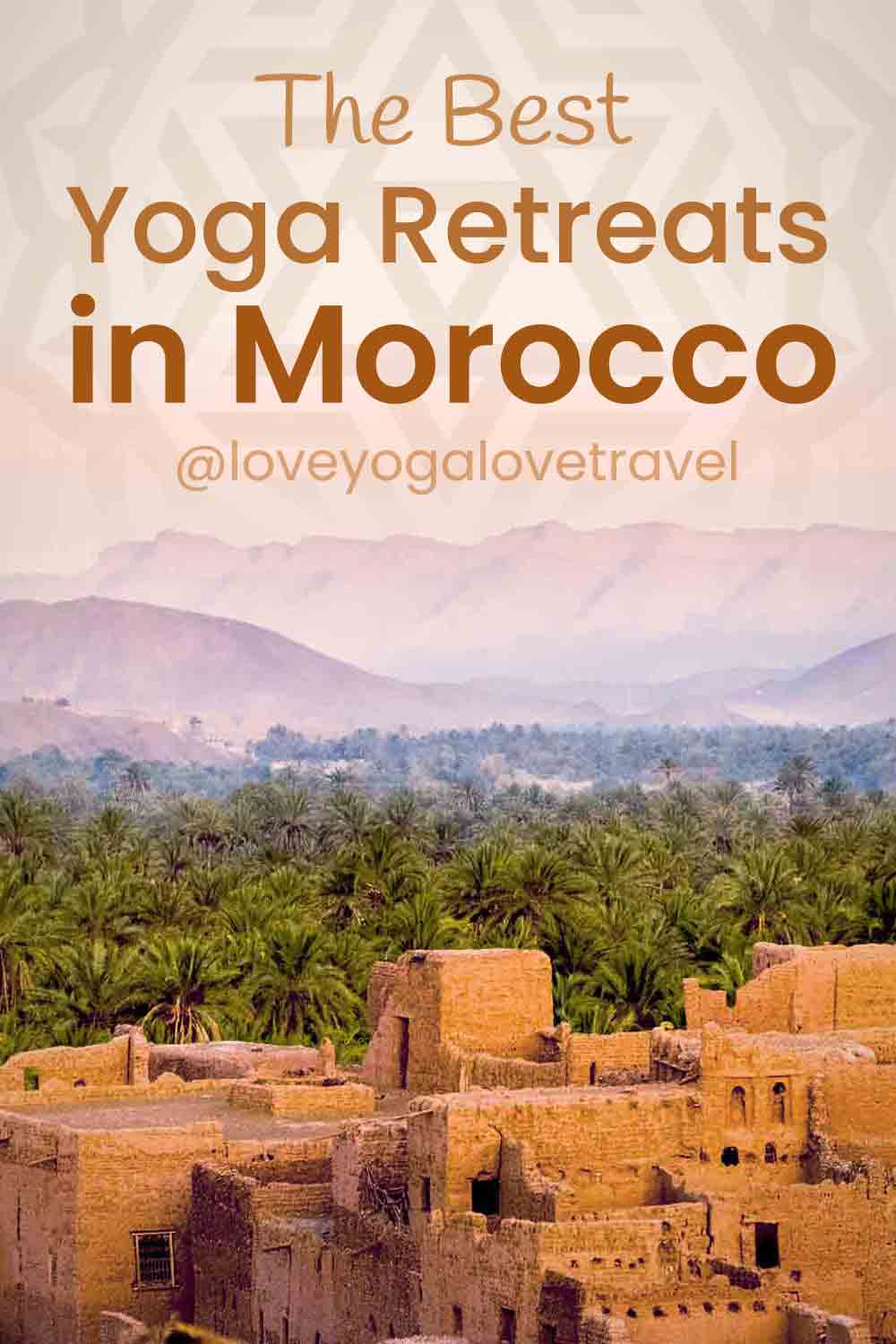 Reasons to go on a yoga retreat in Morocco
Yoga retreats in Morocco offer the perfect blend of wellness, nature, beauty and adventure as well as the opportunity to explore Marrakech, a truly fascinating and unique city.
You will practice yoga amidst awe-inspiring landscapes and have plenty of free time to see the sights, learn about the unique culture and history and experience unforgettable activities.
Here's what you can expect from yoga holidays in Morocco:
Pleasant weather – Most of Morocco has a Mediterranean climate with mild winters and hot, dry summers. Thus, if you love the heat or want a warm winter escape, yoga in Morocco is for you!
Once-in-a-lifetime adventures – Whether you go on a desert tour in the Sahara desert, horse riding in the mountains, or surfing in the Atlantic Ocean, you won't forget this trip in a hurry.
An idyllic blend of urban and nature – Morocco has many colourful, bustling cities like Marrakech, along with beautiful beaches and vast sand dunes. So whatever you seek from a retreat, you'll find it in Morocco.
7 Best Morocco Yoga Retreats
Here are seven of the best yoga retreats in Morocco – there's options for all budgets!
This 5-day Morocco retreat takes place at Riad de Marrakech and Flow Yoga Studio in the historical centre of Marrakech.
You'll enjoy an energizing morning Hatha flow yoga session and spend the rest of the day enjoying unique excursions, tours and activities that will immerse you in Moroccan culture.
Highlights:
Guided city tour
Moroccan hammam and massage
Traditional cooking class and special dinner
A healthy brunch is served on the terrace after morning yoga, and there are tons of local eateries within walking distance from the hotel to explore for dinner.
We love this yoga holiday because it offers the perfect combination of yoga practice and relaxation, exploring the fascinating and historic city of Marrakech, and experiencing staying in a beautiful riad.
Prices from $1,118 / €980 / £888
Best Luxury Wellness Retreat in Morocco – Sally Goldfinger
This 7-day trip in the charming blue town of Chefchauen in North Morocco is one of the best retreats for those who want a luxurious and peaceful place to relax and unwind.
Highlights:
Twice daily yoga practice (Hatha yoga)
Ayurveda workshop
Guided walks
Hammam spa experience
During this Morocco retreat, you'll stay in a high-end yet cosy boutique hotel with a magical rooftop terrace where your yoga sessions will occur. A nutritious brunch and dinner are included each day with vegan and vegetarian options.
We loved the location of this retreat – the blue city of Chefchauen is one of the most beautiful and most popular cities in Morocco and offers a more laid back, relaxing experience than Marrakech. This retreat is the chance to be immersed into this unique destination and culture in comfort and luxury.
Prices from $3,137 / €2,750 / £2,493
Best Luxury Yoga Retreat in Marrakech – Yoga With Perumal
This 8-day luxury yoga vacation is set in a lush oasis in the Palmeraie area, just 10 minutes from Marrakech city centre.
Highlights:
Daily Hatha yoga classes
Accommodation in a serene garden resort
Transfer to and from Marrakech Menara airport
During the retreat, you'll get a nutritious, organic local-style breakfast and dinner sourced from the venues gardens. You'll also have the opportunity to explore and learn how to make local cuisine with optional cooking classes and hamman treatments.
We loved this retreat as the yoga classes were amazing and we were able to really relax in the exotic gardens of the retreat center whilst still be close enough to easily explore the city of Marrakech.
Prices from $1,789 / €1,591 / £1,407
Best Short Yoga Retreat in Marrakech – KechEvents
This 4-day experience is one of the best wellness retreats for those seeking self-care during their Marrakech trip as well as a central location from which to explore the fascinating city.
Highlights:
1 to 2 vinyasa yoga classes a day
Daily vegetarian brunch and dinner
Massage included
We loved this retreat because the program gives you plenty of free time to explore Morocco and its culture at your own pace. As it's located right in the centre of the historic district, you'll find the famous Djemaa El Fna, mosques, medinas and the maze of narrow alleyways to explore just a stone's throw away from the hotel.
Prices from $679 / €595 / £539
Best Hiking and Yoga Retreat in Morocco – AdventureYogi
The diverse landscapes and scenery of Morocco make it an amazing destination for hiking. This 5-day yoga and hiking retreat is located in the Atlas Mountains, only 90 minutes away from Marrakech, and is ideal for yogis looking to get active and reconnect with nature.
Highlights:
Energising vinyasa yoga each morning
Restorative yoga class every evening
Guided half or full-day hikes with local guides
On this retreat, you'll stay in a rustic yet comfortable traditional kasbah amidst tranquil surroundings and practice yoga outside with views of the Atlas Mountains. All meals and airport transfers are included for a stress free escape.
We loved staying in the authentic kasbah, being immersed in this unique environment and we grateful for the insight into how the local community lives and all the mint tea on the guided hikes.
Prices from $1,172 / €1,073 / £895
Best Yoga and Meditation Retreat in Taghazout – La Vida Surf
The fishing village of Taghazout is the best place to surf in Morocco and one of the most laid back places to visit. There are many surf camps that also include yoga classes, but they can sometimes be a bit hit and miss.
If you're looking for top quality yoga classes, and the opportunity to try surfing, then La Vida Surf's 4-day yoga and meditation retreat in Taghazout is one of the best Morocco retreats.
Highlights:
Twice-daily yoga and meditation sessions in the rooftop shala
Pranayama and mantra workshop
Nature walk in the Atlas Mountains
Local village trip
During this retreat, you'll stay in a boutique and traditional Moroccan villa with a plant-based brunch and dinner buffet each day. If you fancy learning how to surf the best waves in Morocco you can upgrade your retreat to a surf and yoga retreat.
Prices from $700 / €630 / £557
Most Affordable Surf and Yoga Retreat in Morocco – Crocro Surf Maroc
If you're looking for an affordable surf and yoga retreat in Morocco, look no further than Crocro Surf Maroc. Located in Tamraght, one of Morocco's best surf locations, you'll enjoy top-class surf lessons with experienced instructors, plenty of beach time and sunset yoga classes for an budget friendly price.
Highlights:
Two surf classes and free use of surf equipment
Two sunset yoga sessions
Market trip
This surf and yoga retreat in Morocco is suitable for all levels, including beginners. You can choose between low-cost shared or private rooms with beach views, and all meals, equipment hire and transfers to the surf spots are included making this unbeatable value.
Prices from $192 / €168 / £152
Tips for Planning your Yoga Holiday in Morocco
Situated just below Spain, Morocco is easy to reach from Europe. Many retreats in Morocco are held in Marrakech (also spelt Marrakesh). Marrakech Menara Airport (RAK) is a busy and well-connected international airport with cheap, direct flights to the UK and Europe.
Some retreats offer transfers to and from the airport, either included in the retreat price or for an additional fee. So be sure to ask your retreat organiser about this, as having pre-arranged transport can save a lot of stress and worry.
If your retreat is not in Marrakesh, don't worry, as Morocco has 9 other international airports. Speak with your retreat organiser to learn the nearest airport and how to get to the retreat centre. Agadir Airport is closest to the surf and yoga retreats in places like Taghazout and Tamraght on Morocco's Atlantic Coast.
The climate in Morocco varies from region to region, so it's best to research beforehand to know what to expect. For example, Marrakech can reach highs of 37°C/ 100 °F in the summer, so most people avoid visiting in July and August. However, Agadir, situated on the southern Atlantic coast, has pleasant temperatures all year round.
Make sure you read our essential yoga retreat packing list and guide to the best travel yoga mats to help you decide what to bring with you. And also ensure you have comprehensive travel insurance covering all activities you plan to do in Morocco, such as yoga, surfing, hiking or camel rides.
Finally, always read the reviews on BookYogaRetreats before choosing and booking any yoga, meditation or wellness retreat in Morocco.
* This post may contain affiliate links. When you make a purchase through links on our site we may make a small commission, at no additional cost to you. We only recommend products that we love and genuinely use ourselves. All prices stated are correct on the date of publishing, but can be subject to change.
© loveyogalovetravel.com 2022-2023. Unauthorized use and/or duplication of this material without express and written permission from this site's author and/or owner is strictly prohibited. Excerpts and links may be used, provided that full and clear credit is given to loveyogalovetravel.com with appropriate and specific direction to the original content.