5 Life-Changing Thailand Yoga Teacher Training Courses for 2023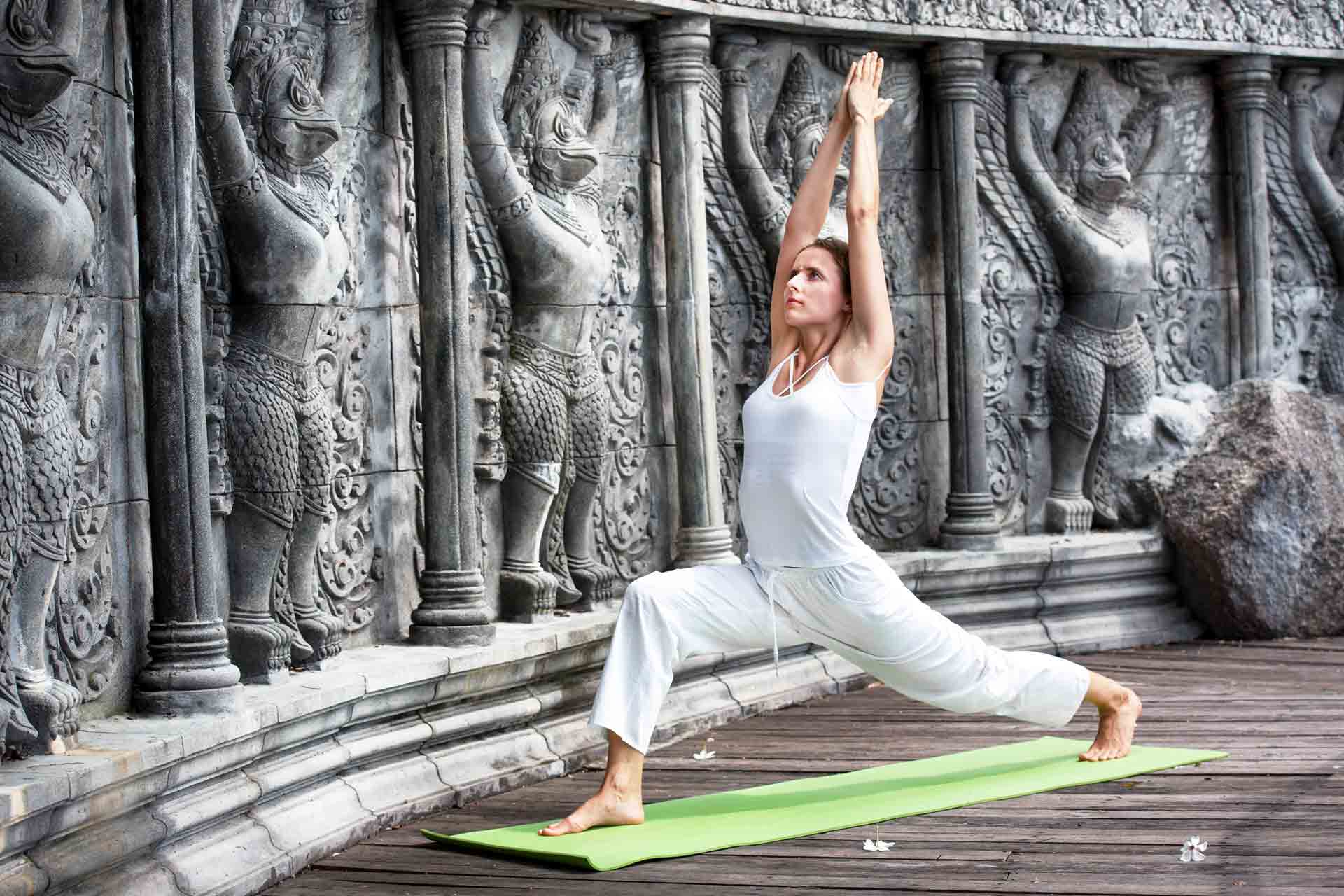 When I first decided to become a yoga instructor, I had a strong desire to do my yoga teacher training in Thailand. I had never been to Thailand before, but something drew me to this blissful South East Asian country.
Like many yogis, I did a Vinyasa yoga teacher training in Koh Phangan, which entirely changed my life. So much so that I ended up teaching yoga and living in Thailand – for three years and counting.
So, if you feel called to do your 200-hour yoga training in Thailand and are looking for recommendations on the best yoga studios and courses you're in the right place.
In this article, I'm sharing the best places to do Thailand yoga teacher training courses here and the top 5 certified teacher trainings.
Pin this image!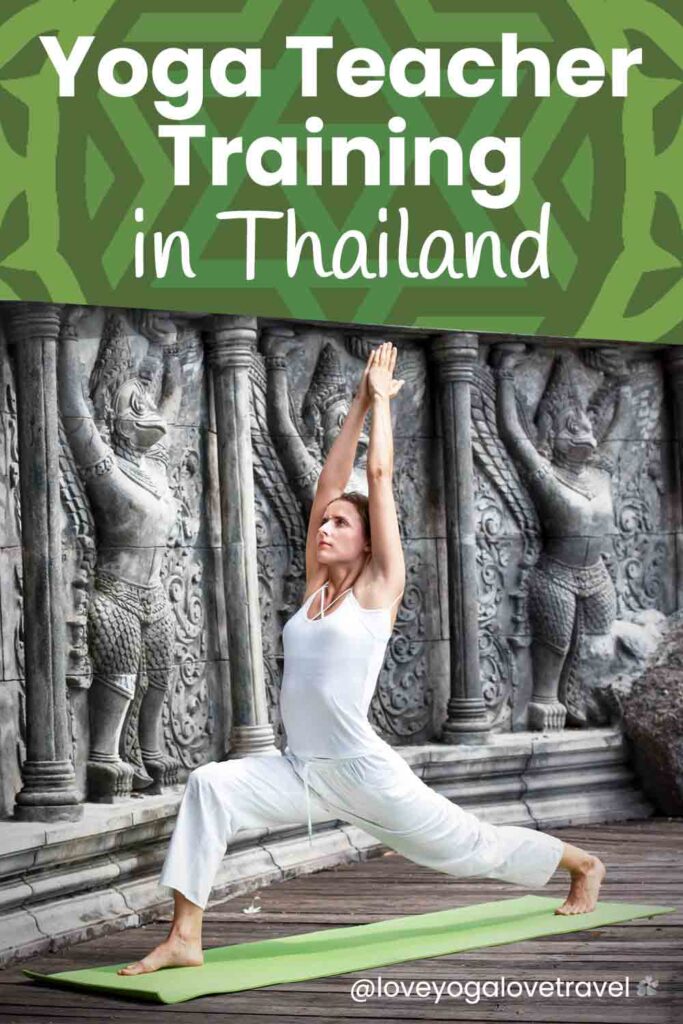 Reasons to do yoga teacher training in Thailand
Thailand has a rich culture, abundant nature, beautiful temples and some of the most impressive beaches in the world! It is literally a tropical paradise, combined with a relaxed way of life, friendly locals and Buddhist culture.
Many yogis choose to do a Thailand yoga teacher training as part of an extended trip around the country or South East Asia as it's an affordable, safe and easy place to travel – even for solo female travellers.
Best places to do yoga teacher training in Thailand
So where in Thailand should you do your yoga teacher training course? Here are the top four places I'd recommend.
Koh Phangan – This is Thailand's spiritual hub, often compared to Ubud in Bali. It is a relatively small island, but the yoga community is HUGE. You'll find dozens of yoga schools and studios (many located directly on the beach or with sea views). Aside from YTTs, Koh Phangan is known for its extensive spiritual offerings, from Ecstatic Dance to Tantra Workshops, Cacao Ceremonies and Dynamic Meditations.
Chiang Mai – Chiang Mai is a lovely small city in northern Thailand packed with ancient temples and boasting a stunning mountain backdrop and an incredibly peaceful, friendly vibe. The locals are laid back and welcoming and you'll find plenty of affordable yoga retreats in Chiang Mai along with several outstanding yoga schools offering yoga teacher training in Chiang Mai and a real immersion into traditional Thai culture.
Phuket – The bustling island of Phuket in the south is one of Thailand's most popular tourist destinations but is also known for its luxurious wellness resorts and retreat centres. Phuket yoga and wellness retreats are hugely popular here, and several schools run regular yoga teacher trainings.
Koh Samui – This island is located next to Koh Phangan but has a totally different vibe. If you love the island lifestyle, but Koh Phangan is too hippy for you, come here. The tourist island offers so much to do and see and some of the country's best beaches and luxury yoga resorts.
For more inspiration check out our detailed guide to yoga in Thailand with the best studios and retreats.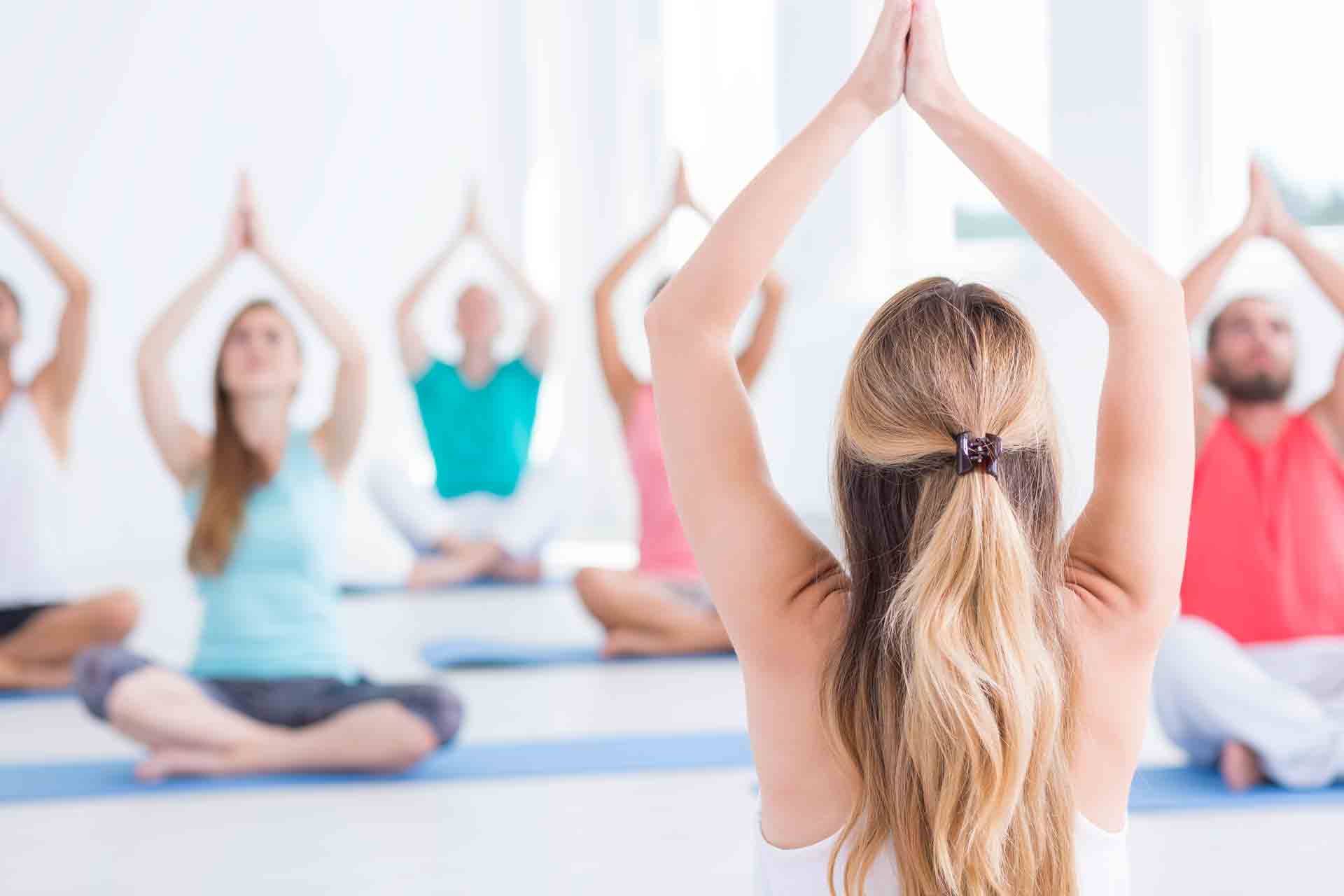 Best Thailand Yoga Teacher Training Courses
If you've already started researching yoga teacher training Thailand courses, you'll know there is an enormous selection. So to save you time (and prevent you from getting overwhelmed), I've narrowed it down to the 5 best options.
All of these courses are approved by Yoga Alliance and offer comprehensive teaching in the physical practice of yoga, the asanas, meditation and pranayama, as well as yoga philosophy, anatomy, physiology and teaching methodology. You'll also get plenty of practice teaching yoga so you'll be confident and ready to start teaching upon completion.
Best Yoga Teacher Training in Koh Phangan – One Yoga
One Yoga is one of the newest yoga schools in Koh Phangan, Thailand, yet it is already one of the most popular. Over 28 days, you'll learn to teach yoga in a gorgeous, modern retreat centre right by the beach.
Highlights:
Comprehensive program including anatomy, philosophy, and teaching methodology
2 huge, airy yoga shalas with stunning ocean views
4 accommodation options, including beachfront bungalows
Daily vegetarian breakfast and lunch
This 200-hour yoga course will prepare you for teaching yoga in the traditional Hatha and modern Vinyasa styles. However, the daily yoga classes include Ashtanga, Yin, and Restorative Yoga.
If you love this YTT and want to deepen your teaching skills further, One Yoga also offers advanced 300-hour yoga teacher training.
Best Yoga Teacher Training in Koh Samui – EarthSea Yoga
The 200-hour EarthSea YTT is ideal for those lacking time. As one of the shortest yoga trainings in Thailand, you'll gain the confidence and skills to start your yoga teaching career in just 15 days.
Highlights:
Twice daily yoga (Hatha and Yin)
Posture clinics, anatomy classes, and philosophy discussions
Daily breakfast and lunch
On this Thailand yoga teacher training, you'll stay at Green Garden, a peaceful green oasis just a 4-minute walk from the beach. The training is aligned to the lunar cycle, beginning on the New moon (representing new beginnings) and ending on the full moon (representing completion).
Best Yoga Teacher Training in Phuket – TAYSP
Traditional Ashtanga Yoga Shala Phuket (TAYSP) is a Yoga Alliance registered school in Phuket, offering a 28-day training specialising in Ashtanga Vinyasa Yoga. So if you're a budding "Ashtangi", this is the ideal YTT for you!
Highlights:
Daily asana, pranayama, and meditation taught by two highly experienced Ashtanga yoga teachers
The course follows the Ashtanga Vinyasa Primary Series
A broad program including yoga therapy, philosophy, anatomy, and teaching ethics
During the 28-day course, you'll stay at a hotel 5 minutes from the yoga shala. A nutritious vegetarian brunch and dinner are also included every day.
Even if you don't have time to do a full YTT their intensive Ashtanga yoga course is one of the best yoga retreats in Phuket that will deepen your knowledge of yoga both on and off the mat.
Best Yoga Teacher Training in Chiang Mai – Yoga Vidya Mandiram
This 22-day multi-style 200-hour yoga teacher training in Thailand takes place in the picturesque city of Chiang Mai.
Highlights:
Train to become a multi-style Hatha, Ashtanga, and Vinyasa yoga teacher
In-depth modules on yoga philosophy, including the Vedic scriptures
Enjoy excursions and activities like temple visits and Thai cultural performances
The yoga training schedule runs from 5 am to 8:30 pm, including two asana classes, daily meditation and breathwork, and three vegetarian meals.
If you want to dive even deeper into your yoga practice, Yoga Vidya Mandiram also offers 300-hour yoga teacher training.
Best Affordable Yoga Teacher Training in Thailand – Ulu Yoga, Koh Phangan
If you want to gain a Yoga Alliance yoga certification but lack time or funds, Ulu Yoga's hybrid multi-style yoga teacher training in Koh Phangan, Thailand, is ideal. It includes 14-day in-person studying with the rest of the course delivered online.
Highlights:
Train to become a Hatha and Vinyasa yoga teacher
Learn Aerial, Acro, Yin, Ashtanga, and SUP yoga
Enjoy a wide range of activities, including kirtan, dance, sound healing, saunas, and ice baths
During Ulu's 14-day onsite training, you'll stay at the beachfront Bounty resort in a peaceful part of Koh Phangan.
Tips for Planning your Thailand Yoga Trip
An essential part of planning your yoga teacher training in Thailand is figuring out how you will get there and the best time to visit.
If you are doing your YTT in Phuket, Chiang Mai or Koh Samui, you can fly straight there, as each city has an international airport.
Koh Phangan is a little harder to reach. The easiest way is to fly to Koh Samui and take the short ferry ride across. Or a cheaper alternative is to fly to Surat Thani and take a longer ferry.
Thailand has two distinct seasons: dry and wet. The rainy season is between May and November, depending on the region. December and January are the busiest months for tourism and often the most expensive.
Thus, I recommend doing your Thailand yoga course in March or April. The weather is typically beautiful during this time, yet it is relatively quiet.
As with every country, get travel insurance before leaving home! And lastly, check the reviews of Thailand YTTs on BookYogaTeacherTraining to ensure you choose the one best suited to you.
I hope this article has helped you choose the best yoga training course in Thailand for you. If you're still undecided check out our other guides on yoga teacher training in Bali, India, Europe, Costa Rica and the USA.
* This post may contain affiliate links. When you make a purchase through links on our site we may make a small commission, at no additional cost to you. We only recommend products that we love and genuinely use ourselves. All prices stated are correct on the date of publishing, but can be subject to change.
© loveyogalovetravel.com 2022-2023. Unauthorized use and/or duplication of this material without express and written permission from this site's author and/or owner is strictly prohibited. Excerpts and links may be used, provided that full and clear credit is given to loveyogalovetravel.com with appropriate and specific direction to the original content.