The Ultimate Guide To Yoga Teacher Training Abroad in 2024
Whether you are looking to become a yoga teacher and change your career, or just want to deepen your practice, learn more about yoga philosophy and immerse yourself in a different culture, doing yoga teacher training abroad (YTT) is an incredible life changing experience.
What could be better than exploring an exciting new destination and coming home as a certified yoga teacher!
To ensure this next step in your yoga journey is a fulfilling, transformative and unforgettable experience we have put together this comprehensive guide to yoga teacher training abroad.
Collectively, we have taken numerous yoga teacher training programs in India, Bali and Thailand so you can learn from our experiences before you take the plunge.
This guide will cover everything you need to know about doing your yoga teacher training overseas, from the advantages of doing a YTT overseas and the best YTT destinations for 2024, to how to choose the right yoga teacher training course and tips for planning your trip. We will also include some recommendations for your favourite Yoga Alliance approved international yoga teacher training programs.
Pin this image!
Certification Options for Yoga Teacher Training Abroad
There are so many options for yoga training that it can get quite confusing figuring out which is the best route to take.
This article mostly focuses on 200 hour training options because the 200 hour yoga teacher training course is the foundational yoga certification and basic requisite that is required from all yoga instructors who want to be qualified to teach yoga.
After you complete the 200 hour training you can deepen your knowledge with a 300 hour yoga teacher training course. You can also do both at once with a 500 hour yoga teacher training, however this is very intense so we recommend taking a break between courses to rest and integrate what you've learned.
If you are short on time and not concerned about becoming a certified yoga teacher you could go for a 100 hour program which will give you a good introduction. Some yoga schools offer the opportunity to come back and do another 100 hours at a later date so you can complete the training up to 200 hours.
200 Hour Yoga Teacher Training Courses
As well as the physical practice, 200 hour YTT's also cover the theoretical, scientific and spiritual aspects of yoga. While a 200 hour YTT is the requirement for becoming a qualified yoga instructor, you don't need to aim to teach yoga to benefit from doing it.
There are numerous reasons to do yoga teacher training and many people just want to deepen their yoga practice both on and off the mat, be immersed in a healthy lifestyle or even have a spiritual experience. You'll gain so much from the experience on so many levels even if your goal isn't to change your career. The YTT's we've attended have been about 50/50 for people wanting to teach yoga and those just wanting to deepen their personal practice.
Although some yoga schools do accept beginners, we recommend having at least 6 months of regular yoga practice to be ready to do a yoga teacher training.
This is because doing a YTT is physically, emotionally and mentally challenging, but can also be a spiritual and truly transformative experience. You'll find it a lot more enjoyable and less overwhelming if you are used to a regular practice, good level of fitness and have a basic knowledge of yoga.
Becoming a yoga instructor is more than mastering the physical practice or 'asanas.' As well as twice daily yoga classes, a 200 hour yoga program should include pranayama (breathwork) and meditation techniques and dive deep into yoga philosophy and history, alignment, anatomy and physiology, and teaching methodology.
The best yoga teacher trainings will also include plenty of practice teaching yoga and may include other activities like workshops, therapies, spa treatments and excursions to local temples. Always make sure any course you consider is with a registered yoga school and approved by Yoga Alliance.
Online Yoga Teacher Training Courses
Another option for getting an international yoga certification is with an online yoga teacher training course. These are great if you don't have the money or time to take off and do an intensive course.
When you do your yoga training online you can study at your own pace from home around your other commitments. You could get qualified by an Indian yoga school without ever traveling to India. However online programs can fall short of an in person YTT in many ways. Read about the advantages and disadvantages of doing yoga teacher training online to know more.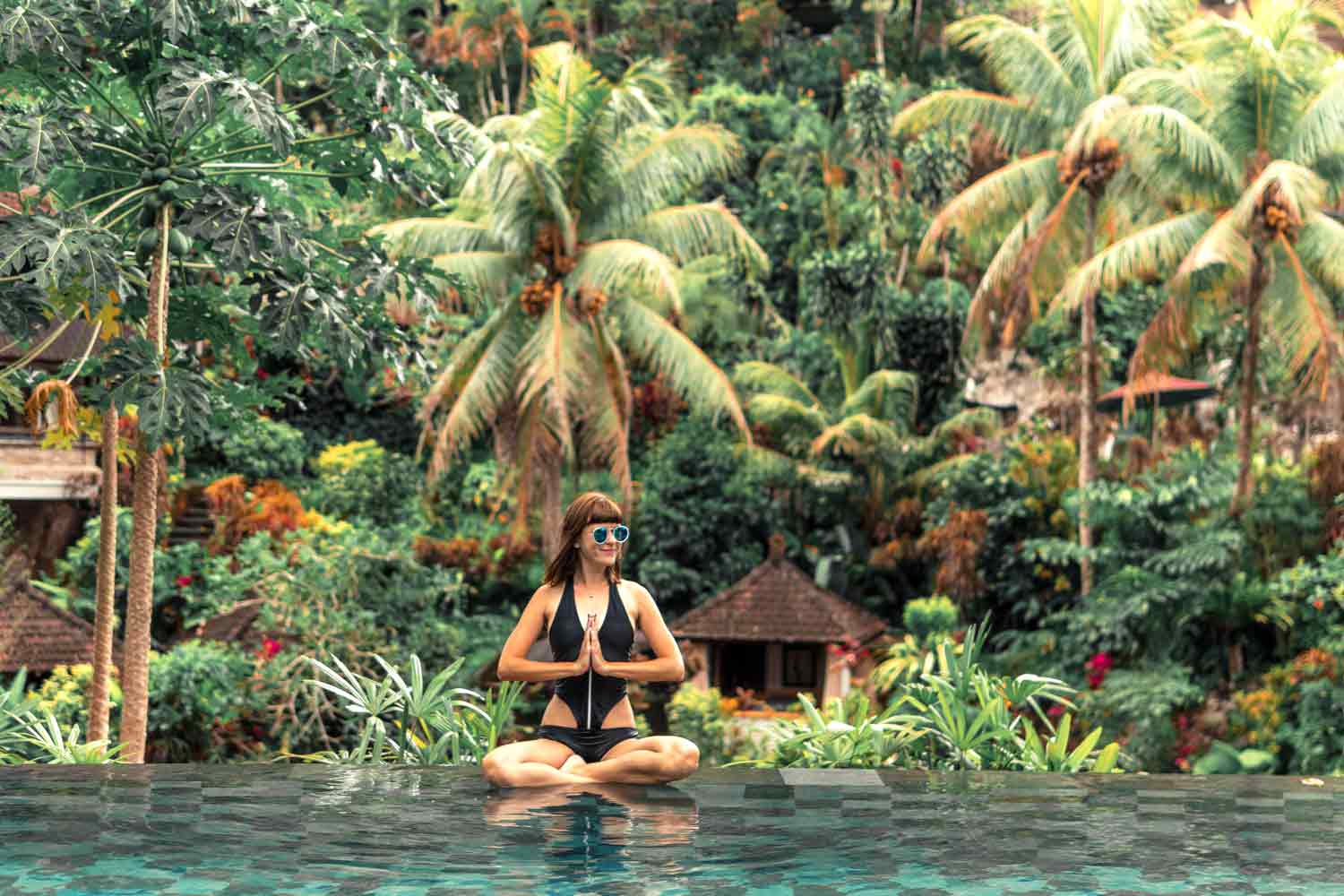 Reasons to do your Yoga Teacher Training Overseas
Before we dive into the best places to do yoga teacher training, let me explain why, in my experience, doing yoga teacher training abroad is a great idea and what you need to do to make sure you're properly certified to teach anywhere in the world afterwards.
A YTT is a big investment of both your time and finances and doing your yoga teacher training abroad is often a more affordable option that allows you to get certified quickly.
Doing an intensive yoga teacher training program overseas is one of the most popular options. Many intensive 200 hour yoga teacher training retreats abroad take between 2 – 4 weeks to complete and most yoga schools include accommodation and food in the package. I recommend taking the longest time you can as it makes the experience more relaxing and more enjoyable.
Another advantage of doing a yoga teacher training abroad is that you'll get to take time out of your normal routine to really reconnect with yourself and your body as well as taking your yoga practice to another level. You'll be immersed in the yogic lifestyle, develop healthier habits, make new like-minded, life-long friends and get to explore the culture and spirituality. Take a look at our blog post on the benefits of doing yoga teacher training for more on why it's such a transformative experience.
Many YTT's are held in yoga hotspots and spiritual destinations so you can also explore temples, ancient sights, stunning nature and beaches. I recommend allowing time after completing your training to travel and explore as intensive YTT's are just that – intensive.
The Cost of Doing Yoga Teacher Training Abroad
The cost of doing a yoga teacher training program overseas starts from around $1000 for courses in cheaper places like India but can be up to $5000 for more luxurious yoga teacher training retreats in more expensive countries, it depends on the destination, instructors and facilities.
Most YTT packages abroad include accommodation and meals, but don't forget you'll have to take into account the cost of flights, and possibly entry visas, into your budget too. Check Skyscanner for flight prices and book in advance for the best deals.
The Best Places to do Yoga Teacher Training Abroad in 2024
Now you know the benefits of doing international yoga teacher training, here are the best destinations for 2024. 
Many of these destinations are spiritual places that have also become wellness and yoga hubs with a huge variety of wellness and yoga retreats, spas, healthy cafes and other healing therapies available as well as a vibrant community of yogis and a rich spiritual culture to explore.
As the birthplace of yoga, India was once the main option for aspiring yoga instructors, but nowadays there are so many incredible yoga destinations and yoga teacher training retreats to be found all around the world so the options are endless.
In fact the choice can get overwhelming, so in this post I'll reveal the top 6 very best places for yoga teacher training abroad to help you narrow it down and find the perfect one for you.
Ubud, Bali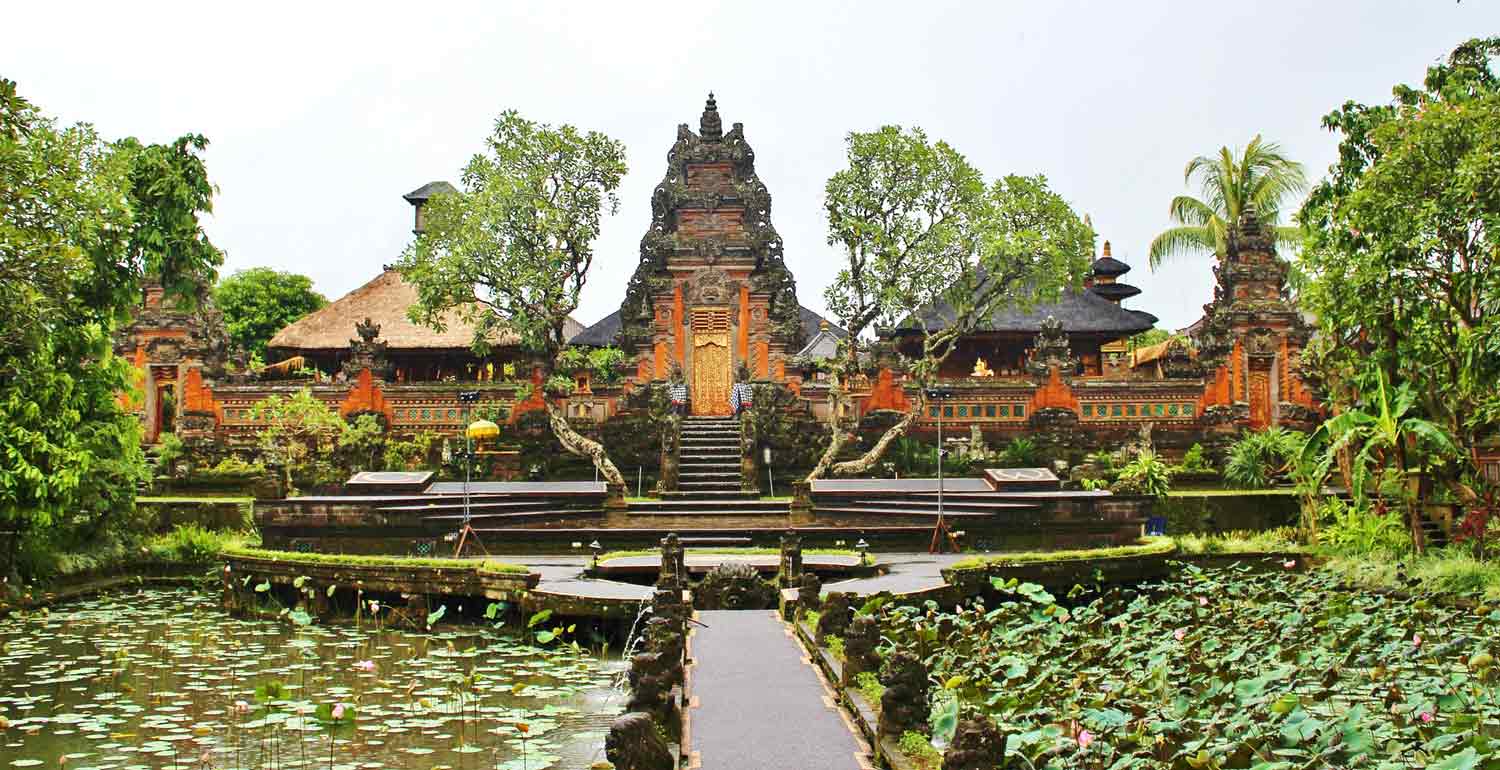 India may be the birthplace of yoga, but Bali is without a doubt the best place to do yoga teacher training in the world!
Bali, Indonesia, is known as 'the island of the gods' due to the plethora of temples. It's a deeply spiritual island and is the world's biggest yoga and wellness destination. Even before 'Eat Pray Love' people have been flocking here in search of healing and spirituality.
Bali is a Hindu island, so it follows the same religion as India and is a great place to immerse yourself in the culture, spirituality and traditions of the ancient practice. After experiencing both countries, Bali offers a cleaner, calmer, easier and more comfortable experience than India, in my opinion. It's much safer for solo female travelers too. 
Ubud, is the cultural and spiritual heart of the island with a long history of healing. Ubud is home to stunning temples, rice terraces and a sacred monkey forest, as well as countless yoga studios offering yoga teacher training programs, affordable spas and an amazing raw vegan food scene. Off the mat there's plenty to do and a lovely community of like minded people to meet. 
Best Yoga Teacher Training in Bali – Yoga Union, Ubud
Our top pick for the best Bali yoga teacher training course is Yoga Union in Ubud. They have been offering respected and globally recognized 200-hour YTTs for over a decade. The comprehensive course takes 23 days and concentrates on Ashtanga Vinyasa Flow, catering to both aspiring teachers and committed students looking to enhance their practice.
You'll practice in an open-air yoga shala with views over the rice fields and stay in a beautiful and peaceful resort, learning from experienced and enthusiastic international teachers. Delicious vegan and vegetarian food are included in the package and there is a variety of accommodation options to suit all budgets. Prices from approx $2,200.
Bali offers the biggest selection of YTT's in the world. If you prefer to train by the beach you can also find programs in places like Canggu, Ulu Watu and on the island of Nusa Lembongan.
Check out our guide to yoga teacher training in Bali for more tips and recommendations.
Rishikesh, India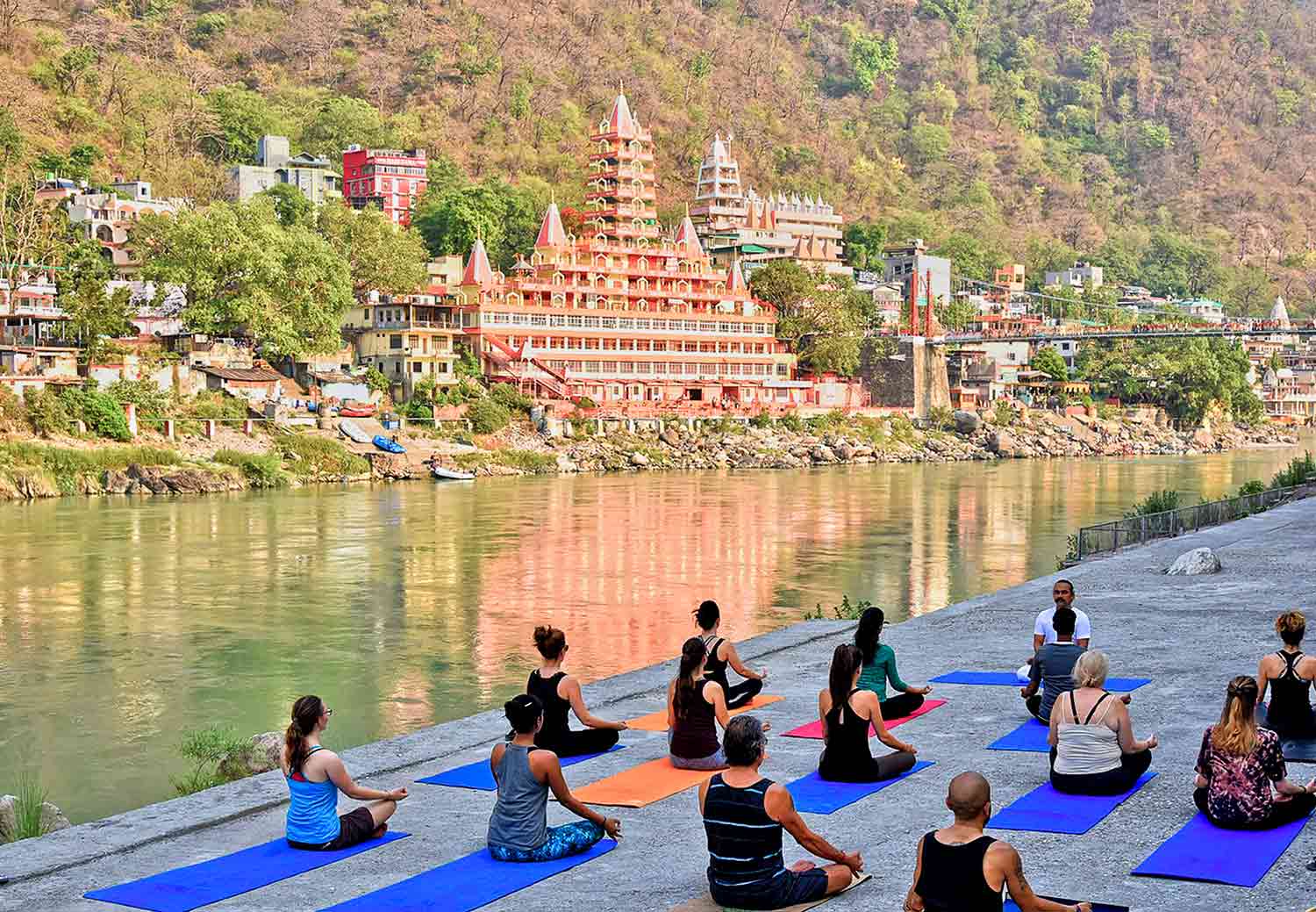 As the place where both Yoga and Ayurveda, it's sister life science, originated, India is still the best option for those looking for an authentic and affordable yoga training.
As well as learning traditional yoga from teachers for whom the yogic lifestyle is a way of life, you'll be immersed in the rich culture, religion and traditions from this fascinating and deeply spiritual country that invented yoga!
One of the most popular places for yoga teacher training in India is Rishikesh. This holy town situated on the sacred Ganges river in the foothills of the Himalayas is known as 'the yoga capital of the world.'
There's a huge array of ashrams, yoga schools and temples in Rishikesh. Even The Beatles famously came here in the 1960's to study meditation with their guru. You can still visit the ruins of the Beatles ashram or go rafting on the Ganges River in Rishikesh.
You can also do a YTT in Mysore, the birthplace of Ashtanga yoga, or Dharamshala – the home of the Dalai Lama and Tibetan government in exile. Those looking for a beachside locations should consider Goa or Kerala in tropical South India. 
The cheapest yoga teacher training programs in the world are found in India. However, facilities in Indian yoga schools can be a bit basic and traveling India can be challenging, especially for solo female travellers so we recommend getting an airport transfer for a stress free arrival.
Make sure to read reviews before booking as sadly not all yoga gurus are the real deal and the style of teaching yoga in India can often be quite strict and regimented. Check out our comprehensive guide to yoga teacher training in India for more tips.
Best Yoga Teacher Training in India – Triguna Yoga School, Rishikesh
Our favorite Rishikesh yoga teacher training is offered by Triguna Yoga School. This 25-day, 200-hour program focuses on traditional Hatha yoga and also includes Ashtanga and Vinyasa classes. As well as the core YTT subjects you'll also learn various meditation styles, such as Sufi and mantra chanting, and participate in a 4-day emotional detox program.
The curriculum covers teaching methodology, yoga Nidra, yogic cleansing techniques, and naturopathy. The training takes place at Dhyan Mandir ashram, with shared and private rooms available. You'll also get airport transfers, all meals, and a sunrise mountain trip included in the course price.
If you are considering a YTT in India, check the real reviews from previous yoga students on a website like bookyogateachertraining.com first. This advice goes for everyone considering a yoga teacher training abroad, but even more so for India.
If you want India vibes but aren't sure about visiting India itself, consider neighboring Sri Lanka or Nepal for an 'India lite' experience.
Costa Rica
Costa Rica is one of the very best places for yoga teacher training abroad with many courses being held in luxurious eco friendly jungle retreats. The abundant nature and positivity makes it the perfect place to connect to mother earth through your yoga practice.
This Latin American country is famous for it's incredible biodiversity, natural beauty and commitment to sustainability with stunning, unspoilt rainforests, national parks, beaches, volcanoes and vibrant wildlife.
When you do a yoga teacher training in Costa Rica you'll be immersed in the 'Pura Vida' philosophy. Pura Vida means the pure life or the simple life. This attitude means Costa Ricans have a deep sense of contentment (like santosha in yoga) and are some of the happiest people in the world.
Some of the best yoga teacher training retreats in Costa Rica are held on the unspoilt beaches of the Guanacaste Province, Nicoya Peninsula and Puntarenas. When off the mat there is a vibrant yoga and surf scene to explore in cute beach towns like Tamarindo, Nosara and Santa Teresa.
Best Yoga Teacher Training in Costa Rica – Innersea Yoga Academy
Our favourite multi style yoga teacher training in Costa Rica is offered by Innersea Yoga Academy, located in the beautiful Uvita, Puntarenas. This 18-day 200 hour program is available year-round and offers daily asana and meditation practice, philosophy, ethics, and lifestyle classes, and the chance to learn 9 different yoga styles.
The yoga training program takes place in an intimate, secluded piece of jungle paradise with colorful birds, iguanas, monkeys, and sloths nearby. Each day begins with meditation and breathwork before the first of several yoga classes. The program includes shared accommodation and home-cooked meals in the price, making it excellent value.
Thailand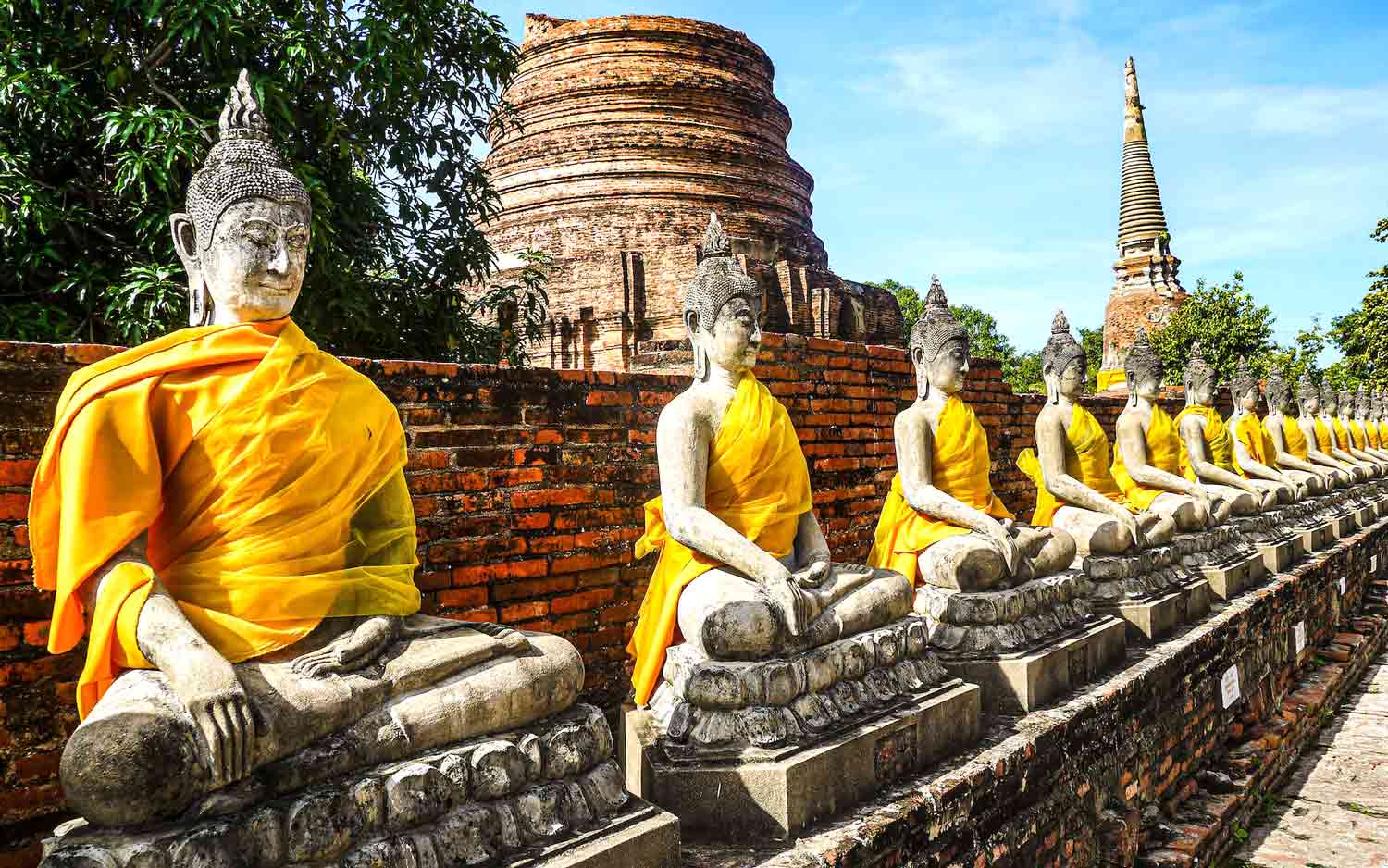 With gorgeous beaches, islands, fascinating Buddhist temples and tropical weather, Thailand is another great choice for international yoga teacher training.
'The Land of Smiles' is a Buddhist country with friendly people and a Zen like vibe. It's also an easy and affordable country to explore, even for solo female travelers.
There are yoga centres in the jungles and mountains of northern Thailand. The city of Chiang Mai is full of ancient temples and the best place to be immersed in Traditional Thai culutre. Or, if you want to do your YTT on a paradise island, Thailand is your best choice with plenty of options on Phuket, Koh Samui and Koh Phangan.
The island of Koh Phangan is the best place in Thailand to do yoga teacher training. This island is famous for the Full Moon party but has another spiritual side. The many yoga retreats and tantra workshops in Sri Thanu has led the island to become one of the world's best yoga hotspots.
Best Yoga Teacher Training in Thailand – One Yoga, Koh Phangan
Our favourite yoga teacher training in Thailand is One Yoga's 28-day 200-hour YTT on Koh Phangan. This comprehensive course is perfect for budding teachers and covers various yoga styles, including Hatha, Vinyasa, Ashtanga, Restorative, and Yin yoga.
One Yoga has a team of experienced Thai and international teachers, and they also offer regular yoga and wellness retreats. During the YTT, you'll stay at the oceanfront resort and enjoy healthy meals twice a day and magical island vibes.
Check out our guide to yoga in Koh Phangan for more info on the best yoga teacher training retreats. And there's no shortage of choice in the rest of Thailand either – read our guide to yoga teacher training in Thailand for the best courses and travel tips.
Spain
Spain is the best country for yoga teacher training in Europe with great weather, beautiful beaches, lively culture, amazing food (tapas anyone!) and a huge variety of stunning destinations, yoga schools and courses to choose from.
Some Indian yoga schools even offer authentic YTT's in Spain – perfect for those from the UK or Europe looking for a yoga teacher training abroad without having to spend too much money on travel.
From urban trainings in cool Barcelona, to island escapes, there's no shortage of yoga trainings in Spain. The Balearic islands, including the islands of Ibiza and Mallorca, are one of the best places for a YTT in Spain.
Far from being just a party island there's another spiritual side to Ibiza which makes it an amazing place for yoga training. Don't miss sunset at Es Vedra, the spiritual heart of the island.
The Canary Islands are closer to Africa than mainland Spain and offer year round warm weather and sunshine. This means islands like Tenerife, Fuerteventura and Lanzarote are the best place for a winter YTT in the sunshine.
Best Yoga Teacher Training in Spain – Gayatri Yoga, Tenerife
Our favourite yoga teacher training in Spain is Gayatri Yoga's 22-day 200 Hour program in Tenerife. Here you'll train to become a Hatha and Vinyasa yoga teacher while enjoying the year-round sunshine and warm climate of the Canary Islands.
Twice daily yoga and meditation classes, as well as theory classes, are included, and you'll have access to the school's facilities such as a swimming pool, terrace, and chill-out zones. You'll stay at the yoga ashram and participate in a self-catering, community-style environment where you can cook meals together using the school kitchen.
If Spain doesn't excite you then charming Portugal and the stunning Greek Islands are also great options for yoga teacher training in Europe. You can combine yoga with surfing in Portugal or soak up the ancient culture, history and spectacular scenery in Greece or Italy.
Mexico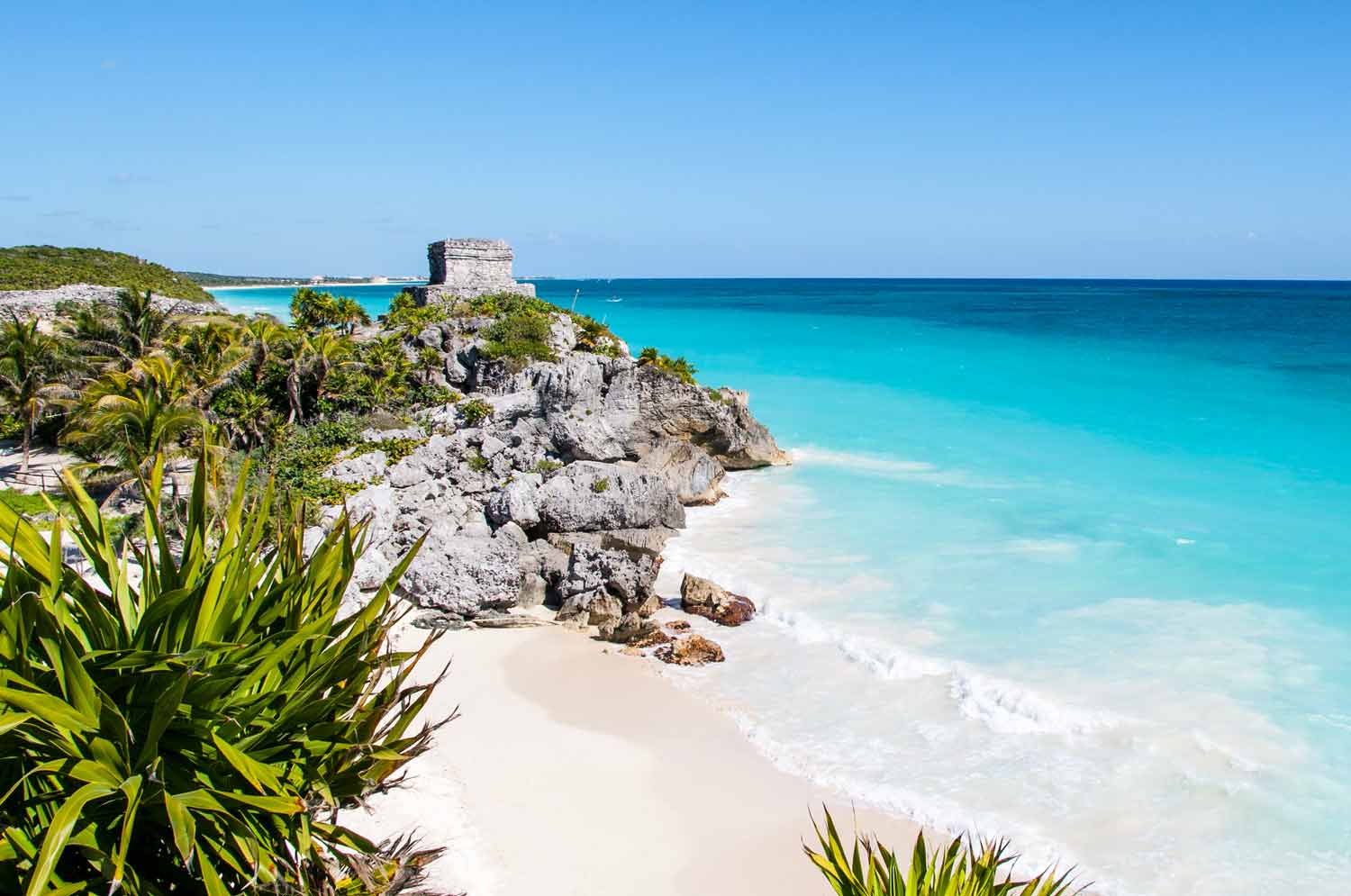 Mexico's yoga scene has also exploded in recent years making this colorful and vibrant country a worthy addition to this list of yoga teacher training destinations.
Mexico is such a fun and fascinating country to explore with ancient ruins, colorful colonial towns, lively feistas and amazing food. Some courses in Mexico also offer the chance to experience traditional healing therapies like cacao ceremonies and temazcal (traditional sweat lodge ceremonies)
The best yoga retreats and yoga teacher training courses in Mexico are held on the beautiful beaches and islands of the Yucatan Peninsula, Riviera Maya and Baja California, with Tulum and Sayulita being the biggest yoga hotspots. You can also find yoga centres in the jungles near ancient ruins.
Best Yoga Teacher Training in Mexico – Kootenay Yoga School, Isla Mujeres
Our recommended yoga teacher training in Mexico is the 15-day, 200-hour Transformative Yoga Teacher Training Program with Kootenay Yoga School. Led by experienced teacher Stephania Spitzer, this course is designed to inspire and challenge you to deepen your practice and grow internally.
You'll enjoy daily yoga classes and an incredible manual to take into your teaching future, plus ongoing support and an inspiring community feel. The all inclusive course is held at Isla Vida, Isla Mujeres. With picturesque beaches, warm waters, and a colorful community rich with culture, this course is the perfect blend of education and relaxation in paradise.
Other YTT Destinations Worth Considering
The six destinations above are the very best places for yoga teacher training overseas with a huge variety of programs available and a thriving yoga community but they are not the only options.
Guatemala, Peru and Nicaragua also deserve a mention. There are some incredible spiritual yoga teacher training retreats held at Lake Atitlan in Guatemala, in the Scared Valley in Peru and on the beaches of Nicaragua that are often much cheaper than the courses in Costa Rica and Mexico.
If you're looking for a YTT in Europe also consider Portugal and Greece, and if you like the sound of India but aren't quite ready for the craziness consider neighbouring Nepal and Sri Lanka. And you can also have an amazing experience yoga teacher training retreat in the US too!
To help you decide on the destination do a bit more research about the climate, culture, history and yoga facilities available to make sure it's an environment that you would be happy to spend some time in.
How To Choose The Best Yoga Teacher Training Course
Yoga instructor training is a significant time and financial investment, so it's important to do some research to ensure you pick the right destination and the right course for you.
Once you've decided on your ideal location then look for programs on an unbiased site like bookyogateachertraining.com where you can search, compare and read reviews to find the best course that meet your requirements.
There's many things to take into account when choosing a YTT including the style of yoga taught, the curriculum and certification you'll gain, the location, facilities, duration and price and not forgetting the reputation of the yoga school and the qualifications of the teachers.
One of the first things you should check when considering a YTT is that it's a registered yoga school approved by Yoga Alliance. This means that the school's curriculum meets all the basic requirements and that you'll be eligible to register with Yoga Alliance as a registered yoga teacher upon completion.
All 200 hour yoga teacher training programs should cover yoga philosophy and history, alignment and anatomy, meditation and pranayama (yogic breathing techniques and exercises), teaching methodology and include plenty of teaching practice.
When choosing your destination, consider which yoga styles you most enjoy and want to teach. For example, a traditional Hatha yoga training in India will differ alot from some of the more modern Vinyasa yoga styles taught in places like Thailand or Mexico.
You'll also want to check the reputation of the school, the qualifications of the yoga teachers and what sort of accommodation and food is included.
Even if approved by Yoga Alliance, the standards and facilities of yoga centers can vary alot. A good way to know what to expect is by checking real reviews from previous students on a site like bookyogateachertraining.com
For more help deciding which course to choose read – How To Choose a Yoga Teacher Training Program.
Tips for Planning your Yoga Trip
Once you've chosen your ideal YTT you can start planning your trip and preparing for your yoga teacher training. From booking flights to packing and physically and mentally preparing there's lots to do.
Flights, Visas and Travel Insurance
The cost of flights, visas and travel insurance will also have to be taken into consideration when planning to do an international yoga teacher training.
Traveling outside of the peak tourism season can help you to save money on flights, but check the weather first! We recommend using Skyscanner to find the best deals on flights. You can search for the cheapest dates and airports which will help you find the best deals.
Also check if you need an entry visa to enter the country. Most of the places on this list don't require visas, but India is one place that everyone will need to obtain a visa in advance of traveling. You can get an E-Visa online but remember to do it before you travel.
And make sure that you take out travel insurance that covers you for yoga and any other activities you might do during your trip.
When to go
Your own schedule will determine when is the best time for you to do your training, but you should also check the weather seasons for your destination if you plan to do your yoga teacher training abroad.
Many tropical locations have monsoon or rainy seasons which may negatively impact your experience. Doing a YTT in the hot season might also be too challenging. Generally the best time to visit tropical destinations is usually in the cool, dry, winter season.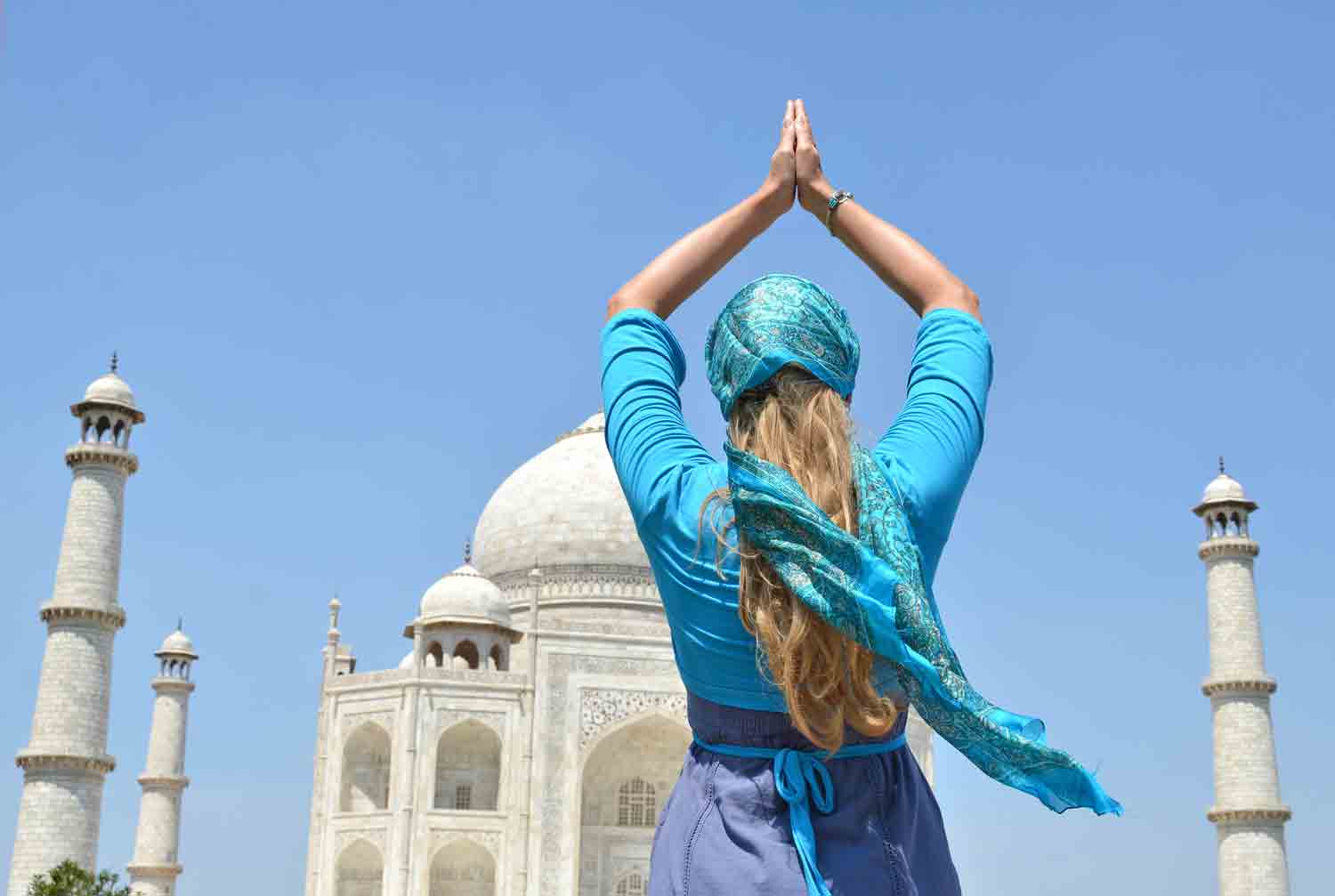 Cultural Considerations and Packing
As well as the weather, you need to be aware of cultural differences in the country you plan to visit and pack accordingly.
For example, India is still a conservative country and wearing tight leggings and crop tops could be inappropriate and attract unwanted attention. Long, loose, light clothing is best to cover up and beat the heat of India. Read more tips for female travellers in India here.
But also be aware that it's not always hot in India. If you plan to visit Rishikesh or Dharamshala in the winter take warm clothing as mornings will be pretty chilly and buildings there generally don't have heating.
Other destinations don't require you to cover up so much but you may still need a shawl or something to cover shoulders and knees when visiting spiritual or religious sites like temples or churches.
If you're unsure what to pack, have a look at our complete yoga teacher training packing list.
To make your yoga teacher training experience as smooth and rewarding as possible it's also essential to prepare both physically and mentally. From practicing yoga every day to build up your strength and fitness levels to reading yoga teacher training books to give you a head start of some of the complex subjects you'll cover. Check out our article about how to prepare for yoga teacher training success.
Final Thoughts on Yoga Teacher Training Abroad
We hope you've found this guide to yoga teacher training abroad useful. Remember that this experience is so much more than an essential step towards becoming a yoga teacher and that embarking on yoga training overseas is not just about the destination and cultural immersion, but the journey itself. It's about the personal growth and transformation that happens within you, the connections you make, and the deeper understanding of yoga you'll gain.
If you need more tips and inspiration for your yoga teacher training journey be sure to check out our other articles on yoga teacher training.
* This post may contain affiliate links. When you make a purchase through links on our site we may make a small commission, at no additional cost to you. We only recommend products that we love and genuinely use ourselves. All prices stated are correct on the date of publishing, but can be subject to change.
© loveyogalovetravel.com 2022-2023. Unauthorized use and/or duplication of this material without express and written permission from this site's author and/or owner is strictly prohibited. Excerpts and links may be used, provided that full and clear credit is given to loveyogalovetravel.com with appropriate and specific direction to the original content.