10 Stunning Yoga Retreats in Greece for 2023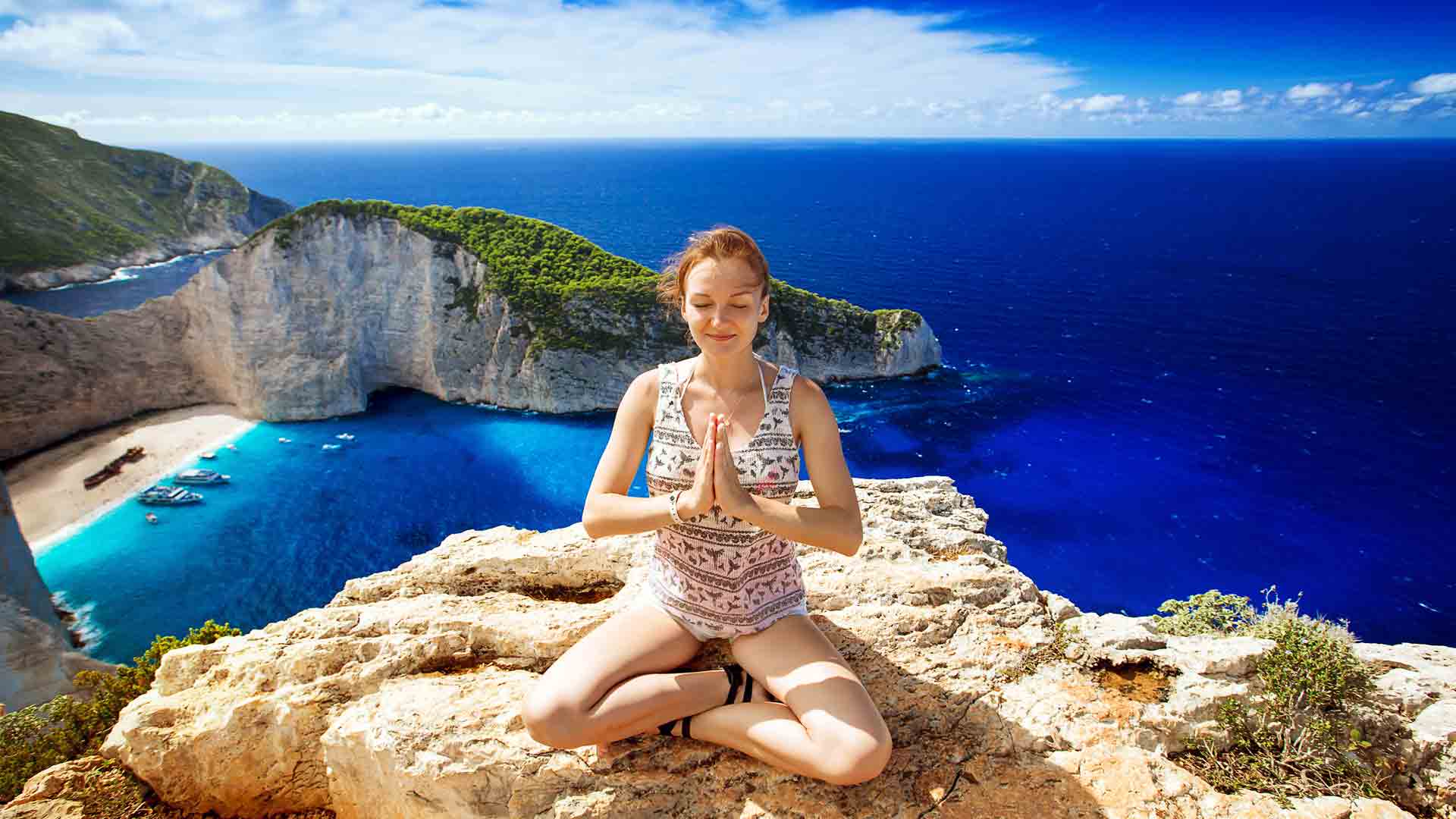 From pristine beaches to ancient ruins, delicious food and a relaxed lifestyle, yoga retreats in Greece are full of fun, adventure and luxury. Here, you can enjoy a sunset yoga class overlooking the Mediterranean sea and nourish your body with organic, nutritious cuisine.
The warm weather and stunning scenery make Greece one of the most popular places for yoga holidays in Europe. But with over 6000 stunning islands throughout the country (plus many excellent spots on the mainland), how do you decide where to go for a wellness retreat in Greece?
In this article, I'm sharing my top 10 yoga holidays in Greece so that you can plan your next retreat with confidence and ease.
Pin this image!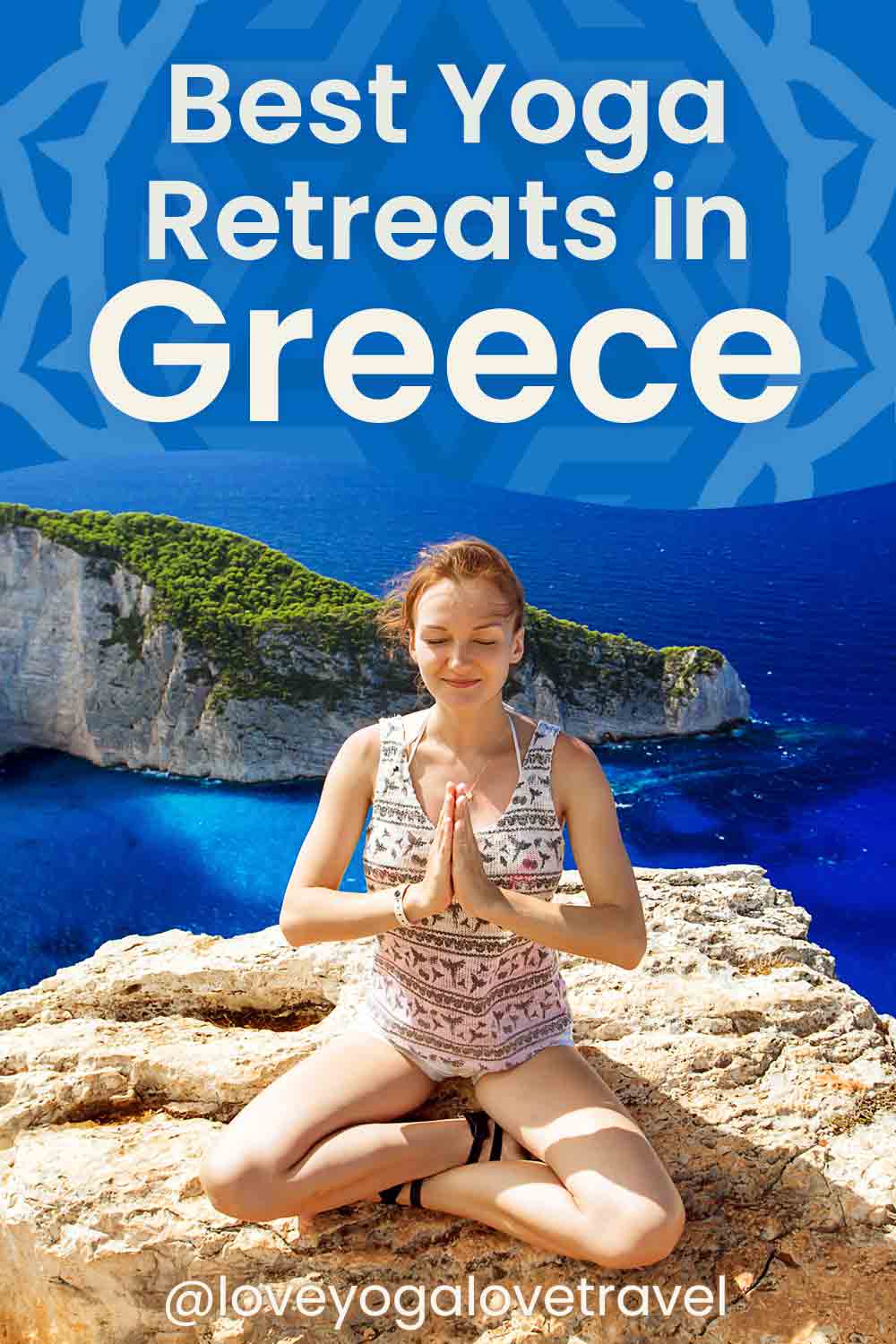 Reasons to go on a yoga retreat in Greece
Before I share the best Greece yoga retreats, let's discuss why you should choose this blissful Mediterranean country.
Here are just a few of the main reasons yoga enthusiasts from all over the world visit Greece:
Beautiful nature – Greece's landscapes are magical and diverse, from olive tree forests and vineyards to white sandy beaches and tranquil mountains.
Healthy lifestyle – Greeks are known for their nutritious, organic food and tasty Mediterranean diet. Attending a retreat here will show you how healthy food doesn't have to be boring, and you'll surely leave with plenty of nutrition tips to integrate into your cooking and daily life back home.
Many day trips and fun activities – From seeing the historical sights of Athens to horse riding in Zakynthos, swimming in the hot springs of Kos or hiking in Crete, whichever part of the country you visit, you'll have tons to do in your free time after your daily yoga practices.
Best places for a yoga holiday in Greece
Most yogis visiting Greece head to one of the many beautiful Greek islands. The clear, turquoise waters, laid-back lifestyle, and untouched nature make them inspiring locations for yoga and wellness getaways.
Each Greek island has it's own unique charm. Here are my five favorite Greek islands for yoga and wellness holidays:
Santorini is a beautiful and picturesque Greek island located in the southern Aegean Sea, famous for its stunning sunsets, blue-domed churches, and white-washed buildings overlooking the caldera. It's unique charm and natural beauty make it one of the most popular islands in Greece and it's also a top destination for those seeking a luxurious yoga and wellness holiday.
Corfu is located in the Ionian Sea. Due to it's proximity to Italy the architecture has a distinctive Italian influence. Corfu is known for its lush green landscapes, olive groves and vineyards and unique history. Corfu's Old Town, a UNESCO World Heritage site, features Venetian architecture and narrow cobblestone streets lined with restaurants, cafes, and shops. The island's stunning beaches offer a variety of water sports. Corfu is a top choice for those seeking a blend of history, culture, and relaxation and home to some of the most affordable retreats in Greece.
Crete is located in the far south and is the largest island in Greece, home to diverse landscapes, rich history and a unique cuisine. The island is home to several archaeological sites, including the ancient palace of Knossos, which was the center of the Minoan civilization. Combine your yoga holiday with exploring charming villages and hiking Samaria Gorge, or just relax on one of the island's many sandy beaches. Crete is a great destination for wellness activities, with a range of retreats, spa treatments, and outdoor adventures available.
Kos is a beautiful island located in the Aegean Sea, near the coast of Turkey. Kos Town has great nightlife and is also home to ancient ruins such as the Asklepieion, an ancient healing center, and the Castle of the Knights of St. John. The island's natural beauty, beaches, watersports and wellness centres are another highlight.
Paros is another stunning Aegean island located in the Cyclades group with beautiful beaches, picturesque white-washed villages and a relaxed atmosphere. Paros is also home to ancient ruins like the Temple of Athena.
Despite the beauty of the islands, don't disregard mainland Greece. If you love history and culture, Athens may be your best option, considered to be the birthplace of Western civilization and home to the Acropolis, Athens is a must-visit destination for any history lover and Athens International Airport is the largest in Greece which makes traveling there convenient.
If you can't decide on one island and want to visit many, sailing holidays are a popular way to explore the beauty if the Greek islands, you can even combine sailing with yoga for a unique experience.
The Best Yoga Retreats in Greece
Here are 10 of the best yoga retreats in Greece, including different yoga styles and options for all budgets.
Best Greece Yoga Retreat for Beginners – Yoga on Crete
This 8-day Iyengar yoga experience is one of the top yoga retreats in Greece for beginners looking to learn the basics and perfect their alignment with the help of experienced yoga instructors.
Highlights:
Twice daily yoga sessions Iyengar style
Two Cretan-style meals per day included
Guided hike through the Aradaina gorge and a visit to Sweet Water beach
During this retreat, you'll stay in a traditional stone house on Crete, surrounded by olive gardens and just a 5-minute stroll from beautiful beaches. You'll also be within walking distance of the local village, where you can taste local cuisine and experience the Cretan culture.
Best Luxury Yoga Retreat in Greece – Nomadikas
This 8-day yoga vacation must be one of the best luxury yoga retreats in Greece, set in a lavish villa on Zakynthos island with infinity pools and jacuzzis.
Highlights:
Twice daily yoga classes (Vinyasa & Yin)
Luxury Yacht Trip
Horseback riding
60-minute massage included
On this upscale luxury yoga retreat, you'll start the day with a sunrise vinyasa yoga flow before enjoying spa treatments, day trips or excursions. The evening yoga classes are in yin style, followed by meditation sessions under the stars or social dinners.
Corfu yoga holidays run various retreats on the quiet western side of the island, far from the hustle and bustle of Corfu town. They offer different shared accommodation options, making them a top choice for yogis on a budget.
Highlights:
Twice daily yoga and mindfulness meditation classes
Multi-style yoga practices, including Hatha, Kundalini and Yoga Nidra
Guided group activities
Programs range from 4 to 10 days, and each retreat has a specific theme, such as hiking, meditation, reiki, or creative writing as well as two daily yoga sessions.
If you prefer historical cities and culture breaks over island hopping and lazy beach days and want to learn how to harness your body's self healing power, consider the 4-day yoga and self healing workshop retreat at Yoga Skyros Academy in Athens.
Highlights:
Twice daily Hatha yoga classes
Self-healing and kinesiology workshops
Aroma oil massage therapy
What makes this restore therapy retreat unique is that it aims to awaken the self-healer in you so that you can build and strengthen the immune system of your bodies and minds and restore balance naturally.
You'll receive seminars and workshops on activating self-healing powers and learn about kinesiology, discover Edward Bach healing methods and enjoy natural aroma oil massage therapy – all in only 4 days.
The Academy is located in Southern Athens, close to many eateries, cafes, and sightseeing opportunities. Daily breakfast is included, and there is a fully equipped kitchen onsite.
Love pilates and yoga? Thanks to this 8-day retreat in Santorini, you can practice yoga and pilates amidst a stunning coastal backdrop on the most beautiful and iconic island in all of Greece!
Highlights:
Daily yoga and pilates classes
Catamaran excursion
Guided hikes around the beautiful island
The retreat includes accommodation at the El Greco Resort and Spa Hotel, where you'll have a private ensuite room with brunch and dinner served daily.
Seeking a relaxing island retreat with plenty of yoga practice and free time to enjoy the beaches, top up your tan and explore the surroundings? If so, this 8-day Corfu yoga retreat is for you!
Highlights:
Practice various yoga styles twice a day
One free day to explore Corfu
A unique sunset dinner on your last night
You'll stay in a gorgeous luxury villa by Almyros Beach, where you can choose between several shared and private room options. The retreat includes daily breakfasts and several vegetarian dinners throughout the week.
Best Yoga Retreat in Kos – Yoga on Kos
If you dream of practicing yoga in tranquil surroundings while being pampered, look no further than this 8-day retreat on Kos island.
Highlights:
Two yoga classes per day, alternating between Hatha, Yin, and Restorative yoga
An evening floating in the natural hot spring and thermal baths
A unique sunset meditation at Hippocrates Altis on the last night
The retreat centre is just a 5-minute walk to the beautiful Aegean Sea and all the nearby beaches and you'll have an ensuite room with a private balcony. A healthy plant-based breakfast and dinner are included each day.
Enjoy daily meditation and Hatha yoga classes with experienced instructors on this 6-day retreat on the magnificent island of Paros.
Highlights:
2 group asana classes per day
Optional massage therapies and spa treatments
Brunch and dinner included
Okreblue offers one of the most eco-friendly yoga retreats in Greece, with organic gardens providing most ingredients for the onsite restaurant, recycling initiatives throughout the resort and eco-deluxe rooms made entirely from natural materials.
Best Greek Yoga Sailing Holiday – Alt Travel Ltd
Greece is one of the best places in the world for sailing and now you can even combine yoga with adventure on the water with this unique yoga and sailing holiday!
Highlights:
Explore a new Cycladic island each day
SUP & Snorkelling
Transfers to and from Athens airport
On this 7-day retreat, you'll spend your days sailing around, practicing yoga and enjoying water sports like snorkelling and stand up paddle boarding. At night, you'll stay in a hotel room (shared or private) close to the port giving you the best of both worlds!
Best Yoga Teacher Training in Greece – Yoga Union
If you want to deepen your practice or learn how to teach others Greece is one of the best places in Europe to do yoga teacher training. Yoga Union's multi style 23-day YTT offers a powerful and transformative experience to all aspiring yoga teachers.
Highlights:
Receive a Yoga Alliance 200-hour certification
Explore all aspects of yoga, from philosophy to anatomy to methodology
Daily vegetarian meals
A typical day in this course begins with pranayama (breathing techniques)and meditation classes, followed by an Ashtanga or Vinyasa flow session. In the afternoons, you'll break down alignment, adjustments, yoga philosophy and teaching methodology and relax with a yoga nidra or yin yoga .
During the course, you'll receive comprehensive training from super experienced yoga teachers and daily meals made with organic ingredients while staying in a hotel in the seaside village of Palairos on the Greek mainland with a swimming pool and yoga shala overlooking Kosta Maria.
My Favourite Yoga Retreat in Greece
As you can see there is no shortage of yoga and wellness retreats in Greece, which makes choosing the perfect one a bit overwhelming. If you still need help deciding here's my top pick;
My favourite yoga retreat in Greece is Corfu Yoga Holidays because of the diverse range of yoga classes in different styles and the other activities and excursions that are included. I loved being able to soak up the sea views from my balcony and doing the outdoor sunset yoga sessions overlooking the ocean. Trying water sports like kayaking and the day trip to Corfu Town were also highlights. It's also one of the best value for money all inclusive yoga retreats in Greece so you can't go wrong!
I hope this article has helped you to find your perfect Greece yoga holiday. If you're still undecided check out our article on how to choose the perfect yoga retreat for you and, if you're unsure of what to pack our quick and easy yoga retreat packing list should help!
* This post may contain affiliate links. When you make a purchase through links on our site we may make a small commission, at no additional cost to you. We only recommend products that we love and genuinely use ourselves. All prices stated are correct on the date of publishing, but can be subject to change.
© loveyogalovetravel.com 2022-2023. Unauthorized use and/or duplication of this material without express and written permission from this site's author and/or owner is strictly prohibited. Excerpts and links may be used, provided that full and clear credit is given to loveyogalovetravel.com with appropriate and specific direction to the original content.