8 Exciting Yoga Retreats in Europe for 2023
Do you dream of saluting the sun on a roof terrace with stunning Mediterranean sea views? Or how about meditating on a mountain in the Alps, or stretching on the beach after an epic surf in the Algarve?
Europe is not just a popular destination for tourists; there's also plenty of idyllic places for yogis to find inner peace and exciting activities to enjoy.
But with such a diverse continent, how do you find the best yoga retreats in Europe? Well I'm here to help! Read on to discover the best yoga holidays across Europe and what to expect from them.
Pin this image!
Reasons to take a yoga retreat in Europe
The stunning nature, rich culture, exciting history, amazing food and a diverse range of excellent yoga retreats in Europe are all the ingredients you need for an amazing getaway.
Nature – From beautiful beaches to dramatic cliffs, to breath taking mountains and peaceful rolling countryside, Europe has everything.
Culture – European countries are known for their strong cultural heritage and beautiful historic buildings. This varies drastically from country to country, but wherever you retreat in Europe, it is bound to be an unforgettable cultural experience.
History – Europe is overflowing with interesting historical cities. Wandering along cobbled streets, past centuries old buildings, churches and castles transports you to days gone by.
Food – Just like the culture, the cuisine in each European country is unique. Whether it's tapas in Tenerife, pizza in Pisa, or Tzatziki in Thessaloniki, the food alone is one top reason to enjoy a retreat in Europe.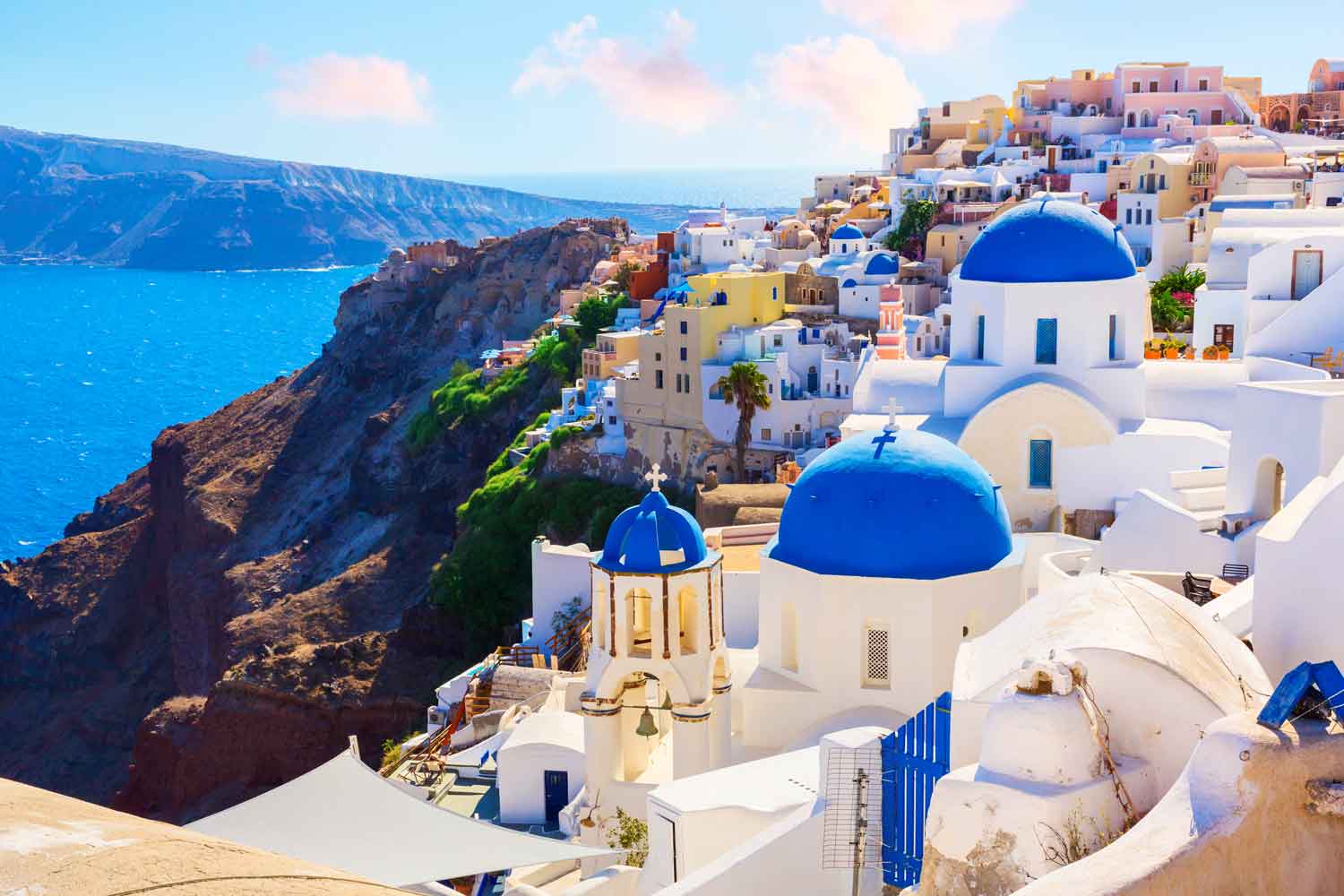 Best places for yoga holidays in Europe
Whether you're looking to combine exploring Europe's charming historical cities with a yoga retreat, or are looking for a sunny yoga holiday within easy reach from the UK, there's a diverse range of European yoga retreats for the perfect escape.
As there are so many fantastic options for yoga retreats in Europe, your personal preferences will determine which country is best.
However, if you need inspiration, here are the most most popular destinations and places for yoga holidays in Europe.
Exotic countries like Morocco and Turkey are also cheap and easy to reach from Europe. Whether you want to combine yoga with surfing, exploring the souks or the Sahara desert, there's plenty of yoga retreats in Morocco, most of which are very affordable.
There's also some great options for yoga retreats in the UK which are perfect for a weekend wellness getaway.
The Best Europe Yoga Retreats
If choosing between the plethora of options for yoga retreats in Europe is spoiling your zen, we are here to make it easy for you. Here are 8 of the best yoga retreats in Europe:
Best Luxury Yoga Retreat in Europe – Move Beyond it, Tuscany, Italy
If you're looking for a lavish, private yoga holiday in one of the most beautiful regions of Italy where you can pamper your mind, body, and soul, this 5-day luxurious healing retreat in Tuscany is for you.
Highlights:
100% tailored program for your personal healing
3 yoga, meditation, or spiritual healing sessions a day.
Stay in a luxurious spa hotel with free access to the thermal pools
This 5-day retreat takes place at a historic spa hotel overlooking the picturesque Tuscan hills. Here, you can enjoy various spa treatments in your free time.
Best Affordable Yoga Retreat in Europe – Golden Waves Surf & Yoga, Furadouro, Portugal
Combine yoga, surfing, and being immersed in nature on this affordable 3-day eco retreat in Portugal, with multiple accommodation options available to suit your budget.
Highlights:
Vinyasa and yin yoga classes
A range of outdoor activities to choose from; surfing, SUP, biking, etc.
Daily breakfast buffet
The Golden Waves lodge is located in the coastal town of Furadouro, just 30 kilometres from Porto. Surrounded by endless, unspoilt beaches, a nature park, and a lagoon, it is every outdoor lover's dream! It's also one of the cheapest retreats in Europe!
See all our recommended yoga retreats in Portugal.
Enjoy the sunny weather and daily yoga classes in the heart of Costa Blanca on this 6-day all-inclusive yoga and wellness retreat in Alicante, Spain.
Highlights:
Outdoor yoga sessions (on the beach and outdoor yoga deck)
Guided walks
Yoga Nidra and meditation classes
This is one of the best all-inclusive yoga retreats in Europe. The programme includes a diverse range of yoga classes in different styles, healthy food (plant-based) and juices and airport transfer both ways. You'll stay in a traditional Spanish-style apartment a short stroll from the beach.
See all our favourite yoga retreats in Spain
Best Yoga Retreat in Portugal – Shamballah Retreats, Sintra
This 6-day meditation and yoga vacation in magical Sintra is in the heart of Portugal's most scenic coastal nature park which is also home to colourful, fairytale like palaces.
Highlights:
Daily yoga practice and meditation sessions
Various additional activities, such as forest therapy, sound journeys, and guided walks
Relaxing massage treatments
On this 6-day retreat, you'll stay in a massive villa with a jacuzzi, mini gym, and a large terrace overlooking the ocean and countryside. It's only an hour from Lisbon so you could also take a day trip and explore one of Europe's most charming cities.
Check out more amazing yoga retreats in Portugal.
This 7-day spiritual retreat on Samothraki Island is run by Indian yoga teacher Ritu and combines a stunning Greek island setting with authentic yoga instruction and much more.
Highlights:
Multiple yoga styles, including Vinyasa, Ashtanga, and Restorative yoga
Learn how to balance your energetic body with psychosomatic practices
Yoga Nidra and candlelight meditation
Mindful walks and mountain hikes
Along with all of the above, you'll get plenty of time to explore the gems of Samothraki island, such as the crystal clear waterfalls, refreshing rivers and thermal pools.
See all our favourite yoga retreats in Greece
Best Yoga Retreat in Italy – Tuscan Fitness, Tuscany
If you want to work on your fitness, enjoy good food, and spend time in nature, the Tuscan Fitness 7-day program is one of the best yoga retreats.
Highlights:
Daily yoga sessions, including various yoga styles
Fitness classes (HIIT and functional training)
Guided hikes in the beautiful Tuscany countryside
Wine tasting at a local vineyard
You'll stay in a delightful hilltop hotel with a swimming pool and priceless valley views from the yoga shala over one of the most beautiful regions in Italy.
Best Yoga Retreat in France – Hridaya Yoga, Saint-Just-d'Avray
This 8-day immersion is one of the best European yoga retreats for yogis who want to learn or deepen their knowledge of traditional Hatha yoga and meditation.
Highlights:
Twice daily Hatha yoga classes
Morning meditation sessions
Evening lectures and devotional singing
The Hridaya Yoga retreat is a transformative spiritual journey led by Sahajananda, the founder of Hridaya yoga and three other experienced yoga teachers.
The centre is located not far from the city of Lyon. The shared dorm accommodation option makes this one of the most affordable yoga and meditation retreats in Europe. Private rooms are also available.
Best Yoga Retreat in Croatia – 5 Elements – Rovinj
If you fancy practicing yoga in a historic Croatian town and getting your adrenaline racing with a bunch of adventure tours, you'll love the 5 Elements 7-day yoga and adventure retreat.
Highlights:
Daily multi-style yoga and meditation
Wide range of activities available: kayaking, biking, hiking, SUP, and windsurfing
Sunset boat excursion
On this retreat, you'll stay in a family-run guesthouse and enjoy an organic, vegan daily brunch.
Tips for planning your yoga holiday in Europe
The vast network of budget airlines and cheap flights in Europe makes getting around easy and affordable. Check Skyscanner to find the best options.
Public transport is generally very good in Europe. You can book buses, trains and ferries all across Europe at omio.com or ask your retreat organiser if they offer airport transfers.
As the climate significantly varies across Europe, I recommend researching the location of our retreat to ensure you visit during good weather. For most European countries, summer is the best time weather-wise, but also the busiest!
Whichever of these top yoga retreats you choose, ensure you have comprehensive travel insurance that covers all the activities you plan to do, along with emergencies, COVID-related cancellations, and flight delays and check out our yoga retreat packing list if you need tips on what to bring.
And remember to check the reviews of all yoga retreats in Europe on BookYogaRetreats before booking one!
* This post may contain affiliate links. When you make a purchase through links on our site we may make a small commission, at no additional cost to you. We only recommend products that we love and genuinely use ourselves. All prices stated are correct on the date of publishing, but can be subject to change.
© loveyogalovetravel.com 2022-2023. Unauthorized use and/or duplication of this material without express and written permission from this site's author and/or owner is strictly prohibited. Excerpts and links may be used, provided that full and clear credit is given to loveyogalovetravel.com with appropriate and specific direction to the original content.