10 Stunning Yoga Retreats in Mexico (2023)
Do you need to recharge your batteries or prioritise your mental and physical health? If so, Mexico is calling.
While this Latin American country has always been an epic place to explore, it has become quite the wellness hub in recent years. As a result, you can now find TONS of wonderful yoga retreats in Mexico.
Not only are popular coastal resorts like Tulum, Playa Del Carmen and Puerto Vallarta full of retreat centres, fitness studios, and spas. Even away from the tourist hotspots, you'll find a range of unique yoga vacations surrounded by peaceful energy and picturesque scenery.
In this article we will let you know about our favourite retreats around the country for all budgets and give you all the tips you need to plan your trip to Mexico.
Pin this image!
Reasons to go on a Yoga Retreat in Mexico
From the ancient ruins and spiritual culture to the lush nature, welcoming locals, incredible food and fantastic retreat centers, there are so many reasons to choose a Mexico yoga retreat.
Discover the Mayan heritage – The ancient Mayans were known to be deeply spiritual. Their various rituals and ceremonies made significant advances in medicine and astronomy. You can experience this culture by visiting the fascinating ruins of ancient temples and joining in with these ceremonies on a Mexican yoga retreat.
Immerse yourself in nature – From tropical jungles to blissful beach paradises, Mexico is full of beautiful yoga destinations where mother earth is waiting to welcome you back into her arms. Whether you choose the surf town of Puerto Escondido or the Riviera Maya, you can switch off from the craziness of the modern world and enjoy a slower pace and reconnect with nature and yourself.
Great range of yoga holidays – Whether you are looking for a yoga retreat with hiking, plant medicine, cooking classes or sound healing, you'll find it in Mexico, without a doubt! Mexico offers one of the most diverse wellness experience offerings in the world.
Close proximity to the USA – Lastly, Mexico is one of the nearest and easiest-to-reach tropical paradises for American yogis and it's warm climate is a welcome escape from cold winters.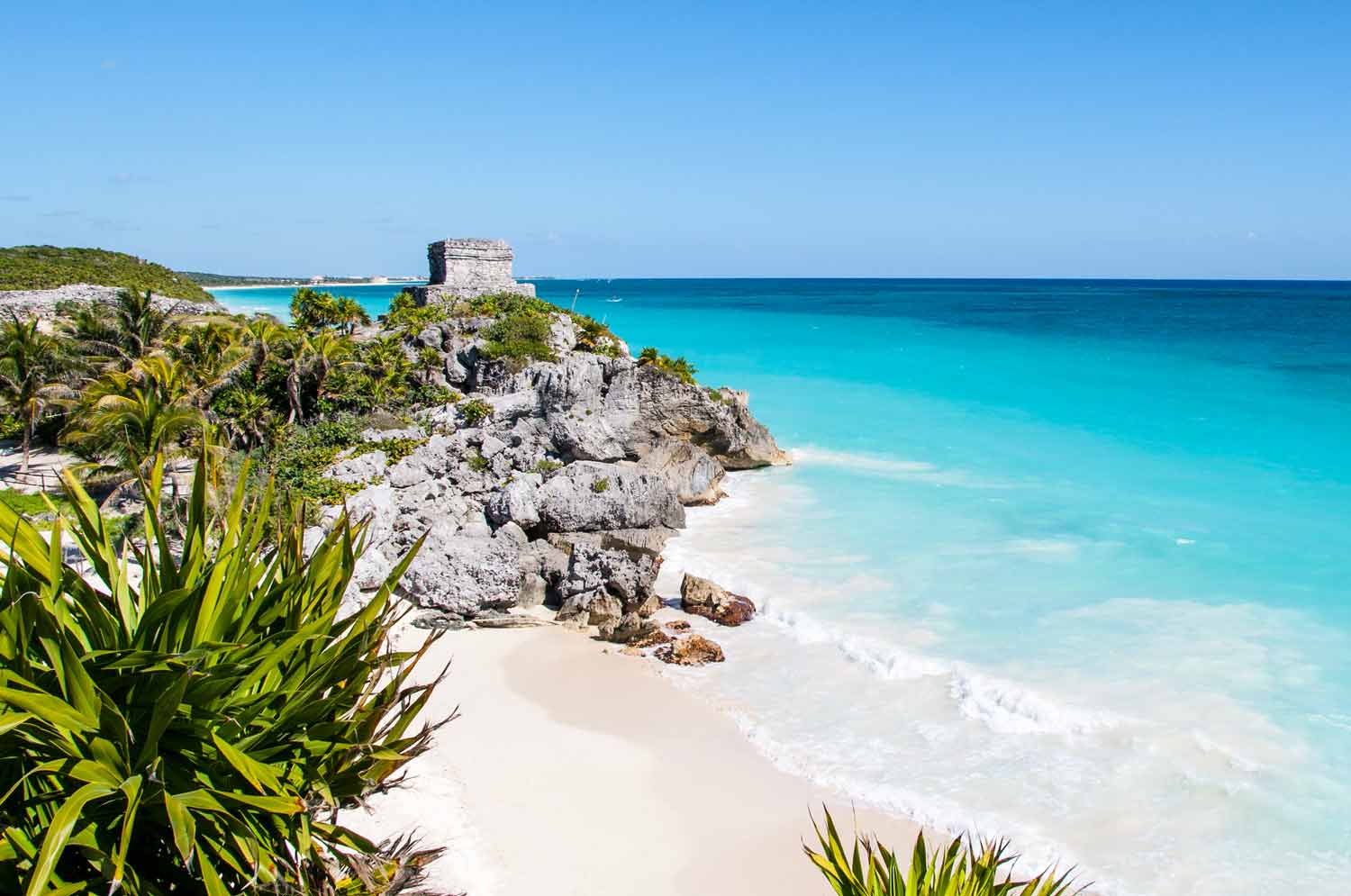 10 Best Mexico Yoga Retreats
If you're considering a yoga retreat in Mexico there is definitely no shortage of options. So to make it easier for you to find your perfect escape here is our pick of the 10 best yoga retreats in Mexico, with options for all budgets and styles.
Best Luxury Wellness Retreat in Mexico – Beyond Yoga, Puerto Vallarta
This 8-day all-inclusive luxury yoga retreat by Beyond Yoga takes place in the blissful resort town of Puerto Vallarta and includes an idyllic mix of yoga, meditation, and hiking.
Highlights:
Twice daily yoga classes (multi-yoga styles)
Breathwork, meditation, and chakra alignment
Wellness workshops and spiritual ceremonies
A variety of nature hikes and excursions, including beaches, jungle, and waterfalls
During this luxury yoga retreat, you'll stay in a lavish treehouse villa with a huge infinity pool overlooking the ocean and jungle. You can choose between a shared or private room and enjoy three healthy-gourmet meals a day prepared by the onsite chef.
Prices from €1,376 / $1,499
Most Affordable Yoga Retreat in Mexico – Om Shanti, Near Mexico City
If you want to practice yoga amidst beautiful nature while keeping costs low, Om Shanti's 4-day immersive yoga and nature experience is easily one of the best budget yoga retreats in Mexico!
Highlights:
Daily Hatha yoga and meditation
Inspiring workshops (Anatomy, psychology, life coaching, inner child, yin yoga)
Nature walks and dance celebrations
Om Shanti offers unique and super cool accommodation options, including glamping tents, geo-domes and a villa, all located in lush vegetation in Valle de Bravo, near Mexico City. All meals are provided (vegetarian and vegan) during the retreat.
Prices from €321 / $350
Best Island Yoga Retreat in Mexico – Holistik Tikun, Cozumel
If your idea of the perfect vacation is a personal yoga retreat on a tropical island then head to Holistik Tikun located on beautiful Cozumel island near Playa del Carmen.
Highlights:
Choose from a variety of yoga and meditation styles
Relax with two 1hr deep tissue massage or therapies of your choice
Enjoy plant-based breakfast and dinner made from fresh ingredients from the garden.
Boat and snorkeling excursion to the 2nd largest reef system in the world
As this is a personal retreat you have the freedom to choose the yoga styles, meditation sessions and therapies that suit you the best.
You'll stay in a beautiful rustic island family owned retreat with a spring water pool, sweat lodge and plenty of hammocks in the tropical gardens just 10 minutes walk from the beach.
Prices from €1,064 / $1,159
Best Yoga Retreat in Tulum – Tribal Tulum
Tulum is one of the most popular places in Mexico in recent years and Tribal Tulum offers one of the best yoga retreats in Tulum, set at a world-class yoga studio and dive centre with the best yoga instructors in the area.
Highlights:
Explore a different yoga style every day – Hatha, Vinyasa Flow, Yin, Restorative yoga practices
Plenty of free time to join free diving and snorkelling excursions or check out the nearby ancient ruins.
Customisable experience and opportunity to attend additional workshops
You'll stay in a loft-style apartment next to the studio and have easy access to everything in Tulum. Meals are not included on this Tulum yoga retreat, but all rooms have a kitchenette, and many fabulous restaurants are within a short walk.
Prices from €963 / $1,049
Best Yoga Retreat in Puerto Vallarta- Xinalani Retreat
Xinalani Retreat is one of the top yoga retreats in Puerto Vallarta for solo travellers looking to enjoy daily yoga practice, be immersed in nature and meet like-minded people,
Highlights:
Daily yoga sessions (Hatha)
Excursions and activities, including a jungle trek, kayaking, snorkelling, and SUP
One deep tissue massage included
Airport transfers
This is one of the best solo retreats in the world! On this solo yoga holiday, you'll stay in a beautiful beachfront resort, where you'll be served three meals a day. Plus, after your daily yoga class, you'll have plenty of free time to explore, sunbathe, or enjoy relaxing spa treatments.
Prices from €1,033 / $1,125
Best Yoga Retreat in Oaxaca – Uma Yoga
Set in the small coastal town of Mazunte, the Uma Yoga 5-day Oaxaca yoga retreat offers direct access to the pacific coast and the region's lush tropical nature.
Highlights:
Twice daily Hatha yoga classes
Two meals a day
Luxury accommodation with an infinity pool
Uma Yoga offers one of the most affordable luxury yoga retreats in Mexico, where you can stay in an eco-friendly yet lavish cabin just a few steps from the beach.
Plus, when you're not practicing yoga, you'll have ample time to unwind by the pool or swim in the pacific ocean and explore the yoga community and other healing workshops and therapies in Mazunte.
Prices from €tbc / $tbc
Colourful Sayulita, near Puerto Vallarta, has become one of the most popular surf towns in Mexico. If you're struggling to choose between a surf camp and a yoga retreat, now you don't have to! At Sayulita Cruz, you can combine yoga and surfing on this 8-day fun-packed program.
Highlights:
Unlimited yoga classes
Two surf lessons and free surf expeditions
Unlimited surfboard rentals
Airport transfers
Sayulita Cruz offers both economy and premium accommodation options, including daily breakfast and lunch. For everything included, this is hands down one of the most affordable surf and yoga retreats in Mexico! Plus, you'll get to explore one of Mexico's cutest and most colourful beach towns.
Prices from €tbc / $tbc
Best Yoga Retreat in Cabo San Lucas – The Jenesis House
This 6-day all-inclusive yoga holiday in the popular luxury resort of Cabo San Lucas, Baja California, is one of the most comprehensive fitness and wellness retreats in Mexico, with tons of awesome amenities.
Highlights:
Enjoy a mix of movement practices, including Yin yoga, Pilates, and HIIT
Sound healing sessions and meditation classes
1-hour signature massage
Airport transfers
Lavish resort accommodation with a saltwater pool, hot tub, and epic nature views
This all-inclusive Cabo retreat includes three vegetarian meals a day prepared by the in-house chef, along with snacks and mocktails and a central location from which to explore this popular area.
Date: October 17-22 2023
Prices from €4,543 / $4,950
Best Yoga and Meditation Retreat in Mexico – Hridaya Yoga
For those looking to cultivate some inner silence and get to know themselves on a deeper level, Hridaya yoga offers one of the best meditation retreats in Mexico. This 12-day silent retreat integrates Advaita Vedanta, Sufism, Tantra, and Dzogchen teachings.
Highlights:
Daily themed meditation sessions
Hatha yoga classes
A range of spiritual lectures
This authentic meditation retreat takes place in the highland colonial town of San Cristóbal de las Casas in the mountainous region of Chiapas. Here you will stay in a traditional Mexican-style house with three wholesome vegan and vegetarian meals served daily. It's a great place to learn meditation and uncover your spiritual side and reconnect to yourself.
Prices from €652 / $710
Best Yoga Teacher Training in Mexico – KiekariTerra
If you want to take your yoga practice to the next level, head to KiekariTerra in Veracruz for their epic 200-Hour Soma Yoga teacher training program.
Highlights:
Daily soma yoga and embodiment practices
Study gut health science and permaculture theory
Partake in traditional Mayan sweat lodge ceremonies
Yoga Alliance certification
On this 24-day yoga teacher training in Mexico, you'll learn not about the asanas, or physical practice of yoga. The comprehensive YTT also covers yoga philosophy and history, anatomy, alignment, adjustments as well as teaching methodology and practice.
You'll camp in the incredible Cloud Forest of Xico, deepening your connection to nature and yourself. All meals (vegan/vegetarian) are included.
Prices from €3,334 / $3,742
Tips for Planning your Mexico Yoga Vacation
Although the climate varies across the country, the best time to take a yoga retreat in Mexico is generally in the cooler, dry season between November – April. This is also the peak tourist season.
Mexico has over 100 airports, many of which operate international flights. You'll find airports in Mexico City, Cancun, Puerto Vallarta, Oaxaca and Puerto Escondido.
The best airport for you will depend on the location of your chosen retreat center. Contact your retreat organiser to learn the nearest airport to the retreat centre. Many of the best yoga retreats in Mexico offer airport transfers included in the package.
The network of modern, air conditioned ADO buses are also a safe and comfortable way to get around if you want to combine your retreat with exploring more of this vast, beautiful country.
Use our yoga retreat packing list and guide to the best travel yoga mats to help you prepare for your vacation and also ensure you have comprehensive travel insurance that covers the activities you plan to do in Mexico.
Lastly, always read the reviews on BookYogaRetreats before choosing and booking any yoga retreat in Mexico.
* This post may contain affiliate links. When you make a purchase through links on our site we may make a small commission, at no additional cost to you. We only recommend products that we love and genuinely use ourselves. All prices stated are correct on the date of publishing, but can be subject to change.
© loveyogalovetravel.com 2022-2023. Unauthorized use and/or duplication of this material without express and written permission from this site's author and/or owner is strictly prohibited. Excerpts and links may be used, provided that full and clear credit is given to loveyogalovetravel.com with appropriate and specific direction to the original content.