Your Essential Yoga Retreat Packing List
If you've just booked your place on a yoga retreat firstly congratulations! While it's an exciting time, if you're anything like me, preparing and packing for a trip is more stressful than enjoyable so you might be confused about what to pack, especially if it's your first yoga retreat!
But don't worry, as a seasoned yoga traveler, I've been lucky enough to attend numerous yoga retreats and yoga teacher training courses in some of the best yoga destinations around the globe.
Each time, the packing process was an adventure in itself, so I've learnt first-hand what to pack for a yoga retreat and what to leave at home! So I put together my essential yoga retreat packing list to help you out.
Pin this image!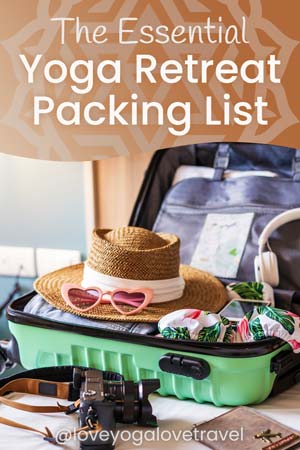 *As Amazon Associates we may earn a commission from qualifying purchases made through links on this website, at no extra cost to you.
What to Pack for a Yoga Retreat
There are many different types of retreats available these days so your personal retreat packing list will vary depending on what kind of retreat you're going on and the destination you are heading to.
This yoga retreat packing list is based on a week-long retreat where the main focus is yoga, but many include other wellness activities too, from fun and refreshing surf and yoga retreats in Portugal to detox and wellness yoga retreats in Thailand and everything in between there's no end of options. So you'll have to modify this packing list depending on your chosen destination and type of retreat
If you are going on a yoga teacher training retreat what you need to bring will be different from that of a shorter yoga retreat so check out my yoga teacher training packing list instead.
As well as packing your clothes, toiletries, personal items and other essentials an important part of preparing for a yoga retreat abroad is to check that your passport is valid and if you need a visa to enter the country and any other requirements that need to be met.
If you're going overseas don't assume that all places will accept cards – always have a bit of the local currency in cash on you. Don't forget to pack a power adapter so you can charge your phone and use your other electronic devices!
What to Wear on a Yoga Retreat
Before I delve into my yoga retreat packing list let's consider what to wear on a yoga retreat because that will help you know what to pack.
While it's common to see very glam Instagram models doing complicated asanas in exotic locations these days, when considering what to wear on a yoga retreat, comfort and functionality should be your guiding principles.
Your retreat is a time to connect with yourself and your practice, free from the constraints of everyday fashion norms and social media pressure.
So lets discuss what you should pack for a yoga retreat:
Yoga Clothes
For your yoga classes, opt for clothing that allows for ease of movement and breathability.
Depending on the climate of your retreat location, you might want to choose shorts over long leggings, and lightweight vests or sports tops instead of t-shirts. Tops with built-in bras can also help keep you cool and supported during intense sessions.
Investing in your yoga wardrobe ahead of your retreat is key for ultimate comfort during those extended practices. Lululemon's Align collection, renowned for its durability, is a top pick, offering a great range of leggings, shorts, and bra tops.
Beyond Yoga is another brand that I love. Their clothing has lusciously soft fabrics, bold color options, and are designed to flatter all body shapes.
I would recommend packing at least 4 yoga outfits for your yoga retreat, often you'll be practising yoga twice and day and get quite sweaty, especially if you're in a hot country. Most yoga centres can provide a laundry service, normally for an additional cost, so don't worry, you'll be able to wash your clothes but I'd recommend bringing enough outfits for a least a couple of days.
During yoga classes you won't be wearing shoes, if you're heading to a warm country bring flip flops to wear around the yoga resort that you can easily slip off when you go into the class. For colder countries consider special yoga socks with a sticky grip to keep your feet warm.
Additional Activity Clothing
Beyond yoga, many retreats also include other activities such as hiking, surfing, horseback riding or sightseeing. For these, you'll need appropriate attire and activity-specific gear may be necessary.
Check with the organizer if things like wetsuits and riding hats are provided (they usually are if the retreat includes surfing lessons or horseback riding) but it's a good idea to check and be prepared.
If you're going hiking or sightseeing don't forget to pack comfortable footwear and a lightweight waterproof jacket, especially if your traveling to tropical countries during the rainy or monsoon season.
You'll also be keen to get out of your yoga clothes by the end of the day so don't forget to pack some loose and comfy casual clothing for the evenings. If your retreat includes social events and dinners, or is located near places with a vibrant nightlife scene, you might want to pack an evening outfit or at least a nice top.
And of course, if there's a beach or pool nearby, don't forget your swimsuit, sunglasses and sunhat! Oh, and don't forget your underwear!
Cultural Considerations
While yoga leggings and crop tops are perfect for most yoga retreats there are some destinations like India that are still more conservative. Wearing tight or revealing clothing here may be considered inappropriate and attract unwanted attention.
If you're attending a retreat at a traditional ashram, monastery, temple or spiritual center certain dress codes may apply so check with the retreat organizer beforehand. For instance, many yoga schools in India require all-white attire for opening and closing ceremonies, while meditation sessions at a temple or monastery will likely require you to wear loose, modest clothing and have shoulders and knees covered.
In India, lightweight loose-fitting clothes are more traditionally worn for yoga instead of the modern yoga clothes we wear today so bear that in mind if packing for yoga in India.
Even in places like Thailand and Bali, where modern yoga clothes are fine in class, you will need to dress modestly to enter temples with knees and shoulders covered at least. Even in some places in Europe women are required to cover their heads when entering churches and mosques.
A large scarf or shawl can be versatile, serving as a cover-up in religious sites, a sarong for beach visits, or a warm wrap for chilly mornings. Even in warm countries you can get chilly during early morning meditation sessions so a warm shawl is an essential item to add to your yoga retreat packing list.
Other Essentials for a Yoga Retreat
With the clothing sorted, let's move on to the other items on your yoga retreat packing list.
Yoga Mat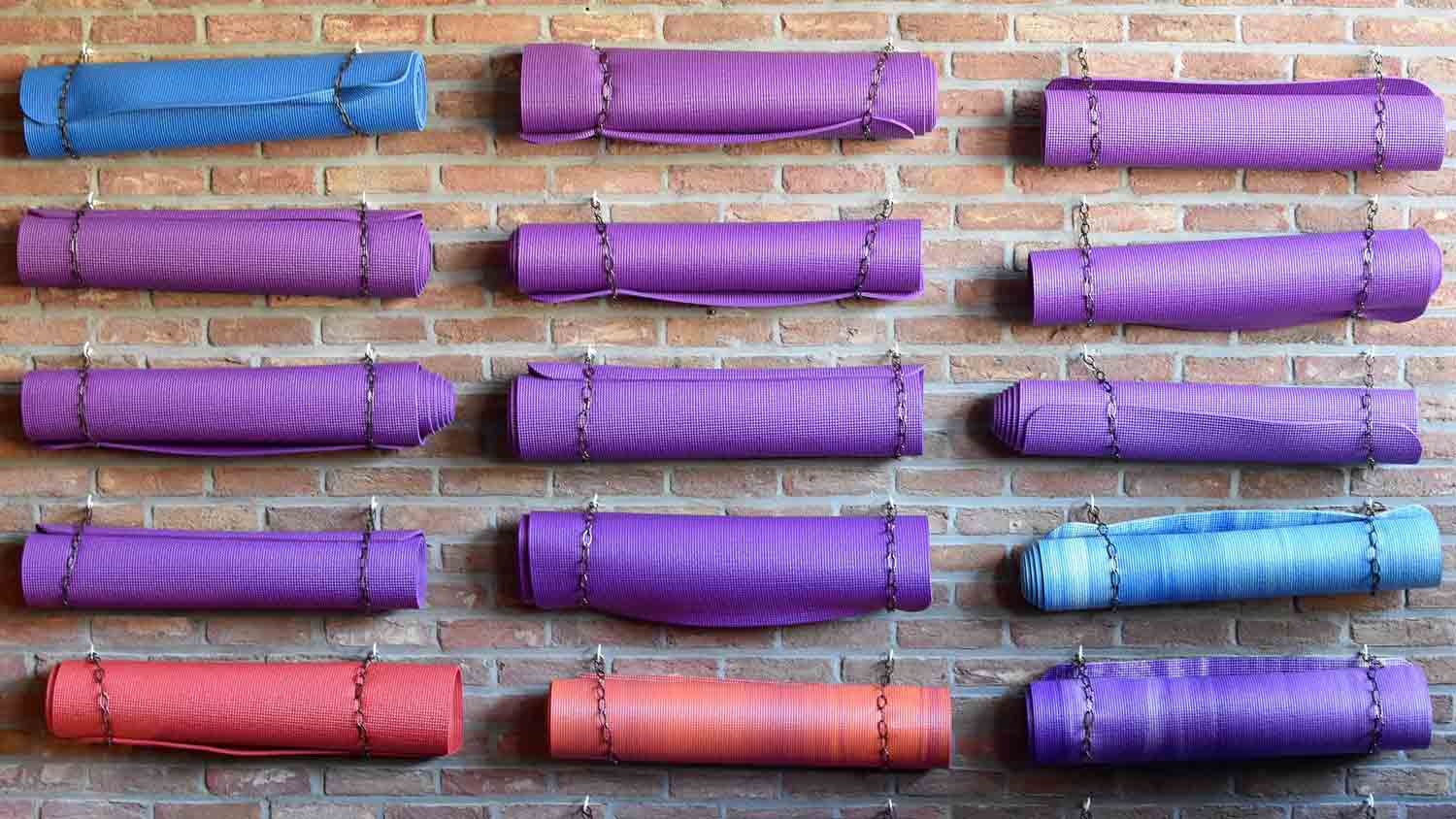 Most yoga retreat centres are fully equipped with yoga mats and props like blocks, bolsters and straps. But, for hygiene reasons, many yoga retreat centers now prefer participants to bring their own yoga mats, so check with the organiser.
Even if the yoga centre provides mats I usually prefer to bring my own. If you've already got one at home that you love you can bring that, or if you want to save space in your suitcase there are many lightweight, foldable travel yoga mats available nowadays.
Choosing a high-quality yoga mat with excellent grip and cushioning will enhance your practice. If you're new to yoga, a mat with alignment marks can be a great aid. Consider eco-friendly options made of natural rubber, hemp, or cork to minimize your environmental footprint.
If your going to be practising hot yoga (or any dynamic flow in a warm country) your probably going to get pretty sweaty so it's a good idea to bring a non-slip microfiber yoga towel to keep your mat safe and dry.
Sun Protection and Insect Repellent
If your retreat is in a sunny, outdoor environment, remember to pack sun protection and mosquito spray. A high SPF sunscreen, sunglasses, and a wide-brimmed sun hat are essential. Choose reef-safe sunscreen if you'll be swimming.
Mosquito repellent is another essential if traveling to tropical countries as mosquitoes can carry diseases as well as just being plain itchy and annoying. Bring a high-level DEET mosquito repellent if you want maximum protection. After bite cream can be difficult to find in some countries so I always take one with me just in case.
Personal Care Items
During your retreat, take the opportunity to embrace the natural you. Leave the makeup at home and focus on skin care instead. Instead of buying mini toiletries why not get refillable bottles and put your favorite products inside.
If you wear glasses, consider switching to contacts if you can during your retreat for more comfort during yoga sessions. Pack enough contacts and solution and a spare pair of glasses and sunglasses.
Don't forget any essential medications and remember to bring them with their packaging and a copy of your prescription. A packet of pocket tissues and hand sanitizer are both hygiene essentials when traveling too.
Hydration and Sleep Essentials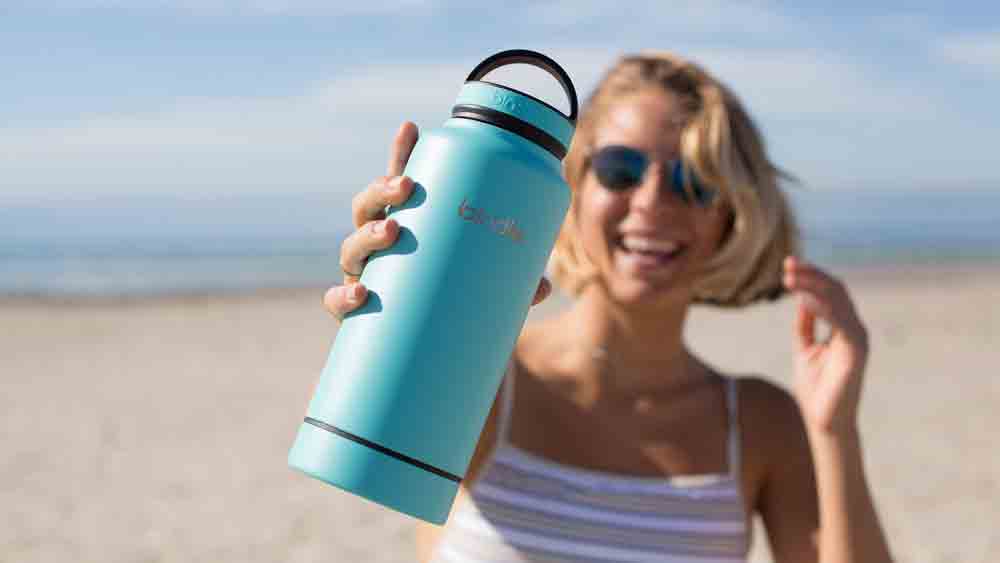 Staying hydrated is crucial, especially during intense yoga sessions or outdoor activities. A refillable water bottle will be your best companion.
Check with the organizer if the tap water is safe to drink, if not consider a filtering water bottle which is better for the environment as you won't have to buy single use plastic water bottles.
If you're a light sleeper or the buzzing jungle nights keep you awake, consider packing an eye mask and ear plugs.
Journal, Pens and Books
A yoga retreat can be a transformative journey. Bringing along a journal and pen to record your experiences can be very rewarding. I also recommend taking a book or e reader to relax with by the pool or in a hammock.
If you need some inspiration for your yoga retreat reading list these 25 books are perfect to take on a yoga retreat. From books about yoga philosophy, to entertaining fictional novels and memoirs about self discovery through yoga and travel, autobiographies of the gurus who bought yoga to the west and words of wisdom from Buddhist monks, there's something for everyone!
Day Bag
Obviously you'll need to take a suitcase or backpack when packing for a yoga retreat, which one you decide is up to you. If you are flying to your destination don't forget to check the airline baggage weight allowance to avoid fees and extra stress and hassle at the airport.
Along with your main bag. taking a day bag like a lightweight backpack or yoga bag can come in handy for carrying your essentials to yoga sessions or out on excursions.
Packing Cubes
If, like me, you find it a struggle to fit everything into your suitcase, then some packing cubes are going to come in really useful!
These little helpers allow you to stuff your belongings into snug containers that then fit flat in your bag, making the jigsaw puzzle of packing a lot simpler and more space efficient. You might even free up enough room to take some extras.
Power Adapters
If you're going abroad don't forget to pack a power socket adapter so that you can charge your phone and use your other electronic devices.
I travel with this Epicka universal power adapter which has multiple USB ports as well as a standard power outlet. The pin configuration is changeable so it fits in most power sockets around the world.
It's important to remember that the US power supply operates on a voltage of 110V but many countries in Europe and Asia use 230V. If you're traveling overseas from the US or Canada you may need to pack a voltage convertor. Most personal devices like phones or laptops are dual voltage and won't require this, but if you're planning on packing a power-hungry item like a hair dryer or straightening irons you might need one. Check your electricals and make sure.
Your Quick Yoga Retreat Packing Checklist
Now you know what to pack for a yoga retreat let's sum it up with a quick packing list for a yoga retreat: (based on a week long retreat in a warm destination.)
4 pairs of yoga shorts/cropped leggings
4 yoga vests
4 sports bras
8 pairs of underwear
Outdoor activity footwear
Flip flops
2 lightweight casual outfits
Large scarf or shawl
Warm fleece top
Swimsuit
Long socks
Yoga mat and yoga towel
Sun protection gear (sunscreen, sunglasses, sun hat)
Water bottle
Eye mask and ear plugs
Tote bag or lightweight backpack as a day bag
Contact lenses (if applicable)
Essential toiletries and medicines
Power socket adapter
Passport, visa, travel insurance, cards, and local currency
I hope this comprehensive yoga retreat packing list has helped you pack for your upcoming yoga vacation and that you have an amazing time! If you need more tips for your yoga travels check out more of our yoga travel blogs!
* This post may contain affiliate links. When you make a purchase through links on our site we may make a small commission, at no additional cost to you. We only recommend products that we love and genuinely use ourselves. All prices stated are correct on the date of publishing, but can be subject to change.
© loveyogalovetravel.com 2022-2023. Unauthorized use and/or duplication of this material without express and written permission from this site's author and/or owner is strictly prohibited. Excerpts and links may be used, provided that full and clear credit is given to loveyogalovetravel.com with appropriate and specific direction to the original content.