A Guide to Yoga Teacher Training In Europe in 2023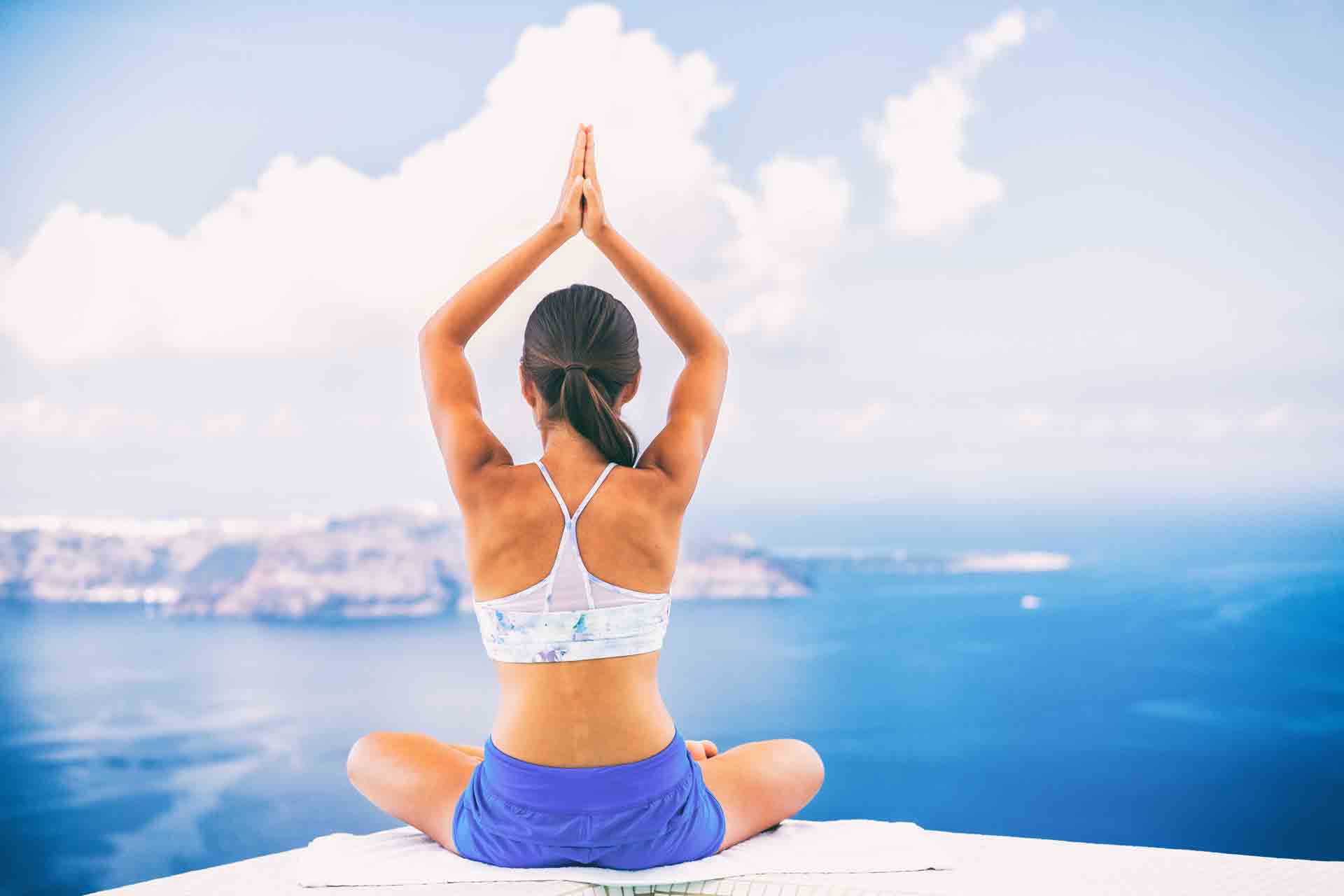 Whether you want learn more about yoga, or become a certified yoga teacher, a 200 hour yoga teacher training in Europe (YTT) can be a life changing experience.
Europe is such a diverse and beautiful continent, home to incredible history and culture and plenty of renowned yoga retreats with highly experienced teachers and top-quality yoga teacher training programs.
Almost everywhere you go in Europe you'll find beautiful landscapes, amazing culture, history and food and beautiful cities. As Europe is massive and incredibly diverse, and every European country is different, how do you determine which yoga teacher training course in Europe is best for you?
In this guide, I'll share the best destinations for yoga teacher training in Europe as well as my recommendations for the 5 best Europe yoga teacher training courses. I'll also give some tips and advice for ensuring you choose the best YTT for your personal needs and preferences and planning your trip to Europe.
Pin this image!
Best Places to do Yoga Teacher Training in Europe
There's no shortage of options for yoga teacher training in Europe. The continent boasts diverse nature, culture, history, food and weather, so whatever scenery and lifestyle you like, you'll find it here!
The most popular European countries for yoga teacher training are:
Portugal – This enchanting country boasts rugged yet lush scenery, including impressive clifftops and mesmerising ocean views, world class surf and unique historic cities. The pristine setting is perfect for reconnecting with nature and enjoying peace and quiet. Portugal's surf and yoga retreats are also popular.
Spain –Yoga holidays in Spain are super popular and it's also the best place for a YTT. Here, you will find an (almost) endless choice of stunning beach locations to enjoy the yogic lifestyle while training for your TTC. Alicante, Ibiza, and Majorca are top choices, while Tenerife and the Canary Islands are the best option for sunny warm weather in winter.
Greece – Home to many stunning Greek island wellness retreats, If you want to do yoga training in a laidback island paradise teeming with ancient history but don't fancy a long flight to Thailand or Bali, Greece is an excellent alternative.
France – Doing yoga teacher training in France means you'll enjoy a backdrop of the quaint countryside and stunning historic buildings and fabulous food.
Italy – Experience 'La Dolche Vita' with incredible food, charming cities and stunning Italian landscapes from picturesque vineyards to serene lakes to breath taking mountain peaks.
How to Choose a Yoga Teacher Training Program
There's almost endless options for yoga training, but a 200 hour yoga teacher training is the basic requirement to get your yoga certification to begin teaching.
A YTT takes place over 2 – 4 weeks and will give you an in-depth understanding of yoga philosophy as well as the theoretical and physical practice.
While it's natural to want to study and practice yoga in a dreamy destination, don't get too hung up on the location.
Location is just one thing to consider when choosing a YTT, along with the following:
Ensure the course provider is a registered yoga school approved by Yoga Alliance (like all those listed below).

Choose a course that focuses on your preferred yoga style – Note that some schools teach yoga in multiple styles, while others focus on one, such as vinyasa yoga.

Research the yoga instructor. Look for videos of them teaching yoga online, and, if possible, check out the content on Instagram to see if you resonate with their style.

Understand your needs and requirements and ensure the yoga school can cater to them. For example, are you happy to share a room, or do you need your own space? Are you vegan, or do you have specific dietary requirements?
Read our article on how to choose a yoga teacher training program for more tips.
The Best Yoga Teacher Training Courses in Europe
The following yoga courses are all approved by Yoga Alliance and offer comprehensive teaching covering all aspects of yoga, not just the yoga postures.
Modules include not only the physical practice of yoga such as asanas (yoga poses) meditation and pranayama. You'll also cover yoga history and philosophy and alignment, adjustments, anatomy and physiology.
The best courses also include plenty of teaching practice, so you'll feel confident and ready to start teaching as a certified yoga teacher upon graduating!
Best Yoga Teacher Training in Spain – Gayatri Yoga, Tenerife
On this 22-Day 200 Hour yoga teacher training with Gayatri Yoga in Tenerife, you'll train to become a Hatha and Vinyasa yoga teacher while staying in the small coastal resort of Tejina.
Highlights:
Twice daily yoga class and meditation practice
Two theory classes per day
Access to the school's facilities, including a swimming pool, terrace, and various chill-out zones
On this course, you'll stay at the yoga ashram. It is a self-catering, community-style where participants are encouraged to cook meals together using the school kitchen (ingredients are included).
Tenerife's year round warm climate makes it a great place for practicing yoga at any time of year and it's one of our all time favourite places yoga teacher training in Europe.
Prices from €2,200 / $2,520
Best Yoga Teacher Training in Portugal – Sundari Integral, Lagoa de Albufeira
The 21-day, 200-hour Sundari Integral Yoga Teacher Training in Portugal is 40km from Lisbon, surrounded by a forest, lagoon, and beaches.
Highlights:
Learn in a small group (max 8 students) for a more personalised training
Free time in the afternoons to enjoy the surrounding nature
Learn how to control your Chi (internal energy) in a Dao Yin Workshop
The comprehensive program focuses on Aurobindo's Integral yoga system and covers theoretical and practical teaching methodologies for 88 yoga techniques. There's also a Dao Yin workshop and Ayurvedic cooking master class and the opportunity to try and surf lesson on Sundays.
During the YTT program, you'll stay in a shared room in the retreat house and have three healthy vegetarian meals daily. The small class sizes and intimate feeling make this one of the best options for yoga teacher training in Europe.
Prices from €1,980 / $2,268
Best Yoga Teacher Training in Greece – YogaUnion, Palairos
This 23-day Vinyasa yoga teacher training occurs in the blissful seaside village of Kosta Maria in Palairos. It's run by Yoga Union who have been running renowned yoga training programs in both Greece and Bali for 10 years.
Highlights:
Practice vinyasa flow yoga every morning
Practice slow Hatha, Yin Yoga, and Yoga Nidra in the afternoons
Themed yoga workshops to improve your own practice and gain teaching skills for advanced yoga asanas
You'll practice teaching from day one with Yoga Union's yoga teacher training courses. Throughout the course, you'll get tons of hands-on adjustments and feedback, so by the time you finish, you'll be confident to start teaching your own classes. This is one of the most popular options and a fairly affordable yoga teacher training in Europe.
Prices from €1,900 / $2,177
Best Yoga Teacher Training in France – Awake Space, Lautrec Occitania
If you want to learn multiple yoga styles as well as the spiritual practice of yoga while staying in a quiet countryside location, the 22-day Awake Space yoga teacher training in France might be perfect for you.
Highlights:
Hatha, Vinyasa, Kundalini, and Ashtanga yoga classes
Two theory lessons per day
Enjoy a guided tour of a medieval town
Three daily meals included
There's always A LOT to learn on any YTT and Awake Space are passionate about training holistic and multidimensional yoga teachers.
To promote smooth learning and reduce overwhelm, this courses focuses on two or three specific topics each week. For example, in week one, you will learn yoga anatomy, physiology, and biomechanics; in week two, you'll focus on teaching methodology.
It's this thoughtful approach, combined with the peaceful French Château countryside setting, that makes it one of our picks for the best yoga teacher training in Europe.
Prices from €2,899 / $3,321
Best Yoga Teacher Training in Italy – YOGAMEA, Rimini
This 28-day yoga teacher training by YOGAMEA at Misano beach in Rimini allows budding yoga teachers to experience Italian culture while learning about authentic Hatha yoga.
Highlights:
Thrice-daily asana practice (Ashtanga & Hatha yoga)
Three Ayurvedic healthy vegetarian meals a day
Shatkarma / yogic cleansing each morning
During this yoga training, you'll stay at a small beachside hotel with a choice of air conditioned accommodation, including shared and private rooms. On Sundays, there's the opportunity to take a boat trip or visit the small medieval state of San Marino.
YOGA MEA are passionate about upholding the traditional teachings of yoga and inner awakening. After being immersed in this nurturing environment, you stand to gain the true meaning of yoga.
This is one of our favourite European yoga teacher training programs because of the beautiful, Italian beachside location and the emphasis on traditional and authentic yoga teachings.
Runs 27 August 2023 – 23 September 2023.
Prices from €2,312 / $2,649
Tips for Planning your Yoga Teacher Training in Europe
Getting to Europe from the UK and traveling around Europe is cheap and easy thanks to the comprehensive network on low cost flights and great public transport. You can search for the best flight deals on Skyscanner and book your trains, buses and ferries easily online with Omio.
Because the locations of yoga teacher training in Europe are so diverse, speak with the course organisers to learn the nearest airport and how to get to the yoga studio. Many yoga schools offer airport transfers, either included in the package or for an additional charge. This is super handy and relieves the stress of travelling to your YTT.
Even though you may not have time to do a ton of excursions and activities, it is still essential to have comprehensive travel insurance. Ensure your policy covers all the basics, such as emergencies, COVID-related cancellations, and flight delays.
Finally, check reviews of the yoga studios and teacher trainings you are interested in on BookYogaTeacherTraining before booking. This way, you can be sure you choose the right yoga school for you.
If these yoga teacher trainings in Europe aren't for you then there are so many incredible destinations worldwide that are perfect for deepening your personal yoga practice, and learning how to teach yoga to others. As the birthplace of yoga, India is an obvious choice, while Bali, Thailand, the USA and Costa Rica are also popular YTT destinations.
* This post may contain affiliate links. When you make a purchase through links on our site we may make a small commission, at no additional cost to you. We only recommend products that we love and genuinely use ourselves. All prices stated are correct on the date of publishing, but can be subject to change.
© loveyogalovetravel.com 2022-2023. Unauthorized use and/or duplication of this material without express and written permission from this site's author and/or owner is strictly prohibited. Excerpts and links may be used, provided that full and clear credit is given to loveyogalovetravel.com with appropriate and specific direction to the original content.