Top 10 Amazing Yoga Retreats in the USA for 2023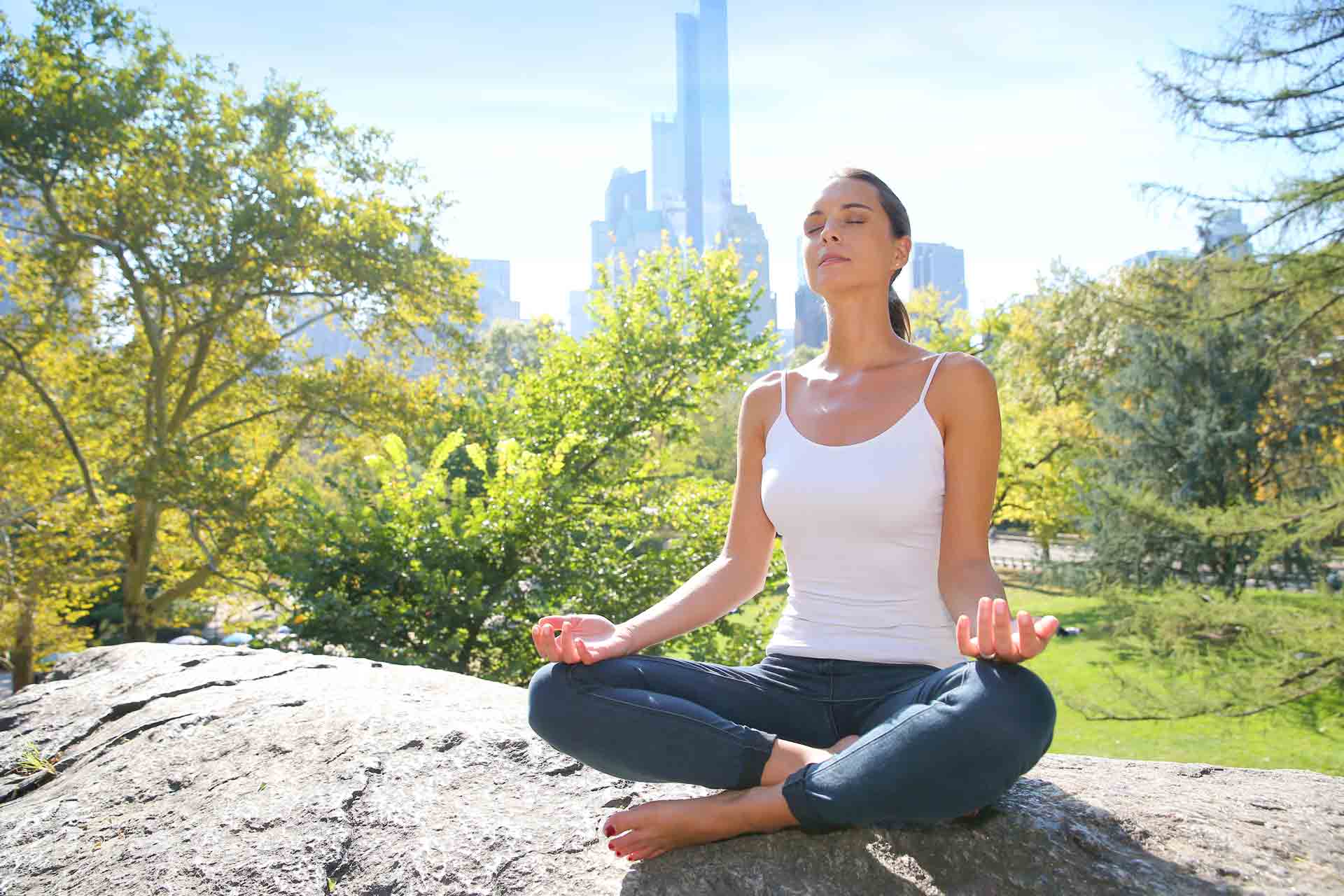 In need of a yoga vacation but don't have the time or money to jet off to Costa Rica or Bali?
Don't worry, with so many beautiful nature spots in the USA, there is no need to leave the states to enjoy all the amazing benefits of going on a yoga retreat.
Whether you're looking for a beach getaway, mountain hideout, farm stay or a unique off-the-beaten-track or authentic ashram experience, you'll find it in at the best yoga retreats in the U.S. What's more, staying within the country has the added benefits of much lower travel costs and stress too!
There's certainly no shortage of U.S yoga and wellness retreats, so if you are looking for the best yoga retreats in the USA then read on to discover the best locations and retreat centers for your upcoming yoga vacation!
Reasons to do a Yoga Retreat in the USA
The USA is such a vast country with diverse landscapes, cultures, and vibes. From the deserts of Sedona to the tropical beaches of Hawaii to the peaceful mountains, forests and lakes of Maine, there are tons of unique settings for yoga retreats in the U.S.
Even if you have limited vacation time you can get away for a short break like a 3 day or weekend yoga retreat in the US and enjoy all the benefits yoga retreats have to offer. As well as yoga classes and meditation, many programs also offer spa treatments and other activities like breathwork, guided nature walks or horseback riding.
Other reasons to go on a yoga retreat in the USA include:
Accessibility – Whether driving to a nearby town or flying to the other side of the country, traveling within the U.S. is straightforward and takes much less time than traveling internationally and you don't need to worry about passports or visas.
No language barriers – Choosing a retreat in the U.S. also removes all the stress involved with trying to navigate your way around a foreign land.
Best Places for Yoga Retreats in the US
With so many beautiful spots across the country, it's impossible to narrow it down to one location. Here are five of the top choices:
Hawaii – Best for tropical vibes and laid-back lifestyle
California – Best for beach lovers and national parks
Florida – Best for fun lovers and sunshine chasers
Arizona – Best for hiking, desert vibes and spiritual retreats
Maine – Best for those seeking peace, quiet and relaxation in nature
Colorado – Best for exploring the Rocky Mountains and active outdoor retreats
Pin this image!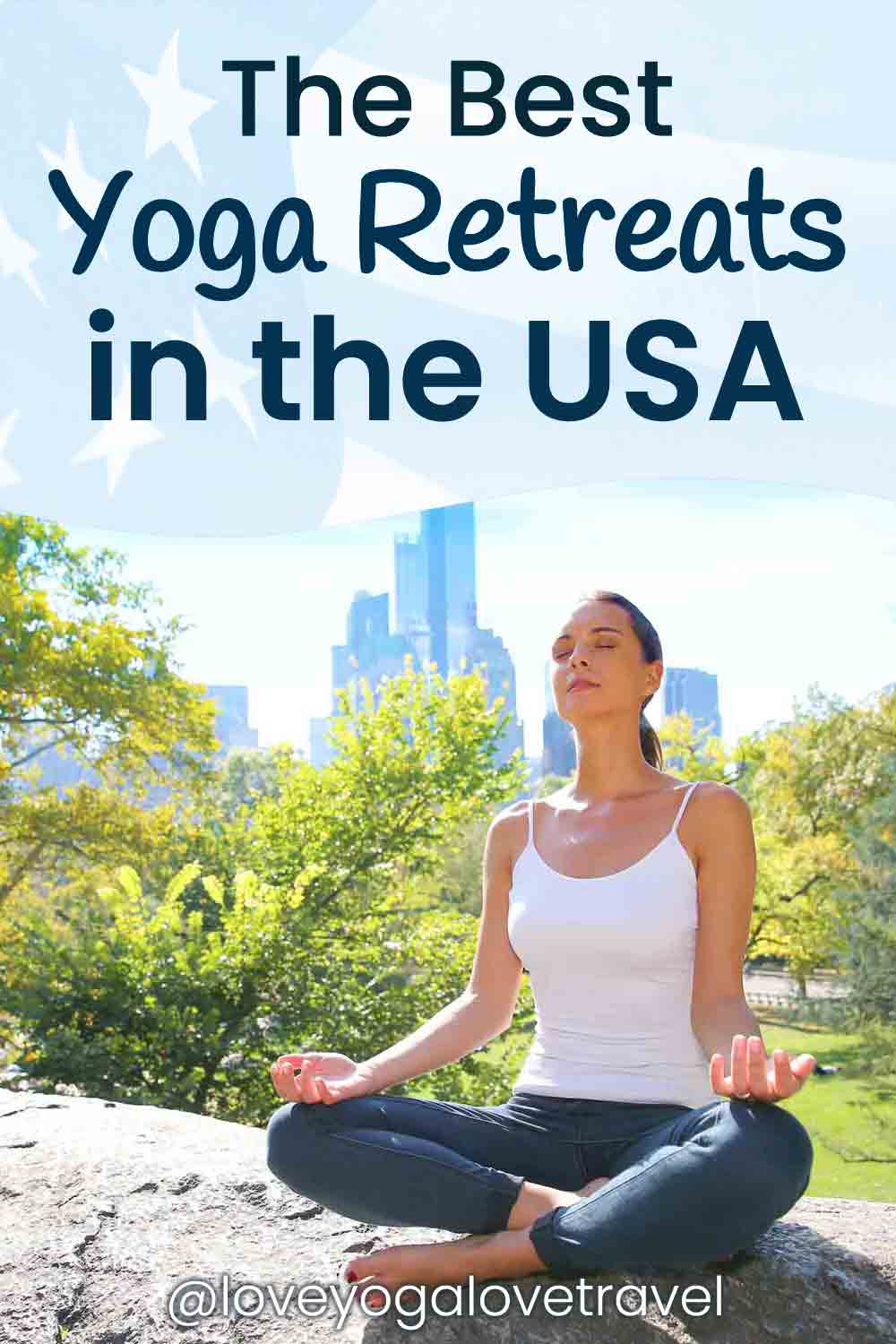 The Best Yoga Retreats in the USA
From beginner friendly and affordable yoga retreats to luxury wellness getaways, here are eight of the best yoga retreats in the USA.
If you're looking to take your yoga practice to the next level and become a certified yoga instructor, here's our pick of the best yoga teacher training courses in the USA.
Keep reading for an overview of each retreat and booking information.
Fancy practicing yoga with a blissful view of the pacific ocean? How about discovering the stunning ecosystems of Maui? If so, this 6-day Hawaii yoga vacation is for you.
Highlights:
Daily yoga classes (Hatha)
Workshops on Ayurveda, herbalism, and Thai massage
Farm tour
Sound healing and cacao ceremony
On this retreat, you'll stay on a permaculture farm in an off-the-beaten-track part of East Maui. The remote setting will help you reconnect with nature and yourself. Choose between various eco-chic accommodations and enjoy three buffet-style meals a day.
Prices from $3,000
If you're seeking a relaxing yoga vacation in Florida with unlimited yoga and meditation classes, this is the best yoga retreat in the U.S. for you.
Highlights:
Two yoga classes a day (Hatha & Vinyasa)
Tai Chi and breath work classes
Acupuncture session and massage
Zen Den yoga school is located in the beautiful beach city of Boca, close to the coast, water sports, restaurants, and nightlife. The 8-day package includes two detox smoothies a day.
If you're looking for a shorter retreat, check out Zen Den's 4-day long weekend program. It's one of the best value and most affordable yoga retreats in the United States.
Prices from $1,050
Prefer a private retreat rather than a group setting? Santa Barbara Yoga Center is one of the best retreats in California and offers 5-day, 100% tailored groups for individuals, couples, or groups of three guests.
Highlights:
3 – 4 yoga sessions per day
Choose from a variety of yoga styles (Iyengar, Yin, Vinyasa, and Restorative)
Massage and acupuncture included
The yoga school is located just 1.5 miles from Santa Barbara beach. Meals are not included, but the school is located nearby many restaurants, and you'll have a fully-equipped kitchen in your private apartment if you want to prepare your own meals.
Prices from $885
Best Yoga Retreat in Sedona, Arizona – Vita Pura Yoga
Do you find yoga and hiking the perfect pairing? Prefer to relax in a luxury resort rather than a campsite? Then this is the best yoga retreat in the US for you!
Highlights:
Daily yoga classes in nature
3-4 mile guided hikes each day
Breath work and meditation workshops
During this 5-day retreat, you'll stay at the lavish Hilton Resort at Bell Rock with two daily meals included and stunning views of the desert landscape. Accommodations boast a private patio to enjoy the surroundings and a cozy fireplace to stay warm during colder weather.
Sedona is home to healing energy vortexes and is one of the most spiritual places in the world so it's the perfect place to take a wellness retreat.
Prices from $2,929
Best Yoga Retreat in New York State – Vita Pura Yoga
If you are looking for a quick escape from the city you'll be pleased to hear that Vita Pura also runs 5-day retreats in Saratoga Springs, New York, just 3 hours from New York City.
Highlights:
Daily Hatha yoga in nature
Explore various hiking trails with mindful walks
Breath work sessions and grounding circles
On this wellness break, you'll stay in a charming Victorian mansion in the heart of Saratoga Springs, surrounded by lush gardens, a private pool, forest trails, hot springs and state parks. The package includes a nutritious breakfast and lunch, prepared by the onsite chef daily.
Prices from $2,749
Walker Wellness offers one of the top yoga retreats in the U.S. for those who love yoga and hiking. On this 5-day retreat, you'll explore Zion and Bryce Canyon National Park.
Highlights:
Twice daily vinyasa and restorative yoga
Different hiking trips each day
All meals included
Round-trip transport from Salt Lake City
When you're not out exploring the tranquil location, you can enjoy the facilities of the luxury yoga retreat center, including a hot tub and sunbathing deck with priceless views of Zion national park.
Prices from $1,895
Best Yoga Retreat in North Carolina – Art Of Living
Art of Living offers one of the best and most authentic short meditation and yoga retreats in the United States, focused on cultivating happiness and letting go of stress.
Highlights:
Daily yoga and meditation sessions
Various healing and creative arts workshops
Daily vegetarian meals
The retreat center is located in the mountains of Boone, North Carolina, giving stunning forest and country views.
Prices from $765
Feel your stresses melt away with the soulful 4-day weekend retreat in a sleepy mountain village by the Carrabassett River in Maine.
Highlights:
Join up to 4 yoga classes per day
Guided meditation sessions and dharma talks
Three locally-sourced meals a day
Many excursions are also offered, including a farmer's market visit and cider tasting at a local Cidery.
Prices from $1,200
Best Yoga Teaching Training in the USA
If you seek a longer or more intensive experience, these yoga teacher training programs will significantly deepen your practice and change your life!
This 18-day YTT centers around the traditional Hatha Yoga Pradipika while introducing various modern styles.
Highlights:
Asana workshops
Philosophy classes
Medicinal plant class
Various excursions included, such as kayaking and visits to farms and local markets
This YTT is available year round and takes place in Jacksonville Beach, where you can enjoy plenty of outdoor activities in your free time. Note that meals are not included in the package price, but a plant-based meal plan is available for an additional fee.
Prices from $3,399
Best Yoga Teacher Training in Hawaii – Maui Yoga Shala
This 20-day YTT in Maui, Hawaii, will deepen your Hatha and Vinyasa yoga practice and prepare you to teach these styles should you wish.
Highlights:
Twice daily asana
Regular yoga philosophy, mantra, and meditation sessions
Opportunity to teach your own class
During the YTT, you'll stay in a colorful house in the historic town of Paia. Food is excluded from the program price, but you can purchase a meal plan or buy directly from the open-air on-site café.
Prices from $4,500
Our Favourite Yoga Retreat in the U.S.
With so many options for retreats in the US it can be tricky choosing just one. Our advice is to carefully consider the level and style of yoga taught, other activities available and location to find the perfect yoga vacation for you.
We love all the retreats recommended for different reasons, but, if we had to pick just one then our favourite yoga retreat in the USA is Divinitree Yoga in Hawaii.
Aside from the excellent yoga classes and holistic approach to wellness, the Ayurveda and Herbalism workshops, sound healing, cacao ceremony and location really set this retreat apart from the others. We also loved the peaceful and inspiring setting at the permaculture farm in Maui.
It's the perfect place to reconnect with nature and yourself and we highly recommend DiviniTree Yoga if you're looking for a transformative and rejuvenating yoga experience in Hawaii.
I hope this article has helped you find your perfect US yoga retreat. Read our article if you need more tips on how to choose the best yoga retreat for you. To prepare for your yoga vacation you also might like this blog on the commonly used Sanskrit yoga words to learn before your retreat and our quick and easy yoga retreat packing list.
* This post may contain affiliate links. When you make a purchase through links on our site we may make a small commission, at no additional cost to you. We only recommend products that we love and genuinely use ourselves. All prices stated are correct on the date of publishing, but can be subject to change.
© loveyogalovetravel.com 2022-2023. Unauthorized use and/or duplication of this material without express and written permission from this site's author and/or owner is strictly prohibited. Excerpts and links may be used, provided that full and clear credit is given to loveyogalovetravel.com with appropriate and specific direction to the original content.