The Best Surf and Yoga Retreats in Bali, Indonesia for 2023
If you're looking to combine surf and yoga Bali is undoubtedly one of the best destinations in the world. The 'island of the god's' is home to stunning tropical beaches with waves for all levels, a deeply spiritual culture, beautiful landscapes and there's a wide range of fantastic surf camps and yoga retreats in Bali to suit all budgets and experience levels.
Bali is one of my all time favourite yoga and surf destinations, it's perfect for everyone from beginners on a budget to experienced surfers and yogis looking for world class waves and wellness retreats.
I've been lucky enough to experience some of the best surf and yoga camps in Bali. In this post I will explain why surf and yoga vacations in Bali are so amazing, recommend my favorite surf and yoga retreats and provide tips for planning your trip to Bali. So let's dive in!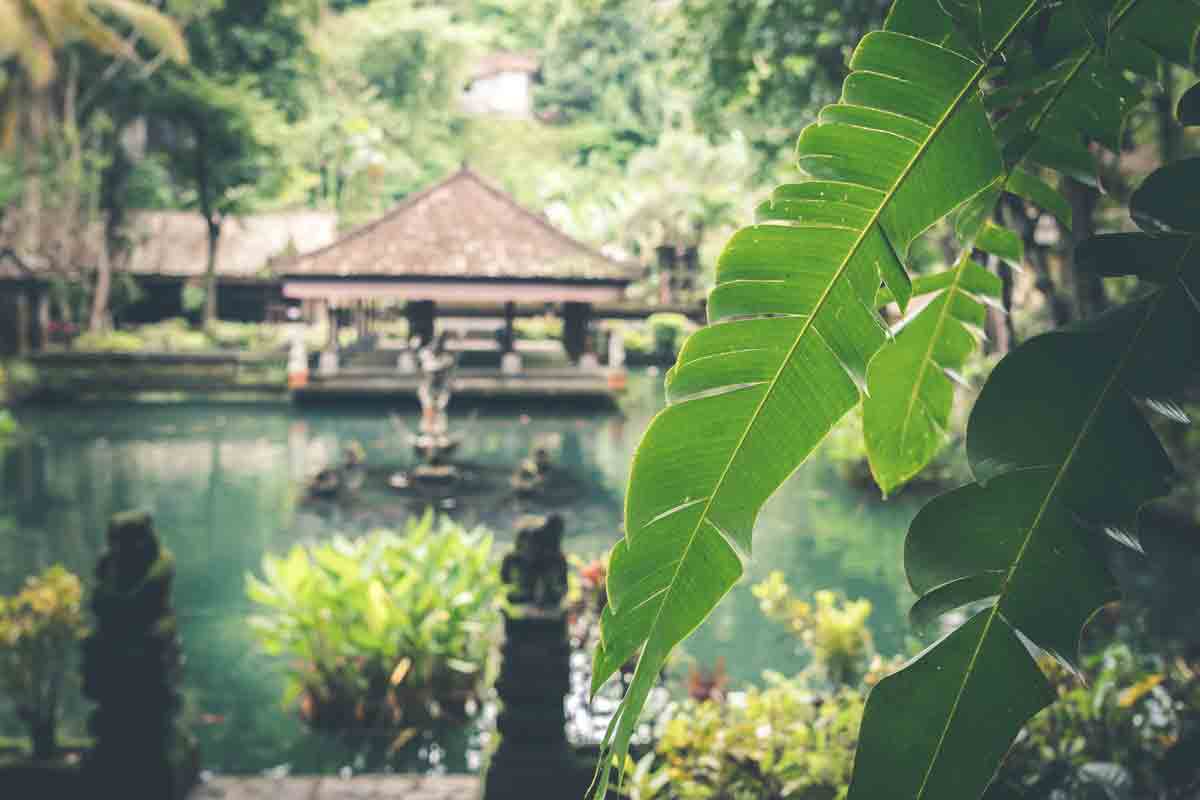 Why I Love Surf and Yoga Retreats in Bali
If you're looking for the perfect blend of adventure and relaxation then yoga and surfing are the perfect combination and, in my opinion, Bali is the perfect destination as it offers so many options for all experience levels and budgets.
Surf and yoga compliment each other perfectly. Practicing yoga can enhance your flexibility and soothe sore muscles, while also improving your balance – all important skills for surfing. Surfing can be a thrilling and meditative experience, which complements a yoga practice and makes for a fun, active, and refreshing vacation.
So, what could be better than combining the two into one incredible yoga and surf retreat?!
Whatever your experience level and budget there are plenty of options for surf and yoga retreats in Bali, ranging from luxury wellness resorts with all-inclusive packages, to affordable yoga and surf camps offering a basic but fun packed and friendly experience.
Most yoga and surf retreats in Bali cater for all levels, from beginners looking to learn to surf and kickstart their yoga practice in Bali's gorgeous tropical environment to intermediates and advanced surfers and yogis looking to deepen their practice and refine their skills. Whatever you are looking for, you're sure to find the perfect surf and yoga holiday in Bali.
Pin this image!
Why Bali is the Perfect Surf and Yoga Destination
With some of the best surf in the world, a unique spiritual culture and beautiful tropical scenery Bali is one of the most popular places for both surfing and yoga. More reasons why Bali is the perfect surf and yoga retreat destination include:
1. Relaxing atmosphere – Bali is known for its laid-back lifestyle and amazing natural beauty, with stunning sunsets, beautiful beaches, lush tropical forests and verdant rice fields. This creates a perfect setting to relax and unwind while participating in yoga and surfing activities.
2. Warm tropical weather – Bali's year round warm tropical weather means the island is full of stunning natural scenery, it's always warm enough to practice yoga outside and you can spend ages in the water without needing a wet suit.
3. Variety of activities – In addition to surf lessons, yoga classes and meditation sessions Bali retreats also offer a variety of activities that will immerse you in the unique culture and scenery, from visiting temples and rice terraces to hiking up volcanoes and swimming in waterfalls. You can also take part in cultural workshops like Balinese offering making, cooking classes, massages and spa treatments so you'll never be short of things to do in Bali.
4. Affordable – Compared to many other beach destinations, Bali offers great value for money. From luxury resorts with all-inclusive packages to more affordable options offering just the basics, you can find something to suit any budget.
5. Friendly locals – Bali is known for its friendly people who are always willing to help and share their knowledge of local culture and customs. This will add a special touch to your holiday experience in Bali.
If you're more interested in the yoga than the surfing then you can also check out our Compete Guide to Yoga in Bali.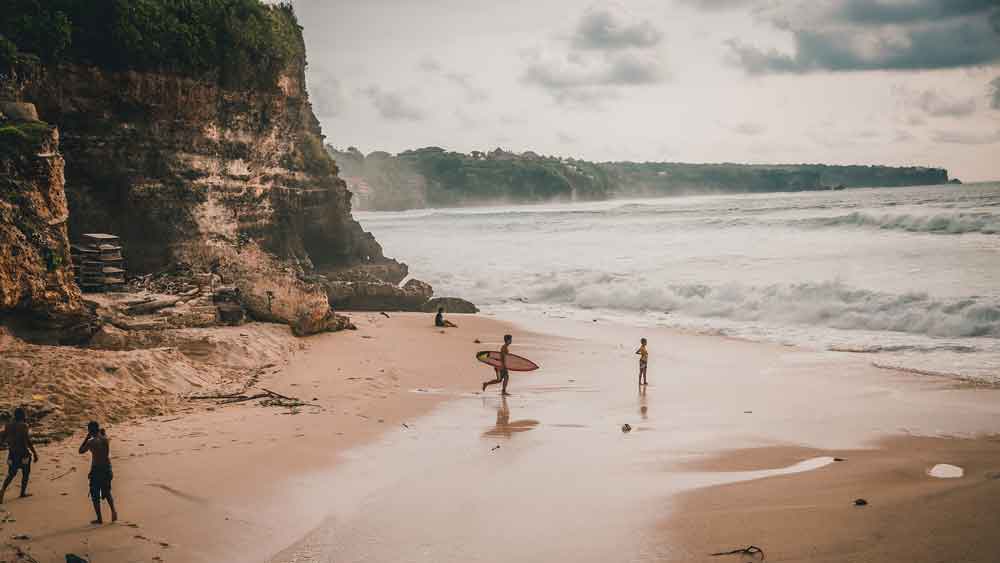 Best Places for a Surf and Yoga Holiday in Bali
There are plenty of areas in Bali that offer great surf spots and world class yoga retreats. Here is a selection of some of the best:
Canggu: Canggu is a popular destination for both surf and yoga, known for its laid-back atmosphere and hipster vibe. The surf spots like Batu Bolong and Echo Beach offer waves suitable for all levels of surfers. The scene is complemented by numerous yoga studios offering a variety of styles. The scenery in Canggu is a mix of lush rice fields and trendy cafes.
Kuta, Legian and Seminyak: Kuta is where Bali's tourism boom initially started. Its long sandy beach offers small, fun waves perfect for beginners and stunning sunsets. You'll find numerous surf schools along the beach. Yoga is not as prevalent here as in other areas, but there are still several studios around. Kuta is bustling with activity and nightlife and great for budget travellers. Kuta, Legian and Seminyak kind of blend into one these days and becomes increasingly upmarket in the Seminyak area.
Uluwatu: Uluwatu is famous for its world-class surf breaks, stunning cliff-top views and scenic temple. The waves here are more suited for intermediate and expert surfers but Padang Padang offers beginner friendly breaks. Yoga classes are often held in beautiful locations overlooking the ocean. The scenery is dramatic with cliffs, temples, and the expansive Indian Ocean.
Nusa Lembongan: This small island off the southeast coast of Bali is a peaceful escape from the crowds. The surf breaks like Shipwrecks and Playgrounds are suitable for various skill levels. Yoga is becoming increasingly popular on the island, with several retreats and studios available. The scenery is characterized by clear blue waters, white sandy beaches, and seaweed farms. You can also explore the neighbouring islands of Nusa Ceningan and Nusa Penida.
Ubud: No mention of yoga in Bali is complete without Ubud. This magical inland village is home to some of the most beautiful rice fields in all of Bali as well as plenty of fantastic yoga studios, but it's about an hour drive from the ocean so not the best for surfing – although some retreats may offer surf lessons it's not the best base if you want to get a lot of surf and beach time in.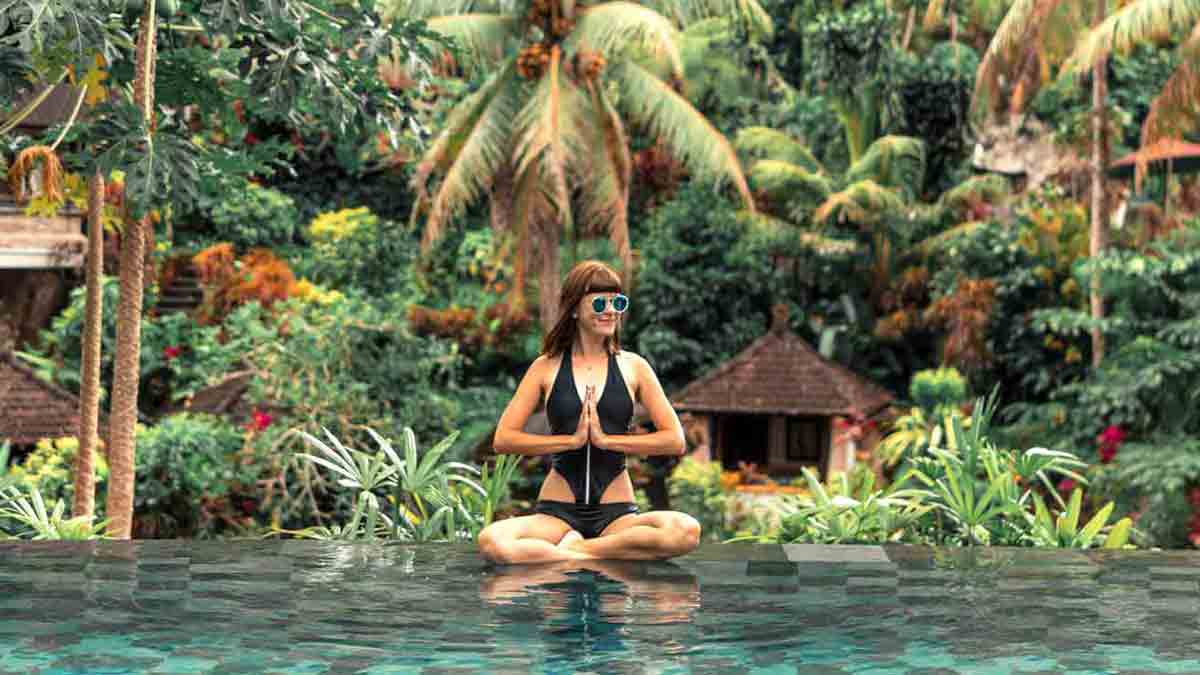 The Best Surf and Yoga Retreats in Bali for 2023
There's no shortage of surf and yoga retreats in Bali but here are some of my favorites:
Most of these recommended retreats are suitable for beginners who can learn to surf and enhance their yoga practice in Bali's unique tropical environment.
Keep reading as we go into more detail for each of the best yoga and surf retreats in Bali to help you find the perfect one for you.
Pelan Pelan is one of the best known surf and yoga retreats in Bali, and with good reason. Set in a lush tropical garden on the outskirts of Canggu their focus is on providing an authentic Balinese experience to compliment your time on the waves and on the mat.
Highlights:
5 days of surf lessons
4 yoga classes and 1 meditation session
3 Balinese massages
Outdoor swimming pool
All the essentials are included except lunches, and you'll have free access to a scooter to get yourself around while exploring the area. There's a broad selection of extra activities available, including jewellery making, fishing, personal fitness training and private guided meditation for an additional cost.
Accommodation is provided in 8 authentic Indonesian villas spread over 3 terraces amongst the tropical garden and close to the river. You can save some money by sharing with other guests, but there's private rooms available too.
The winning combination of surf and yoga lessons for all levels, beautiful location and cultural activities make this one of the best surf and yoga retreats in Bali.
Prices from €742 / $840
*Pelan Pelan also offer an 8 Day Couples Yoga and Surf Retreat if you're traveling with a partner, and a fantastic 15 Day "Get It All" Retreat for those with a bit more time.
Open to all abilities but certainly catering more towards surf enthusiasts, this 8 day yoga and surf holiday near Padang Padang gives you access to Bali's most famous beach breaks as well as several secret waves known only to the local surf community.
Highlights:
Daily surfing practice
3 dedicated surf lessons
After-surf hatha yoga classes
Pool and chillout spots around the resort
Games room and movie area
All your surfing needs are taken care of with high quality equipment and regular beach shuttle buses. The breakfasts and most dinners are included, but you'll need to arrange your own lunches. Massages and spa treatments also cost extra.
For the best value you can choose to sleep in shared dorms, but there's also a good selection of private accommodation available if you're willing to spend a bit extra.
With expert surf tuition, affordable prices and a winning location near popular Padang Padang beach this is one of the best surf camps in Bali for intermediates looking to improve their surf technique and relax with yoga in the evenings.
Prices from €463 / $524
Goddess Retreats offer a private women's retreat in the heart of Seminyak, Bali. You are welcomed to a spa-like oasis of serene pampering where you can feel like the center of the universe, with every wish being taken care of by their friendly staff.
Highlights:
5 surf lessons
6 yoga classes
Unlimited spa treatments
Full board accommodation
Cultural and boutique shopping excursions
Whilst this is the most expensive retreat on our list, it offers so much that it's surprisingly good value for money. You have access to an itinerary concierge, who will help you plan and arrange your perfect retreat, plus you get unlimited spa treatments, a personalized meal menu and professional Australian surf instructors. The only thing that isn't included in the price is your flight to Bali.
The resort itself is deigned in a "barefoot chic" style and is one of the most beautiful of all Bali yoga retreats. Rooms are either private single or twin-shared for those that want to come with a friend or partner, and all have air conditioning, cotton bead linen, open living areas and numerous other luxurious touches.
If you're looking for a relaxing, luxurious, all inclusive, women's only surf and yoga retreat in Bali you can't get much better than this!
Prices from €2,616 / $2,799
Unlike the majority of group yoga retreats and surf camps in Bali, this weeklong program hosted by S Retreats Hidden Valley focuses on creating personalised experiences for their guests. This means you'll have a professional surf instructor all to yourself, helping you to learn to surf or boost your surfing skills quicker with dedicated support in every lesson.
Highlights:
6 Personalized surf lessons
3 Balinese massage sessions
Multiple swimming pools on-site
Spa and fitness facilities
Hatha yoga classes
Breakfast and drinking water are both included in the price, but you'll need to arrange any other meals yourself. There is a multi-cuisine restaurant on-site that caters to all diets and nutritional requirements, plus several other restaurants in the nearby areas.
The resort is located just south of Bali international airport on the Bukit peninsula, close to all the best surf breaks in Bali. You'll stay at an eco-friendly hotel that offers a mix of twin-share and double ensuite rooms, which include access to all the on-site facilities.
If you are looking for an intimate retreat with personalised tuition to improve your surfing skills and yoga practice this is a great option, especially for beginners.
Prices from €870 / $959
This retreat, hosted by Isla Indah on Nusa Lembongan island, is a more yoga-focussed retreat with long surf lessons included every other day. Yoga practice covers Hatha, Vinyasa, Yin, Restorative and Ashtanga styles at the House of Om yoga shala nearby.
Highlights:
Daily yoga class
Bi-daily surf lesson
1 Balinese massage
Snorkelling with Manta Rays
Transfers from Bali included
You'll have opportunity to explore the beautiful tropical island of Nusa Lembongan just off the Balinese coast. There's organised outings to swim with manta rays, visit mangroves and freedive with the small group of instructors and other guests.
There is a vegan-friendly restaurant on-site. Which will be useful as only breakfast is included in the budget-friendly price. You'll also be asked to pay a security deposit for the accommodation.
The accommodation is in private garden bungalows for either one or two people. These include a king size bed, air conditioning, hot water and WIFI for a comfortable, western-style stay. You can also choose to stay in a nearby traditional guesthouse if you'd prefer.
If you're dreaming of an island escape this retreat offers the perfect blend of adventure and relaxation for an unforgettable tropical vacation at an affordable price.
Prices from €496 / $529

If you're looking for a short, exciting, activity based getaway then Baliuma Retreats, in Sesandan Megati village in Tabanan near Ubud, includes not just surf lessons and yoga classes, but also horse riding and daily cultural expeditions.
Highlights:
1 to 1 private surf lessons
Twice daily yoga and meditation sessions
Sunset horse rides on the beach or through rice fields
Balinese meals
Choice of cultural excursions
There's three included daily meals which are wholesome, abundant, and delicious vegetarian and vegan cuisine, made with only local and organic produce.
You'll have the opportunity to visit local waterfalls, make your own coconut oil, visit a shaman and undertake Balinese music and cooking classes.
Accommodation is within a homestay guesthouse a few minutes walk from the retreat center. You'll be sharing with the other guests, but private rooms are available for an additional cost.
This retreat is not located by the beach, but is an amazingly affordable immersion into the unique Balinese culture with plenty of fun activities and excursions.
Prices from €346 / $369
Tips For Choosing a Surf and Yoga Retreat in Bali
When it comes to choosing the right surf and yoga retreat in Bali, there are some things you should bear in mind:
1. Location – Make sure that the location of your Bali retreat is suitable for the activities you want to do. For example, if you are looking for a surfing holiday make sure that the location offers good waves suitable for your level and that it's close enough to the beach and other amenities.
2. Level of Accommodation – Consider the level of accommodation provided at your chosen retreat. Do they offer luxury packages with all-inclusive spa treatments or more basic options? This will help ensure that your stay meets your expectations.
3. Retreat Programs – Some yoga and surf retreats offer special programs which may include meditation classes, cooking classes, or group activities such as trips to nearby attractions. Make sure to find out what kind of program is offered before booking a retreat so that you can be sure it's right for you.
4. Price – Make sure to compare prices between different retreats and decide what works best for your budget. Often, more affordable retreats can still provide a great experience so don't be afraid to shop around!
Tips for Planning Your Bali Surf and Yoga Vacation
As you can see Bali is a must visit destination for all surfers and yogis. Here's some essential Bali travel tips to help you plan your island adventure.
The Best Time to Visit Bali for Surf and Yoga
When planning your trip to Bali for a yoga and surf retreat, you should consider the two main seasons on the island: the dry season (April to September) and the rainy season (October to March).
The dry season is peak tourist season and the best time of year for outdoor activities such as beach days, sunbathing, hikes, and dives. It's also ideal for beginner surfers because of more consistent beginner friendly waves. July and August are usually the busiest months in terms of tourism.
The wet season offers cooler temperatures and lush greenery. This is an excellent time to visit if you want cheaper prices at spas or luxury yoga resorts, as well as escaping from crowds and it doesn't rain all day. The bigger waves are more suitable for experienced surfers during this period but you'll still find breaks suitable for beginners.
How to get to Bali and get around
Bali has one of the world's most conveniently located international airports – Ngurah Rai International Airport (DPS) which is just a short journey from the beaches and yoga hubs across Bali.
Flights are available direct from Australia, while travelers coming from Europe or North America will usually have to change flights in Asian hubs like Singapore, Kuala Lumpur or Bangkok. If you choose to do this, why not break the journey and take some time to explore these fascinating cities?
Most nationalities can take advantage of Visa on Arrival at the airport, costing USD 35 which can be paid with card or cash in major currencies. This allows up to 30 days stay in Bali but if you fall in love with it you can extend by another 30 days by visiting Denpasar immigration office.
When you arrive in Bali the quickest and most convenient way to get to the retreat is by taxi. Your retreat may include airport transfers or be able to arrange it for you so check with the organiser. If not, be wary of touts at the airport offering too-good-to-be-true deals.
It's much safer to use an online taxi app like Grab or one of the official taxi companies that offer fixed rate coupons for each journey type so you know exactly how much it is going to cost before getting in the car.
What to Pack for a Yoga and Surf Vacation in Bali
To make sure you have everything you need for your surf and yoga retreat in Bali, it's important to know what to pack. Essential items include sunscreen, a hat, swimwear and comfortable shoes for walking around.
Retreats will normally provide all the surfing and yoga equipment like surf boards, yoga mats and wet suits (although the water is so warm you shouldn't need it) You might want to bring along a rash guard as well as appropriate footwear – either sandals or booties depending on the conditions.
Ensure you have good travel insurance covering all the activities you plan to do on a surf and yoga retreat in Bali, including yoga, surfing, hiking and water sports.
Finally, always check the reviews on BookYogaRetreats before you book any yoga, surf or wellness retreat in Bali.
I hope this article has helped you find your ideal surf and yoga retreat in Bali. Check out our other articles for more tips on how to choose a yoga retreat, a guide to the best yoga mats for travel, and also our quick and easy yoga retreat packing list to help you prepare for your vacation.
Conclusion: Our Favorite Bali Surf and Yoga Retreat
Whether you're a seasoned yogi, an avid surfer, or someone simply looking to escape the hustle and bustle of everyday life, a yoga and surf retreat in Bali offers the perfect blend of adventure and relaxation.
If you still can't decide on a retreat, our top pick is Pelan Pelan in Canggu. Their retreats strike the perfect balance between adventure and relaxation. With expert-led surf and yoga sessions, an immersion into Balinese culture, and a serene setting amidst rice fields, it offers a rejuvenating experience that caters to all. Whether you're a seasoned surfer, a yoga enthusiast or a first-timer, Pelan Pelan is an ideal choice for a memorable Bali retreat experience.
While Bali is our favorite destination you can also find surf and yoga holidays in many other parts of the world, so you might want to also read our articles on surf and yoga in Portugal, or Costa Rica and Sri Lanka.
* This post may contain affiliate links. When you make a purchase through links on our site we may make a small commission, at no additional cost to you. We only recommend products that we love and genuinely use ourselves. All prices stated are correct on the date of publishing, but can be subject to change.
© loveyogalovetravel.com 2022-2023. Unauthorized use and/or duplication of this material without express and written permission from this site's author and/or owner is strictly prohibited. Excerpts and links may be used, provided that full and clear credit is given to loveyogalovetravel.com with appropriate and specific direction to the original content.