8 Top Rated Yoga Retreats in Thailand (2023)
I dreamed of visiting Thailand from the moment I watched 'The Beach' movie as a teenager. The idea that there was a place on earth so beautiful and yet so undiscovered that you could seek out your own slice of paradise was too strong to resist.
While no longer unexplored, the beautiful tropical nature and deep sense of spirituality that permeates life in Thailand made it the obvious destination when I started practicing yoga, and so I began searching for the best yoga retreats in Thailand.
The harmonious blend of its tropical beauty, hospitable locals, and deeply rooted Buddhist culture make Thailand a top yoga and wellness destination for anyone looking to combine yoga and travel.
I have been lucky enough to experience some of the best yoga resorts in Thailand myself. So to help you find the perfect retreat for you I've broken down the best Thailand retreats into eight categories that include pure yoga retreats as well as wellness retreats, spiritual retreats, fitness and detox programs, and yoga teacher training.
I hope this article will help you decide which of the many wellness and yoga retreats in Thailand would be a good fit for your own practice and that you fall in love with Thailand just as we have.
Pin this image!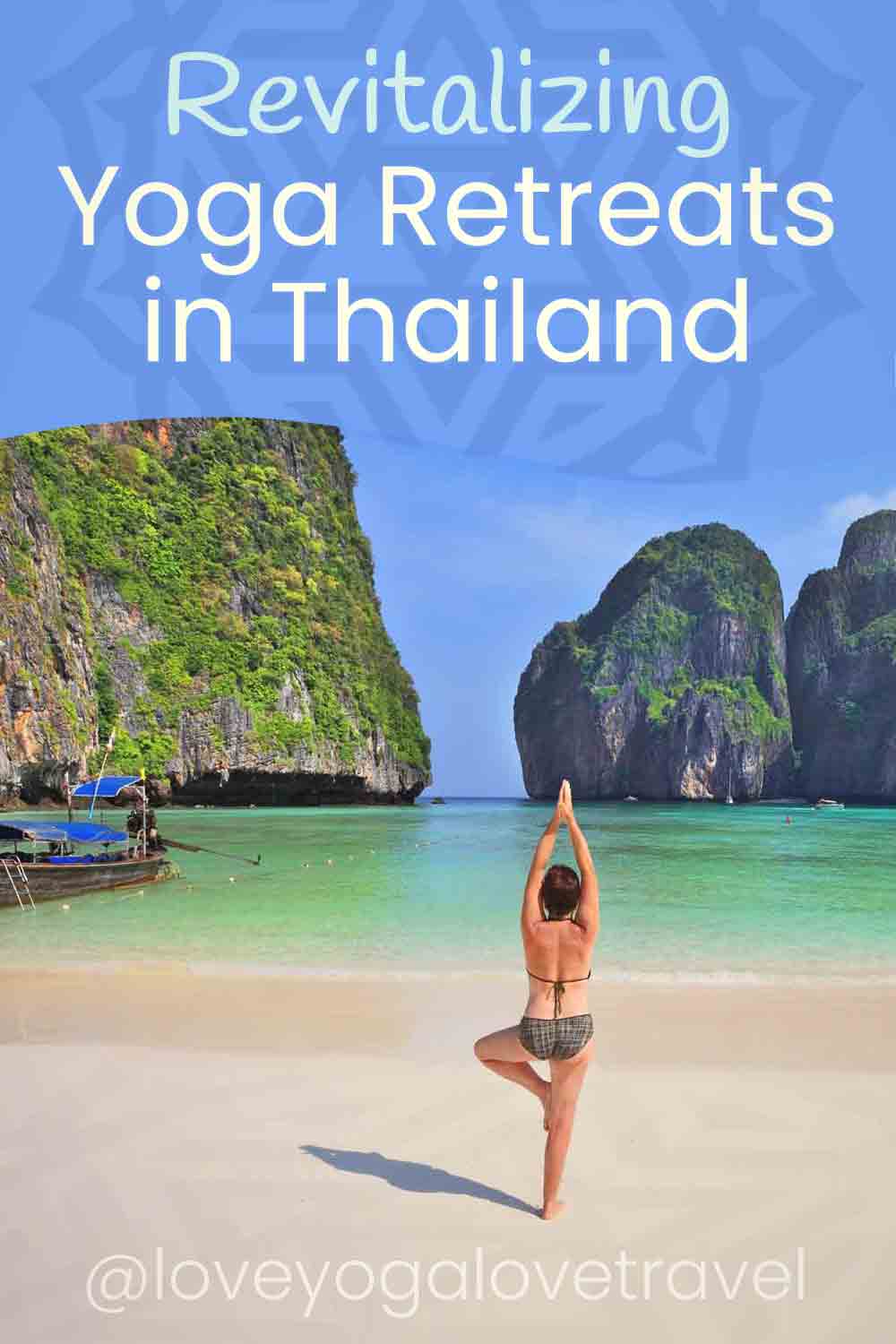 Why You Should Go On A Yoga Retreat in Thailand
Thailand is a sought-after travel destination known for its breath-taking tropical landscapes, budget-friendly travel options, and rich spiritual heritage represented by its mystical temples and rituals. Its flavorful cuisine, energetic nightlife, and hospitable locals further add to its charm.
The country is fast becoming a top location for spiritual travel and yoga retreats, offering unique opportunities for both mental and physical rejuvenation in the midst of its tropical bliss and serene zen vibes.
Whether you choose to practice yoga on a picturesque tropical beach, amidst ancient Buddhist temples, lush jungles, or towering mountains, the experience of escaping to a Thailand yoga retreat promises to be nothing short of unforgettable.
There are numerous yoga retreats in Thailand all over the country, including on gorgeous tropical island paradises. You'll find excellent luxury wellness and yoga retreats in Phuket and amazing yoga resorts on the island of Koh Samui.
One of the most popular island destinations for yoga retreats in Thailand is Koh Phangan, which has evolved from being famous for its Full Moon party to being a premier destination for yoga enthusiasts.
Additionally, the countryside surrounding the cultural and spiritual hub of Chiang Mai in the north is another popular yoga destination. If you want to be immersed in traditional Thai culture and visit ancient temples after your yoga classes check out the amazing yoga retreats in Chiang Mai.
For more inspiration check out our comprehensive Guide to Yoga in Thailand.
Yoga retreats in Thailand are also fantastic venues to undertake yoga teacher training, with many internationally renown instructors based here year round and offering some of the most budget friendly YTTC options in the world.
It's worth spending a little time researching which retreats are a good fit for your personal goals. Checking course break-downs and customer reviews on impartial websites like BookYogaRetreats are a good place to start.
Continue reading below to uncover my top recommendations for a variety of different yoga retreats in Thailand.
The Best Thailand Yoga Retreats for 2023
Set in the heart of beautiful Koh Phangan island with tropical jungle views and just a short distance from the stunning beaches, you'll be treated to unparalleled tranquillity and nourishing vegan meals while you learn and grow with the friendly, professional instructors at Wonderland Healing Center yoga retreat.
The pace of this retreat makes it perfect for those new to yoga practice to deepen their understanding and discover the many different styles of yoga available. We think it's the ideal beginners yoga retreat in Thailand.
Highlights include:
Extensive variety of yoga styles to try.
Onsite swimming pool and sauna.
3 vegan meals a day included in the price.
The timetable is varied and designed to revitalize and boost confidence as you as you start your yoga journey. Wonderland also offer private, tailored and one-to-one sessions if your prefer a personalised touch, and can recommend bespoke holistic treatments to improve your general wellbeing.
If you're looking for a "full body reset" in a truly luxurious location then look no further than this wonderful all-inclusive luxury yoga retreat on Koh Samui island.
Fitness, detox and weight-loss are the primary goals of this 8 day wellness retreat in Thailand, but it's not all just hard work and healthy food. There are also tons of fun activities to keep you buzzing and making the most of the tropical environment.
Highlights include:
Daily yoga, cardio and strength classes.
3 healthy meals a day included.
Numerous individual classes and treatments on offer.
Airport transfer included.
You'll get to have three different classes each day focussing on different areas of fitness, and there's time assigned to relax by the pool, at the beach, or to take on further activities.
You can be confident about the instructors as are all well known and come from professional health and fitness backgrounds.
Bungalow-style accommodation is set in lush, tropical gardens with hammocks on the porches and have large, comfy beds and air-conditioning to keep you comfortable during your stay. The retreat is located just 2 minutes walk from beautiful Lamai Beach.
Ayurvedic therapy helps to cleanse your body of toxins and blockages and Mangosteen is one of the best wellness and yoga retreats in Phuket because it offers the opportunity to create your own AyurYoga experience based on your constitutional type, dosha imbalances, digestive system, immunity, and other health factors. Meaning that the advice you receive is totally personalised to your needs.
Yoga and meditation feature heavily to compliment the ayurvedic teachings and diet. There's two daily yoga sessions included in their retreats that cover everything from calming restorative yoga to energizing active yoga.
Highlights include:
Vegan breakfast, lunch and dinner included (non-vegan food is also available)
Long list of retreats, catering to different needs and durations.
Pre-booking advice from the ayurvedic doctor.
Large, salt-water treated swimming pool.
Accommodation is in villas with three levels of comfort to choose from. You'll have access to a gym, sauna, spa and swimming pool. Plus, as an adults only resort, you can be sure that the other guests are also there to get the most out of this unique ayurvedic yoga retreat in Thailand.
Spiritual retreats in Thailand are a fantastic choice if you are seeking deeper meaning in life or have an interest in the metaphysical. Samma Karuna yoga retreat in Koh Phangan offers to teach you how to live a happier, more fulfilled and enriched life, based on principles of self-development, acceptance, and celebration.
Highlights include:
Personalised advice from the senior instructors.
Diverse meditation styles, from active Osho to silent Vipassana.
Highly social and community based learning.
Beachside location.
You'll stay in bungalow-style housing, with a choice private or shared rooms. All have air conditioning, private bathrooms and are close to local amenities and popular restaurants.
This is a great yoga resort and meditation retreat for beginners and intermediate levels practitioners with plenty of social activities outside of the daily itinerary as well as super friendly instructors.
This is one of the best yoga retreats in Thailand for those who want to combine yoga with a beach holiday as it's located right on the beach in northwest Koh Phangan with four yoga studios and it's own yoga accessories shop.
If you'd rather get off the beaten path and away from the tourists while still attending one of the best yoga retreats in Thailand, then I'd recommend the True Nature yoga retreat. Sitting amongst lush farmland to the north of Chiang Mai with beautiful views towards the local green hills and wildlife sanctuaries.
Highlights include:
Serene location.
3 daily healthy meals.
2 meditation sessions and 2 yoga classes each day.
Small group sizes.
You'll get two daily yoga classes during your stay that cover popular yoga styles like vinyasa yoga and yin yoga. These are complimented by two guided meditation practices before each yoga session, and you are encouraged to use your free time to develop your personal meditation practice.
Your meals are made using ingredients from their own organic farm, serving up a variety of Thai and continental foods. Group activities and workshops are also included in the price, making this a really great value yoga resort.
Located on the island of Koh Yan Noi, in the Phang Nga region close to popular Phuket, this amazing retreat provides an opportunity to immerse yourself in yoga, meditation and Thai culture. We recommend Island Yoga as one of the best budget yoga retreats in the world.
Island Yoga highlights include:
Two yoga sessions a day.
One Thai massage session included.
Tai Chi movement classes at sunrise.
Broad range of yoga styles.
The Island Yoga retreat offers an array of activities including yoga classes, meditation and pranayama sessions and Tai Chi, as well as workshops and excursions.
To keep costs low, you can opt to stay in a shared dorm or choose from three private accommodation options. Whichever you choose it is still one of the best and most affordable yoga retreats in Thailand!
Island Yoga use a unique teaching method that is designed for individuals of all skill levels and aims not only to help you improve your yoga practice, but to make meaningful changes in your daily life.
One of the most popular and well loved wellness retreats in Thailand, Muay Thai Battle Conquer Gym may have a strong name but their detox and wellness programs are the perfect introduction to traditional Thai boxing and the fitness regime used by it's combatants.
You can treat this as a yoga retreat, health retreat or fitness camp, with options to undertake classes that cover traditional Hatha yoga, guided meditation, weight loss, CrossFit and other activities.
Highlights include:
Passionate instructors with a lifetime of experience.
Three sessions of relaxing Thai massage.
Twice daily yoga classes.
Detox program and traditional Thai food.
You'll stay at the family home in one of their purpose-built lodges and get to experience the traditional Thai farming community lifestyle that keeps the population so vibrant and healthy.
A list of yoga retreats in Thailand wouldn't be complete without a recommendation for the best yoga teacher training (YTT) programs.
Yoga Vidya Mandiram is a yoga school from Rishikesh, India that offers authentic YTT's in Chiang Mai, Thailand including 200 hours, 300 hours and also shorter courses.
The yoga training here is comprehensive, covering all major yoga styles and many complimentary practices like mantra recitation, pranayama breathing, mudra and meditation.
Highlights include:
Yoga asana lessons, pranayama practices and yoga-nidra techniques.
Yoga philosophy, Sankhya and Ayurveda instruction.
Anatomy and physiology classes.
Emphasis on healthy living and holistic lifestyles.
During your 200 hour training you will stay in traditional Thai wooden bungalows with ceiling fans and hot showers. There is a choice between shared and private rooms.
There is a strong sense of discipline at this yoga school that encourages dedication amongst their students. All meals are vegetarian or vegan and are prepared to traditional Indian vegetarian standards, leaving you feeling rejuvenated, detoxified and healthy.
You'll visit ancient Buddhist temples and hike along Thailand's highest mountain range. And, at the end of it, you'll receive Registered Yoga Teacher certification from Yoga Alliance.
Tips For Planning Your Thailand Yoga Retreat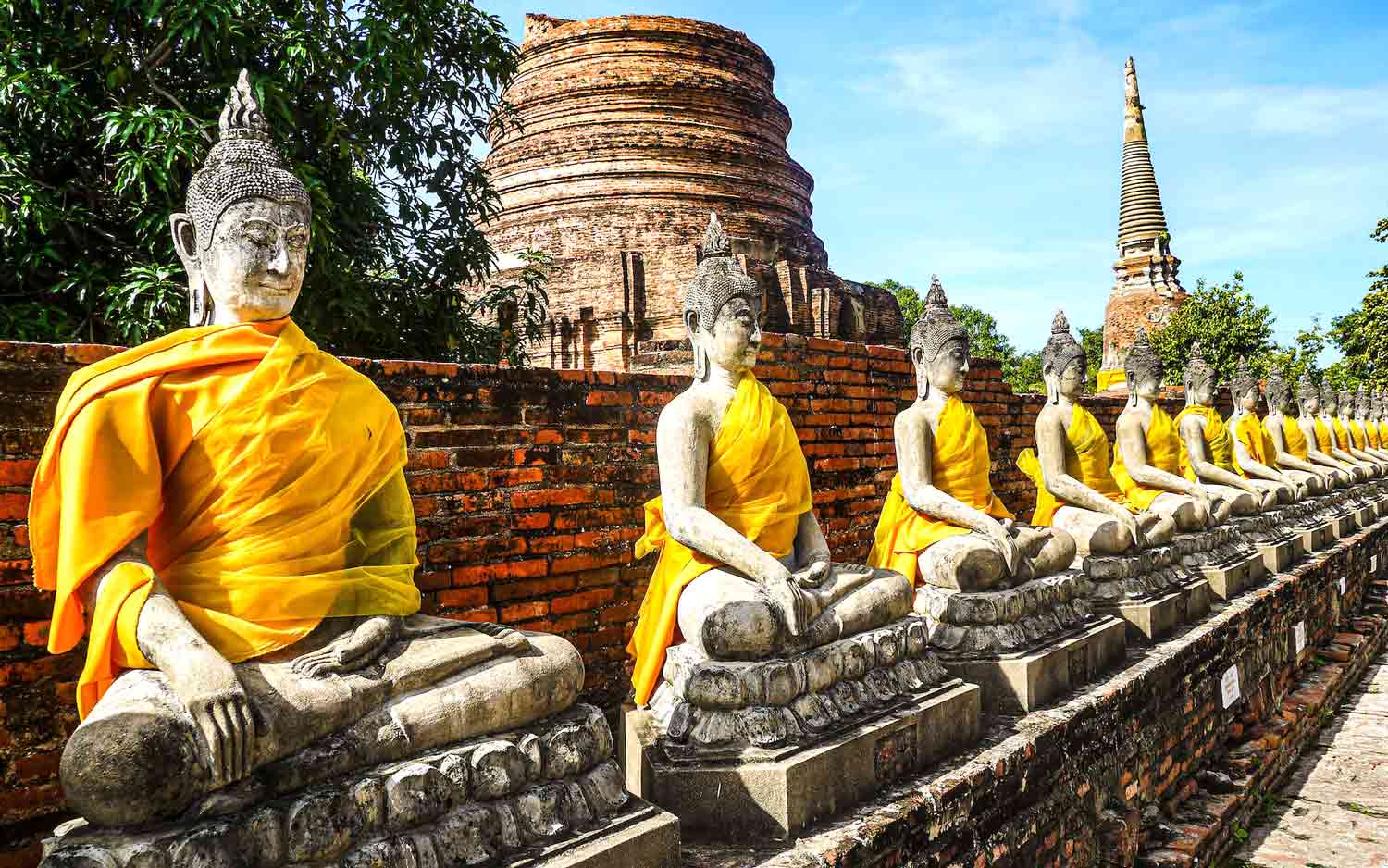 Best time to Visit Thailand
When you're planning a trip to a yoga retreat in Thailand, it is crucial to consider the weather. Thailand's tropical climate means it's warm all year round, but the best time to visit Thailand is the cool season, which falls between late November and early March.
April and May are still dry and sunny, the heat can be intense, especially in the North, but it's still a good time for a beach holiday but maybe a bit too hot for an intense YTT.
The rainy season starts in June and lasts through August, becoming more intense as it progresses. It is usually characterized by short afternoon showers, which provide a welcome break from the heat and humidity.
Phuket and the Andaman Coast receive the most rain in September and October, while the Gulf remains relatively dry. Koh Samui and the Gulf of Thailand, on the other hand, experience downpours from November to December, while the Andaman Coast is mostly dry at this time.
How to get to Thailand
Getting to Thailand is easy as the capital Bangkok has some of the best flight connections in Southeast Asia and receives many international flights from around the world.
Bangkok has two airports. Most long haul international flights arrive at Suvarnabhumi international airport (BKK), while Don Mueang (DMK) handles flights within Thailand and across Southeast Asia.
Thailand has a great network of affordable domestic flights that connect Bangkok with popular yoga destinations like Phuket, Koh Samui and Chiang Mai. Koh Phangan does not have an airport, the nearest is on Koh Samui, the next island so you'll need to catch a ferry from there.
Ask your retreat organiser which airport you should arrive at as many yoga retreats in Thailand include airport transfers in the package. You can also book transport around Thailand easily online with 12 Go Asia.
Final thoughts on Yoga in Thailand
Thailand is an idyllic travel destination for any yoga enthusiast, offering a wide variety of affordable yoga retreats with experienced teachers, rejuvenating therapies set in natural environments.
With rich cultural heritage, stunning landscapes, and spiritual essence, Thailand is the perfect destination to nurture the mind, body, and soul. It's really no surprise that this country attracts yogis and spiritual seekers from around the world.
Whether you are a beginner seeking to try yoga for the first time or an accomplished practitioner looking to earn your yoga teacher certification, Thailand has everything you need to fully immerse yourself in the practice of yoga.
We hope this guide to yoga retreats in Thailand helps you find the perfect retreat for you and plan an unforgettable trip to this beautiful country. Don't forget to check out our yoga retreat packing list and guide to the best travel yoga mats to help you prepare.
* This post may contain affiliate links. When you make a purchase through links on our site we may make a small commission, at no additional cost to you. We only recommend products that we love and genuinely use ourselves. All prices stated are correct on the date of publishing, but can be subject to change.
© loveyogalovetravel.com 2022-2023. Unauthorized use and/or duplication of this material without express and written permission from this site's author and/or owner is strictly prohibited. Excerpts and links may be used, provided that full and clear credit is given to loveyogalovetravel.com with appropriate and specific direction to the original content.