The Best Yoga Retreats in Koh Phangan, Thailand in 2023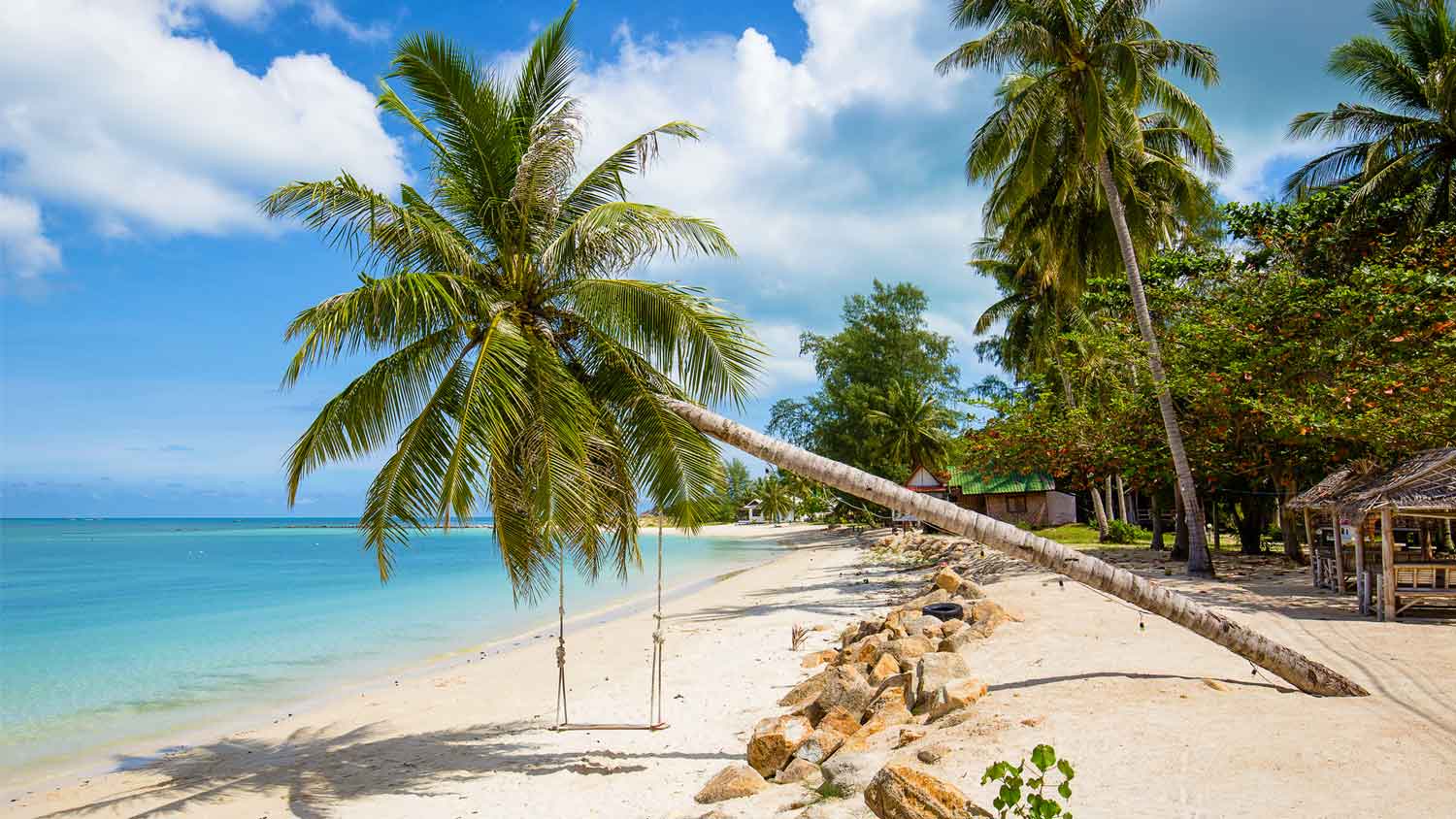 As one of the best yoga travel destinations worldwide there's no shortage of beautiful places to practice yoga in Thailand – but my all time favorite island is undoubtedly the island of Koh Phangan.
Koh Phangan is most famous for its Full Moon Party but there's so much more to this beautiful island than just crazy nightlife and stunning beaches. The island also has a spiritual side and there's a thriving yoga community with numerous wellness and yoga retreats in Koh Phangan to choose from.
There's no shortage of opportunities for yoga in Koh Phangan, whether you are looking for drop in yoga classes and tantra workshops to wellness resorts, detox retreats, yoga retreats or yoga teacher training in Koh Phangan you'll find it all on this idyllic Thai island.
A Guide to Yoga in Koh Phangan, Thailand
In this guide to yoga in Koh Phangan I'll explain why the island is such a yoga hotspot, recommend some of my favorite yoga and wellness retreat centers and yoga teacher training programs. I'll also give you my tips for how to choose the perfect Koh Phangan yoga retreat for you along with tips for planning your trip.
Pin this image!
Why Koh Phangan is a Top Yoga destination
While there's many great yoga destinations in Thailand, Koh Phangan is quickly establishing itself as a global yoga hotspot. As well as stunning natural beauty, tropical beaches and a lush mountainous interior, Koh Phangan also radiates a special spiritual energy and attracts a community of open-minded, conscious people from around the world.
It's said that Koh Phangan is made from a large quartz crystal which is the source of this unique healing energy which makes the island an ideal place for a yoga retreat. On a Koh Phangan retreat you can immerse yourself in the laid back spiritual vibes of the island, learn from exceptional yoga teachers, connect with your inner self and be a part of a like-minded yogi community – all while being surrounded by the ethereal beauty of a tropical Thai island.
The area of Sri Thanu, in the North-West, is the most popular place for yoga in Koh Phangan and is filled with yoga studios, vegan restaurants and wellness resorts. This serene part of the island is a stark contrast to the party-centric atmosphere of the Full Moon revellers at the other end in Haad Rin.
Yoga Studios with Drop in Yoga Classes in Koh Phangan
If you are looking for casual drop in yoga classes in Koh Phangan you are in luck as many of the yoga retreat centers also offer drop in yoga classes. Each centre offers different yoga styles, teachers and settings so read more about the retreat centres below and contact the ones you like the best to ask about drop in classes.
The price of yoga classes in Koh Phangan varies depending on a number of factors, including the location, the type of class, and the teacher. Generally, yoga classes in Koh Phangan cost around 300 – 400 Bhat (about $8 – $11) for a single 90 minute class. Many yoga studios in Koh Phangan offer discounts for multiple class packages or for booking in advance.
If you don't have time for a full retreat or just want to try out different types of yoga, teachers and resorts to find your favorite then drop in yoga classes are ideal. Remember that you'll have to arrange your own accommodation, transport and meals and will miss out on the sociable group vibe of staying at the yoga retreat centre.
Some Koh Phangan retreat packages are also surprisingly affordable and include meals, accommodation and other activities as well as yoga classes so are often better value overall.
Read on to discover our favorite Koh Phangan retreats.
The Best Yoga Retreats in Koh Phangan
There's no substitute for the full retreat experience and with so many yoga retreats in Koh Phangan, each offering different styles and treatments to create their own take on the perfect wellness vacation, you're sure to find one to suit you.
We've tried out many of them and these are our favorites:
Many of them also offer yoga teacher training which we will cover in the next section. More info about these retreats below
Wonderland Healing Center offers a revitalizing 8 day retreat that combines yoga and meditation with a balanced, plant-based diet. This yoga retreat in Koh Phangan warmly welcomes students of all skill levels, and is designed to build a supportive community of like-minded individuals passionate about yoga, inner harmony and growth.
There are deluxe private rooms and luxury shared dorms nestled among stunning mountainside gardens. The fully equipped accommodation spaces offer everything needed for dining and relaxation during your stay.
In addition to daily yoga sessions, attendees can also participate in workshops, music and events, philosophy lectures, and Reiki healing. A twice-daily meditation schedule provides opportunities for those seeking emotional balance and mindfulness practice to delve deeper into the teachings of self-compassion, impermanence, and open-heartedness.
Guests can choose to have a personalized program with bespoke instructions, whilst all attendees have access to holistic treatments, swimming pool, and sauna lounges. The gorgeous Khao Ra Mountain can be hiked directly from Wonderland Healing Center's backyard, plus waterfall hikes and white sand beaches are just moments away.
The Sadhana Program is a retreat that promises to take you on a transformational journey through yoga, philosophy, and meditation. From the twice daily yoga classes to the deep relaxation offered by Yoga Nidra, every aspect of the program is designed to offer new perspectives on yoga, life, and yourself.
Students can expect a variety of yoga styles, including Hatha, Vinyasa Flow, and Yin Yoga, with classes adapted for all levels of experience. The daily schedule includes philosophy classes to introduce essential yogic concepts, guided meditation, and silent sitting meditation. All of this is set in the serene atmosphere of a private beachfront resort in Koh Phangan.
With a focus on discipline and the benefits of a regular and intensive yoga practice, the Sadhana Program offers the conditions needed for spiritual growth. Away from distractions and supported by the community at One Yoga, you will find it easy to stay committed to your practice and truly experience the profound benefits that come with regular yoga practice.
This retreat offers up to four daily yoga classes and meditation sessions, plus workshops, steam room and Thai massage – making it one of the most inviting schedules of all our favourite yoga retreats in Koh Phangan. However, Ananda Yoga Detox Center makes the whole experience one of fun and relaxation.
Guests at Ananda also have access to a chlorine-free saltwater pool and herbal steam sauna. Plus, with a restaurant that caters to yogi preferences, you'll get to enjoy three daily vegetarian or vegan meals prepared in a clean and wholesome environment.
The schedule is packed with exciting options, including sunrise meditation and pranayama, a choice of daily yoga classes, including mixed-level Vinyasa and Yin & Restorative Yoga, and even free afternoons to enjoy the pool, spa facilities, and more before your sunset dinner.
This 14-night yoga and meditation retreat at Shakti Yoga on Koh Phangan island is a retreat intended for individuals who are at a plateau, experiencing a burnout, passing through a crisis, or at a crossroads in their life, to get empowered, refreshed, and energized.
With only a limited number of guests, highly professional facilitators, and a secluded yoga shala in the jungle, this retreat is tailor-made for individuals who yearn to discover new depths within themselves. The retreat's highlights include a flexible schedule that lets you explore the island and enjoy free time, a variety of guided self-healing experiences, and accommodations at a stunning beach-front resort in Srithanu village.
Guests can look forward to daily gentle Hatha yoga body awakening, mantra meditation, and afternoon sessions that include breathwork and neuro mapping to help them undergo a deep transformation. It's an experience that promises to rejuvenate one's mind, body, and soul in the most picturesque setting.
Namreka Sanctuary Wellness Retreat offers a range of private retreat programs for solo travelers seeking an escape from the hustle and bustle of everyday life. With only six rooms available, this small private boutique retreat ensures peace and tranquility for all guests.
Namreka Sanctuary Wellness Retreat caters to beginners in Hatha yoga and invites guests to immerse themselves fully in the transformative retreat experience. The retreat's rich program includes private yoga, meditation, and breathwork therapy sessions, among other practices designed to enhance mindfulness and spiritual wellness.
Guests will be delighted with the Color Therapy Bedroom and herbal steam sauna, while the Aura cleansing and Namreka Intuitive Flow sessions will leave them feeling rejuvenated. Additionally, guests can enjoy Reconnective Healing, a Palo Santo purifying wood ceremony, and a Flower Essence Remedy class.
All meals and drinks provided are purely vegan and detoxifying, offering a healthy and refreshing alternative to regular daily consumption. The strict no smoking and no alcohol policy at this Koh Phangan retreat center adds to the sanctuary-like environment, where guests are encouraged to unplug and unwind amidst the natural surroundings.
Samkara Meditation Retreat, where you can experience the perfect balance of luxury and mindfulness, is held at Sunset Hill Resort. This retreat offers stunning hillside views overlooking untouched beaches. With a range of luxury suites to choose from. Guests will have access to world-class facilities, including an infinity pool and sauna center featuring a dry "Finnish" sauna, steam room, infra-red sauna and real Ice Bath.
The Samkara Luxury Meditation Retreat package offers a truly integrated approach by combining morning yoga, pranayama, mindfulness activities, guided meditations, and healing massage treatments. With breath control techniques and a variety of meditation styles, guests will discover new ways to bring themselves to the present moment and deepen their connection with their inner selves with the goal of achieving silence of the mind, body, and soul.
This retreat is suited to all skill levels, from beginners to advanced yogis alike; everyone can enjoy the luxury and relaxation this retreat provides. A wide variety of delicious menu options are available to choose from, ensuring everyone is more than satisfied with their meal choices. With airport transfers from Koh Samui island, shuttle service to local beaches, and panoramic sea views, guests can immerse themselves in nature and thrive at this luxury wellness resort on Koh Phangan island..
This retreat, hosted by Yoga Retreat Koh Phangan, offers instruction in Ashtanga yoga and Mysore styles, catering to all skill levels while providing an authentic and energizing practice that's designed to leave students rejuvenated.
Guests are offered daily Pranayama and meditation lessons, along with a dynamic program of chanting, philosophy, and Ayurveda courses. In addition to yoga instruction, the retreat includes a course on the powerful mind-body healing art of Ayurveda, along with rejuvenating Ayurvedic massage and reiki healing.
Accommodation options include six nights of comfortable lodgings, and guests can indulge in delicious vegetarian dishes at the on-site café, which serves wholesome breakfasts, traditional Thai cuisine, and more. The retreat also boasts one of the most economical prices of all the best yoga retreats in Koh Phangan.
The Sanctuary – World Famous Beachside Retreat
The original and oldest Koh Phangan yoga retreat was initially created as a private hideaway for friends in 1989. Nowadays it's probably the most famous retreat in Thailand and comes recommended by The Guardian!
The sanctuary lives up to it's name, it's located on a remote corner of the island that is only accessible by boat and boasts a stunning beach and a laid back vibe. There's a wide array of accommodation options, great food and the centre attracts world class yoga teachers.
Yoga retreats include a private yoga session as well as daily yoga classes, massage treatments and other therapies and accommodation. However they don't include food and as there's not much else around eating at the resort can add up.
The Best Yoga Teacher Training in Koh Phangan
If you're interested in deepening your yoga practice or becoming a yoga instructor, Koh Phangan offers some of the best yoga teacher training courses in Thailand.
Once you complete the 200 hour yoga teacher training program you can register with Yoga Alliance as an internationally recognized Registered Yoga Teacher (RYT®). If you want to further your knowledge you can do a 300 hour YTT.
Numerous retreat centres offer YTT's but these are our 3 top programs for yoga teacher training in Koh Phangan:
More info about the courses below.
Orion Healing Centre, nestled in Sri Thanu Bay, offers an incredible 4-week yoga teacher training course in Koh Phangan that ensures guests get the most from their experience. The course provides exposure to Hatha and Vinyasa yoga styles, daily yoga and meditation classes, pranayama practice sessions, and an opportunity to explore the Orion community and the evening event schedule.
Guests will learn different variations of the asanas as well as yoga teaching techniques, gain knowledge of body anatomy and subtle energy body, meditation and pranayama techniques, and receive insight into sequencing and teaching methodology.
The 200 hour course also includes delicious vegan breakfasts and lunch buffet over a total of 28 nights of accommodation. The serene location is perfect for anyone who wants to be amidst nature with easy access to swimmable white sand beaches and tropical hiking trails.
This 200-hour Yoga Teacher Training Course by One Yoga Thailand is a comprehensive 4-week retreat designed to provide a solid foundation in yoga.
The venue, located in an oceanfront resort, surrounded by raw tropical nature, offers four different types of accommodation for the attendees; from shared rooms at One Yoga Guest House to Beachfront Bungalow.
The course features training in authentic Hatha Yoga combined with modern dynamic styles like Vinyasa, Ashtanga, Yin, and Restorative yoga. Furthermore, the course has been carefully designed for people of all ages, different physical abilities, and levels of yoga experience and is one of the most popular yoga teacher trainings in Koh Phangan.
This Multi-style 300 hour Yoga Teacher Training offers a mix online and in person teaching and a fusion of traditional Hatha and Vinyasa yoga styles, as well as Aerial and Acro yoga.
Designed for students with at least two years of consistent yoga practice, this 21-day 150Hr training program offers an additional 150Hr online self-paced studies for an enriching, dynamic experience. Students will receive detailed instruction on alignment and technique, and will have the option to participate in workshops covering yin yoga, SUP yoga, and yoga class design, as well as workshops on teaching methodology and other essentials.
Students will enjoy daily breakfast and 20-night on-site training accommodation with an ocean view yoga shala and access to a private beach. Bounty Resort, the training venue, is surrounded by lush green nature and offers air-conditioned, private rooms with balconies, WIFI, and other modern amenities. Students can also stay at nearby upscale resorts for an additional fee.
How to choose a yoga retreat in koh phangan
There's no shortage of wellness and yoga retreats in Koh Phangan, so it's important to choose the one that best suits your needs. Having a clear intention for your retreat can help enhance your overall experience.
Here are some key factors to consider when making your decision:
Retreat Type: Are you looking for yoga, wellness, detox, relaxation or a mix of these? Choose a retreat that caters to your goals.
Yoga Practice Level: Some retreats are ideal for beginners while others cater to more advanced practitioners. Ensure the retreat you choose suits your practice level.
Yoga Style: Different retreats may focus on different styles of yoga, such as Hatha, Ashtanga, or Vinyasa.
Added Services: Some retreats offer extra services like spa treatments, cooking classes, boat rides, detox programs, and wellness consultations. It's important to choose one that offers the services most important to you.
Location: Retreats can be found on the beaches, back into the hills or within small towns and villages.
Duration: Retreats may span anywhere from a few days to several weeks.
Reviews: Make sure you read real reviews from previous guests before you book to ensure the retreat you go to offers a safe experience. A good place to check unbiased reviews is on bookyogaretreats.com.
See more tips about how to choose a yoga retreat and check out our article about the most commonly used Sanskrit yoga words you'll need to know before your yoga holiday.
Tips for planning your Koh Phangan yoga trip
Planning your yoga trip to Koh Phangan is exciting, but to make sure everything flows seamlessly, research factors such as the best time to visit, how to get there. Here's our top tips for planning your trip:
When to go to Koh Phangan
When it comes to planning your yoga retreat, time plays a vital role. Koh Phangan goes through three distinct seasons – dry, hot, and rainy. The dry spell (December to February) attracts more travelers, thanks to the dry, sunny days, cooler temperatures and low humidity.
If you're after a quieter escape, the hot season (March to August) is less crowded. The rainy season falls between June and November but rain is minimal until October and November so it's also a good time to visit.
Getting to Koh Phangan
Koh Phangan does not have an airport however the nearby island of Koh Samui benefits from an international airport serviced by several airlines with direct flights from cities worldwide including Bangkok.
Additionally, ferry services are available from other Thai islands or the mainland if you would rather travel overland. You can book bus, ferry combination tickets with 12Go Asia for ease of travel. Your retreat host may offer to arrange your transfers from the airport or ferry port, so be sure to check.
Explore this Thai island Paradise
While your yoga practice is the main focus of your vacation, taking time to sample Koh Phangan's culture and natural wonders is worthwhile. Plan time to appreciate the island's beaches, lush rainforests, temples and serene ambiance for the full Thailand yoga holiday experience.
Also check out our favorite travel yoga mats and our complete yoga retreat packing list to make sure you don't forget anything essential and make sure you have travel insurance that covers all the activities you plan to do.
Final thoughts on Yoga in Koh Phangan
For those seeking wellness, spirituality and tropical vibes Koh Phangan is the perfect destination. The tropical, laid-back atmosphere, luxurious retreats, and natural beauty serve as a revitalizing backdrop for the mind, body, and spirit. No matter what retreat you're after, be it yoga, detox, or a teacher training course, Koh Phangan won't disappoint.
If you're still unsure of which Koh Phangan retreat to choose, we recommend Wonderland Healing Centre as our top pick because of the range of yoga and wellness activities on offer, delicious vegan food, tropical vibes, friendly atmosphere and affordable prices. You can't go wrong picking this incredible retreat!
While Koh Phangan is undoubtedly one of the top locations for yoga in Thailand, we also suggest checking out our articles on similar retreats in Chiang Mai, Koh Samui, and Phuket.
* This post may contain affiliate links. When you make a purchase through links on our site we may make a small commission, at no additional cost to you. We only recommend products that we love and genuinely use ourselves. All prices stated are correct on the date of publishing, but can be subject to change.
© loveyogalovetravel.com 2022-2023. Unauthorized use and/or duplication of this material without express and written permission from this site's author and/or owner is strictly prohibited. Excerpts and links may be used, provided that full and clear credit is given to loveyogalovetravel.com with appropriate and specific direction to the original content.