Find Your Zen: A Guide to the Best Yoga Retreats in Chiang Mai, Thailand (2023)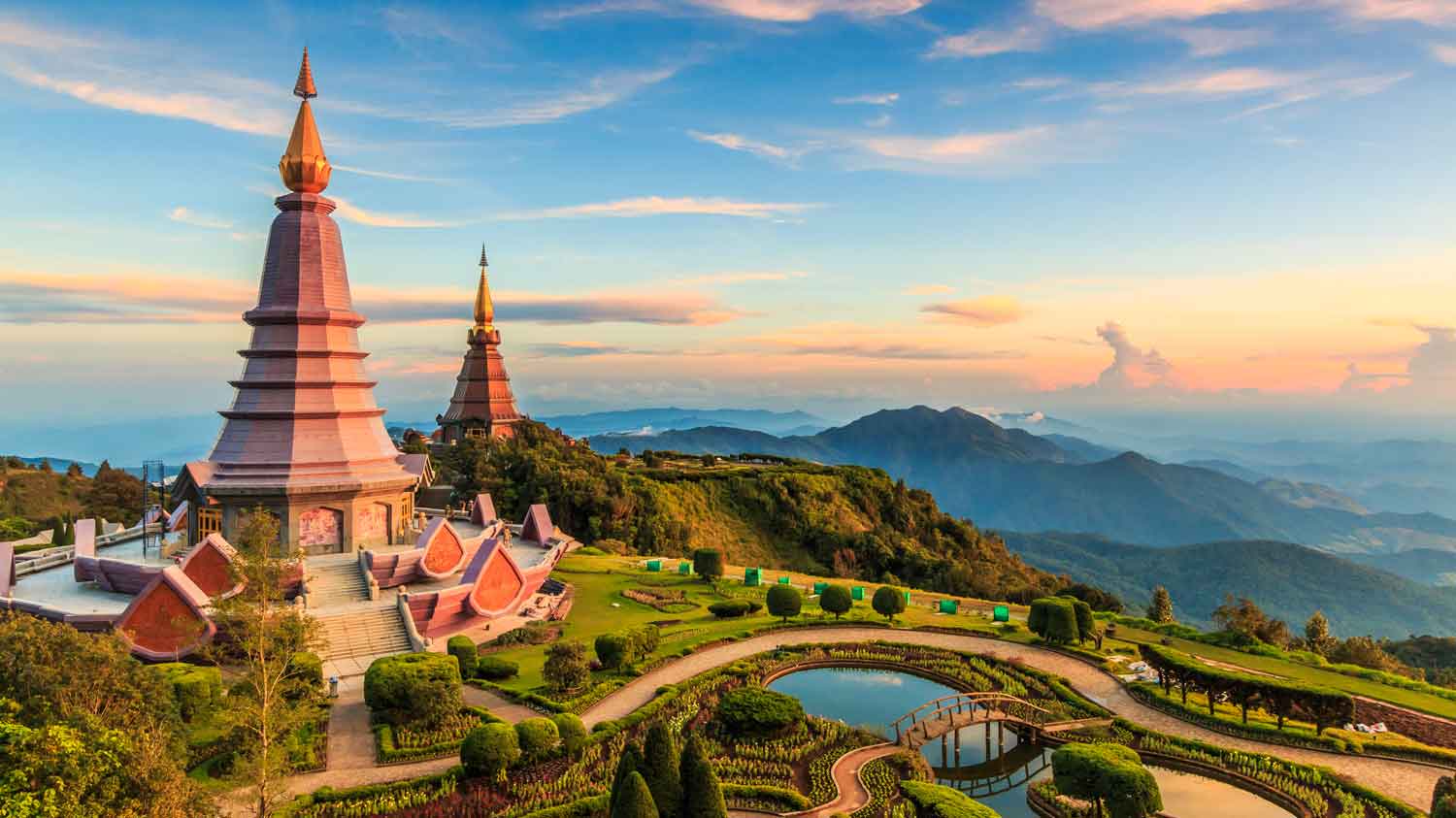 Chiang Mai in Northern Thailand offers the perfect getaway for yogis looking to find their zen. Not only is the city packed with ancient Buddhist temples and surrounded by lush jungles and mountains, there's also an abundance of amazing wellness and yoga retreats in Chiang Mai that offer a life changing experience and make it one of the most culturally exciting yoga travel destinations.
A Guide to Yoga Retreats in Chiang Mai, Thailand
In this guide to yoga retreats in Chiang Mai and the surrounding area, we'll take a look at why this area in northern Thailand is such a great wellness and yoga destination, give our personal recommendations for the best Chiang Mai yoga retreats and provide useful tips for selecting and planning your perfect yoga vacation.
Why Chiang Mai is a Great Destination for a Yoga Vacation
There's no shortage of amazing yoga and wellness retreats in Thailand, but if you're looking for a retreat that combines the best of authentic Thai culture and stunning tropical nature then Chiang Mai is the perfect place to go.
Chiang Mai is both a city and region in northern Thailand. The city features a moated old town packed with ancient Buddhist temples and saffron robed monks that comes alive at night with buzzing night markets and fiery street food.
Chiang Mai city is surrounded by luscious jungles and mountains where many of the most serene nature retreats are located. The mountain village of Pai is also a great place to relax and connect with nature with scenic landscapes, a laid-back bohemian vibe and many yoga centres.
Whatever part of the Chiang Mai region your yoga retreat is held in you can visit elephant sanctuaries, go trekking and try many more adventurous activities so your yoga holiday can be as peaceful or as active as you like. Just don't forget to allow time to relax with a Thai massage!
Yoga and meditation retreats in Chiang Mai offer a unique blend of ancient and modern practices. With expert teachers and a range of classes and treatments available, you'll have the opportunity to deepen your practice or try something new. The serene environment, friendly locals, and fresh mountain air all make for an ideal yoga vacation.
Whether you're a beginner yogi looking for a luxury wellness holiday, a backpacker looking for a cultural experience or a seasoned practitioner looking to deepen your skills with a yoga teacher training course, you will find something to suit your needs in Chiang Mai at amazingly affordable prices.
Pin this image!
The Best Yoga Retreats in Chiang Mai, Thailand
To help you out, here's our recommendations for the best yoga retreats in Chiang Mai, Thailand.
Suan Sati Retreat – Best Beginners Yoga and Meditation Retreat in Chiang Mai
Suan Sati is an eco-friendly yoga and meditation retreat center located in the foothills of northern Thailand, just 40 minutes from Chiang Mai.
Founded on the principles of Therevada Buddhism, the center welcomes individuals of all levels, whether new to yoga and meditation or seeking to deepen their existing practice.
The 6-Day Relaxing Yoga and Meditation Retreat incorporates twice daily yoga and meditation sessions, daily workshops on a variety of topics, and ample downtime for relaxation and rejuvenation. You will be supported by a diverse yet like-minded community dedicated to self-discovery.
Morning yoga is an invigorating Hatha and Vinyasa practice, while afternoon sessions offer a meditative slow flow, restorative, or Yin style. Simple, grounded guidance and spiritual teachings are provided to support both the meditation practice and the practice of life.
With its stunning location and well-rounded program, Suan Sati is one of the most popular yoga and meditation retreats in Thailand because it offers the perfect opportunity to escape the hustle and bustle of daily life and embark on a journey of self-discovery without breaking the bank.
Prices for 6 days / 5 nights start from US$255 / €235
They also offer a comprehensive 200 hour yoga teacher training program which takes place over 27 days.
This 5-day yoga and massage holiday in Chiang Mai offers an amazing opportunity to rejuvenate, relax and disconnect from the hustle of everyday life.
The program is tailored to revitalize the body, recharge energy levels and promote overall well-being through a series of yoga classes, calming spa treatments, creative activities and plant-based meals.
The retreat's main highlights include yoga therapy, Thai massage, body scrub, and aromatherapy massage. The yoga sessions are led by the experienced instructor Anothai, who brings a wealth of knowledge and passion to the group.
The retreat takes place within the moat-surrounded walls of the Northern Capital City, just a 15-minute drive from the Chiang Mai International Airport.
Daily yoga sessions, Thai massages, airport transfer, and 4 nights of accommodation and vegan breakfast, lunch and dinner are included in this amazing package with prices starting from US$791 / €730.
Escape to a serene oasis with the 4 Day Peaceful Meditation and Yoga Homestay Retreat in Chiang Mai. This popular retreat situated on the way up to Pai is led by experienced instructors Adam and Ning, offers an array of yoga styles, daily meditations, workshops, and group activities to cultivate inner peace and balance.
Aside from daily yoga practices such as hatha, vinyasa, and restorative yoga, attendees get to enjoy artisanally prepared, delicious meals three times a day. This homestay retreat also emphasizes bringing mindfulness into everyday life and ensuring attendees cultivate a deep connection to their vitality.
Hosted by an amicable Thai family, you will reside in unique home-built accommodations, providing a comfortable and cozy retreat experience. Whether you are a beginner, intermediate, or advanced practitioner, this retreat is suitable for all skill levels.
Prices for the 4 days / 3 nights retreat start at only US$180 / €166 making this one of the most affordable yoga retreats in Thailand.
Flow Yoga Chiang Mai – Best Yoga Vacation for Cultural Immersion
This 7-day retreat in Doi Saket on the peaceful outskirts of Chiang Mai presents a unique opportunity to combine meditation, yoga, and cultural immersion, all in the stunning natural beauty of Thailand.
Enjoy daily yoga and mindfulness practices, with specialized sessions in restorative yoga and yoga therapy. Explore rice fields, visit local temples and farmers markets, and relax to the sounds of the surrounding nature.
Offering full vegetarian Thai cuisine for breakfast and lunch, guests can deepen their connection between the mind, body, and spirit. This transformative program cultivates skills in being present, helps to release tension and increase energy, and ultimately invites integration and healing.
7 days / 6 nights from US$839 / €775
Path of Yoga – Best Yoga Teacher Training Program in Chiang Mai
If you're looking to deepen your practice or train to be a certified yoga teacher then this 27-day 200-hour Hatha and Vinyasa Yoga Teacher Training with internationally renowned Path of Yoga at the stunning Mala Dhara Retreat in Doi Saket, Chiang Mai offers a transformational experience.
Taught by a team of experienced yogis with diverse backgrounds, the training blends traditional hatha with dynamic vinyasa to deliver a strong and nourishing practice. Path of Yoga's YTT courses also incorporate the philosophy and sacred traditions of the East with a science-based, modern approach from the West.
By the end of the course, participants will not only gain certification as a Yoga Alliance 200-Hour teacher, but will also develop the necessary confidence, knowledge, and teaching skills to become a world-class yoga teacher.
The price for this immersive yoga training program starts at US$2,897 / €2.784 and promises to bring together a community of like-minded individuals who will live and breathe yoga together, developing themselves physically and mentally.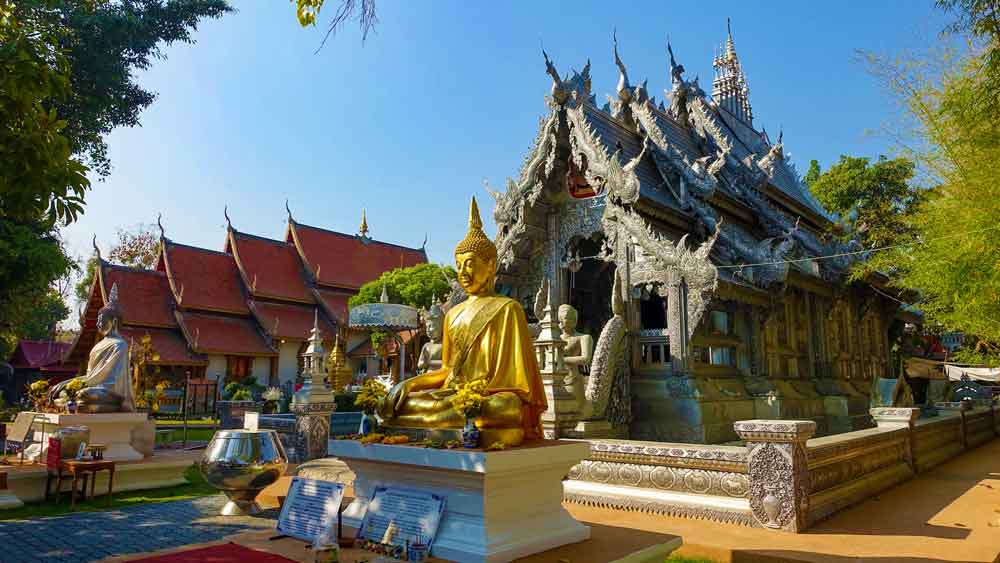 How to Choose the Perfect Chiang Mai Yoga Retreat for You
With an abundance of Chiang Mai yoga retreats to pick from, how do you decide which retreat to go to? Here are some key tips to help you choose the perfect one.
While most yoga retreats in Chiang Mai will offer daily yoga classes, meditation sessions, and healthy food, it's important to consider factors like accommodation, facilities, additional activities, and price. Look for comfortable and tranquil accommodations, well-equipped facilities, and diverse activities that will complement your retreat experience.
By using these guidelines, you'll be well on your way to selecting an unforgettable yoga and wellness vacation in Chiang Mai!
The most important things to consider when you're choosing a yoga retreat include:
Type of Retreat – There's so many different types of yoga and wellness retreats in Chiang Mai, from detox, spa and meditation retreats and nature and hiking retreats so carefully consider your intentions and preferences to find the best retreat for you.
In beautiful Chiang Mai, you'll discover a many types of diverse yoga and wellness retreats. From revitalizing detox and spa experiences to serene meditation getaways and adventurous nature hikes, the options are abundant.
To find the retreat that's truly tailored to your needs, take a moment to reflect on your intentions and preferences. Whether you seek deep relaxation, inner peace, a cultural experience or an active exploration of nature, considering these aspects will help guide you towards choosing the perfect retreat for you.
Yoga Style – Yoga retreats in Chiang Mai offer an incredible array of yoga styles to choose from. You'll encounter traditional Hatha yoga to deepen your practice, dynamic Ashtanga and Vinyasa flow to get your energy moving, and blissful restorative and yin yoga for deep relaxation. And guess what? There's even the exhilarating options of aerial and acro yoga for the adventurous souls out there!
When it comes to selecting your dream Chiang Mai yoga retreat, it's important to consider which styles resonate with you the most. Some retreats may focus on a specific style, allowing you to dive deep into its practice. On the other hand, there are retreats that offer the exciting opportunity to explore and experience multiple styles, giving you a well-rounded yoga experience.
Your Experience Level -It is important to check that the yoga retreat you choose is suitable for your experience level, whether you are a beginner or a more experienced yogi. While most yoga teachers can provide modifications for beginners, it is advisable to check what level the retreat is intended for to make the most of your experience, particularly if it's your first yoga retreat.
Location – Some Chiang Mai retreats are situated in the old city offering a convienient location for temple hopping or exploring the markets and nightlife, while others are located in the surrounding countryside. Decide whether you want to get away from it all and be immersed in nature or if you want to be located close to the city's sights to find the best retreat location to suit your needs.
Accommodation, Meals and Facilities – When selecting a retreat center, it's important to find one that meets your requirements in terms of accommodation, facilities, and meals.
Luxury yoga retreats usually offer private accommodation, inclusive meals, and access to amenities like swimming pools and spas. On the other hand, budget-friendly retreats may involve self-catering options and shared rooms or dormitories.
Food is another crucial factor to consider. While most yoga retreats serve healthy and often organic meals, it's essential to check if they cater to your specific dietary needs. Some retreats may focus on vegetarian or vegan cuisine and may not serve alcohol.
If you opt for a self-catering retreat, ensure there's a kitchen available or nearby restaurants to fulfil your dining requirements.
Other Activities – In addition to daily yoga and meditation classes many Chiang Mai yoga retreat centres also offer the chance to indulge in massages and spa treatments, or try other exciting activities like hiking and Thai cooking classes.
Cost – Making the most of your money is always an important factor. You can find some amazingly affordable retreats in Thailand but always check what's included.
Some budget retreats may not include meals or require an extra payment for spa treatments, additional activities and airport transfers. You might find an all inclusive retreat is better value for money and offers a better yoga vacation experience.
Reviews – It's vital to check real reviews from previous guests so that you can get a better idea of what the retreat is really like. Reviews on a retreats website or social media pages might not tell the whole story so check reviews on an unbiased website like bookyogaretreats or bookretreats before you book.
Read this article for more tips on how to choose a yoga retreat and be sure to check out the most commonly used Sanskrit yoga words you'll need to know before your yoga holiday and our yoga retreat packing list.
With all this advice, you'll be set to find your perfect yoga retreat in Chiang Mai that will leave you feeling relaxed, rejuvenated, and refreshed.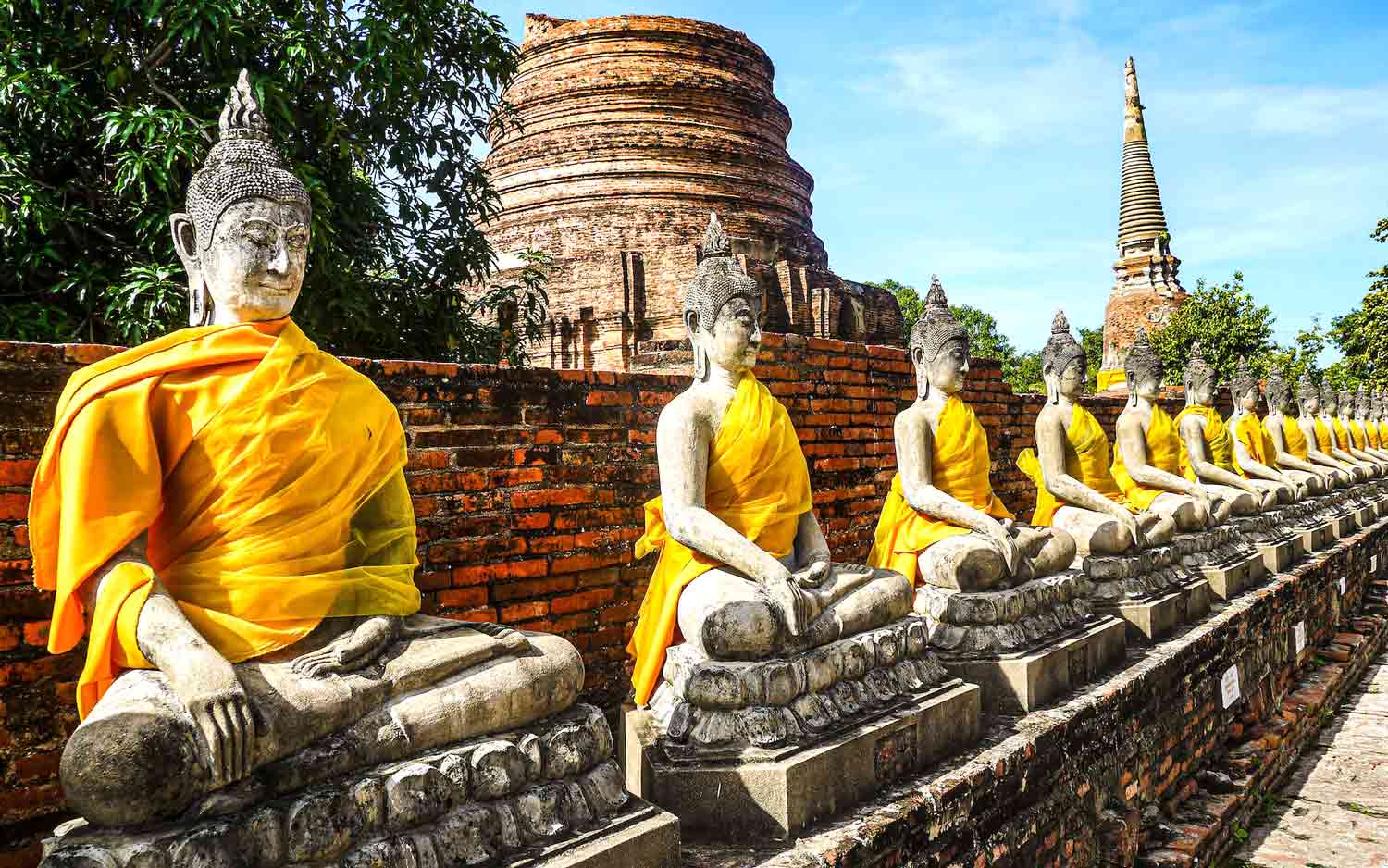 Final Thoughts on Yoga in Chiang Mai
As you can see, a yoga vacation in Chiang Mai is the perfect choice if your looking to explore Thai culture, nature and find your zen. Whether you're a seasoned yogi or taking your first steps into the practice, there's something for everyone to enjoy in this beautiful area of northern Thailand.
If you are having trouble deciding which retreat to pick, our overall favorite Chiang Mai yoga retreat is True Nature Homestay. With incredible yoga and meditation sessions, friendly hosts and stunning nature views at an amazingly affordable price – you can't go wrong picking this retreat!
As 2023 looks like being a bumper year for travel and retreats and hotels get fully booked, don't miss your chance to experience the true magic of a Thai yoga vacation.
While Chiang Mai is undoubtedly one of the top destinations for yoga in Thailand, if you want to combine your yoga retreat with a beach vacation then also check out our recommendations of the stunning yoga retreats in Phuket, yoga and wellness resorts in Koh Samui and our guide to yoga in Koh Phangan.
* This post may contain affiliate links. When you make a purchase through links on our site we may make a small commission, at no additional cost to you. We only recommend products that we love and genuinely use ourselves. All prices stated are correct on the date of publishing, but can be subject to change.
© loveyogalovetravel.com 2022-2023. Unauthorized use and/or duplication of this material without express and written permission from this site's author and/or owner is strictly prohibited. Excerpts and links may be used, provided that full and clear credit is given to loveyogalovetravel.com with appropriate and specific direction to the original content.