12 Best Wellness and Yoga Retreats in Koh Samui, Thailand (2024)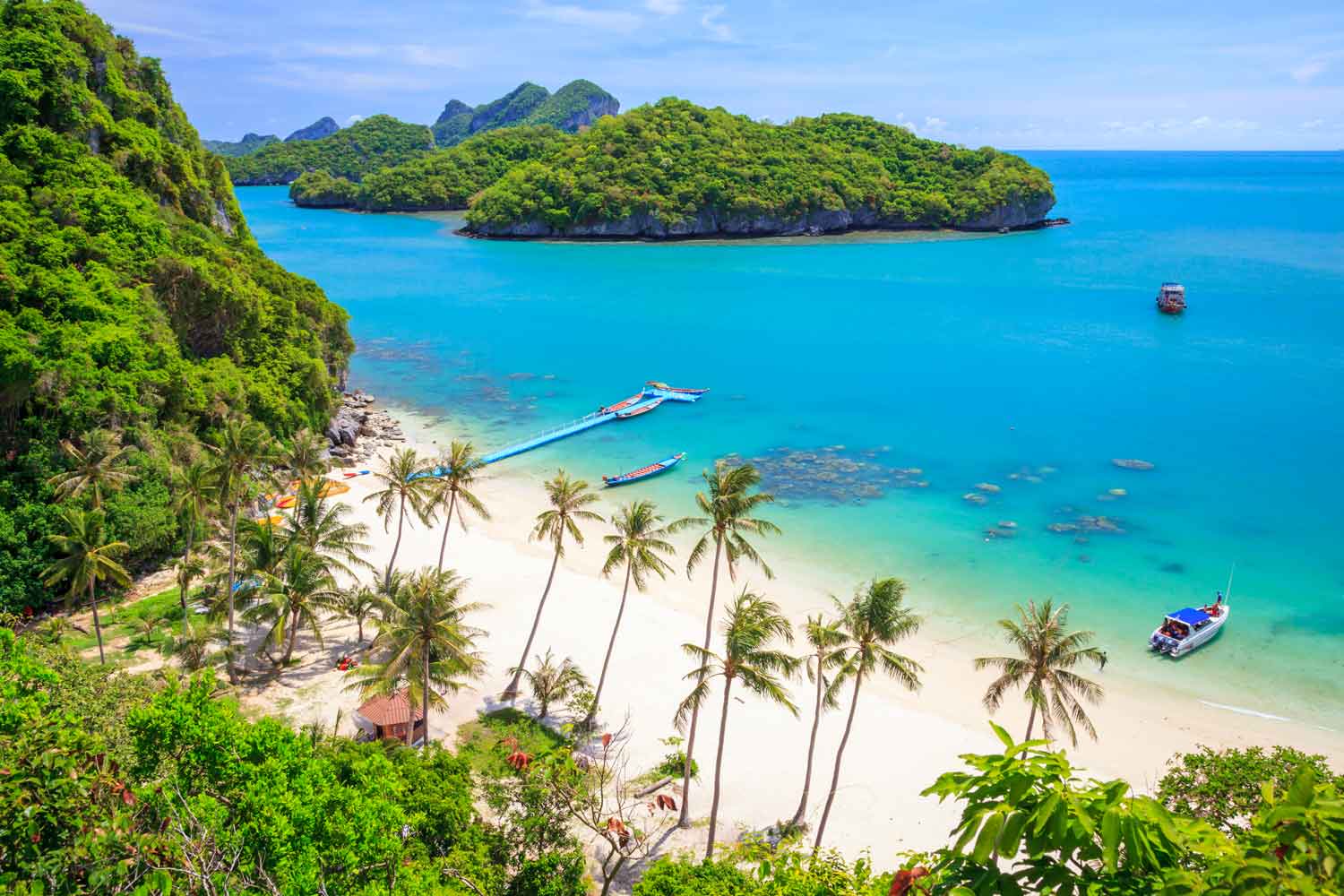 Thailand is one of the best yoga travel destinations in the world where you can relax and deepen your yoga practice surrounded by glittering golden temples and stunning natural beauty.
There's no shortage of tropical islands to choose from and the excellent wellness and yoga retreats in Koh Samui are undoubtedly among the best yoga retreats in Thailand.
Located in the Gulf of Thailand next to Koh Phangan and the Ang Thong National Marine Park, Koh Samui is one of the most popular Thai islands home to beautiful beaches, lush nature and luxury resorts.
If you're looking to rejuvenate your body, mind, and spirit the island of Koh Samui is the perfect destination where you can combine physical wellness, spiritual growth and a tropical beach vacation.
A Guide to the best wellness and yoga retreats in Koh Samui, Thailand
There's such a huge variety of excellent Koh Samui retreats offering a wide range of wellness vacations, yoga retreats, weight loss, cleanse and detox retreats and even yoga teacher training programs that it can be hard to choose the right one for you.
So in this guide to the best wellness and yoga retreats in Koh Samui we will explain why the island is such a great wellness destination, give our recommendations for the best retreats and some tips for how to choose and plan your trip.
Why Koh Samui is a great place for a yoga and wellness vacation
Koh Samui is a popular destination for wellness vacations because of its natural beauty, warm tropical climate, tropical beaches, zen like vibes and tranquil environment that is perfect for relaxation and introspection.
The island is home to a number of world-class wellness resorts and yoga retreats offering a holistic approach to wellbeing, combining different types of yoga practices with other activities such as meditation and pranayama (breathing exercises) spa treatments and detox programs. The retreat centers also provide healthy meals, comfortable modern accommodation, and opportunities to enjoy the island's stunning natural beauty.
Koh Samui also offers a variety of activities that complement the wellness experience. You can explore the island's natural attractions, such as its beaches, coral reefs, waterfalls and jungles, or immerse yourself in local culture by visiting its stunning Buddhist temples and lively markets.
Pin this image!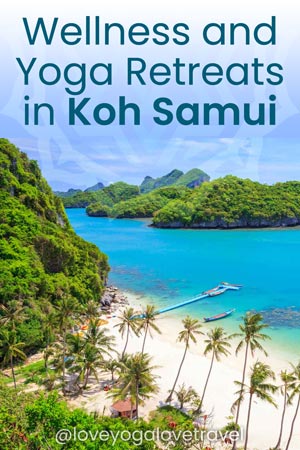 Best Yoga Retreats in Koh Samui, Thailand
There are numerous yoga retreats in Koh Samui, each offering a unique experience. Here are our favourites:
Vikasa Yoga Retreat is renowned as one of the best yoga retreats in Koh Samui, offering a signature 10-day "Vikation" experience that encompasses daily meditation, yoga, and deep relaxation. This retreat provides a comprehensive wellness journey designed to rejuvenate the mind, body, and spirit, set against the stunning backdrop of Koh Samui's breathtaking landscapes.
The Vikasa Yoga Retreat takes an all-encompassing approach to wellness, emphasizing not just physical fitness but also mental clarity and emotional balance. The daily schedule includes yoga sessions that cater to all levels of experience, from beginners to advanced practitioners. These classes are conducted by a team of skilled and experienced instructors who can provide personalized guidance to each participant.
In addition to yoga, meditation forms an integral part of the Vikation experience. Participants are guided through different forms of meditation techniques designed to enhance mindfulness, reduce stress, and promote a sense of inner peace.
The retreat also places a strong emphasis on deep relaxation. Participants are encouraged to unwind and disconnect from their usual routines and stresses, allowing them to fully immerse themselves in the retreat experience. This is complemented by a range of holistic wellness services, such as massage and spa treatments, available on-site for an added layer of relaxation.
Moreover, the Vikasa Yoga Retreat is committed to promoting healthy living beyond the physical aspect. The retreat features an organic restaurant that serves nutritious and delicious meals prepared using locally sourced ingredients. This ensures that participants are properly nourished throughout their stay, further enhancing the overall wellness experience.
Samahita Retreat, one of the most popular Koh Samui yoga resorts, offers an exceptional 7-day total self-care and yoga holiday. This retreat is a unique opportunity for individuals seeking a wholesome experience that combines yoga, fitness, and wellness in a serene island setting. The program is thoughtfully designed to provide individuals with an immersive experience in self-care, allowing them to rejuvenate their mind, body, and spirit.
In addition to yoga, this retreat offers a variety of wellness activities such as fitness classes and holistic health workshops. Participants can also enjoy therapeutic spa treatments and healthy gourmet meals made from fresh local produce. The resort also arranges for excursions to local attractions, providing participants with a chance to explore the natural beauty and rich cultural heritage of Koh Samui.
One of the key features of this retreat is its emphasis on individual care. The resort maintains a low guest-to-staff ratio to ensure personalized attention for each participant. The team at Samahita Retreat are really welcoming and committed to guiding individuals on their journey towards achieving physical health, mental clarity, and spiritual growth.
Hosted by Yog Nisarga, this 7-Day Inner Transformation Yoga Retreat in Koh Samui offers a unique and immersive experience for those seeking to delve deeper into their yoga practice.
The retreat is designed to facilitate inner transformation through a combination of yoga practices and holistic wellness activities. Participants will be guided through various forms of yoga, including Ashtanga, Hatha, and Soft Flow Vinyasa. Plus, the resort provides guests an opportunity to engage in additional wellness activities, including Ayurvedic massage treatments, nutritional guidance, and insightful workshops on yogic philosophy.
Set in a peaceful resort environment that allows participants to disconnect from their daily stresses and reconnect with nature. The 7-day retreat is not just about perfecting yoga postures or enhancing physical fitness, but it's also about holistic inner transformation. It aims at creating a harmonious balance between the body, mind, and spirit – thereby promoting overall well-being.
The Suryamuni Healing Center offers an extraordinary six-day spiritual yoga retreat in Koh Samui. This retreat is designed to harmonize the body, mind, and spirit, providing an enriching journey of self-discovery and healing. The retreat center is located amidst the stunning natural beauty of Koh Samui, offering a tranquil and serene environment that is conducive to healing and meditation.
The Yoga sessions are led by experienced instructors who guide guests through various asanas, focusing on correct alignment and mindful breathing. The meditation practices help in achieving a deeper level of consciousness, enabling participants to experience inner peace and tranquility. The retreat also involves teachings on spiritual wisdom that help to provide guidance for a peaceful and fulfilling life.
The spiritual healing sessions at the retreat are based on ancient healing wisdom that promotes physical, mental, and emotional well-being. Participants are taught how to connect with their inner selves and tap into their innate healing abilities. The Ayurvedic treatments offered during the retreat involve the use of natural herbs and oils that help in detoxifying the body and improving overall health. Chakra balancing techniques are used to remove energy blockages and restore harmony in the body's energy system.
Top wellness resorts and retreats in Koh Samui
In addition to yoga retreats, Koh Samui is home to some amazing wellness resorts and retreats if you're looking for a complete wellness package. Our favourites include:
If you'd like to immerse yourself in a journey of rejuvenation and self-discovery, then Anahata Resort's 14-day spa and wellness retreat in Koh Samui is a great choice. This retreat is designed to promote holistic well-being and relaxation through a combination of yoga, meditation, spa treatments, and a healthy diet.
Surrounded by tropical gardens and serene beaches, Anahata Resort offers an idyllic environment for individuals seeking a serene and natural setting to unwind and focus on their health and wellness. You will get daily yoga sessions, guided meditation, wellness workshops, and personalised spa treatments. The yoga sessions are suitable for all skill levels, from beginners to experienced yogis, ensuring that everyone can benefit from the physical and mental benefits.
In addition to the wellness activities, the retreat also includes nourishing meals prepared using fresh local ingredients. The meals are designed to support a healthy lifestyle and boost the body's natural healing process. Alongside these wellness activities and healthy meals, participants will also have ample time to explore the beautiful surroundings of Koh Samui or relax by the resort's beautiful pool.
As an award-winning wellness resort in Koh Samui, Thailand, Kamalaya stands as a testament to holistic healing and wellbeing. Inspired by the rich cultural heritage of its location, Kamalaya offers an immersive experience that goes beyond a traditional retreat. It is a sanctuary for those seeking to restore balance and rejuvenate their mind, body, and spirit amidst the tranquility of nature.
The resort's architecture seamlessly blends with the natural surroundings, offering stunning views of the coastline. The accommodation options range from hillside rooms that offer panoramic sea views to luxury villas nestled amidst lush vegetation.
The guests at Kamalaya embark on a transformative journey guided by an expert team of therapists, naturopaths, and traditional medicine practitioners. In addition to its wellness programs, Kamalaya offers a range of leisure activities including yoga classes, meditation sessions, and fitness training. The resort also hosts regular wellness events, workshops and retreats led by renowned experts from around the world.
Best weight loss, Cleanse Programs and detox retreats in Koh Samui
Koh Samui is also a popular destination for weight loss, detox retreats, and cleanse programs. Here are our pick of the best:
The Visit Natural Detox Resort's 8-day 'Reboot Your Life' detox retreat offers an exceptional experience for those seeking rejuvenation, relaxation and a complete lifestyle shake up. This detox retreat in Koh Samui is not just about relaxing in a beautiful tropical location, but also about embarking on a journey towards a healthier and more fulfilling life.
The resort combines traditional Thai hospitality with modern wellness practices to offer a unique retreat experience. Participants are invited to engage in a range of activities aimed at promoting physical and mental well-being. These include yoga sessions, meditation practices, and wellness workshops. The program also includes a natural detox regimen that incorporates healthy, organic meals prepared by expert chefs.
This 8-day 'Reboot Your Life' detox retreat in Koh Samui offers a comprehensive program, serene location and top-notch facilities. It offers the ideal environment for detoxification, rejuvenation and personal growth.
If you're looking to lose weight and rejuvenate your mind and body, the 9-day weight loss and yoga holiday by Absolute Sanctuary offers the perfect escape.
Imagine waking up to the soothing sounds of the ocean and the warm, tropical breeze. You start your day with a yoga session that stretches your muscles and calms your mind. After that, you indulge in a nutritious breakfast made from fresh, local ingredients. Then, you spend your day attending various wellness workshops, detoxifying spa treatments, and personal fitness sessions tailored to your specific needs and goals.
What sets this detox retreat in Koh Samui apart is its holistic approach to weight loss. The program is not only about shedding pounds but also about teaching you how to maintain a healthy lifestyle after the retreat. The expert team at Absolute Sanctuary will guide you through a variety of activities such as nutritional consultations, therapeutic massage sessions, and fitness training. Plus, there are cooking classes where you can learn how to prepare healthy meals at home.
The Source Herbal Detox offers an award-winning luxury herbal detox retreat in Koh Samui. This 7-day Master Herbal Detox Luxury Retreat Program promises to be a unique blend of yoga and herbal treatments designed to cleanse, refresh, and re-energize.
Located on the east coast of Koh Samui, this retreat offers guests an exquisite selection of herbal concoctions, each prepared with utmost precision to ensure you receive their full therapeutic benefits. The powerful herbs work in synergy with your body, gently purging it of toxins, restoring balance, and paving the way for optimum health and vitality.
Each day begins with invigorating yoga sessions under the guidance of expert instructors. Afternoons can be spent pampering yourself or relaxing by the pool. Evenings are free for you to soak up the serene ambience, indulge in soothing spa treatments or get an invigorating Thai massage.
As you embark on your journey towards holistic well-being at this Koh Samui detox retreat, you'll also enjoy organic meals crafted by skilled chefs who understand that nourishment is not only about taste but also about health. Every bite is a sensorial delight packed with nutrients designed to support your detox process.
Top Yoga teacher training Programs in Koh Samui
If you're interested in deepening your yoga practice or becoming a yoga instructor, Koh Samui offers several outstanding yoga teacher training options. Students who complete the courses we recommend below are eligible to register with Yoga Alliance as internationally recognised Registered Yoga Teachers (RYT®).
The Yoga Mat School offers an intensive 200-hour yoga teacher training program in Koh Samui.
The 18-day training program is meticulously designed to cover all aspects of yoga, from the physical postures (asanas) and breathing techniques (pranayama) to the philosophical underpinnings of the ancient practice.
This comprehensive training also delves into the principles of anatomy and physiology, ensuring students gain a thorough understanding of the human body and how it relates to yoga. Furthermore, there's an emphasis on meditation and mindfulness, cultivating an inner state of tranquility that can then be shared with future students.
What sets this yoga teacher training course in Koh Samui apart is its commitment to wellness as a lifestyle. Participants are treated to healthy vegetarian meals, fostering a diet that aligns with yogic principles. There are also opportunities for self-reflection and relaxation, with free time to explore the enchanting island or simply unwind by the beach.
When it comes to the best Koh Samui yoga teacher training program, the 29-day Vikasa Yoga Academy 200-hour foundation course is a hot pick. Their immersive experience, set against the stunning backdrop of Koh Samui's idyllic beaches, offers a comprehensive and transformative journey into the world of yoga instruction.
At Vikasa Yoga Academy, students are not just taught to perform yoga; they are equipped to live it. The program integrates a holistic approach to health and well-being, offering wisdom on nutrition, lifestyle choices, and mindfulness that will serve students well beyond the program's duration. This is a unique opportunity to immerse yourself in a yogic lifestyle while gaining the skills and knowledge necessary to share its benefits with others.
What truly sets this program apart, however, is its commitment to fostering a strong sense of community. Students are encouraged to learn from each other's experiences and perspectives in an environment that is supportive, inclusive, and nurturing. This collaborative approach enriches the learning experience and creates lasting bonds among participants.
Purpose-built to function as a retreat center dedicated to vitality, well-being, and relaxation, Samahita Retreat offers a comprehensive 29-day 200-hour yoga teacher training program in Koh Samui.
Your training here isn't just about mastering the asanas or learning Sanskrit names. It's about personal growth and self-discovery. Over the course of 29 days, you'll dive deep into yoga philosophy, anatomy, pranayama, meditation, and teaching methodologies. You'll learn from experienced and passionate teachers who are dedicated to providing a comprehensive study of all aspects of yoga.
But it's not all work and no play. The Samahita Retreat is set in a private spot on the south coast of Koh Samui. The resort is surrounded by lush tropical landscapes and a pristine beach with crystal clear waters. It's an idyllic setting to unwind and connect with nature.
You'll have access to delicious, healthy meals throughout your stay, ensuring your body is nourished as you work towards your yoga teaching certificate.
How to choose the best Koh Samui retreat for you
As you can see there's no shortage of choice when it comes to wellness and yoga retreats in Koh Samui so choosing the best one for you depends on your personal needs and preferences. Having a clear intention for what you want to achieve during the retreat can enhance your experience.
Here are some key factors to consider:
The Type of Retreat – Do you want to focus on yoga, wellness, detox, relaxation, or a combination of these? Make sure you choose a retreat that offers the right package to meet your wellness goals.
Your level of yoga practice – Some retreats cater to beginners, while others are designed for more advanced practitioners. Make sure the retreat you choose suits your practice level for the best experience.
The type of yoga – Different retreats focus on different types of yoga, such as Hatha, Ashtanga, or Vinyasa.
Additional services: Some retreats offer additional services such as spa treatments, cooking classes, boat trips, detox programs, and wellness consultations. Check to see what's included in the package as all-inclusive retreats may offer better value for money in the long run and a better overall experience.
Location – Some retreats are located on the beach, while others are nestled in the hills or in small towns.
Duration – Retreats can last from a few days to several weeks.
Tips for Planning your Trip to Koh Samui
Planning a yoga and wellness vacation in Koh Samui is exciting but you'll want to do a bit of research into factors such as the best time to visit and how to get there to make sure everything goes smoothly.
For the best experience, try and make sure aspects of your trip, from travel arrangements to the accommodation and the yoga schedule, are all in sync and check out our yoga retreat packing list to make sure you don't forget any essentials.
When to Visit Koh Samui
One of the first things to consider when planning your yoga trip to Koh Samui is the best time to visit. The island has a tropical monsoon climate and experiences three distinct seasons – dry, hot and rainy.
The dry season, which runs from December to February, is the most popular time for tourists. During this period, you can enjoy warm temperatures without the discomfort of high humidity or rain.
However, if you're someone who prefers a quieter atmosphere, the hot season (March to August) might be more suitable. There are fewer tourists during this time, and yoga retreats often have more availability.
Koh Samui is one of the driest places in Thailand during July and August when the rest of the country experiences the rainy season but you might want to avoid the months of September and October which can be quite wet.
How to get to Koh Samui
Koh Samui is one of the easiest Thai islands to get to because it has an international airport served by several airlines with direct flights from many major cities worldwide.
Alternatively, you can fly into Bangkok and a connecting flight to Koh Samui from there. Besides flying, other travel options include taking a ferry from the mainland or from neighboring islands. Check with your retreat organiser to see if they offer airport transfers or transportation from the ferry port.
Finally, don't forget to plan some downtime into your schedule. While the focus of your trip is undoubtedly your yoga practice, taking the time to explore the beautiful beaches, lush rainforests, and vibrant local culture that Koh Samui has to offer will undoubtedly enrich your overall experience.
Conclusion: Embarking on your wellness journey in Koh Samui, Thailand
Koh Samui is the ideal destination for wellness enthusiasts. With its serene tropical environment, high-quality wellness retreats, and abundant natural beauty, the island offers the perfect setting to rejuvenate your body, mind, and spirit. Whether you're looking for a yoga vacation, a detox program, or a yoga teacher training, Koh Samui has something for you. So, why wait? Book your yoga and wellness vacation in Koh Samui today!
If you're still having trouble deciding which retreat to pick, our overall favorite yoga and wellness retreat in Koh Samui is Anahata Resort. They offer a little bit of everything from the wellness world and present it in a beautifully serene resort setting. They offer everything from short juice detox retreats, to two week spa holidays and longer 22 day wellness and yoga retreats in Koh Samui, which allows for a lot of flexibility in choosing which type of retreat is best for you.
While Koh Samui is one of the best destinations for yoga in Thailand you might also want to check out our other articles on yoga retreats in Chiang Mai, yoga retreats in Phuket and yoga retreats in Koh Phangan for more tropical yoga bliss.
* This post may contain affiliate links. When you make a purchase through links on our site we may make a small commission, at no additional cost to you. We only recommend products that we love and genuinely use ourselves. All prices stated are correct on the date of publishing, but can be subject to change.
© loveyogalovetravel.com 2022-2023. Unauthorized use and/or duplication of this material without express and written permission from this site's author and/or owner is strictly prohibited. Excerpts and links may be used, provided that full and clear credit is given to loveyogalovetravel.com with appropriate and specific direction to the original content.