Unwind in Paradise: the Best Wellness and Yoga Retreats in Phuket, Thailand 2023
Thailand's stunning tropical beaches, jungles and zen like atmosphere make it one of the best wellness and yoga destinations in the world and the island of Phuket is one of the very best places for yoga in Thailand.
You can experience the best of this beautiful Thai island's tropical paradise and serene environment while unwinding in some of the most luxurious wellness and yoga retreats in Phuket, Thailand. From scenic ocean views at a beachfront resort to traditional yoga and meditation sessions in the heart of nature, practicing yoga in Phuket is truly an unforgettable experience.
A Guide to Wellness and Yoga Retreats in Phuket, Thailand
In this guide to wellness and yoga retreats in Phuket we will explain why this Thai island is an ideal destination for a yoga vacation, give you our top recommendations for the best Phuket yoga retreats and tips on how to choose the perfect one for you.
Whether you're looking for calming oceanic views to accompany an energizing sunrise yoga session, a cleansing detox program and curated journey to wellness, or even a yoga teacher training course, you'll find some of the very best yoga retreats in Thailand on the island of Phuket. So let's dive in!
Why Phuket is a Great Wellness and Yoga Destination
Phuket, known as the 'Pearl of the Andaman', is a charming island destination in Thailand that is deservedly gaining popularity among luxury wellness travelers and backpacking yogis alike.
Yoga and wellness retreats in Phuket offer the perfect blend of rejuvenation, relaxation, and adventure in a tropical paradise. Whether you're a beginner or an experienced yogi, there are yoga studios and retreats in Phuket that cater to all levels.
Additionally, Phuket wellness retreats offer unique experiences such as traditional Thai massages, detox programs, and even Thai cooking classes. The island's serene ambiance, scenic beaches, and tropical weather makes it an ideal destination for those seeking to unwind and recharge.
From sunrise yoga sessions to sunset meditations, indulging in a yoga retreat in Phuket is a transformative way to immerse yourself in healthy living whilst staying on a beautiful tropical island and many at much more affordable prices than you'll find in the rest of the world. What's not to love about yoga in Phuket!
Pin this image!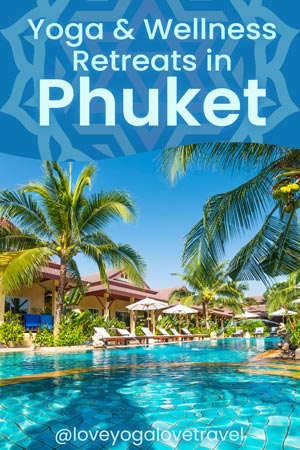 The Best Phuket Yoga Retreats
Here are the best yoga retreats in Phuket, Thailand based on personal experience, recommendations and reviews from previous guests. Each Phuket retreat has its own unique offerings and promises unforgettable, life-changing experiences.
From beginner yoga retreats and ayurvedic wellness retreats to detox programs and intensive Ashtanga programs – there's something for every wellness enthusiast and yogi in Phuket. Keep reading to discover our favorites.
The Hilltop Wellness Resort yoga retreat promises an experience that blends yoga, self-care, and local culture. The program offers a variety of activities, including massages, spa treatments, and meditation, allowing guests to restore their energies and explore the nearby nature.
One of the distinctive features of this retreat is that it provides guests with a balanced program. You can opt for an active day or take it easy with their relaxed program. Either way, each day includes two yoga classes— a more dynamic Hatha or Vinyasa yoga practice in the morning and a slower yoga practice in the evening to calm the mind and body.
Hilltop Wellness Resort also offers a complimentary sunrise yoga class twice a week, along with coffee, tea, and healthy snacks. Guests can also enjoy a day off to explore the island or take advantage of the resort's amenities, such as its infinity pool and gym.
Prices from €639 / $684
The Mangosteen Ayurveda & Wellness Spa, located on a private hillside in the south of Phuket, boasts magnificent views of the ocean over four bays and neighboring islands. This resort offers expert Ayurvedic treatments and is one of the best luxury wellness retreats in Phuket.
For those seeking complete rejuvenation, the resort spa offers relaxation programs, which include Thai-styled massages with aroma oils and body treatments, allowing guests to ease muscle tension and achieve a peaceful state of mind and soul.
With a unique blend of healthy meals, spa treatments and meditation sessions available under the supervision of an in-house Ayurvedic doctor, guests can fully immerse themselves in a luxurious and relaxing environment.
The retreat offers daily yoga sessions, including breathwork, morning and afternoon, featuring various yoga styles such as Kundalini, Hatha Flow, Vinyasa, Yoga Therapy, Yin Yoga and Restorative Yoga. Whether you're seeking to unwind from daily stresses or looking to achieve a wellness goal, The Mangosteen Ayurveda & Wellness Spa offers a perfect escape.
Prices from €822 / $880
With stunning views of the Andaman Sea, guests at CC's Hideaway can indulge in two daily yoga sessions, meditation, and pranayama. Choose between an active or relaxing daily program and enjoy included eco adventures, cultural excursions, and sightseeing tours.
The retreat features six nights of accommodation in a boutique hotel and a delicious selection of freshly made juices and healthy meals for breakfast, lunch, and dinner. The on-site facilities include an outdoor swimming pool, air-conditioned rooms, a bar, and a café.
Yoga styles range from Hatha, Vinyasa and Ashtanga to Yin and Acro, and they catering to beginner and intermediate skill levels making this one of the best yoga holidays for beginners in Phuket.
Prices from €900 / $963
This Phuket yoga retreat offers guests an opportunity to immerse themselves in the Ashtanga yoga tradition. Participants will develop a solid practice based on the Vinyasa system, including techniques like bandhas, Drishti, and ujjayi breath.
Through daily practice, students will gain a deeper understanding of yoga postures, body alignment, and the therapeutic effects of asanas. In addition to asana practice, the retreat includes training in pranayama, kriya techniques, and meditation.
This retreat at TAYSP provides a comprehensive teaching of Ashtanga yoga, including yoga philosophy and ancient yoga texts. By the end of the retreat, students will be empowered with a strengthened practice and deepened understanding.
If you want to deepen your knowledge or become a yoga instructor yourself they also run an excellent yoga teacher training course.
Prices from €761 / $815
This 21 Day 200-Hour Hatha Vinyasa Yoga Teacher Training Course in Phuket is held at InDepth Yoga in Rawai and offers an incredible opportunity to deepen your knowledge of yoga and hone your teacher training skills.
This course is designed with a perfect balance of theory and practice, covering topics such as teaching methodology, anatomy, alignment and lifestyle ethics, as well as offering a profound knowledge about yoga philosophy.
Nathalie and Ana, experienced instructors at InDepth Yoga, lead the course with an insightful and friendly approach, creating a classroom environment that is inclusive and supportive. Yoga classes take place in a rooftop yoga shala with a view of the ocean in the distance.
20 nights of accommodation in a private room in a guest house near to the yoga school and breakfast is included. For other meals you'll have access to a kitchen and there's plenty of affordable local restaurants are located within walking distance.
Completing the course will give you the eligibility to register for Yoga Alliance certification, and a gift of a cleansing kit upon arrival.
Prices from €2,648/ $2,750
Tips for choosing your Perfect retreat
Looking for a wellness and yoga retreat in Phuket can be exciting as the island offers some of the most beautiful tropical surroundings in Asia. However, with so many options to consider, finding the perfect retreat to suit your needs can be overwhelming.
When choosing a retreat in Phuket, it's essential to keep in mind a few key factors.
Firstly, take into account your intentions – are you looking for a purely yoga retreat, a detox retreat or a more comprehensive wellness vacation. Then consider your yoga experience level and preferred style, as this is essential to helping you decide which retreat will be the best fit for you, especially if it's your first retreat.
Next, consider the location and facilities at each retreat. Some may offer stunning ocean views, swimming pools and luxury private bungalows ideal for peaceful solo meditation sessions, while more affordable retreats may only offer shared rooms. Some retreats are located in nature while others are closer to popular beach resorts and Phuket town which makes it easy for sightseeing, island hopping and checking out the markets and nightlife but might be a less peaceful environment.
You'll also want to factor in the meals provided to make sure they meet your dietary requirements and other included activities such as massages, spa treatments, Thai cooking classes and airport transfers. While some retreats are cheaper than others check what's included as an all inclusive retreat may work out to be better value and a better experience overall.
See more tips in our article about how to choose a yoga retreat, check out the most commonly used Sanskrit yoga words you'll need to know before your yoga holiday and our essential yoga retreat packing list.
Final thoughts on Yoga retreats in Phuket
In conclusion, Phuket is an amazing destination to relax, rejuvenate, and kick start a healthier lifestyle. Whether you're looking for a yoga course or a wellness vacation, there's plenty to choose from and the beauty of this tropical paradise will leave an everlasting impression.
Out of many excellent retreats here, the TAYSP Ashtanga retreat stands as our favorite. Here you will really deepen your knowledge of yoga, both on and off the mat, due to the super experienced and dedicated instructors and the serene lakeside accommodation.
If you're still not decided don't worry, Thailand is one of the best places for yoga retreats in the world so there's plenty more great yoga destinations in Thailand to choose from.
Whether you want to explore the ancient temples, traditional Thai culture and jungles of Northern Thailand on a yoga retreat in Chiang Mai, relax on a luxury yoga vacation on Koh Samui island, or discover the vibrant nightlife and bohemian vibes on a yoga retreat on Koh Phangan island, check out our other articles for more tips and inspiration for your yoga holiday in Thailand.
So why wait? Get ready for your Thai yoga adventure and book your place today – you deserve it! Don't forget to share your experiences with us when you come back! Namaste!
* This post may contain affiliate links. When you make a purchase through links on our site we may make a small commission, at no additional cost to you. We only recommend products that we love and genuinely use ourselves. All prices stated are correct on the date of publishing, but can be subject to change.
© loveyogalovetravel.com 2022-2023. Unauthorized use and/or duplication of this material without express and written permission from this site's author and/or owner is strictly prohibited. Excerpts and links may be used, provided that full and clear credit is given to loveyogalovetravel.com with appropriate and specific direction to the original content.