A Guide to Yoga in Thailand – Best Studios, Retreats & Teacher Training (2023)
As someone who has practiced yoga in many parts of the world, Thailand is definitely in my top three and, judging by the growth of places to practice yoga in Thailand, I am not alone.
Thailand is a deeply spiritual country with mesmerising Buddhist temples and tropical scenery. In recent years, more and more yoga schools and retreat centres have been popping up in this tropical paradise.
The high standard of yoga instruction and top quality wellness and detox programs offered, along with impressive amenities like spas, ocean views and infinity pools, mean that Thailand is quickly becoming one of the world's leading destinations for yoga retreats and teacher training.
In this guide, I share what makes yoga in Thailand so special, the best destinations for finding your zen, and my favourite Thailand yoga retreats and teacher training courses.
A Guide to Yoga in Thailand
Pin this image!
Why is Thailand a Great Place for Yoga?
One of the things I love about yoga retreats in Thailand is that most schools and retreat centres have open-air yoga shalas overlooking the ocean or jungle. So if you like to practice yoga in nature, you can't get much better than this.
Aside from the beautiful scenery and breathtaking views, the friendly vibe and slower pace of life are super attractive for yogis. Of course, this varies from place to place, but Thailand is generally a chill place to kick back and slow down.
Plus, the sunrises and sunsets are epic here. Doing sun salutations on the beach while the sun comes up and meditating on a shala overlooking the mountains are moments that will stick with you forever – and help you experience a deeper level of zen!
The Best Places to Practice Yoga in Thailand
Koh Phangan is undoubtedly Thailand's "yoga hub" and the most popular destination for yogis and spiritual seekers. However, Phuket, Chiang Mai, Koh Samui, and Bangkok also have excellent yoga studios and retreat centres.
These yoga destinations have different vibes, so the best place for a Thailand yoga retreat will depend on what you're looking for.
Koh Phangan – This blissful island boasts a slow pace of life, a vast array of vegan restaurants, and tons of yoga schools, retreat centres, and spiritual offerings. If you want to deepen your spiritual connection and learn more about this path, yoga in Koh Phangan is for you.

Phuket – Phuket is known for its high-quality wellness retreat centres and spa hotels. Thailand's largest island is all about health and wellness, so you'll find plenty of fitness and detox retreats here, most of which include daily yoga classes. Check out our handpicked recommendations for the best yoga and wellness retreats in Phuket.

Chiang Mai – The northern mountain city of Chiang Mai has a surprisingly peaceful vibe. It is renowned for its temples, authentic Thai massages and spa treatments, but there are some great yoga studios here too. So if you want to combine your yoga sessions with some pampering and exploring the culture and lush jungles of northern Thailand, you'll love the yoga retreats in Chiang Mai.

Pai – A beautiful mountain village in northern Thailand, just north of Chiang Mai. The relaxed bohemian vibes, river front cafes, yoga studios and stunning countryside, waterfalls and hot springs make it popular with nature lovers and hippies alike.

Koh Samui – The bustling tourist island of Koh Samui has many luxurious resorts that appeal to holidaymakers who want to slow down. Yoga in Samui ranges from drop-in classes at a hotel or wellness retreat to YTTs at well-known schools, like the Vikasa yoga retreat center.

Bangkok – While you may not want to head to one of the world's most hectic cities for a yoga retreat Bangkok is an exciting city to explore and there are many great yoga studios if you want to experience yoga in Bangkok.
The Best Yoga Studios in Thailand for Drop-in Yoga Classes
Most retreat centres in Thailand run drop in classes that are open to the public, including for tourists, expats, and locals.
So if you're short on time or don't want to commit to a yoga retreat, you can join drop-in yoga sessions instead. Here are three fantastic yoga studios I recommend for drop-in classes.
If you want to enjoy epic city views while practising yoga, look no further than YogaSutra Studio, located on the 32nd floor of the well-known Sathorn Nakhon Tower.
This "yoga sanctuary in the sky" teaches all the popular yoga styles and classes focused on specific asana categories like inversions and backbends. Most classes are all levels, but they also have a few sessions aimed at beginners and advanced practitioners.
This retreat centre in Kata, Phuket, has multiple yoga and meditation classes daily, and if you are looking for drop in yoga classes in Phuket you'll be pleased to hear they are all open to the public.
Various yoga styles are available, including Hatha, Ashtanga, Yin, and Aerial yoga. And the best part is that the open-air shala is located at the top of a hill, giving expansive views of the ocean and surrounding jungle.
If you want to go deeper into your practice CC's hideaway is also one of the best rated yoga retreats in Phuket and their retreat packages offer the full experience for a relaxing yoga vacation.
Chiang Mai Holistic offers a vast selection of yoga, meditation, and spiritual classes, including Tibetan sound healing and Ecstatic dance.
The drop-in class prices are very reasonable, and the teachers are super welcoming. I attended a few sessions while doing a Thai massage course in town and instantly felt part of the studio's yoga community.
The Best Yoga Retreats in Thailand
So, what is the best yoga retreat in Thailand? With so many on offer, narrowing it down to just one is tricky so here are 3 of the best yoga retreats in Thailand that I have attended.
Wonderland is a divine yoga retreat centre located in the middle of Koh Phangan, surrounded by lush tropical jungle and oozing with peace and quiet.
The 8-day retreat includes:
Multi-style yoga classes – Hatha, Vinyasa, Ashtanga & Restorative yoga
Tai Chi, Qi Gong and meditation sessions
Swimming pool and herbal steam sauna
Multiple relaxation areas, including a meditation garden with mountain views
Daily vegan meals
Wonderland is also one of Thailand's most affordable yoga retreats, offering budget dorm accommodation for yogis who want to keep costs low. Deluxe private rooms are also available.
If you want to challenge your physical and mental health, Samahita offers the ultimate Thailand fitness retreat combined with yoga, meditation, and breathwork.
Their renowned YogaCoreCycle retreat includes:
Twice daily yoga sessions
Pranayama sessions and mindfulness meditation practices
Core fitness and indoor cycle sessions.
As Samahita yoga resort is located right by Laem Sor beach, this 6-day holistic retreat embodies Koh Samui's relaxed island yoga lifestyle. Here you can experience authentic Thai culture with a Pad Thai and a relaxing Thai massage by the sea.
Best Luxury Yoga Retreat in Thailand – AMAYEN, Chiang Mai
AMAYEN's yoga and health retreat in Chiang Mai offers a heavenly mix of yoga, massage, sound healing, and restoration.
Twice daily restorative yoga
Tibetan singing bowl healing
Guided meditations
3 Thai massages
Sightseeing excursions and cooking class
This 6-day retreat takes place at the lavish MonPanaNont Wellness Resort & Spa, set amidst picturesque rice fields. Far from all the hustle and bustle, the only sound you'll hear is the birds, making it the perfect environment to relax and connect within.
The Best Yoga Teacher Training in Thailand
If you're heading to Thailand to train to become a yoga teacher rather than attend a luxury yoga retreat, I highly recommend these top-quality yoga teacher trainings.
Best Multi-Style Yoga Teacher Training in Thailand – One Yoga, Koh Phangan
The One Yoga 28-day 200-hour YTT is a comprehensive yoga training for budding teachers in Koh Phangan.
In this course, you'll
Learn how to teach Hatha and Vinyasa yoga
Practice other styles, such as Ashtanga, Restorative, and Yin yoga
Stay onsite at the oceanfront resort
Enjoy twice-daily healthy meals
One Yoga has a collection of highly experienced Thai and international yoga teachers. Along with their renowned YTT, they run regular yoga and wellness retreats.
This 22 day 200-hour yoga training in Chiang Mai is centred around traditional Hatha and Ashtanga yoga.
The course includes:
Twice daily asana lessons
Visits to Buddhist temples and mountains
A traditional northern Thai dinner and cultural performance
Yoga Vidya Mandiram offers various dorm rooms at the Maewin Guesthouse which helps to make this the most affordable yoga teacher training in Thailand. Some private rooms are available too if you don't mind spending a little more for the extra privacy.
How to Plan your Thailand Yoga Trip
Getting to Thailand and Getting Around
Traveling to Thailand and getting around is safe, easy and affordable thanks to the good infrastructure, public transport and helpful local people. Even solo female travellers shouldn't have any problems traveling around Thailand and there are plenty of solo retreats designed with solo travelers in mind.
Many international flights arrive every day in Bangkok's Suvarnabhumi Airport (BKK) and Chiang Mai, Phuket, Koh Samui also have international airports. Thailand has a great network of low cost domestic flights, many of which leave from Bangkok's Don Mueang Airport (DMK).
Tourists from most countries do not need a visa to visit Thailand for stays of up to 30 days.
For more inspiration on the best places to visit in Thailand and tips for planning your trip check out this comprehensive Thailand itinerary.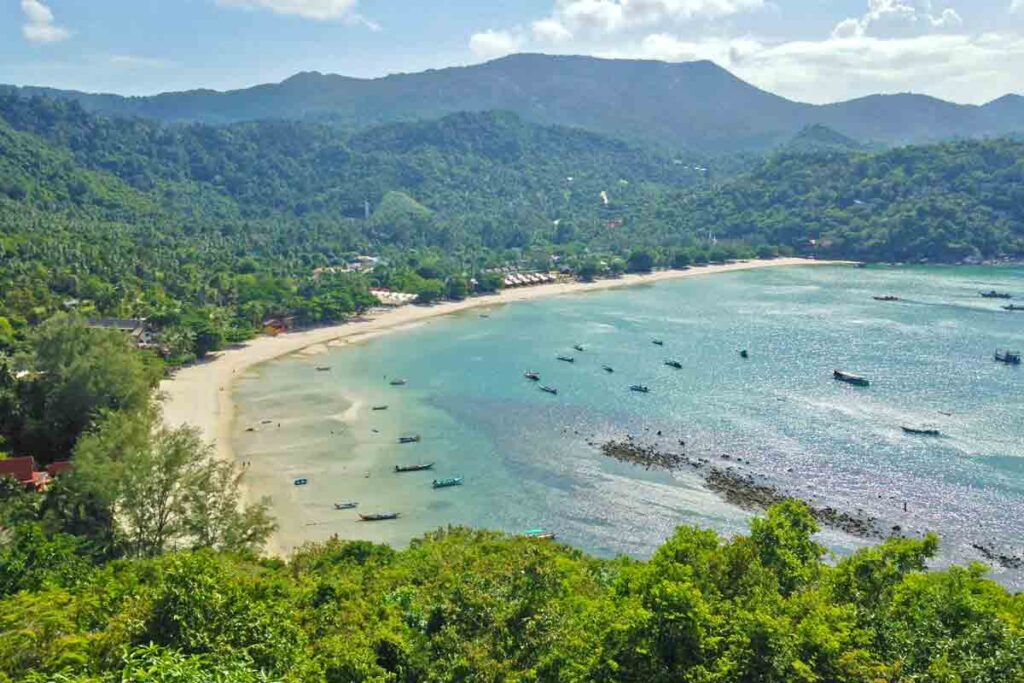 Accommodation in Thailand
Thailand has great hotels, hostels and guesthouses that will suit all budgets, you can search for your perfect stay, read reviews and book in Booking.com. Your accommodation in Thailand will often also help you to arrange onward transportation to your next destination.
If you have booked a yoga retreat they may include transfers in the package so check with the organiser. You can also book transport in Thailand online with 12 Go Asia.
Best time to visit Thailand
Thailand enjoys a tropical climate with warm weather all year round. The best time to visit Thailand for yoga and sightseeing is in the dry, cool season between November and March.
Thailand has two monsoon seasons. The Gulf Coast, home to the islands of Koh Samui, Ko Phangan, and Ko Tao, receive the most rain from October through December. Phuket and the Andaman Coast experience the rainy season between May and October.
April and May are still sunny and dry in most of Thailand but can be uncomfortably hot for traveling or practicing yoga outside.
Final thoughts about Yoga in Thailand
Whether you feel like a spiritual retreat or a detox program, Thailand is an idyllic place for all your yoga, health, and wellness needs. From meditation retreats in the mountains to beachside yoga shalas, yoga in Thailand is always a memorable and transformative experience.
* This post may contain affiliate links. When you make a purchase through links on our site we may make a small commission, at no additional cost to you. We only recommend products that we love and genuinely use ourselves. All prices stated are correct on the date of publishing, but can be subject to change.
© loveyogalovetravel.com 2022-2023. Unauthorized use and/or duplication of this material without express and written permission from this site's author and/or owner is strictly prohibited. Excerpts and links may be used, provided that full and clear credit is given to loveyogalovetravel.com with appropriate and specific direction to the original content.