Namaste Together: The 10 Best Couples Yoga Retreats in the World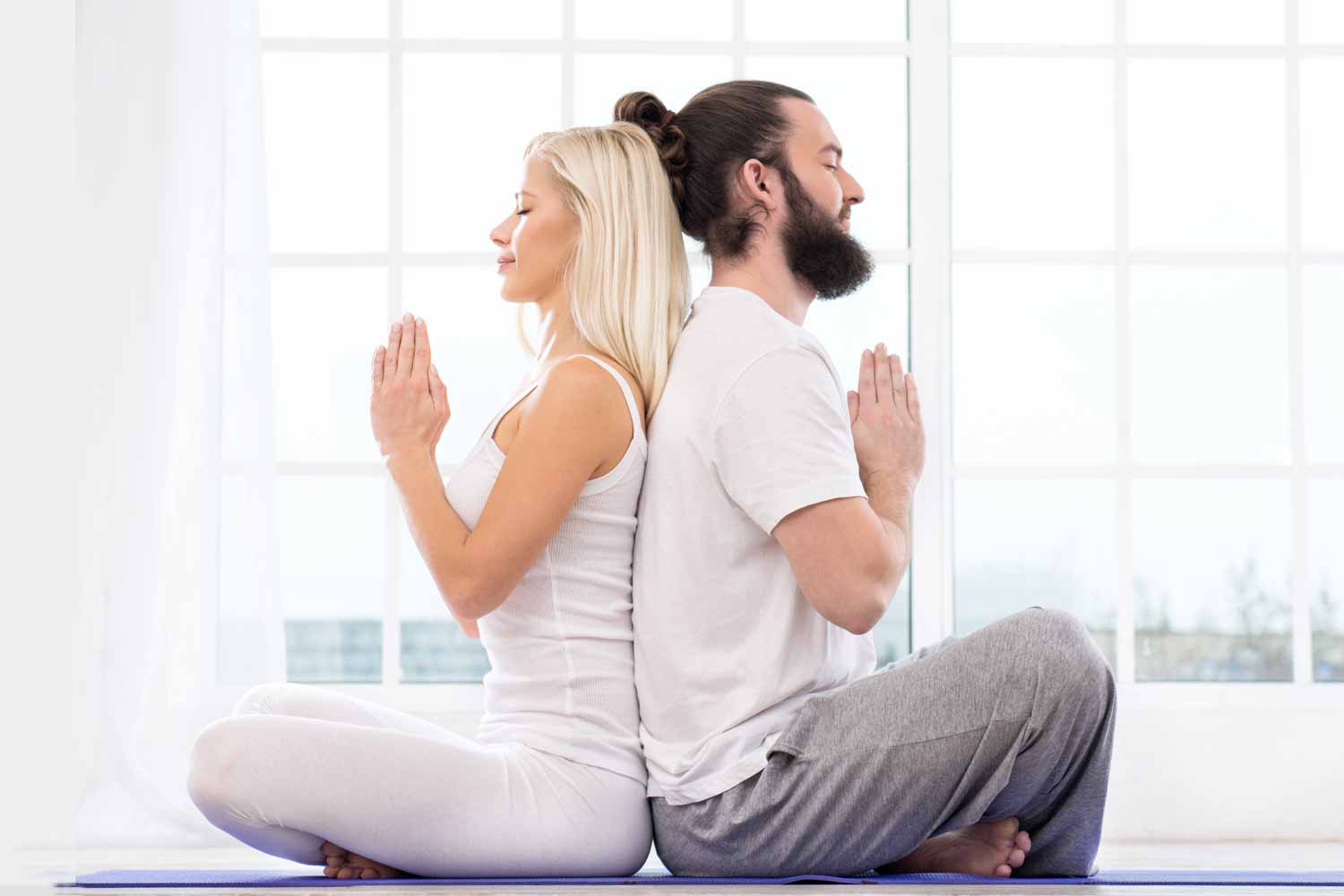 Are you and your partner looking for the perfect yoga retreat for couples where you can improve your yoga practice, deepen your connection, bring more balance into your lives and relax in a beautiful destination?
While there's no shortage of incredible yoga retreats around the world finding the perfect couples retreat is a bit more tricky. Whether you want to explore tantric yoga, spirituality and sexuality, receive professional couples counselling, or simply relax and spend quality time with each other, a couples yoga retreat could be the perfect balance of self-care, relaxation, adventure that brings you closer together.
From relaxing together on the sunny beaches of Hawaii, to exploring sacred temples in India, these unique couples yoga holidays provide plenty of opportunities for restorative and spiritual activities, as well as memorable and intimate moments spent connecting with your partner.
Keeping the passion alive and created shared memories together is so important to keep deepening your special connection. That's why I've put together a list of the best couples yoga retreats around the world that make it easy for you to do all these things in one unforgettable vacation!
Read on to discover which retreat could be just what you and your special person are looking for!
Why go on a couples retreat?
There are many reasons why a couple would want to go on a shared retreat. Some couples may be looking for an opportunity to bond over a shared passion for yoga, others are hopeful that by embracing deeper spirituality together will help overcome relationship struggles. And then there's those that just want to get away from it all and enjoy some shared pampering.
Here are some great reasons to go on a yoga retreat for couples:
Couples yoga retreats provide a serene and mindful environment, which promotes relaxation and stress reduction.
Away from daily distractions, couples can make time for each other, rekindle romance, create lasting memories, and gain tools to navigate challenges.
Shared experiences cultivate trust, patience, and empathy, which aid in nurturing a strong and lasting bond.
Engaging in shared yoga and meditation sessions fosters mutual support, communication, and understanding.
The yoga practice encourages physical and emotional intimacy, helping partners align their energies and harmonize their rhythms.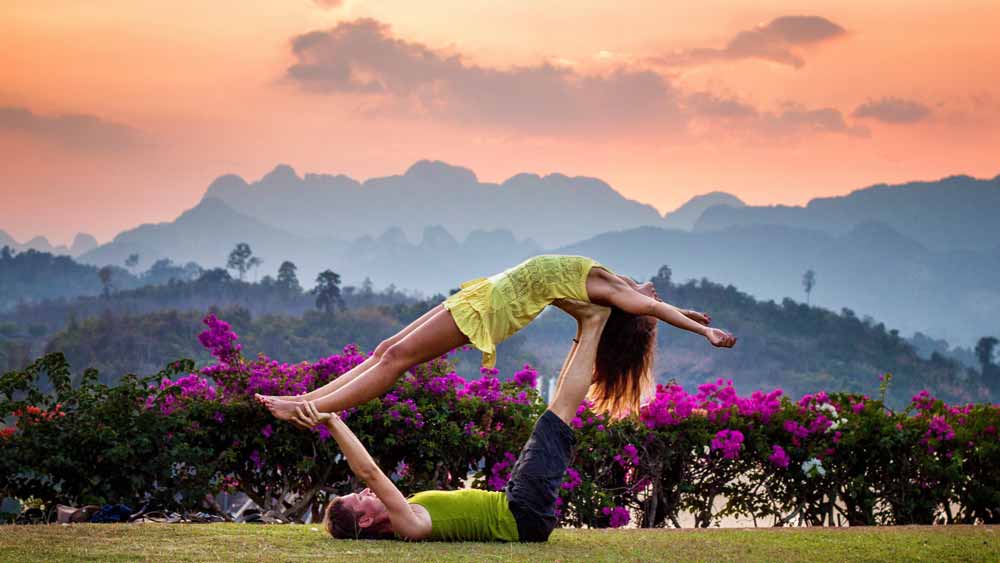 The Best Couples Yoga Destinations
Asia
Asia offers couples some of the best settings to kindle romance. The blend of ancient traditions and spirituality, exotic cuisine, warm weather and tropical natural beauty creates an atmosphere ideal for shared exploration and intimacy.
If I had to choose one absolute best place in the world for couples yoga retreats it would be Bali in Indonesia. Also known as 'the island of the gods', the combination of lush tropical nature, friendly people, authentic spirituality and a long history of yoga practice make it the dream getaway for yoga lovers.
Also in Asia you have India, the birthplace of yoga, Aryuveda and tantra, where there's no shortage of authentic and affordable yoga holiday options for spiritual seekers. Or for a retreat on a beautiful island where you can also explore golden Buddhist temples consider Thailand.
And if luxury in a tropical paradise island is what you are after then Asia also offers one of the most luxurious yoga destinations in the world, the Maldives. These small islands in the Indian Ocean have fewer yoga retreats than other south Asian countries, but those they do have are truly stunning and in the perfect environment for romance.
Europe
The enchanting blend of historic architecture, diverse landscapes, cultural richness, and culinary delights creates a captivating atmosphere perfect for fostering romance. Europe offers couples an idyllic setting to forge lasting memories and strengthen their connection.
If it's romance you're looking to foster on your retreat then consider heading to France or Italy. With cities like Paris, Venice and Verona, these two countries are famous for their romantic atmosphere and incredible food and wine. For those seeking a more spiritual yoga experience I would recommend Spain and Portugal as Europe's best destinations.
The Americas
The American continent offers couples a huge diversity of landscapes and cultures with a mix of luxury yoga resorts, charming private retreats, and unique adventure activities. Yoga and spirituality are rich and diverse in the Americas, drawing from many cultures and traditions and creating new, exciting practices.
Within the USA, states like Hawaii, California, Florida and Arizona have many of the best yoga retreats and are also popular vacation destinations for couples. Couples yoga retreats in the USA often include an element of healing, therapy or professional relationship counselling as a compliment to the physical activities.
The paradise islands of Hawaii are particularly well suited to yoga enthusiasts. There's a strong spiritual element in the traditional culture, and surfing is the perfect compliment to yoga practice.
For more adventurous yogis I would also recommend trying a yoga retreat in Canada. With warm hospitality, endless vistas and opportunities for outdoor adventure, it's an ideal setting for couples seeking to strengthen their bond through memorable experiences in the great outdoors.
Mexico also has a rich and colorful cultural history and joyous spiritual practices. You'll find couples yoga holidays popping up in many of the most popular beach towns, and a few hidden away in secret corners amongst ancient Mayan ruins.
Another great choice would be Brazil, which also has a broad mix of cultures and traditions which have allowed alternative spiritual therapies to flourish. As home to the Amazon rainforest, the world's lungs, it's a great place to practice Pranayama and Kundalini.
For couples who want to enjoy the finer things, you should try a yoga retreat in the Caribbean where relaxation and rejuvenation are a way of life. Nothings says perfect vacation quite like drinking a fresh coconut on a warm, sandy beach and having a dip in warm, azure seas.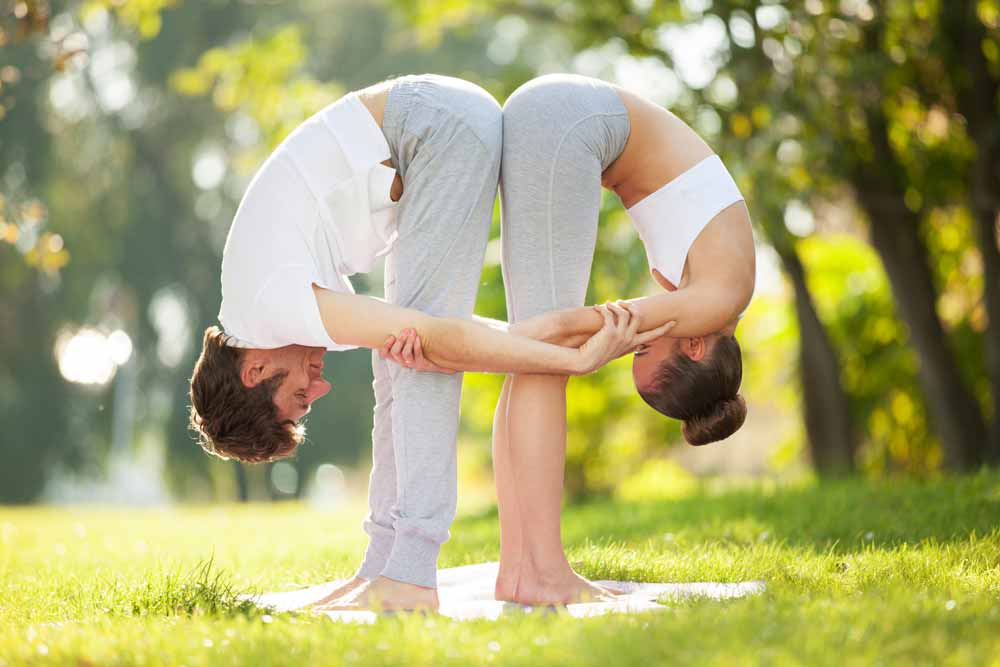 The Best Yoga Retreats for Couples Around the world
Here's my selection of the world's best couples yoga retreats.
Skip to: Bali, Asia, Europe, The Americas
The Best Couples Yoga Retreats in Bali
On the outskirts of Ubud in Bali lies the Ubud Nyuh Bali Resort and Spa, a luxury 5 star resort with panoramic views of the Balinese countryside. This personalized 6 day yoga retreat for couples can be tailored to your objectives – from couple bonding and mindfulness training to pure relaxation and shared pampering.
Highlights:
Private and group yoga classes
Daily wellness activiites
Couples massage
Cooking class
Romantic dinner
Relax with activities like Balinese massage, flower bath, sound healing, pilates, meditation, and breathwork included when you stay, plus complimentary use of the gym and bicycles to explore the local area. Breakfast is included every day and you'll get another gourmet meal (either lunch or dinner) too. Every couple gets a private romantic candle-lit meal and the option to take afternoon tea on the lawn.
As a luxury resort your accommodation choices are all excellent. You'll have a private double room with the option to upgrade to a honeymoon suite or private pool villa. The suites are designed with Balinese artisanal touches and feature contemporary teak furniture, a spacious stone bathtub, and luxurious local details.
For the ultimate in luxury couples retreats you need look no further. Focus on your relationship while all your needs are taken care of by the resort and it's friendly, professional staff. Highly recommended for those looking for the best of the best.
Prices from €1,563 / $1,711 per couple.
For an extended luxury break, this resort also offers a 15 day luxury couples wellness retreat.
If you're looking for a short but powerful yoga retreat for couples in a beautiful tropical location, then take a peek at this 2 day tantric yoga honeymoon in Bali. The focus is on deepening your relationship and spending intimate time together while also improving your health and wellbeing.
Highlights:
Private aqua yoga class
Balinese massage for two
Group tantra practice
Evening meditation and breathwork
All your meals are included in the price and they cater to many different types of diet. There's an on-site spa and outdoor swimming pool with far reaching views. They'll even pick you up at the airport and provide a wonderful reception on arrival.
Accommodation is in private villas, and there's the option to upgrade to a VIP villa which includes a bathtub and lounge area.
This is a wonderful tantra yoga retreat for couples for those who are pressed for time but don't want to skip any of the bonding activities that will raise your relationship to the next level. The focus on tantra yoga will also bring you closer together romantically, sexually and spiritually.
Prices from €480 / $510 per couple.
The Best Couples Yoga Retreats in Asia
When you're looking for a spiritual couples yoga retreat in the birthplace of yoga then don't forget to have a look at the options in India. This week long hatha and tantra yoga retreat is hosted in Uttar Pradesh and offers you a private luxury experience combined with authentic yoga practice.
Highlights:
Tantra, Kundalini and Hatha yoga styles
Natural, local Ayurvedic meals and herbal teas
Twice daily meditation
Daily spiritual discourse
Private double room accommodation is in Clarks Hotel, a beautiful luxury resort with spacious landscaped grounds close to the Western Group of Temples, known worldwide for their erotic Tantric sculptures.
This is the perfect option for a yoga loving couple, where the emphasis is on the traditional practice of yoga rather than the assorted spa treatments offered at other couples retreats. You will build your spiritual and emotional energies together in a luxurious setting with all your needs taken care of, allowing you to focus on each other.
Prices from €1,975 / $2,099 per couple.
Nothing says you're serious about your relationship more than taking a trip to the finest romantic honeymoon destination in the world, the Maldives. On this couples retreat in the Baa atoll the focus is relaxation and rejuvenation, leading to joy and blissful harmony.
Highlights:
Yoga on the beach
Yin yoga and Qi flow sessions
Small groups
Each day focussing on a different element (earth, water, fire, air, ether)
Healthy breakfast, dinner and drinks are included, and there's a restaurant on-site for any additional meals and refreshments (note this is an alcohol free resort). The boat transfer to and from Male island is included, as are excursions to a nearby sandbank and a snorkelling trip to see the Maldives spectacular ocean wildlife up close.
Kamadhoo Inn will accommodate you throughout your stay in a private double room. The resort is on a small island with white sand beaches and a turquoise lagoon. It's ideal for those perfect yoga on the beach pictures.
Couples yoga retreats in the Maldives are not so common, which makes this a rare opportunity to embrace your partner romantically in one of the most beautiful travel destinations in the world, whilst empowering each other with the natural energy that comes from spiritual yoga practice.
Prices from €3,162 / $3,360 per couple.
The Best Couples Yoga Retreats in Europe
Tuscany in Italy is famed for it's romantic natural beauty and Renaissance architecture, and this couples retreat by Move BeYond It puts you and your partner at the center of it by offering a totally private and exclusive wellness retreat in the heart of a magical medieval Italian village.
Highlights:
Tailor made itinerary based on the couples preferences
Multiple wellness sessions each day
Hot spring pool
Night bathing
The instructors, Tanya and Michael Aprile, are modern masters in spiritual therapy with the ability to share their teachings in not just yoga, but also meditation, music, couples coaching, clairvoyance and more. Several healing sessions are included in the price, as are your breakfasts. Additional private sessions and meals are charged separately.
Choose between a Classical, Confortevole, or Superior room depending on your needs. Each room is uniquely decorated and furnished in luxurious style. The views from the property span the Tuscan hills for an unrivalled landcape to put you in a romantic mood.
This is an ideal choice for couples who have an interest in going beyond the usual offerings of a wellness retreat, whilst also enjoying the culture and sophistication of a European destination of renown beauty.
Prices from €6,575 / $7,413
For a more down-to-earth couples yoga retreat in Europe, take a look at this 4 day tantra yoga retreat in Ibiza, Spain. Located in the relaxed northern part of the island just a short walk away from Cala Benirras bay with it's famous sunset drum circle gatherings and hippie market.
Highlights:
Daily meditation, kundalini and tantra yoga classes
Organic, cleansing and nutrient-packed meals
Intimacy exploration and heart opening ceremonies
You won't have to worry when hunger strikes because all your meals and drinks are included in the price. Your accommodation will be in a traditional Ibicencan style guesthouse at Can Roques, with private double rooms that are designed with comfort in mind and offer a daybed on the terrace and private outdoor rain shower.
You'll find this couples yoga retreat ideal if you want to deepen the connection between you and your partner by focussing on the synergy between Shiva and Shakti energies in a private, comfortable space on a beautiful island.
Prices from €2,750 / $3,100 per couple.
The Best Couples Yoga Retreats in the Americas
With the stunning and romantic backdrop of Maui island, this couples yoga retreat will take your relationship to the next level by promoting positive energy and cooperative activities.
Highlights:
Beach yoga and meditation
Couples tantric coaching and massage
3 surf or SUP lessons
Cacao ceremony and sound healing
With six days of included activities this couples retreat is full of fun and adventure. There's Yin, Kundalini and Hatha yoga, Lomi Lomi massage, hiking, surfing and stand-up-paddleboarding. Then you've also got spiritual practices including Hawaiian chanting, tantra and cacao ceremonies. It's an action packed week for couples that want to embrace life to the fullest.
Four private cottages make up the accommodation, which are in different areas of the island and feature different elevations and viewpoints. Lunches and drinks are included in the price, but breakfast and dinner are not.
This retreat would be perfect for the young at heart who want to get their partners pulse racing with adventurous activities and spiritual practices.
Prices from €4,600 / $4,888 per couple.
For those who prefer their yoga in a cooler climate, this retreat in Ontario, Canada offers intermediate yoga practioners and their partners the opportunity to focus on mindfulness while staying in a luxurious villa surrounded by open nature.
Highlights:
Yin yoga and aquatic, gravity free body soothing classes
Hot rock massage
Silent nature walks
Jacuzzi, sundeck patio and games room
Included in the price are daily meditation and yoga classes, specialized workshops, group excursions, a life wellness coaching session, all food and drinks, accommodation and a hot stone massage.
This is an amazing couples retreat in a surprising and unique location which balances relaxation and luxury with wellness, nature time and yogic spirituality
Prices from €3,410 / $3,733 per couple.
Surrounded by a green garden and close to the beach and a lagoon, this activity packed couples yoga holiday in Brazil ticks the boxes for a serene location. It also happens to offer great hatha yoga classes which are suitable for beginners and intermediate practitioners.
Highlights:
Daily hatha yoga class
Hot tub and jacuzzi
Choice of surfing, sand surfing, horse riding, or SUP
Two excursions into the local area
One Ayurvedic massage
You'll stay in a private double room at a cozy house, with facilities like sauna, garden, kitchen and bathroom shared with other retreat participants. Though, with a maximum of three couples, you'll never feel like you don't have your own space. Breakfast is provided and shared together as a group, with other meals having to be prepared yourselves.
The two included excursions can be decided upon between guests based on their wishes and the host's local knowledge and recommendations. You'll get to choose an exciting adventure activity too, from a list including surfing and horse riding.
I'd recommend this couples yoga retreat to partners with a joint love of yoga, relaxation and natural beauty. There's time and opportunity to focus on yourselves, create some lasting memories and possibly to make new friends while doing so.
Prices from €2,402 / $2,638 per couple.
Xinalani Boutique offer one of the most scenic couples yoga holidays in the world, fit for a honeymoon. A truly beautiful resort only accessible by boat right on the beach near Puerto Vallarta, Mexico.
Highlights:
Beautiful tropical beach location
Daily yoga class
One 60 minute massage each
Romantic dinner on the beach
At this retreat you'll be staying in an eco-chic suite – the most spectacular rooms at the resort. Simply furnished with a high-end king-size bed, a hammock, a terrace, an open-air shower and a wide window open to the ocean and stars. It's absolutely ideal for newly weds and romantic getaways.
All your meals and drinks are included, even a complimentary bottle of champagne is provided for your arrival. Yoga classes are suitable for beginners and a massage is included in the package. If you're feeling more active you can also take a guided hike through the rainforest to a waterfall or try a surf lesson.
This is a great choice for couples looking for a relaxing beach yoga vacation where they can be immersed in nature and have plenty of time to spend connecting with each other and foster healthy habits.
Prices from € 3,962 / $4,225 per couple
Final thoughts on the best couples yoga retreats
A couples yoga retreat is the perfect combination of self-care, relaxation, adventure and connection for both you and your partner. Whether you want to explore ancient spirituality in India or relax together on the sunny beaches of Mexico, there are plenty of unique and unforgettable destinations and retreats to choose from.
These incredible couples retreats provide plenty of opportunities for restorative activities, spiritual growth and meaningful intimacy in a special and serene atmosphere. They also provide the perfect opportunity to keep the passion alive and create shared memories that last the test of time. Those who Namaste Together, Stay Together!
The perfect retreat for you will depend on what you are looking for. If you want to try a range of exciting activities together that will effortlessly strengthen your connection in a beautiful environment take a Couples Surf and Yoga Retreat in Hawaii or the Couples Yoga, Surf and Horse Riding Holiday in Brazil.
If you're more about relaxing on a stunning beach with your lover after a revitalising yoga class choose the Yoga Honeymoon in Mexico or this yoga holiday in the Maldives. If it's a luxurious Eat Pray Love experience you're after try the Luxury Couple's Retreat in Bali or for spiritual therapy tailored to your specific requirements choose the Luxury Spiritual Couple Experience in Italy
To learn about tantra and sacred sexuality and take your bond to the next level head to the Couples Tantra Yoga Retreat in Ibiza or for an authentic experience try this Love, Meditation and Yoga Retreat in India. Whichever you choose, your couples retreat experience will be as unique as your relationship.
So show your loved one how much they mean to you – book a couples yoga retreat and start making memories together and deepen your connection and relationship!
* This post may contain affiliate links. When you make a purchase through links on our site we may make a small commission, at no additional cost to you. We only recommend products that we love and genuinely use ourselves. All prices stated are correct on the date of publishing, but can be subject to change.
© loveyogalovetravel.com 2022-2023. Unauthorized use and/or duplication of this material without express and written permission from this site's author and/or owner is strictly prohibited. Excerpts and links may be used, provided that full and clear credit is given to loveyogalovetravel.com with appropriate and specific direction to the original content.