How to Plan a Life-Changing Yoga Vacation: The Ultimate Guide
Yoga vacations offer a unique blend of relaxation, adventure, and self-improvement. It's a chance to deepen your practice, explore new cultures, and return home with more than just souvenirs – you'll bring back experiences and insights that continue to enrich your life long after the tan fades.
In this comprehensive guide to planning a life-changing yoga vacation you'll find everything you need to know to make sure your trip is fulfilling, transformative and unforgettable, whatever your experience level, age or budget.
We'll start by exploring why a yoga vacation can be such a transformative experience and the many benefits of taking a yoga retreat holiday. Then we will help you to choose your ideal yoga destination, find a retreat that resonates with your needs, and prepare for this exciting adventure.
Collectively, we've been lucky enough to go on countless yoga retreats all over the world, and each one enriched our lives in different ways. So whether you are looking for a budget-friendly beginners yoga retreat or an all-inclusive luxury wellness resort vacation we will help you plan a trip that could forever change your approach to vacations and well-being!
And if you're considering changing your career and becoming a yoga teacher then our guide to yoga teacher training abroad is essential reading too.
Pin this image!
Why Yoga Vacations Can Be Life Changing!
If you are yearning for a vacation that not only relaxes your body but also rejuvenates your mind and nourishes your soul then a yoga vacation might be just what you need. It's the perfect way to unwind, decompress, and embark on what could be a life-changing journey of self-discovery.
Yoga vacations are far more than just an escape from daily routines; they provide an opportunity to immerse yourself in a holistic lifestyle surrounded by like-minded people, deepening your yoga practice while exploring new cultures and landscapes which can lead to profound personal growth and be a truly transformative experience.
Imagine waking up to the soothing sounds of nature, starting your day with an energizing and grounding yoga class, nourishing your body with healthy food, and ending the day with a peaceful meditation as the sun sets. This is the essence of a yoga retreat – it's not just a vacation; it's an immersive journey that brings you closer to your true self, promoting inner peace, holistic wellness and personal growth.
The Benefits of Taking a Yoga Retreat Holiday
Yoga has become increasingly popular in recent years due to its amazing health benefits and taking a yoga vacation offers an opportunity to enhance your physical, emotional and spiritual well-being. a yoga retreat is more than just a vacation – it's an opportunity for profound transformation and personal growth. Here's why a yoga retreat can be a truly life-changing experience:
Yoga retreats offer a unique blend of relaxation, self-exploration, and rejuvenation, all while deepening your yoga practice. The practice of yoga in itself is an elixir for the body, mind, and spirit. It enhances flexibility, reduces stress, and promotes overall health and well-being. But when you combine these benefits with the adventure and relaxation of a vacation, you step into a realm of transformation and growth.
Let's explore the many benefits of taking a yoga vacation and the reasons why it can be a transformative and life changing experience:
Deepen Your Yoga Practice
Regardless of your level of experience, a yoga retreat allows you to immerse yourself in your practice. A yoga retreat usually includes at least two yoga classes per day which often incorporate meditation and pranayama (breathing exercises) and teachings on the rich philosophy that underpins yoga.
A yoga retreat offers you access to different styles of yoga and more advanced teachers, allowing you to delve much deeper into your yoga practice. For seasoned yogis, it offers a chance to refine your alignment or work on that pose you've been having difficulty with, explore new styles, and deepen your understanding of yoga philosophy. For beginners, it provides a supportive environment to learn the basics, develop your technique, and cultivate a regular practice. The progression you'll experience during a retreat can significantly impact your yoga journey.
Self-Discovery and Personal Growth
One of the most transformative aspects of a yoga retreat is the opportunity for self-reflection, especially if you go solo. Away from the distractions of everyday life, you have the space to connect with your inner self, reflect on your life path, reassess your goals and gain clarity on your goals and perhaps chart a new course for your future. This process of self-discovery can lead to profound personal growth, regardless of your yoga experience.
Stress Relief and Mental Health Boost
The serene environment of a yoga retreat offers a much-needed respite from the stresses of daily life. The combination of yoga, meditation, and a tranquil environment promotes relaxation and mental well-being. It allows you to take a break from routine responsibilities, disconnect from technology, and truly relax. This mental detox can benefit everyone, from seasoned yogis to beginners, leading to improved mood, better sleep, and a more positive outlook on life.
Community and Connecting with Like-Minded People
Yoga vacations attract people from all walks of life who share a common interest in yoga and wellness. This offers a wonderful opportunity to meet new friends, exchange ideas, and create lasting connections.
At a yoga retreat you'll be part of a community of like-minded individuals and these connections can lead to lifelong friendships and a sense of community that supports your yoga journey long after the retreat ends. For both seasoned yogis and novices, this sense of community can be incredibly enriching.
Develop Healthy Habits
Yoga retreats typically promote a holistic lifestyle, incorporating nutritious meals, physical activity, and mindfulness practices. They not only encourage mindfulness during the retreat but also teach techniques to incorporate mindfulness into your daily life and inspire healthier habits, such as better eating and sleeping patterns.
Living this way for a few days or weeks can help reset your habits and inspire a healthier lifestyle. This aspect of a retreat can be transformative, whether you've been practicing yoga for years or are just starting out.
Inspiring and Spiritual Locations
Yoga retreats are often held in beautiful, natural settings. Whether it's a beachside yoga shala or in a tranquil forest clearing in the mountains, practicing yoga in these inspiring locations allows you to connect deeply with nature, enhancing your practice and instilling a profound sense of peace.
Cultural Exploration
Lastly, many yoga vacations take place in exotic locations and are an excellent opportunity to explore new landscapes and local cusineses, immerse yourself in a different culture and even visit important spiritual sites. Many retreats also offer the chance to try new sports and activities like hiking, surfing, paddleboarding, snorkelling and horseback riding.
You might even be able to take part in cultural excursions and workshops like cooking classes which help you gain insights into the local way of life. This exposure to different cultures can broaden your horizons and enrich your life, adding to the transformative power of the retreat.
In essence, a yoga retreat offers a unique blend of deep yoga practice, self-discovery, stress relief, healthy living, community connection, and cultural exploration. A yoga vacation is more than just a break; it's a holistic experience that nurtures your body, mind, and spirit and a transformative journey of personal growth that can enrich your life, regardless of your age or yoga experience.
Read our full article for more on the benefits on taking a yoga retreat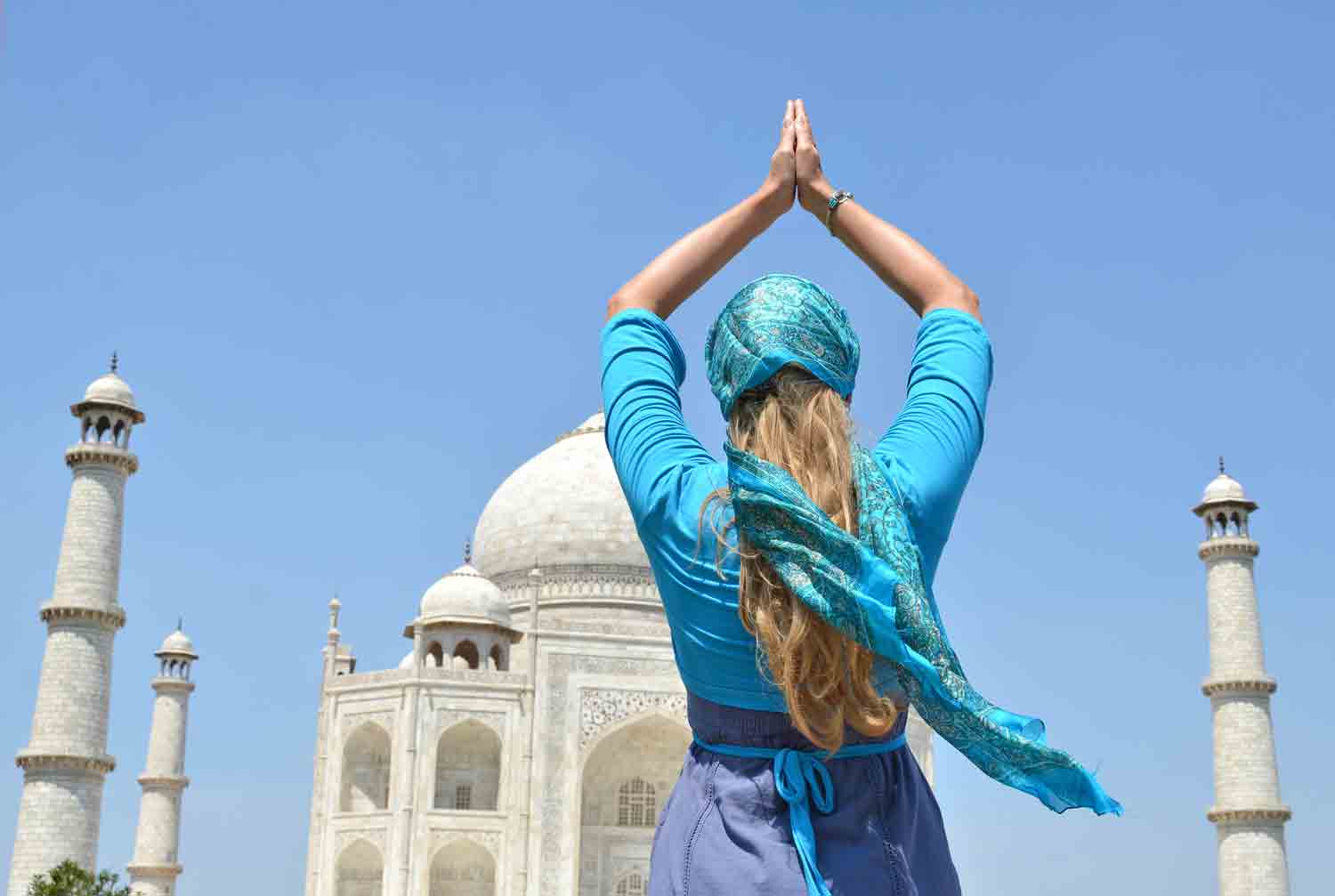 How to Choose the Ideal Yoga Destination
Planning a life-changing yoga vacation starts with selecting the perfect destination. Whether you're a beginner yogi or an experienced practitioner, the location of your retreat can significantly shape your overall wellness experience.
Here's some things to consider to help you choose your ideal yoga destination:
Location and Climate
The environment, climate, and cultural backdrop of your yoga retreat can all add depth to your experience. Do you find tranquillity in a beach setting, or does a forested mountain landscape speak more to your soul? Would you prefer the dry heat of a desert climate or the refreshing cool of a coastal breeze?
Think about what kind of climate helps you feel relaxed and rejuvenated and do some research on the best times to visit your preferred location – you don't want your tropical beach retreat ruined by monsoon rains.
Culture and Spirituality
You'll find many yoga retreats in spiritual places so consider the cultural richness and spirituality of your chosen location. Experiencing authentic yoga in its birthplace, India, can offer profound spiritual insights. Alternatively, immersing yourself in the unique fusion of cultures in places like Bali or Mexico can provide a different, yet equally enriching, perspective.
Choose a destination whose culture, spirituality and way of life resonates with you so that exploring and being immersed in the local culture will add to your personal and spiritual growth and overall enjoyment.
If you want to know more read our article on why you should consider a spiritual retreat. .
Accessibility and Travel Options
Part of planning your trip and selecting the perfect destination means researching travel options for getting to your retreat. Some retreats are tucked away in remote locations offering peace and serenity, but reaching these spots might require extensive travel.
While these locations often offer serene environments for deep reflection, consider whether the journey aligns with your comfort and convenience needs and budgetary and time constraints. consider retreats that offer airport transfers, simplifying this process and ensuring a stress-free arrival and departure.
Some retreats also offer guided tours and excursions that can enhance your experience, allowing you to see the sights and explore local attractions while leaving all the organization to the retreat staff.
Retreat Centers
Another important part of choosing your destination is looking at the range of retreat centers on offer. From luxurious resorts to traditional ashrams make sure your choice of retreat center can cater to your needs, budget, and preferences.
Resorts often provide comfort and luxury accommodation, complete with spa services and gourmet cuisine alongside their yoga programs. Ashrams provide a more traditional and austere yoga experience, focusing on simplicity, spiritual practices and community living. Holistic wellness centers combine yoga with other health practices, such as detox programs, nutritional workshops, mindfulness workshops and alternative therapies.
Costs
Your budget will also be a factor in choosing your destination and you should consider your travel costs as well as the cost of the retreat. If money is tight you might be tempted to choose a destination within your own country to avoid paying for flights overseas.
However, there are some top quality yet surprisingly affordable yoga retreats in countries like India, Thailand or Bali where the cost of living in lower which might actually turn out to be an amazing overall experience for less money.
Popular Yoga Destinations
While there are retreats held is almost every country in the world, some destinations really stand out for yoga retreats and each offers unique experiences.
Rishikesh in India is known as the 'Yoga Capital of the World' where you can delve into the heart of yoga spirituality, while Bali offers lush landscapes, beaches and a blend of Indonesian and Hindu cultures.
Costa Rica is a haven for eco-friendly retreats amidst stunning rainforests, Thailand offers affordable luxury retreats on tropical islands amidst glittering Buddhist temples, and Mexico combines vibrant culture with beautiful beachside locations.
In Europe, Spain, Greece, and Portugal offer a blend of Mediterranean charm, ancient history, and stunning yoga retreats.
There's also many great yoga retreats in the USA, the beaches of California, Florida and of course Hawaii are always popular options while Sedona in Arizona has a unique spiritual energy conducive for yoga, meditation and soul searching.
Read our full article where we go into more detail about the best yoga travel destinations around the world.
In conclusion, choosing the ideal yoga destination involves considering your personal preferences and needs. Reflect on what physical and cultural environment and type of retreat will best suit your needs and enhance your yoga journey. By carefully selecting your destination, you'll set the stage for a truly transformative yoga vacation.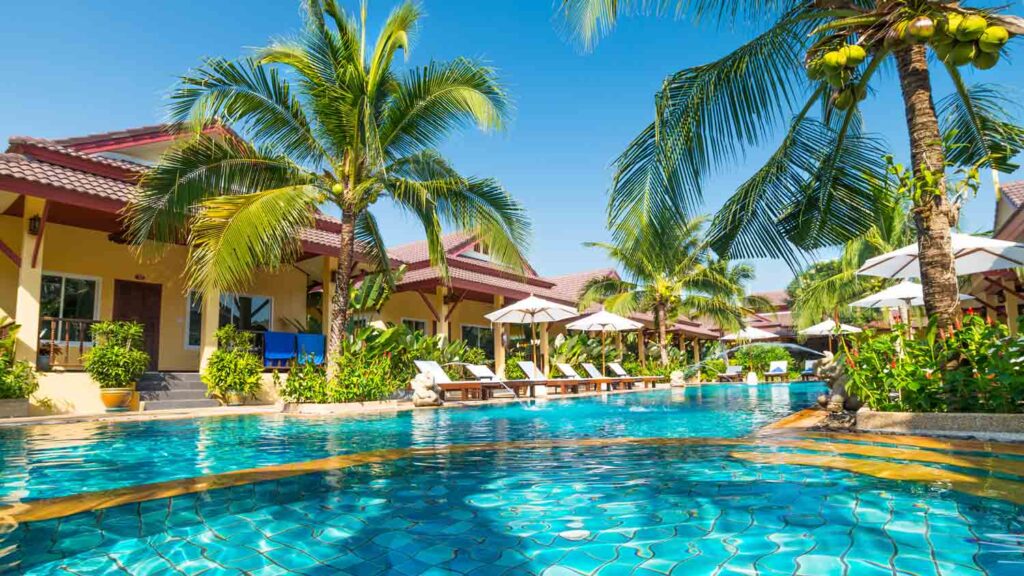 How to Find the Right Yoga Retreat
Planning a life-changing yoga vacation requires more than just choosing a destination. It involves finding a retreat that aligns with your yoga style, experience level, accommodation preferences, dietary needs, and budget.
While you could spend hours trawling the internet, the best way to find and compare yoga retreats all around the world is on sites like bookyogaretreats.com. This dedicated site provides detailed listings of thousands of retreats that you can filter to easily find retreats that match your preferences including location, cost, duration, style of yoga and experience level and much more. Most importantly you can also read real reviews from previous guests so you know what to expect, chat to the organisers and book your place easily online.
But before you go searching for retreats, consider your intention, personal needs and preferences so that you can find the perfect yoga retreat for you. Here's some of the most important aspects to consider:
Type of Retreat
Consider your health and wellness goals and what you want to get out of your vacation as there are many different types of retreats that provide yoga sessions along with other wellness activities.
From fun yoga and surf or hiking holidays, to holistic healing, spa and wellness retreats to detox retreats to silent meditation retreats, there is no shortage of choice so whatever your interests you're sure to find something to suit. There are even yoga teacher training retreats where you can take a deep dive into the practice and gain a certification to teach and change your career.
Also take into consideration whether you will attend the retreat with a partner, close friend or family member or go as a group or solo traveler and choose a retreat that is well suited, for example there are some retreats specially aimed at couples.
Don't worry if you don't have anyone to accompany you on your yoga vacation. Many people attend yoga retreats as solo travelers because it is such a great opportunity for introspection and personal growth. Going alone doesn't have to lonely or scary, you could join a group retreat where you'll quickly become part of a community of other like minded individuals.
Some centres even offer retreat packages especially for solo travelers. While many people attend retreats solo, they often leave with a new yoga family and find the experience incredibly empowering. If you'd prefer solitude consider a private retreat where the program and all instruction will be personalised to your needs.
Read our article that explains the different types of retreats and find out why everyone should go on a solo retreat at least once
Style of Yoga
Yoga comes in many different styles, from traditional Hatha yoga, to the more physically demanding Ashtanga and Vinyasa, to gentle and meditative Yin and Restorative yoga. Research the different types of yoga and consider which one aligns with your physical abilities and what you hope to gain from your practice.
Your Experience Level
Many retreats cater to all levels offering classes for beginners, intermediates, and advanced practitioners and skilled instructors can also offer modifications for difficult asanas. For the best experience, ensure the retreat you choose can accommodate your skill level and help you progress in your practice by being challenging but not overwhelming.
The Resort's Facilities
Look at the facilities the retreat offers. A good retreat will have a dedicated yoga shala and tranquil spaces for meditation and relaxation. Many also offer spa services and a swimming pool, these amenities can significantly enhance your retreat experience.
Accommodation and Meal Options
Many retreat packages include accommodation and either some or all meals. Retreat accommodation can range from shared dormitory-style rooms to private luxury villas. Consider what level of privacy you're comfortable with and what fits within your budget.
Cheaper retreats might only provide shared accommodation as standard, but they may offer the option to upgrade to a private room for an extra fee. They also may not include meals so check if there is access to a kitchen and grocery stores nearby or local restaurants for self catering. Consider doing some research into the cost of food in the destination as you might find it's a better experience and better value for money to go for a retreat with all meals included.
The food at a yoga retreat often focuses on healthy, organic, locally sourced ingredients. Many retreats only provide vegetarian food inline with the Ahimsa philosophy of not causing harm to other living things. If you have specific dietary needs or preferences, such as vegan or gluten-free, check that the retreat can cater to these. If the availability of meat, fish or alcohol is important to you check if the retreat centre offers this as not all do.
Other Activities
A yoga retreat doesn't just have to be about yoga! Many retreats offer additional activities such as hiking, cycling, horseback riding, surf lessons, boat trips, cooking classes, cultural excursions, sightseeing tours, and much more.
Many retreats also offer ayurvedic spa treatments, massages and other holistic healing and wellness therapies like meditation and mindfullness workshops. Have a look at what other activities and treatments are offered and whether they are included in the price of the retreat or if extra costs apply.
Pricing and Packages
Examine what's included in the package price. Typically, accommodation and yoga classes are included, some retreats provide all meals while others may only provide breakfast. Often extras like spa services, excursions, and airport transfers may cost more. Ensure you understand what you're paying for to avoid surprises and assess the value for money.
Reading Reviews and Testimonials
Past participants' experiences can offer valuable insights into what you can expect from the retreat. Check the reviews and testimonials on sites like bookyogaretreats.com and bookretreats.com to get a sense of the retreat's strengths and areas for improvement.
Read our full article which goes into more detail about how to choose the best yoga retreat for you.
In conclusion, finding the right yoga retreat involves assessing what's important to you and a thorough evaluation of various factors, from the yoga style and level of instruction to accommodations, meals, facilities, pricing, and reviews. With careful research and consideration, you can find a retreat that offers a transformative, enriching, and enjoyable yoga vacation.
How to Prepare for Your Yoga Holiday
A successful yoga trip begins long before you step onto your mat. From booking transportation to setting intentions, here's how to prepare for your transformative journey:
Research the Best Time to Go
The best time to go on a yoga retreat often depends on the destination's climate and seasons. For instance, if you're heading to a tropical location, you might want to avoid the rainy season. On the other hand, if you're going to a mountain retreat, consider whether you're prepared for potential cold weather. Researching seasonal differences can help you choose the best time for your retreat and pack accordingly.
Book Transportation
Pre-planning your travel is crucial in minimizing stress and ensuring a comfortable journey. Start by researching the best way to reach your destination whether it be bus, train, boat, flight or car. If you need to fly, compare flights to your destination, taking into account factors like cost, duration, and layovers. Try to book well in advance to secure the best deals and preferred schedules.
Once you've sorted your travel to your destination, consider your local transportation options. Will you need a car rental to get around, or does the retreat location have accessible public transportation? Research local customs and conditions – for instance, in some locations, hailing a taxi might be common, while in others, apps like Uber or Lyft are more prevalent.
Many yoga retreats offer airport transfers, which can greatly simplify your travel process. This service usually involves a retreat representative meeting you at the airport and taking you directly to the retreat location, eliminating the need to navigate foreign transportation systems upon your arrival.
Check Visa and Entry Requirements
If you're traveling internationally, don't forget to check your passport is valid and if you need to obtain an entry visa. Many countries allow visa free access for short visits and vacations but some, like India, require you to obtain a visa in advance of your travel.
So make sure you research the visa and entry requirements for your destinations to ensure a smooth arrival. Most countries no longer have any covid restrictions in place but it's always worth double checking the current situation.
Get Travel Insurance
Travel insurance is essential. It protects you from unforeseen circumstances such as trip cancellations, lost baggage, or medical emergencies. Make sure your policy covers all the activities you plan to do during your vacation.
Pack Wisely
Pack light, but do consider bring yoga essentials like your mat, a yoga towel, and comfortable clothing. You might want to invest in a travel yoga mat which folds or rolls up small enough to pop in your day bag.
Also don't forget items for other activities the retreat might offer, such as swimwear, hiking shoes, or a good book. Remember to pack any necessary medications and personal items. If you're traveling internationally, don't forget your passport and any visas if required.
Check out of full yoga retreat packing list here to make sure you don't forget anything.
Set Intentions
Before you leave, take some time to set intentions for your retreat. Are you looking to deepen your practice, find relaxation, or perhaps learn new skills? Having clear intentions can enrich your experience and provide a sense of direction during your retreat.
Relax and Embrace the Journey
It's normal to feel anxious before embarking on a yoga retreat, especially if it's your first time. Ease your worries by thoroughly researching your retreat, reaching out to hosts with any questions, and maintaining an open, positive mindset. Remember, this retreat is a time for personal growth and relaxation – embrace the journey!
Read our top 5 tips for your first time at a yoga retreat to help you prepare.
In conclusion, preparing for a yoga vacation involves thoughtful planning and anticipation. By considering each of these elements, you can ensure a smooth, fulfilling, and truly life-changing yoga retreat experience.
Final Thoughts on Planning A Transformative Yoga Trip
Embarking on a yoga vacation is an incredible journey that can transform your life, whether you're a seasoned yogi or new to the practice. Regardless of age or experience level, a well-planned yoga retreat can unlock a heightened sense of inner calmness, mental clarity, and an invigorating connection with your inner self.
The beauty of yoga is its universality. It's never too late to start, and every step you take on this path brings you closer to a balanced, harmonious life. A yoga retreat can be the perfect catalyst for this transformation, offering not only a serene environment to practice but also the guidance of expert instructors.
But remember, the journey doesn't end when the retreat does. Yoga retreats are great for kick starting healthier habits and to truly reap the transformative benefits of yoga, it's essential to incorporate it into your daily routine after the vacation. This way, you can continue to cultivate the peace and balance you discovered during your retreat in your everyday life.
For more tips, insights and advice on planning the perfect yoga trip explore our other articles and blogs. And if you're ready to take the plunge, don't miss our handpicked recommendations of top yoga retreats.
In essence, a yoga holiday is more than just a vacation. It's an opportunity to reconnect with yourself and nature, to nurture your body and mind, and to ignite a lasting love for yoga and wellness that might just change your life!
Happy Travels
Namaste x
Have you been on a life-changing yoga vacation? We'd love to hear about your experience in the comments below! 🙂
* This post may contain affiliate links. When you make a purchase through links on our site we may make a small commission, at no additional cost to you. We only recommend products that we love and genuinely use ourselves. All prices stated are correct on the date of publishing, but can be subject to change.
© loveyogalovetravel.com 2022-2023. Unauthorized use and/or duplication of this material without express and written permission from this site's author and/or owner is strictly prohibited. Excerpts and links may be used, provided that full and clear credit is given to loveyogalovetravel.com with appropriate and specific direction to the original content.