The Best Surf and Yoga Retreats in Portugal for 2023
Portugal is one of the most beautiful countries in Europe and is quickly becoming one of the best yoga travel destinations in the world. Portugal boasts historic cities, a stunning coastline, the best surf in Europe and a rapidly growing yoga and wellness scene. So it's no wonder surf and yoga retreats in Portugal are becoming so popular.
There's so many great places for surfing and yoga in Portugal, from the sunny beaches of the Algarve to the picturesque seaside towns near Lisbon and you'll find some of the world's biggest waves all the way up the Atlantic Coast to charming Porto in the North.
Luckily there are waves suitable for all levels and so beginner surfers and yogis will find plenty of surf camps and yoga retreats in Portugal with experienced and passionate instructors where you can learn in a fun and safe environment. But you need to do a bit of research into the different areas and retreats to find a surf and yoga holiday that suits your level of experience. That's where this post comes in!
A Guide to the Best Surf and Yoga Retreats in Portugal
In this guide we will explain why surf and yoga holidays in Portugal are such an incredible experience, find out the top destinations to head to and give our recommendations for the best retreats.
Most of them are beginner friendly perfect for learning to surf and improving your yoga practice while basking in the sun and stunning landscapes of Portugal!
Reasons to take a Yoga and Surf Holiday in Portugal
Yoga and surfing are a great combination. Yoga improves your flexibility, soothes sore muscles, and enhances your balance, all of which are also essential for catching waves. Surfing can be a thrilling, meditative and humbling experience, which all compliment yoga practice and make for a fun, active and refreshing holiday.
So why not combine the two into a surf and yoga retreat!? You'll find surf and yoga holidays in many parts of the world, including Bali and Costa Rica, but Spain and Portugal are the best place in Europe for this fusion given it's extraordinary surf breaks.
Here's just a few reasons why surf camps and yoga retreats in Portugal are so popular:
World-class surf spots – Portugal has hands down the best surf in Europe. On the Atlantic Coast not far from Lisbon you'll find Peniche and Ericeira, two surf towns in Portugal that are famous worldwide with breaks and surf camps for all levels where you can catch waves and enjoy outdoor yoga with the sand between your toes.
Peniche is famous as the home of Supertubos, a beach break that hosts the World Surf League's Championship Tour every year. While Ericeira boasts Europe's first World Surfing Reserve and a charming historic fishing town. You can also take a trip to Nazarre to marvel at the massive waves which are some of the biggest in the whole world!
Stunning nature – From the blissful national parks in Sintra and the majestic rugged cliffs of the Algarve, there are many scenic and incredibly peaceful spots to enjoy a Portugal yoga retreat or yoga teacher training. The laid-back vibe is also perfect for relaxing and unwinding during surf camps.
Idyllic climate – Spring to Autumn in Portugal is blissful, with blue skies, abundant sunshine and warm temperatures. Many parts of the country also have mild winters, so outdoor activities like hiking are available all year round. As Portugal is on a the Atlantic Coast the water temperatures are quite cool so you will need a wet suit but most retreats provide these along with all the equipment.
Affordable and safe – Portugal is also one of the safest and most affordable countries in Western Europe so your money will go further here. Traveling around Portugal is safe, easy and affordable, even for solo female travellers and there's plenty to see. Why not combine your surf and yoga retreat in Portugal with a few days exploring Lisbon or Porto, some of Europe's most unique and charming historic cities.
Pin this image!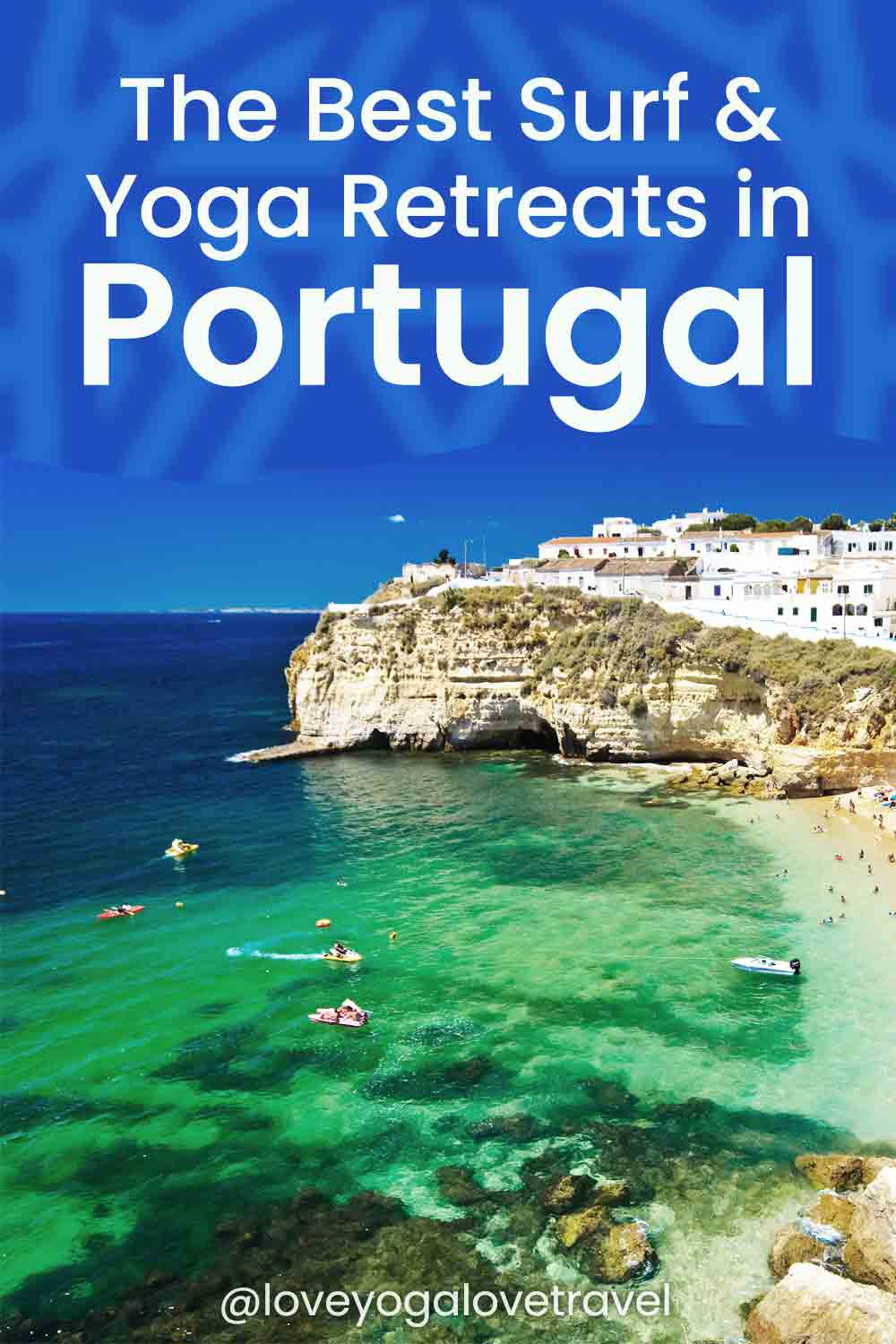 The Best Places for a Surf and Yoga Holiday in Portugal
So where can you find the best surf and yoga retreats in Portugal? While there might not be many yoga retreats in Lisbon itself the country is quite compact with many beautiful places to explore and most places are within easy reach of Lisbon.
Here are six wonderful places to surf and practice yoga in Portugal to inspire you:
Cascais – This coastal resort town is located just an hour on the train west of Lisbon, making it easy for international visitors to reach. Its charming old town and marina is full of history, while its sandy beaches are suitable for surfing, yoga, sunset walks, and of course, topping up your tan! It's the best choice for a surf and yoga retreat near Lisbon.
Sintra – This old town, located 27km from Lisbon, is famed for its 19th-century Romanticism architecture and vast national park. From whimsical palaces and hilltop castles to dramatic mountain landscapes, it truly feels like you're in a fairytale when you're in Sintra and it's home to some of the best yoga retreats in Portugal. Plus you can easily visit Lisbon for a day trip.
Ericeira – Among the most famous locations for surf camps in Portugal, this picturesque blue and white historic seaside town near Lisbon is home to Europe's first World Surf Reserve and is the perfect place to combine surfing and yoga with exploring one of Portugal's most beautiful old fishing towns. This is one of our favorite places in Portugal – check out our dedicated article on the best surf and yoga retreats in Ericeira here.
Peniche – Not only is Peniche one of the largest traditional fishing ports in Portugal, but it's also one of the most adored spots for surf or SUP lessons with long sandy Atlantic beaches and everything from beginner friendly beach breaks to championship worthy waves. You can also explore the fortress, take a day trip to the Berlengas islands nature reserve or to Obidos, the most beautiful medieval town in Portugal.
Porto – Portugal's second city, the medieval city of Porto, located on the Douro River in northern Portugal, is a must-visit for anyone who loves history and wants to experience authentic Portuguese culture and cuisine. Explore the UNESCO world heritage listed historic centre, taste port wine and explore the Douro Valley while staying at a surf camp or yoga retreat nearby.
Algarve – The southernmost stretch of Portugal, known as the Algarve, is full of beautiful beaches with hidden coves, dramatic cliffs and stunning rock formations. The Algarve has the warmest climate, some of the best waves for surfing and is one of the most popular places for surf and yoga retreats in Portugal. You can also explore vibrant, historic cities like Lagos and Faro and hike across the Seven Hanging Valleys Trail.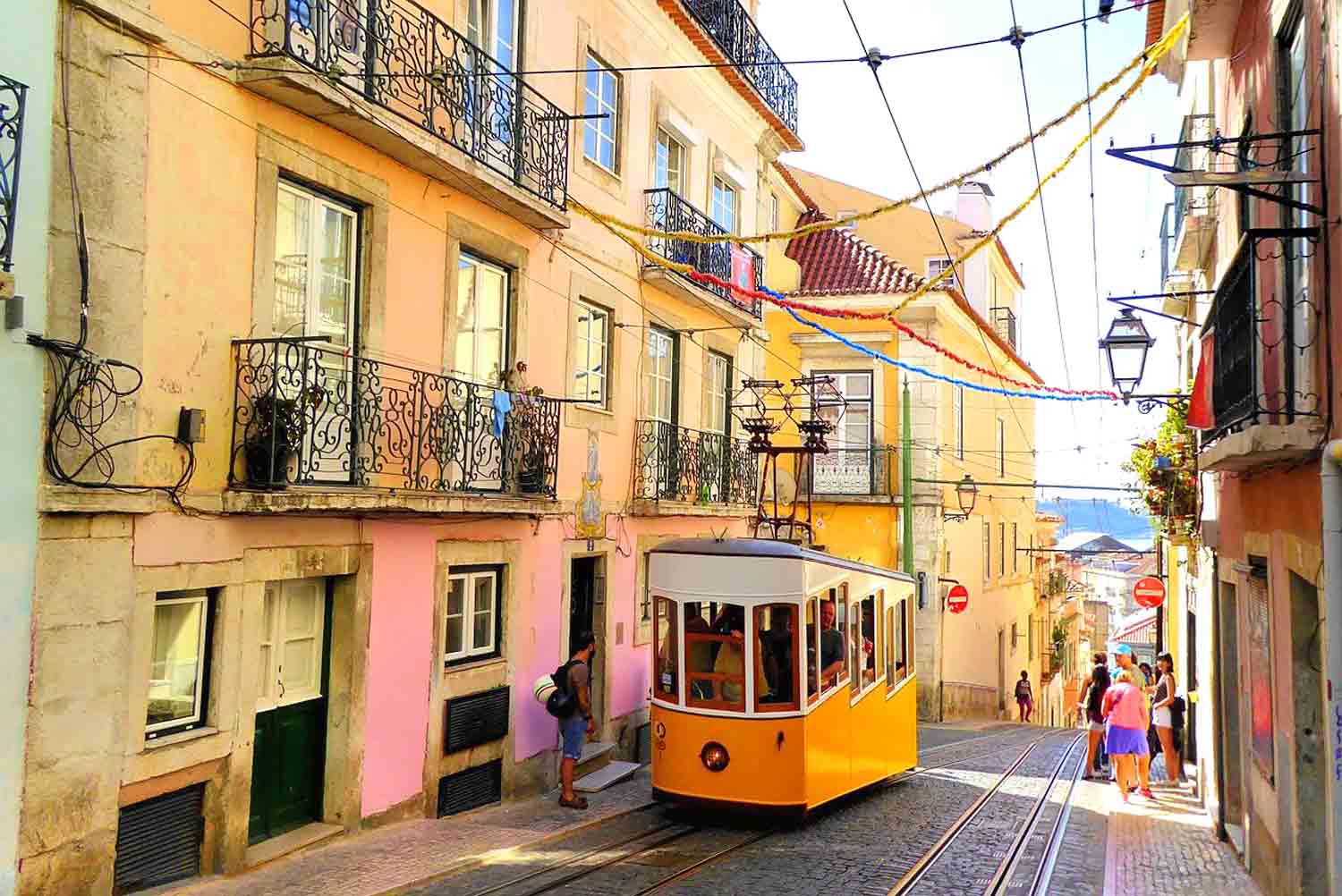 The Best Surf and Yoga Retreats near Lisbon – Cascais and Sintra:
There's not many yoga retreats in Lisbon itself but the seaside resort of Cascais is located less than a hour by train from Lisbon city center and offers beautiful architecture and beaches and a more relaxed atmosphere perfect for a surf and yoga holiday.
Sintra is another good option where you can practice yoga amidst the unique nature of Sintra National Park, surf at nearby beaches and explore some of the most colorful and flamboyant palaces in Portugal. You can easily take a day trip to explore the highlights Lisbon before relaxing back to your serene retreat for the best of both worlds.
Best Surf and Yoga Retreat in Cascais – The Salty Pelican
Salty Pelican are known for their fun, and affordable luxury surf and yoga retreats in Portugal. They have a couple of locations in Peniche, Ericiera and Cascais and offer short 4 day getaways or 8 day retreats.
Highlights:
Unlimited yoga and meditation classes (Hatha & Yin yoga)
5 guided surf or SUP lessons
Unlimited surf/SUP board rental
Daily breakfast
Accommodation in a luxury lodge complete with pool and plenty of stylish social area is included, choose from a comfortable dorm or private room and enjoy a healthy buffet breakfast after morning yoga by the sea.
Aside from yoga and surfing lessons, The Salty Pelican offers various other activities, such as massages, SUP Yoga, guided meditation, hikes, rock climbing trips and group dinner nights. This retreat is the perfect combination of adventure and relaxation and is a great option for solo travelers.
Prices from €649 / $728
The Best Yoga and Surf Retreat in Sintra – Shamballah Retreats
The 6-day surf and yoga vacation by Shamballah Retreats is set in the nature-rich surroundings of Sintra's National Park and is one of the best luxury surf and yoga retreats in Portugal.
Highlights:
10 Hatha/Vinyasa yoga sessions
4 surf lessons
5 guided meditation sessions
3 x healthy vegetarian meals a day
Aside from the daily yoga sessions, you'll have plenty of free time to explore the beautiful beaches, castles and countryside in Sintra national park. You'll stay in a luxury house with a Jacuzzi, mini gym, pool table, and various chill-out zones.
Prices from €1,220 / $1,368
The Best Yoga and Surf Camps in Ericeira
Omassim Surf Camp and Yoga Retreat
If you want to significantly improve your surfing skills or yoga practice, this 8-day fun packed yoga and surf retreat in Portugal is for you.
Highlights:
Twice daily Vinyasa & Yin yoga classes
10 surfing lessons
Healthy lunch and dinner included each day
Omassim Guesthouse is just 15 minutes from Ribeira D'Ilhas beach in Ericeira, one of the most famous surf spots in Portugal. The retreat suits all levels, as participants will be split into small groups for the surf classes.
Prices from €935 / $1.048
This fun 6 day surf and yoga holiday in Ericeira is a great option for beginners and offers the perfect package of adventure, relaxation and friendly, laid back vibes.
Highlights
Daily yoga and meditation classes in a yurt
3 beginner surf lessons
Healthy breakfast, vegetarian dinner and transfers into town
1 relaxing massage
The Moka Surf House and Yoga Retreat is held in a charming Portuguese villa with scenic ocean views from the terrace and the yoga classes are held in a Mongolian yurt. Daily local transfers to the town and beaches are provided to make it easy to explore the area.
This is one of our favorite surf and yoga retreats in Portugal because of the expert teachers and friendly vibes.
Prices from €524 / $587
The Best Yoga Retreats and Surf Camps in Peniche
Boa Onda Surf and Yoga Retreat
The 8-day ocean retreat is a fab way to combine surfing and yoga while having plenty of free time to enjoy the stunning scenery of Peniche.
Highlights:
6 surf classes
7 Hatha yoga classes
Daily healthy breakfasts
The beachfront guest house offers shared and private accommodations suited to all budgets. The plentiful classes, experienced instructors and beautiful beaches make this one of the most popular surf and yoga retreats in Portugal.
Prices from €699 / $784
This incredible 8 day surf and yoga holiday on Baleal Island in Peniche includes everything you need to experience the best of this stunning region of Portugal.
Highlights
Yoga, Surf and SUP sessions for all levels
Tour of the beautiful medieval town of Obidos
Homemade breakfast and traditional Portuguese dinners
You'll stay in the gorgeous Balili House on Baleal Island, just steps away from the beach, which boasts an ocean view terrace with a jacuzzi, and enjoy a varied program of activities and relaxation each day.
This is one of our favorite surf and yoga retreats in Peniche because of the stunning setting and wide variety of activities offered.
Prices from €435 / $488
The Best Yoga and Surf Camps near Porto – Northern Portugal
Do you dream of spending your days catching waves and practising yoga and your nights' glamping on the beach with campfires, stargazing, and insightful conversations? If so, you'll love this 8-day retreat near Porto.
Highlights:
5 surf lessons
4 Hatha yoga sessions
Free skate and bike hire
Optional day trip to Porto
On this unique surf and yoga retreat in Portugal you'll stay in tipi glamping tents equipped with comfy mattresses, electricity, and lights. The campsite also has an equipped kitchen, but buffet breakfasts and five cooked dinners are included in the package.
Prices from €497 / $557
This eco-friendly yoga and surf camp takes place on pristine and unspoilt beaches 30 km south of Porto and is the perfect choice if you want to get away from it all and be immersed in nature. With expert surf instructors you're sure to have a safe and fun experience catching the waves in the morning and relaxing with sunset yoga sessions.
Highlights
12 hours of surf lessons in a secluded secret surf spot.
8 relaxing sunset yin yoga sessions
Daily buffet breakfasts
You'll stay at the sustainable and stylish Golden Waves Surf Lodge with spacious and sociable common areas, tennis court, swimming pool and a choice of rooms from dorms to private ensuite rooms. A buffet breakfast is served daily and there's a fully equipped kitchen for guests to use.
This is one of our favorite yoga and surf camps in Portugal because of it's location, commitment to sustainability and dedicated instructors.
Prices from €599 / $672
The Best Surf and Yoga Retreats in the Algarve – Southern Portugal
If you're looking for a luxurious yet active short break in the Algarve this is the perfect choice.
Highlights
Stay in the luxury 5 star W Hotel
Daily surf and yoga lessons
1 relaxing massage
Delicious breakfast and dinner
During this 5 day beach, surf and yoga vacation you'll stay in a premium room at the 5 star W Hotel which has a state-of-the-art fitness center, wellness and spa facilities. Enjoy 2 hour surf lessons and a Hatha yoga class each day. Breakfast, dinner, transfers to the beach and all equipment are included.
This is one of our favorite surf and yoga vacations in the Algarve because of the luxury accommodation and, of course, the beautiful Algarve beaches.
Prices from €1,635 / $1,833
If you're looking for serious surf tuition and the most beautiful beaches in the Algarve head to Tiny Whale Surf Lodge near Lagos.
Highlights
5 Days of comprehensive and personalized surf coaching
6 Relaxing surf inspired yoga sessions
7 nights luxury accommodation of your choice
7 healthy breakfasts, 5 picnic lunches, and 5 delicious two-course dinners
Choose from a luxurious safari tent or cute cabin to a private ensuite room in the stylish surf lodge and enjoy the fantastic views and service from the surf lodge team who will wait on you hand and foot. Most meals are provided by the onsite chefs and you'll also get to enjoy an evening out in a local restaurant in Lagos.
This is one of our favorite yoga and surf retreats in Portugal because of the team's dedication to professional surf coaching and the stunning accommodation. It's ideal for those keen to learn to surf or improve their technique fast.
Prices from €860 / $964
If you're looking for a fun and lively surf and yoga holiday in the Algarve check out Russo Surf Camp in the increasingly popular Aljezur region
Highlights:
Morning yoga on a deck overlooking the ocean
Surf lessons with Luis Marreiros, one of the Algarves top surfers
Cute bungalow accommodation in Costa Vicentina National Park
All home cooked meals included
Bar with BBQ, games and live music parties
The resort is a huge modern Portuguese country house located in the middle of a natural park with stunning views of the forest and ocean. The morning flow yoga classes take place on a wooden deck overlooking the ocean.
Choose from shared dorms to cozy private wooden bungalows and enjoy the gardens, swimming pool and large bar area with games, a BBQ and live music party on Fridays. Three delicious, home cooked meals each day are included in the package.
This is one of our favorite yoga and surf camps in the Algarve for those looking for a fun, lively and sociable all inclusive surf and yoga holiday.
Prices from €650 / $729
Whether you're an avid surfer or are trying the watersport for the first time, Arrifana Surf Lodge's 8-day surf and yoga retreat in Portugal will help you progress, thanks to the small group sizes and tailored tuition.
Highlights:
6 days of guided surfing (2 sessions per day)
A Hatha yoga session each morning
1 relaxing or sports massage
The surf house boasts a plunge pool, yoga terrace, and ocean views. In addition, you'll enjoy a daily buffet breakfast, dinners at local restaurants, and BBQs.
Prices from €800 / $897
Vida Pura Eco Yoga Retreat in Odeceixe
The 8-day eco-friendly surf, yoga and meditation retreat at Vida Pura is set in a nature reserve in Aljezur close to the stunning Odeceixe beach.
Highlights:
Daily yoga sessions (multi-style) on an outdoor yoga deck with countryside views
Daily surf lessons for all levels
Daily meditation to cultivate presence and calm
Healthy breakfasts every day
You'll stay in an inspiring eco community retreat. Choose from accommodation in the house, private apartments or even tipi tents and be immersed in nature and good vibes. Retreats here are customizable and include plenty of free time to relax, try SUP, go for forest walks, get a massage, and enjoy the sunshine.
This is one of our favourite Portugal retreats because of the eco resort setting, laid back program and stunning nature.
Prices from €730 / $818
Tips for Planning Your Surf and Yoga Trip to Portugal
Portugal is an easy, safe and affordable country to visit, even for solo female travellers, in fact many surf and yoga retreats in Portugal are ideal for solo travelers.
Whether you come with friends, family or solo, here's a few tips to help you plan your trip to Portugal.
Tips for Getting to Portugal and Getting Around
If you're flying into Portugal from outside Europe you'll most likely fly into Lisbon, but Porto in the North and Faro in the Algarve, also have international airports with budget airlines that connect to the rest of Europe. Check Skyscanner to find the best flight deals.
Lisbon's airport is well connected to the capital city by metro line, buses and taxis including Uber are also available. Ask your retreat organiser if they provide airport transfers, as some do as part of the package. If not, don't worry as Portugal has a great modern bus network and most places in Portugal are within quick and easy reach by bus or train from Lisbon. The Rede Expressos buses are the most comfortable.
Best Time for a Surf and Yoga Holiday in Portugal
The best time to visit Portugal for most surf and yoga retreats is between April – October, although if you're an experienced surfer you might be tempted by the larger swells in Winter.
Beginner surfers though will find the waves in the summer easier to handle and the weather is sunny and warm perfect for sightseeing, beach days and practicing yoga outside.
Ensure you have good travel insurance covering all the activities you plan to do on a surf and yoga retreat in Portugal, including yoga, surfing, hiking and water sports.
Finally, always check the reviews on BookYogaRetreats before you commit to any yoga, surf or wellness retreat in Portugal.
I hope this article has helped you find your ideal surf and yoga retreat in Portugal. You might also like our other articles on the best surf and yoga retreats in Bali, or tips on how to choose a yoga retreat, a guide to the best yoga mats for travel, and also our quick and easy yoga retreat packing list to help you prepare for your holiday.
* This post may contain affiliate links. When you make a purchase through links on our site we may make a small commission, at no additional cost to you. We only recommend products that we love and genuinely use ourselves. All prices stated are correct on the date of publishing, but can be subject to change.
© loveyogalovetravel.com 2022-2023. Unauthorized use and/or duplication of this material without express and written permission from this site's author and/or owner is strictly prohibited. Excerpts and links may be used, provided that full and clear credit is given to loveyogalovetravel.com with appropriate and specific direction to the original content.