7 Beautiful Yoga Retreats in Bali (2023)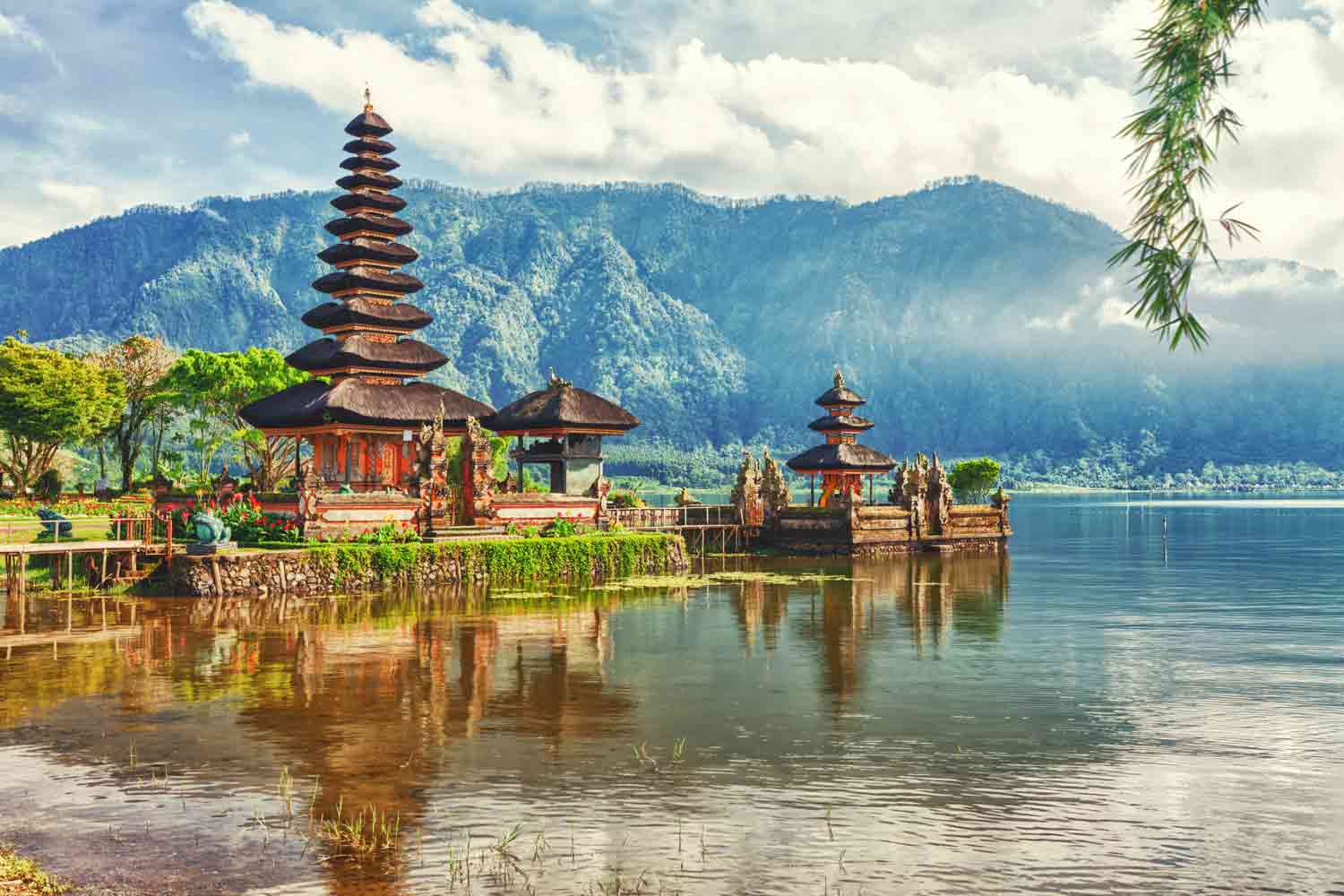 If you're looking for the perfect yoga and wellness vacation on a beautiful, tropical and spiritual island then look no further than Bali, Indonesia.
Bali has so much to offer – from verdant rice terraces to sun-kissed beaches, ancient temples, world-class spas, vegan eateries and welcoming people. Plus, there's a huge number of amazing yoga retreats in Bali for all experience levels and budgets.
Whether you are looking for drop in classes at Bali's best yoga studios, beginner friendly budget yoga retreats, fun surf and yoga holidays, luxurious spas and wellness retreats or yoga teacher training courses, there's no shortage of options for yoga in Bali.
Bali's yoga retreats are certainly among the most magical in the world, but with such a huge range to choose from it's hard to know where to start! But don't worry, I'm here to help.
A Guide to Yoga Retreats in Bali
Bali is my favorite yoga destination in the world. I've been lucky enough to spend a lot of time on the island and try some of the best Bali yoga centres. I even did my yoga teacher training in Bali. I also know how overwhelming it can be to find and choose the perfect Bali retreat and I want make it easier for you.
So in this post I'll guide you through what makes Bali such a great wellness destination, give you my recommendations for the best yoga retreats in Bali, and some tips on how to choose the best one for you.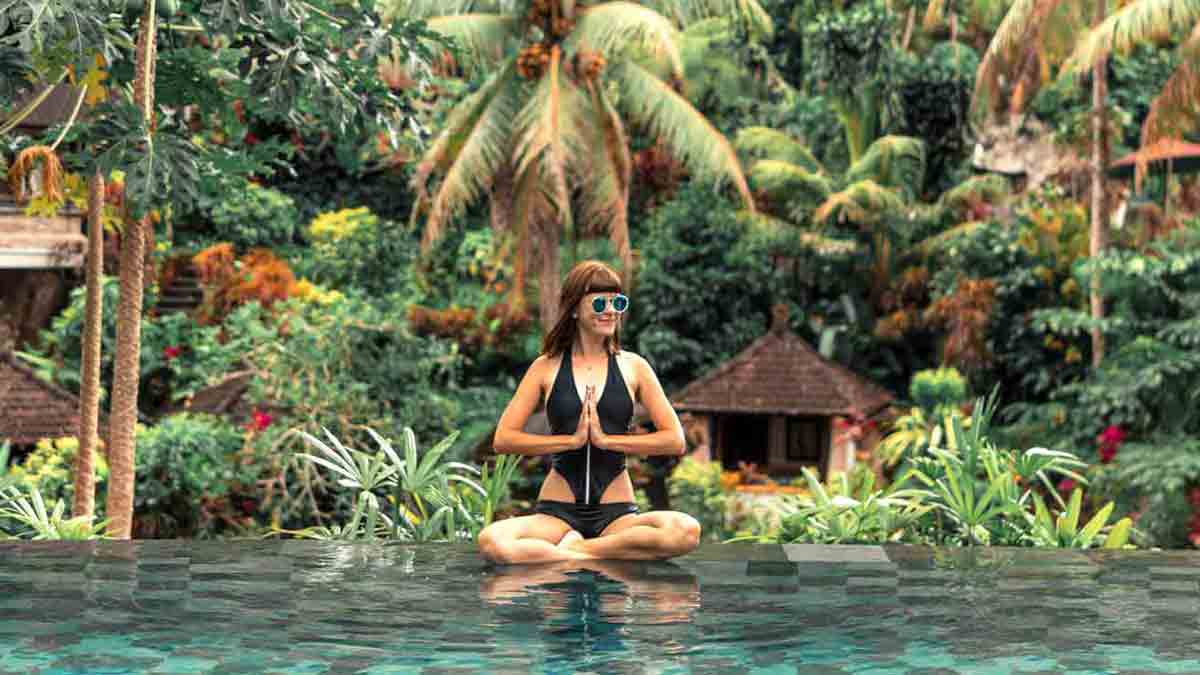 Why Bali is such an Amazing Yoga Destination
Wellness, yoga, meditation and spiritual retreats in Bali are among the best in the world. This is because Bali offers so much more than just stunning scenery and beautiful beaches. It's also known as 'the island of the gods' due to it's deeply spiritual culture, incredible temples, lovely people and long history of healing which makes it such an amazing place to practice yoga.
Bali is a land of healing, spirituality, and rich cultural traditions that date back centuries. Much like India, the birthplace of yoga, Bali follows the Hindu religion and offers a plethora of opportunities to heal and dive deeper into the practice of traditional yoga.
Beyond the yoga mat, Bali's numerous workshops, holistic healing therapies and ceremonies are sure to pique your curiosity and expand your understanding of wellness culture.
For solo female travelers Bali's thriving yoga community offers a warm and welcoming environment. The locals are friendly and the island is clean, safe and genuinely lovely making Bali the perfect place even for first time solo retreat.
The Best Places for Yoga in Bali
While you can find retreats all over Bali, the most popular destinations for yoga in Bali are Ubud and Canggu.
Ubud is located inland and is known for being the cultural, spiritual and artistic center of the island. Ubud also offers numerous vegan cafes, workshops, healing therapies, yoga teacher trainings and is home to the Yoga Barn – the most famous of all the yoga studios in Bali.
If you'd prefer a beach yoga retreat or fancy learning how to surf, Canggu is a great choice. The beaches of Canggu are famous for their surf spots and there's a lively yoga and surf scene with plenty of hip cafes, boutiques and nightlife nearby.
Ulu Watu is another area of Bali with a growing yoga scene and famous surf breaks, along with the beautiful Ulu Watu temple. You might also want to consider a yoga retreat on neighboring small islands like Nusa Lembongan or the Gili Islands for a blissful island escape.
If you want really immerse yourself in traditional Balinese culture and lifestyle there are also some great ashrams, yoga and spiritual retreats away from the touristy areas.
The plethora of wellness centers and spas here have lead Bali to become one of the world's leading wellness destinations and yoga hotspots. Whether you're looking to meditate, practice yoga, or rejuvenate your mind and body in the spa, Bali is the ultimate destination for wellness retreats.
Best of all, many of the best yoga retreats in Bali provide a complete vacation package that includes daily yoga sessions, delicious healthy food, meditation classes, spa treatments, sightseeing tours and cultural activities, making them exceptional value for money.
Pin this image!
7 of the Best Bali Yoga Retreats for 2023
So let's get on with my pick of the top Bali yoga retreats based on personal experience and reviews.
Moksha, in the Hindu religion and philosophy, means liberation, and this the ethos behind De Moksha Boutique Resort where you'll find every detail has been taken care of to give you the perfect luxury yoga vacation.
Highlights include
Daily multi style yoga classes in a semi open air shala
90-minute spa treatment in the riverside spa
Cultural excursions and workshops
Vegetarian meals and fresh juices
6 nights accommodation in luxury private villas
This beautiful, luxurious, eco-friendly yoga and wellness retreat in Bali is located near Tanah Lot temple, surrounded by picturesque rice fields and authentic Balinese villages, yet still close enough to explore the lively beaches of Canggu and Seminyak.
Whether relaxing by the pool, in the riverside spa or in your villa, the whole resort is simply stunning, there's even the option to upgrade to a private pool villa. As well as enjoying daily yoga and meditation sessions in a variety of styles with the experienced teachers from Mira Yogashala, you'll also experience the rich Balinese culture through local excursions and workshops in dance, cooking and offering making. The luxury Bali yoga holiday experience doesn't get much better than this.
While there are many yoga retreats in Bali for beginners, Firefly in Ubud is one of my favorites. The serene rice field setting, healthy meals, yoga classes and guided meditation sessions will allow you to find balance in your body and mind.
Highlights of this retreat include:
Accommodation in a magical rice field yoga resort
Daily yoga classes in a variety of styles including Hatha, Vinyasa and Yin
Traditional Balinese cultural activities and excursions
Organic vegetarian meals
This retreat is a great choice if you're looking for a relaxing Bali yoga vacation with included excursions and activities to help you to learn about the unique Balinese culture. There's also plenty of free time to relax by the outdoor pool.
This Bali yoga retreat is located in a peaceful spot in the rice fields yet it's just a short walk to explore everything happening in the yoga hotspot of Ubud. It's also one of the most affordable yoga retreats in Ubud!
Best Balinese Culture and Wellness Retreat – Balitrees
If your looking to learn a new style of yoga and meditation while also getting a real insight into the beautiful Balinese culture then escape the tourist hotspots and head to Balitrees!
Highlights include:
Balinese Watukaru yoga and meditation classes
Authentic Balinese cultural excursions
2 pampering spa treatments
Daily wholesome meals made with love and care
7 nights accommodation surrounded by nature
At Balitrees you'll experience an authentic Balinese cultural and wellness retreat that combines ancient yoga and meditation practices with chakra opening and pranayama to help you relax and deepen your self-discovery.
This transformative retreat is suitable for beginners and offers twice daily Balinese Watukaru yoga classes and meditation sessions, along with pampering spa treatments to melt away tension.
You'll also immerse yourself in the rich Balinese culture through local excursions like rice farming and coconut oil making and enjoy delicious and wholesome meals made with love.
This 8-day retreat promises a true Eat, Pray, Love experience, allowing you to recharge, rejuvenate, and fall in love with Bali and its friendly people. No wonder this is one of the best yoga retreats in Bali.
Yoga and surfing are the perfect combination and Pelan Pelan near Canggu is the best place to experience the best of both, no matter your experience level.
This experience includes:
Surf lessons with local experts
Hatha yoga classes with a Balinese yoga teacher
3 Balinese massages
Homemade healthy Indonesian meals
This is one of the best yoga and surf retreats in Bali and is perfect for everyone as there are multiple surf spots nearby with waves ideal for both beginners and advanced surfers and you'll receive personalised tuition for expert yoga teachers.
Choose from budget friendly shared rooms or luxurious private rooms in the beautiful villa. Relax by the pool in the tropical gardens, choose from the many excursions or use the free bicycles to explore the local area.
My favorite affordable yoga retreat in Bali is Serenity Eco Guesthouse. This amazing Canggu yoga retreat offers a week of unlimited yoga, accommodation, breakfast and a one-hour Balinese massage at an amazingly low price.
The retreat includes:
Unlimited yoga classes in many different styles
Vegan buffet breakfasts
Shared dormitory accommodation in hip Canggu
With a choice of up to 10 yoga sessions a day in a huge variety of styles this retreat is perfect for beginners wanting to try out new yoga styles. After your yoga class, relax by the resort's swimming pool or head to the beach or explore Canggu.
Not only is this one of the best yoga retreats in Bali, it's also one of the most affordable retreats in the world! Choose between shared dorms or, for an additional fee, upgrade to a private room.
Best Yoga Retreat on Nusa Lembongan – Yoga Bliss
If you want to experience what Bali was like 20 years ago then escape from it all and experience this incredible yoga and surf retreat on the idyllic island of Nusa Lembongan, Bali, with Yoga Bliss Retreats.
Highlights include
Unlimited yoga classes and 2 surf lessons
2 Balinese massage treatments
Snorkeling with manta rays
6 nights island accommodation to suit different budgets
Delicious, healthy breakfast each day and onsite cafe
The week long program includes unlimited yoga classes, two surf lessons with expert instructors, snorkeling with majestic Manta Rays and two Balinese massages. And with Yoga Bliss, you always have the freedom to tailor your retreat.
There's a range of comfortable private wooden bungalows to choose from depending on your budget. Whichever you choose you can enjoy access to a refreshing swimming pool. Daily healthy breakfasts are included in the package and the on site cafe is one of the most popular for yogis on the island.
The 3 tiny Gili Islands of Gili Air, Gili Trawangan and Gili Meno, are nearer to Lombok than Bali but are only 1 hour away by speedboat and shouldn't be missed. If you're looking for a tropical island yoga retreat Gili Air is really the perfect setting.
Here you can embark on a transformative 7-day chakra activation yoga holiday on this enchanting island with Flowers and Fire Yoga Garden. On this unique and personalized retreat you'll explore the elements, asanas, pranayama and feeling states of each Chakra center from root to crown.
Highlights include:
Take a journey through all the chakras
Daily yoga, pranayama and meditation sessions
6 night accommodation in a stunning, tropical island resort
Delicious and healthy daily breakfast and lunch
Open to all levels, enjoy a journey through the chakras with unlimited daily yoga classes and balancing evening sessions. Immerse yourself in the magical surroundings of the beautiful yoga resort made from natural materials, practice yoga with natural jute yoga mats and props and take a dip in the swimming pool.
A delicious and healthy daily breakfast and lunch are included and for dinner you can explore the other restaurants on the island and take in the stunning sunsets. The flexible schedule allows you to co-create your own retreat experience while nourishing your body, mind, and soul.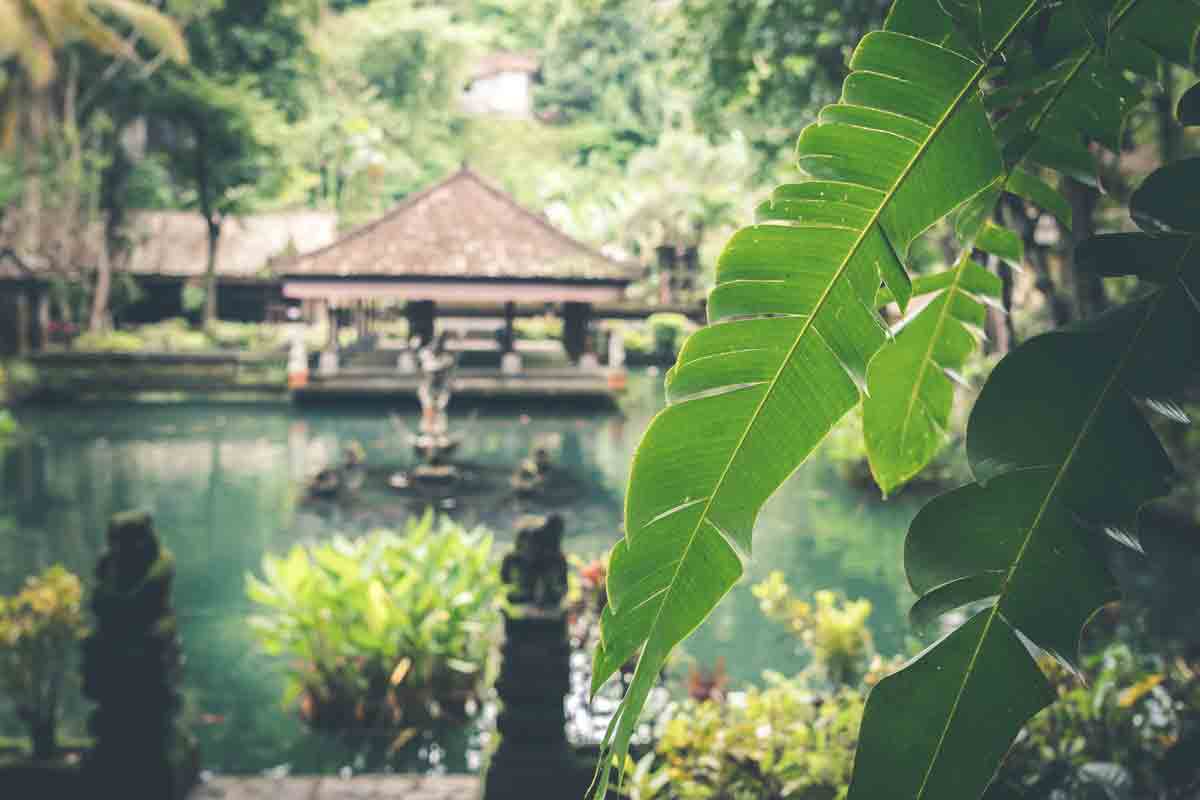 How to Choose the Best Bali Yoga Retreat for You
With so many incredible yoga and wellness retreats in Bali it can be difficult to choose the right one for you. Here's a few things to consider when choosing a yoga retreat in Bali.
Level and Style of Yoga
While most Bali retreats can cater for beginners by offering modifications for the more advanced poses it's important to be honest with yourself about your level of experience to ensure you find a retreat most suitable for you wherever you are in your yoga practice.
If you are a beginner or it's your first yoga retreat, you'll probably feel overwhelmed and not have a great experience if you end up on a yoga teacher training retreat. Whereas if you are more experienced yogi a retreat aimed at beginners might not be challenging enough for you.
Some yoga retreats focus on just one style of yoga whereas others may offer the classes in a variety of styles. When choosing a retreat consider whether you prefer dynamic styles like Ashtanga and Vinyasa flow or more relaxing yoga styles like restorative and yin.
Some even offer the opportunity to try ariel and acro yoga and yoga nidra. Bali even has it's own style of yoga called Watukaru. If you're not sure go for a multi style or traditional Hatha yoga retreat.
Beach or Jungle Location
Bali is a bigger island than most people realise so choose your location wisely. If your dream yoga holiday involved being immersed in the jungle choose an inland retreat near Ubud, or if you dream of relaxing on the beach and learning how to surf then look for a beach yoga retreat.
Also be aware that some areas most popular tourists have more busy, crowded, party areas, not ideal for a relaxing yoga retreat but it can be fun and convenient to be close to the nightlife and sights – it really depends on what you are looking for.
Accommodation, Meals and Facilities
Whilst facilities in Bali are generally of a very high standard the type of accommodation, facilities and meals included can vary.
Sometimes accommodation on budget retreats in Bali will be in shared rooms or dormitories whereas luxury yoga retreats in Bali will normally offer beautiful accommodation in private rooms or villas, swimming pools and a spa.
Food is another important factor to consider, most wellness retreats in Bali will serve healthy, delicious, organic food, but many only offer vegetarian or vegan meals. Some do not serve alcohol either, so check that the food meets your requirements.
Other Included Activities
Yoga holidays in Bali are often great value for money depending on what's included in your retreat package.In addition to daily yoga and meditation classes many also include some spa treatments and massages, surf lessons, sightseeing excursions, airport transfers and cultural activities like cooking classes and offering making.
Always check whats included in the retreat package. Some budget retreats may not include all meals and spa treatments, additional activities and airport transfers might be charged extra. So you might find an all inclusive retreat is actually better value for money.
Check the Reviews
While some yoga retreats may look beautiful it's important to check the reviews from previous guests so you know what to expect. Be aware that reviews on a retreats website or social media pages might not tell the whole story so its best to check reviews on an unbiased website like bookyogaretreats or bookretreats before you book.
Also, read this article for more tips on how to choose a yoga retreat.
Tips for Planning your Trip to Bali
Once you've found the perfect Bali yoga retreat it's time to start booking your flights and planning your trip to this magical island. Here's some essential travel tips to help you.
The Best Time to Visit Bali
Bali is a tropical island so it's warm all year round with the temperature being between 82°F to 90°F (28°C and 32°C) all year round. The more mountainous areas, like Ubud, feel slightly cooler.
There are two distinct seasons in Bali that you should know about and take into account when planning your trip.
Bali's dry season generally runs from April – September and is the best time to visit Bali for beach days, sunbathing, hiking, diving and most outdoor activities. The dry season is the main tourist season with July and August being the busiest, peak tourism months. Beginner surfers are also better off visiting Bali in the dry season.
The wet season is from November to March with the frequent tropical downpours that give Bali is luscious, tropical, greenery. The wet season is a good time to visit Bali to enjoy cheaper prices at the spas and luxury resorts and escape the crowds but of course it's not the best time to practice yoga outdoors. It doesn't rain all day and some areas like East and North are not so wet, whereas areas like Ubud see the most rain. Christmas and New Year are also busy times.
How to Get to Bali
Bali is a long way from Europe and America but just a short hop from Australia. Ngurah Rai International Airport (DPS) also known as Denpasar International Airport is very close to the beaches in the south and is Bali's only airport.
There are not many direct flights from Europe or North America to Bali but there are frequent connections Asian hubs like Singapore, Kuala Lumpur and Bangkok and also with Australia and the Middle East.
To reach Bali from Europe or America you'll probably have to fly to one of these cities and then change so why not break the journey and have a few days stopover and explore somewhere like Singapore on the way.
Most nationalities can get a 30 day Visa on Arrival at the airport which costs USD 35. This can be paid in cash in several major currencies or by card. You can extend the visa by a further 30 days by visiting the immigration office in Denpasar.
Most of the best yoga retreats in Bali will offer airport transfers as part of the package but don't worry if not. Once you arrive, walk to the right as you exit the airport and get a fixed-rate coupon for an official taxi.
Another thing you can do to help prepare for your Bali yoga trip is to read out article about the commonly used Sanskirt yoga words you need to know before your retreat and our essential yoga retreat packing list.
Final Thoughts about Retreats in Bali
With so many amazing retreats in Bali it can be difficult to pick just one. But as long as you've carefully considered your personal requirements and preferences you can't really go wrong with Bali.
There's something for everything here, everywhere is beautiful and the vibe is super special which means that any trip to the Island of the Gods is bound to be a wonderful experience.
I hope this post has helped you to find your ideal Bali retreat and that you'll love Bali as much as I do.
* This post may contain affiliate links. When you make a purchase through links on our site we may make a small commission, at no additional cost to you. We only recommend products that we love and genuinely use ourselves. All prices stated are correct on the date of publishing, but can be subject to change.
© loveyogalovetravel.com 2022-2023. Unauthorized use and/or duplication of this material without express and written permission from this site's author and/or owner is strictly prohibited. Excerpts and links may be used, provided that full and clear credit is given to loveyogalovetravel.com with appropriate and specific direction to the original content.