Top 5 Surf and Yoga Retreats in Ericeira, Portugal (2023)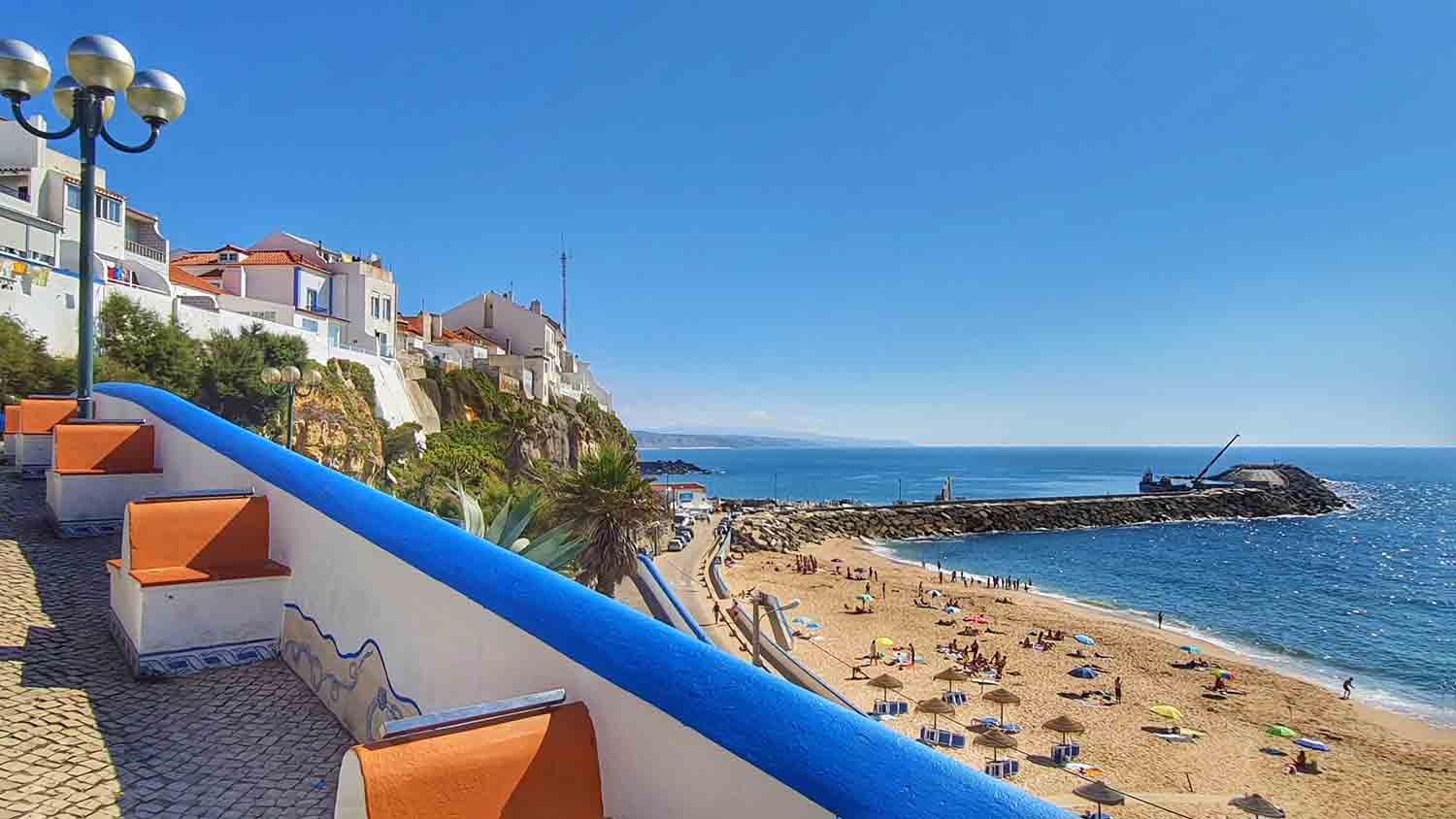 If you're looking to combine a yoga holiday with learning to surf and exploring one of Portugal's most beautiful seaside towns, then the amazing surf and yoga retreats in Ericeira, Portugal are the perfect choice.
Located less than 1 hour from Lisbon on Portugal's stunning west coast, Ericeira is a beautiful, historic and unspoilt fishing town known for its outstanding surf breaks. It's no wonder that Ericeira is becoming a popular destination for surfers and yogis alike.
Why we love Surfing and Yoga in Ericeria
Ericeria is home to Europe's only world surf reserve with a variety of beautiful beaches and consistent surf breaks to suit everyone from beginners to experienced surfers. Ericeria also boasts a picturesque blue and white old town, spectacular coastline and a thriving yoga community.
Yoga and surfing are the perfect combination, the two practices complement each other perfectly. While surfing provides an invigorating full-body workout and an exhilarating connection to nature, yoga offers a soothing and centering practice that focuses on breathing, flexibility, and mindfulness. Combining the two allows you to harness the strength and energy from surfing with the mental clarity and balance from yoga.
This is exactly why surf and yoga retreats in Ericeira make the ultimate vacation that is the perfect blend of relaxation, fun and adventure. It's the perfect place to immerse yourself in both practices and find complete harmony of body and mind.
From guided yoga sessions on the beach to surfing lessons with experienced instructors, a surf and yoga retreat in Ericeira offers a truly unique experience that is sure to leave you feeling rejuvenated, energized, and grounded.
As surfing and yoga in Ericeira has become so popular in recent years there are now numerous surf camps offering surf lessons as well as several yoga studios offering drop in yoga classes and some of the best yoga retreats in Europe. But the best way to really experience all this stunning location has to offer is with one of the many surf and yoga retreat packages to suit all budgets and experience levels.
Pin this image!
The Best Surf and Yoga Retreats in Ericeira, Portugal
Ericeira is one of our favorite destinations for surf and yoga retreats in Portugal but with so many surf camps, hostels and yoga retreats available it can be tricky to choose the right one for you.
So we've rounded up the top 5 very best surf and yoga retreats in Ericeira, Portugal to help make planning your vacation easier.
The Salty Pelican Surf and Yoga Retreat in Ericeira, Portugal offers an amazing 8-day Women's Surf and Yoga Holiday. This perfect blend of Hatha flow and afternoon Yin yoga sessions, combined with surfing lessons, unlimited surfboard rental and luxurious accommodation, is an outstanding opportunity to unwind and rejuvenate.
You'll enjoy a daily buffet-style breakfast, afternoon meditation hikes to secluded national park beaches, free time to explore the town and beaches of Ericeira and nearby Sintra National Park & Lisbon, and comfortable 7-night premium accommodation complete with a swimming pool just 500m away from the beach.
Surf lessons are suitable for beginners and intermediates and held in small groups so you'll recive personalised instruction whatever your surf level. The stunning seaside location makes for an invigorating atmosphere, inspiring deep relaxation and fostering a sense of community with like-minded individuals. This is one of the most popular surf and yoga retreats in Portugal so book early to secure your spot.
If you have less time then they also offer a shorter 4 day package for those looking for a weekend retreat or short break.
If you want to really level up your surfing skills and deepen your yoga practice, join Omassim Guesthouse's incredible all inclusive 8-day intensive surf camp and yoga holiday in Ericeira, Portugal!
Located in a quiet and scenic area in Palhais village, this retreat offers bright, homely accommodation with an open view of green hills. In this retreat, you get to experience the perfect balance between activity and relaxation, complete with morning Vinyasa and evening soft yoga classes, healthy home-made vegetarian food, and 10 surf classes along with wetsuits, boards, and transportation.
Whether you are a complete beginner looking to learn to surf or an intermediate wanting to progress quickly you'll receive expert tuition and experience riding some of the best waves in Europe. With Ribeira D'Ilhas beach, a World Surf Reserve, just a 15-minute walk away, you'll have everything you need to reconnect with your natural state and the elements. Join Omassim Guesthouse's yoga and surf retreat and level up your surf and yoga practice.
The Moka Surfhouse & Yoga Retreat in Ericeira is one of the very best surf and yoga retreats in Ericeira for anyone looking to have a fun surf and yoga holiday. With a harmonious blend of yoga and surfing, guests are able to reconnect with nature while increasing strength and flexibility.
You'll enjoy 2 daily yoga classes and workshops in the large Mongolian yurt that cater to all difficulty levels, with energizing morning sessions and slower afternoon ones. The retreat also includes 3 two-hour surf lessons suitable for all levels and a 1-hour relaxing massage.
You'll stay in a charming Portuguese villa with a sociable vibe, relaxed atmosphere, beautiful gardens and scenic ocean views from the terrace. Enjoy delicious vegetarian dinners and daily transfers to the town and beaches that make it easy to explore this stunning area.
Ondina Guest House offers an incredible all includive 8-day surf and yoga retreat in the scenic Casais de São Lourenço, a small and peaceful village close to Ericeira, Portugal.
This package offers an unforgettable experience of surf lessons and hatha yoga classes twice a day and also includes a rejuvenating back massage and amazing full board meals with plenty of vegan and vegetarian options.
São Lourenço Beach is just a five-minute walk from the guest house, offering an ideal location for surfing at one of the world's surfing reserve havens. The guesthouse is super cozy, friendly and homely vibes with relaxing gardens, roof terrace and a yoga studio with breathtaking sea views.
This is one of the most popular surf and yoga retreats in Portugal and highly recommended for the perfect opportunity to enjoy a fun and healthy holiday!
The ArtHouse Yoga Surf retreat in Ericeira offers a unique opportunity to experience an affordable 7 Days Surf and Yoga while staying at a comfortable Bed and Breakfast with an incredible ocean view and good vibes.
The retreat includes vinyasa yoga sessions, surf lessons, a delicious tapas-style dinner with the group, and transportation to the beach. Meals are not included in the package for this budget friendly retreat but you can prepare your own food in the kitchen or purchase it at the property.
The ArtHouse boasts a roof terrace with ocean views and is located just five minutes from the center of the village and beaches, offering the perfect mix of relaxation, fun and exploration.
How to Choose a Retreat
There's no shortage of choice when it comes to Ericeira surf and yoga retreats but all of them are different which makes it tricky to choose. Most retreats offer daily yoga classes and surf lessons, but can vary a lot in terms of accommodation, facilities, meals and other activities included and price. So consider your intentions and preferences to find the best retreat for you.
The most important things to consider when choosing a surf and yoga retreat include:
Experience Level – Whether you're a beginner looking to learn to surf or a more experienced surfer or yogi, checking that the retreat is suitable for your experience level is important to ensuring you have a good experience. While most yoga teachers and surf instructors can cater for beginners by offering modifications or extra guidance it's worth checking what level the retreat is aimed at to ensure you get the most out of the experience, especially if it's your first yoga retreat.
Yoga Styles – There are many different styles of yoga from traditional Hatha yoga to dynamic Ashtanga and Vinyasa flow, relaxing restorative and yin yoga and even ariel and acro yoga. Some yoga retreats focus on just one style while others will offer the opportunity to try multiple styles so choose a retreat that offers your favorite yoga styles.
Location – The best retreats are set in beautiful locations surrounded by natural beauty. Check the location of the retreat centre to ensure it's in a peaceful area and close to things that you want to enjoy like the beach, hiking trails or local restaurants. If it's out of town check it see if the retreat centre offers transfers or there is public transport available if you want to explore the town. If you simply want to relax in nature maybe avoid a retreat thats located in town near the bars and nightlife.
Accommodation, Meals and Facilities – Retreat centres vary enormously in terms of accommodation, meals and facilities so make sure you find somewhere that meets your requirements. Luxury surf and yoga retreats will usually include private accommodation and meals and offer access to facilities like a swimming pool and spa. Whereas many budget surf and yoga retreats in Ericeira are self catering and you may be sharing a room or dormitory in a sociable and fun surf hostel environment. Decide which is best for you.
The type of food served is another important factor to consider, most surf camps and yoga retreats serve healthy, organic food, but some only offer vegetarian or vegan food and may not serve alcohol so check that the food meets your requirements. If you opt for a self catering retreat check that there is access to a kitchen and supermarket or local restaurants nearby.
Other Activities – In addition to daily yoga and surf lessons many retreat centres also offer the chance to try other exciting activities like hiking or guided walks, meditation sessions, spa treatments, horseback riding, cooking classes or excursions to nearby attractions.
Cost – Making the most of your money is another important factor to consider. You can find some amazingly affordable surf camps and yoga retreats nowadays but always check what's included. Cheap retreats may not include meals and require an extra payment for spa treatments, additional activities and airport transfers so you might find an all inclusive retreat is better value for money and offers a better experience.
Reviews – It's vital to check real reviews from previous guests so that you can get a better idea of what the retreat is really like. Reviews on a retreats website or social media pages might not tell the whole story so check reviews on an unbiased website like bookyogaretreats or bookretreats before you book.
Read this article for more tips on how to choose a yoga retreat for more tips. You might also find our yoga retreat packing list useful.
Final Thoughts on Surf and Yoga Retreats in Ericeira
Ericeira is the perfect place for a surf and yoga retreat in Portugal and is the perfect holiday if you want to combine relaxation and adventure where you can connect with nature and yourself simultaneously.
If you're having difficulty deciding, our favorite surf and yoga retreat in Ericeira is Salty Pelican which combines personalised surf lessons with yogic practices to nurture your mental, physical, and spiritual needs while living coastal life at its best with luxury accommodation and delicious, healthy, buffet breakfasts.
The location allows you to enjoy the charming seaside town vibes of Ericeira as you revitalize your mind, body and soul with the powerful combination of surfing, yoga, sunshine and like minded people. This retreat is super popular though, so book your spot today to avoid disappointment and get ready fall in love with one of Europe's hidden gems!
If you love yoga and surfing and tropical vibes then check out our article on the best surf and yoga retreats in Bali too!
* This post may contain affiliate links. When you make a purchase through links on our site we may make a small commission, at no additional cost to you. We only recommend products that we love and genuinely use ourselves. All prices stated are correct on the date of publishing, but can be subject to change.
© loveyogalovetravel.com 2022-2023. Unauthorized use and/or duplication of this material without express and written permission from this site's author and/or owner is strictly prohibited. Excerpts and links may be used, provided that full and clear credit is given to loveyogalovetravel.com with appropriate and specific direction to the original content.