Our Guide to Yoga Teacher Training in Bali for 2023
Unless you've been living under a rock for the past few years, you likely know that Bali, Indonesia, has become one of the very best wellness and yoga travel destinations in the world.
This beautiful and deeply spiritual island is also known as 'the Island of the Gods' and practicing yoga in Bali has become a dream for many yogis. The unique culture, spirituality, scenery and stunning yoga retreat centres have made Bali one of the leading destinations for yoga teacher training in the world.
Bali is one of my all time favorite places but there is an almost overwhelming number of options when it comes to Bali yoga teacher training courses – that's why we wrote this guide.
Whether you are considering becoming a yoga teacher, or just want to be immersed in the spiritual atmosphere of this magical island and deepen your practice, I hope you find this guide to yoga teacher training in Bali helpful.
Read on to find out why Bali is so popular for yoga teacher training (YTT), how to choose the right YTT program for you and my top five Bali yoga teacher training programs.
Pin this image!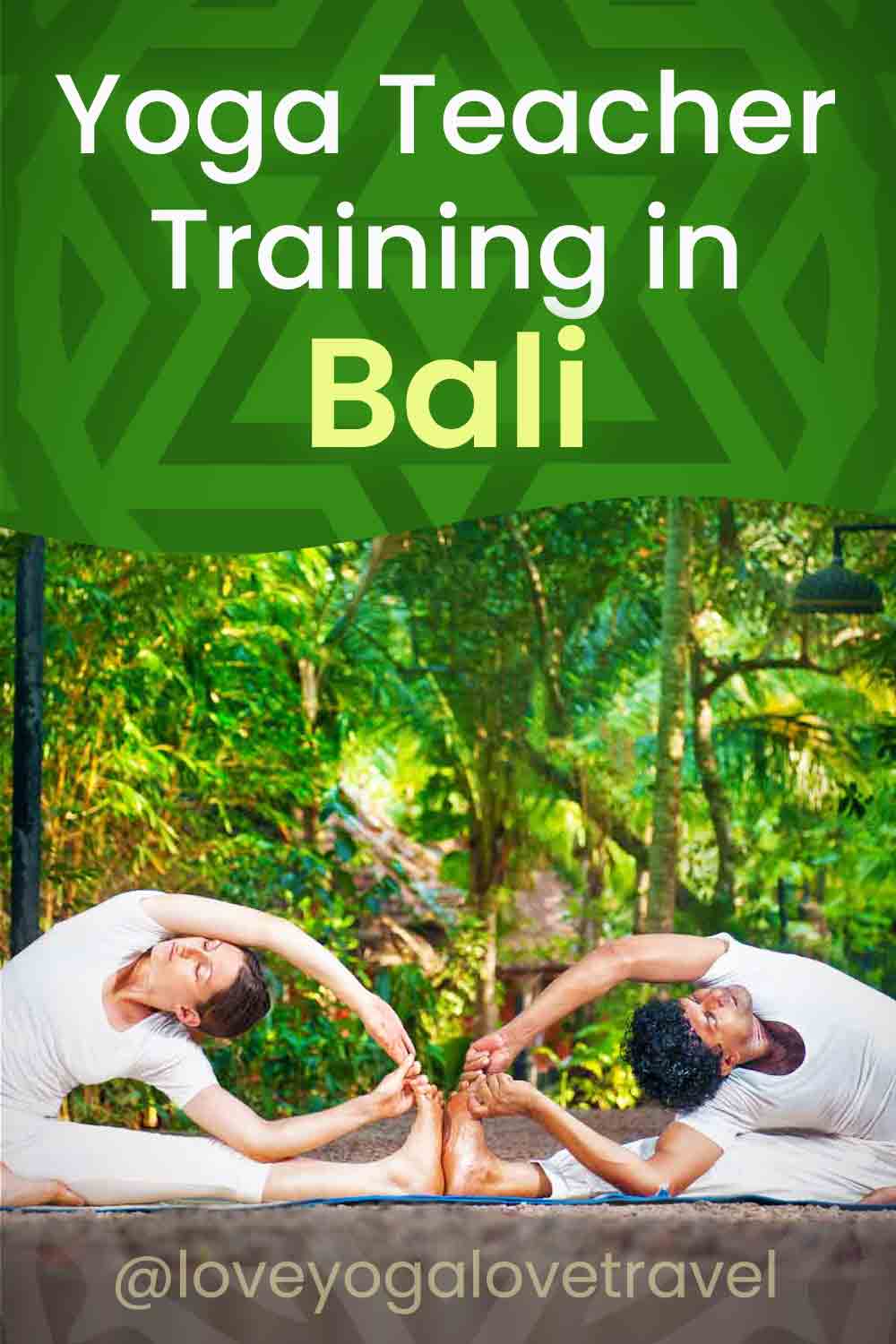 Reasons to do A Bali yoga teacher training Program
In recent years the number of options for yoga teacher trainings in Bali has skyrocketed. There are many reasons why this Indonesian island has become a hub for aspiring yoga teachers, such as:
A peaceful nature-rich environment – The nature in Bali is nothing less than breath-taking. From lush jungle to picturesque rice paddies to tropical beaches, Bali's scenery is reason enough to do a YTT here.
Aligned culture – Unlike other Indonesian islands, the locals in Bali are mainly Hindu. Thus, the spirituality and philosophy here are very similar to India, where yoga originates. Bali is known as 'the island of the gods' due to its deep spiritual culture and many temples.
A wide array of wellness offerings – From Balinese massage spas to Ayurvedic centres, Bali is a well-established wellness hub with so many yoga schools that will help you cultivate a healthier and more conscious lifestyle.
Chilled vibes – Lastly, Bali's relaxed atmosphere and easygoing locals are key reasons why yogis, digital nomads, and tourists flock here (and struggle to leave!).
Best places to do yoga training in Bali
While Bali is full of beautiful nature, some areas are better for a yoga retreat or TTC than others. For example, I would avoid Kuta and Seminyak as these are the "party towns" and, thus, are not the vibe you want when training to become a yoga teacher.
Instead, I recommend choosing either Ubud or Canguu for your YTT
Ubud – This is undoubtedly Bali's "yoga hub" and is where you'll find the most yoga schools, such as the world-renowned Yoga Barn. Here you will find some of Asia's best healthy food and vegan restaurants and cafes. The popularity of this area exploded after featuring in the 2017 movie, 'Eat, Pray, Love.'
Canggu – This chilled surf resort village on the south coast has a hip vibe and is full of yogis, surfers, foodies and digital nomads. It's a top destination for surf and yoga retreats and the best choice if you want to do yoga teacher training in Bali by the beach and enjoy magical sunsets.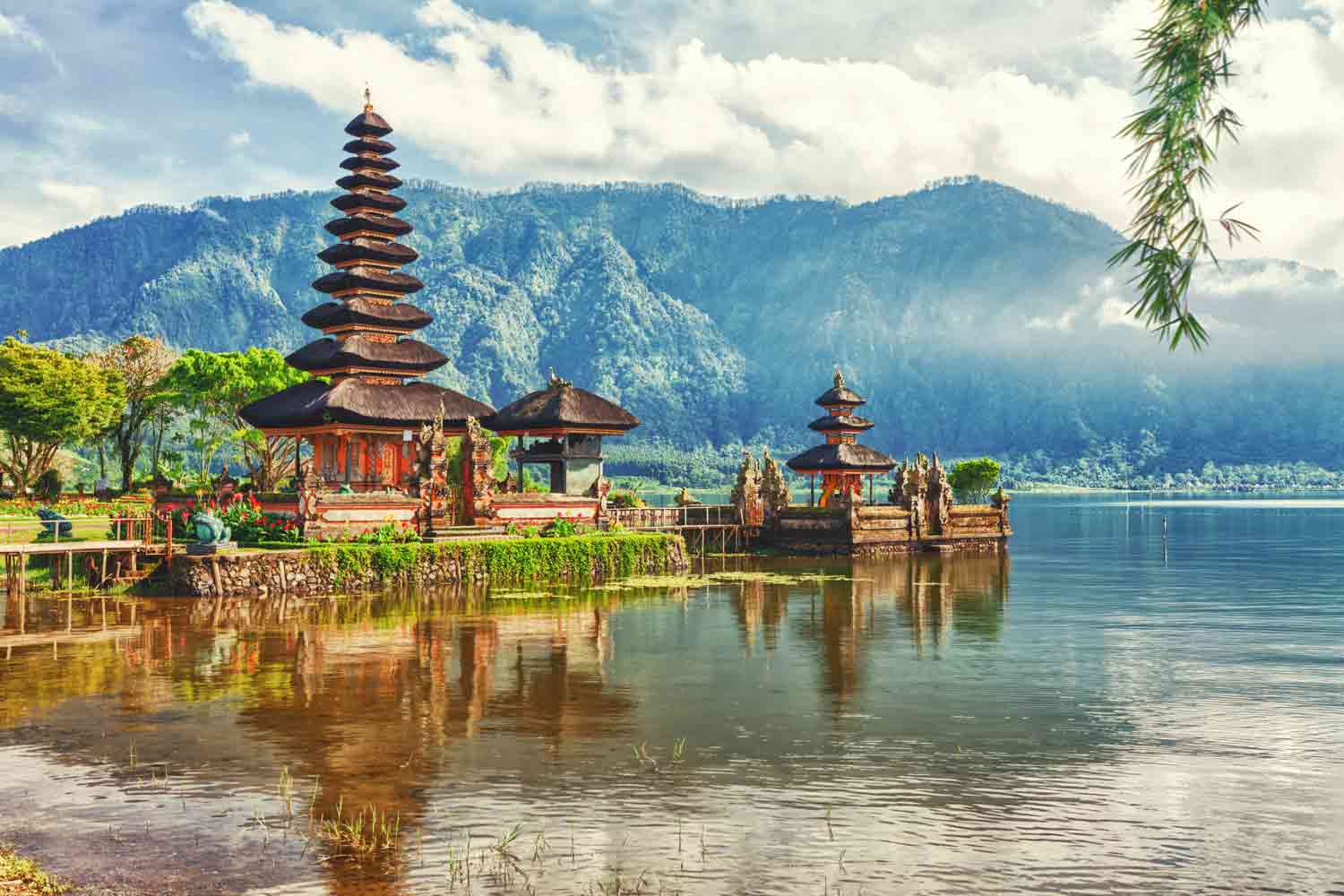 The 5 Best Yoga Teacher Training Courses in Bali
The huge amount of yoga teacher training programs in Bali makes it overwhelming to pick just one. To make it a bit easier for you to choose, here are my top five picks for gaining your 200-hours certification.
All of these are approved by Yoga Alliance and teach not only the asanas or physical practice of yoga, but also dive deep into yoga philosophy, anatomy and physiology and teaching methodology.
These courses also provide practice teaching yoga so that you'll feel confident and ready to teach as a certified yoga instructor by the end.
Best 200 Hour Multi Style YTT in Bali – Ulu Yoga
If you love all yoga styles and want to keep your options open, the multi-style yoga teacher training at Ulu Yoga School is ideal. It's also shorter than other training courses in Bali, lasting just 21 days.
Highlights:
Learn how to teach Hatha and Vinyasa yoga
Practice Yin, aerial and acro yoga.
Daily workshops covering various subjects like teaching methodology, anatomy, alignment and adjustments, and prenatal yoga
There are four accommodation options for this 200-hour yoga teacher training, including a 4-star boutique resort with an ocean-view infinity pool or a low-cost homestay making this program suitable for all budgets.
Best Yoga Teacher Training in Ubud – YogaUnion
If you want to stay in the centre of all things yoga and wellness, this 23-day 200 hour vinyasa yoga teacher training in Ubud, Bali, is for you.
Highlights:
Become a Yoga Alliance-certified Vinyasa yoga teacher
Enjoy a broad training program (yoga philosophy, alignment, adjustment, and more)
Master advanced poses with asana clinics for handstands, back-bends, inversions, and hip openers.
On this YTT, you'll stay at a blissful homestay surrounded by rice fields and overlooking the jungle in Ubud. All (vegetarian) meals are included and served in a sociable buffet style.
Peaceful Warrior's 27-day Bali yoga teacher training is set in a modern yoga school ashram in a nature-rich area of Canggu.
Highlights:
Daily Hatha Vinyasa Flow yoga classes
Daily workshops/lectures on various topics, from alignment to yoga marketing.
A Balinese massage and guided surf lesson
While this 200 hour YTT is focused on Vinyasa/Ashtanga style, you'll explore various other types of yoga, such as AcroYoga, FlyHigh, Budokon, Yin yoga, and Yoga Nidra.
Best Affordable Yoga Teacher Training in Bali – 7 Chakras Yoga School
The 7 Chakras yoga school in Ubud offers a 200 hour YTT over 24 days with various accommodation packages appealing to all budgets, including those who want to keep costs low.
Highlights:
Three daily asana classes (Ashtanga, Hatha and Vinyasa yoga)
Morning yogic cleansing and evening mantra chanting
3 vegetarian meals per day
Note that the training days at 7 Chakras yoga school are very long, beginning at 5am and ending at 9pm. Thus, while it is the most affordable Bali yoga teacher training course and bound to be a life changing experience, it is also one of the most intense.
If you're looking for the most in-depth YTT in Bali or have already done a 200-hour course and want to further your studies with the 300 hour program, check out the World Peace Yoga School, a famous yoga school from Rishikesh in India who also offer trainings in Bali.
Highlights:
Learn how to teach traditional Hatha yoga and modern vinyasa flow.
Discover advanced pranayamas.
Try different meditation styles.
In this course, you'll study with three highly experienced yoga teachers. You'll stay directly onsite, where three vegetarian buffet-style meals are prepared each day.
You'll need to have completed your 200 hour certification to be eligible to join the 300 hour yoga training. If you haven't, you can combine their 200 hour with this 300-hour Yoga Alliance training program to become a 500-hour yoga teacher!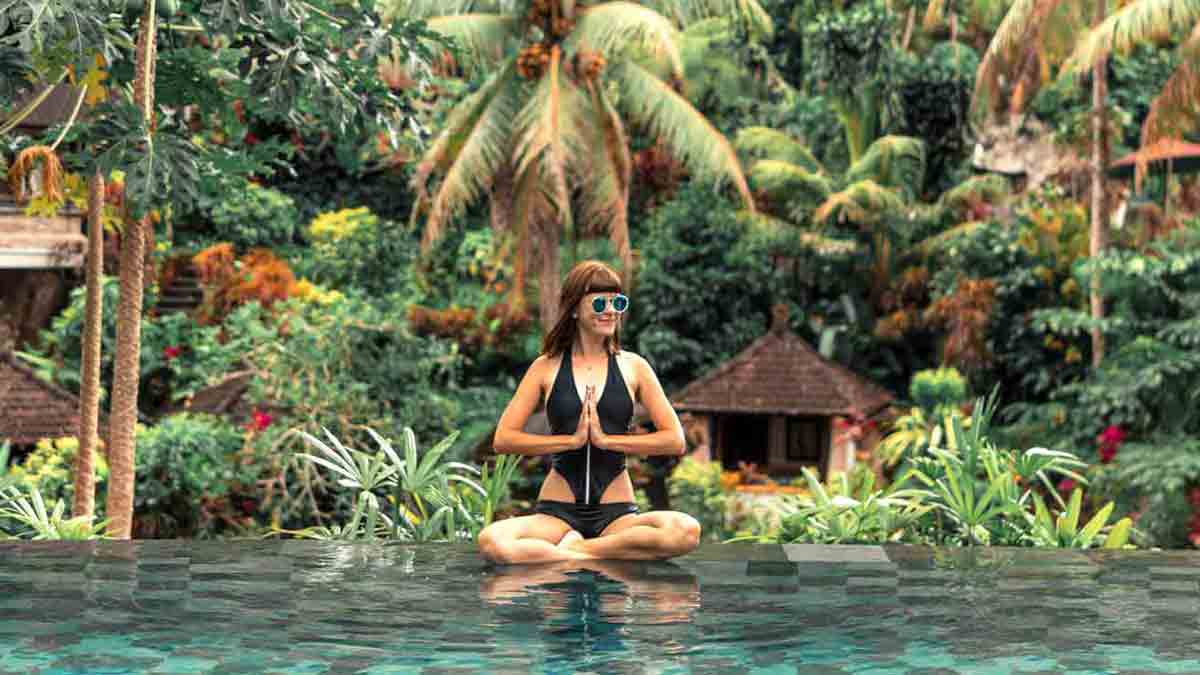 Tips for Planning your Yoga Teacher Training in Bali
When deciding which Bali yoga teacher training program suits you best, check reviews on trusted sites such as BookYogaRetreats. Also, make sure they are a Yoga Alliance-registered yoga school.
Once you've booked your YTT, it's time to plan your trip. There is only one international airport in Bali, Ngurah Rai airport (DPS) also known as Denpasar airport.
You will fly into Denpasar in the south of the island, and from here, you'll need to get a taxi or pre-arranged transport to the school – check with your YTT organisers to see if they can arrange airport pickup.
The rainy season in Bali is between November and March. Although you'll be too busy studying for your yoga certification to sunbathe, I recommend avoiding this time. Not only can the constant rain get annoying, but the weather brings an influx of mosquitos, and all watersports are a no-go.
Instead, I suggest visiting during April till October when the weather is sunny and dry. However, expect flights to be more expensive during these months as it is Bali's high season.
Lastly, as with anywhere in the world, having comprehensive travel insurance is a must. If you plan to stay in Bali after your course ends, ensure your insurance covers any activities you may do, along with flight delays and Covid-19-related cancellations.
I hope this article has helped you choose the perfect yoga teacher training course in Bali for you. If you need more inspiration and tips check out our other articles of YTT's in Thailand, India, the USA, Costa Rica and Europe for more magical experiences.
* This post may contain affiliate links. When you make a purchase through links on our site we may make a small commission, at no additional cost to you. We only recommend products that we love and genuinely use ourselves. All prices stated are correct on the date of publishing, but can be subject to change.
© loveyogalovetravel.com 2022-2023. Unauthorized use and/or duplication of this material without express and written permission from this site's author and/or owner is strictly prohibited. Excerpts and links may be used, provided that full and clear credit is given to loveyogalovetravel.com with appropriate and specific direction to the original content.