25 Perfect Books To Read on a Yoga Retreat in 2023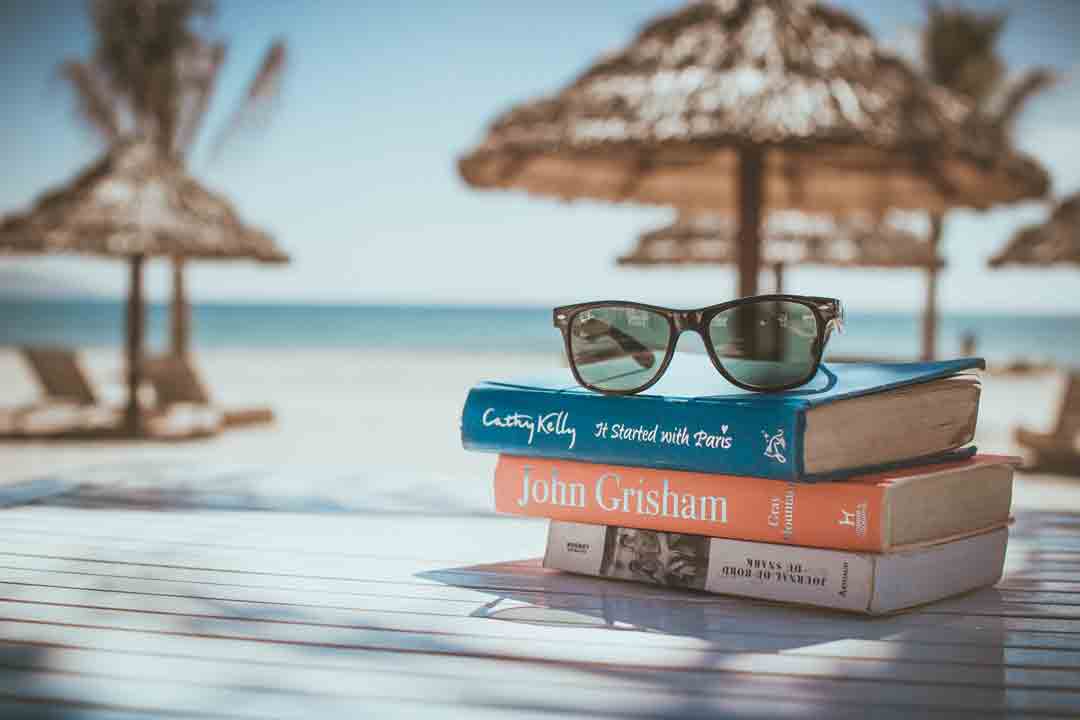 Books, like yoga retreats, can be life changing and a yoga vacation is the perfect time to settle down with a good read or learn more about yoga.
So if you are getting ready for a yoga retreat holiday then you should definitely include a couple of good books on your yoga retreat packing list. If you need a little inspiration here are my recommendations for the best books to read on a yoga retreat.
So, What Are The Best Books To Take on a Yoga Retreat?
There's a diverse range of different types of retreats so the best books to take on a yoga retreat will depend on many factors, such as the type of retreat you are attending, the destination and of course your own personal preferences.
Whether you're new to yoga and meditation, or have been cultivating a practice for years, having some inspiring reading material can be an essential part of your yoga retreat experience.  
A yoga retreat is a great chance to deepen your practice so I'd recommend taking a theoretical yoga book that explains the rich and unique philosophy that underpins the ancient practice to help you learn more about yoga, both on and off the mat. These yoga books are essential reads if you are going on a yoga teacher training retreat.
Retreats are also a time to relax so don't forget to also bring some fictional books to loose yourself in a good story while relaxing by the pool or on the beach or gently swinging in a hammock coconut in hand.
Whether you enjoy uplifting stories about self-discovery through yoga and travel, or simply something light-hearted, humorous and entertaining that will put a smile on your face — here's a selection of books that are ideal for reading on a yoga holiday.  
*As Amazon Associates we may earn a commission from qualifying purchases made through links on this website, at no extra cost to you.
The Best Books To Read On A Yoga Retreat
So get cozy with a cup of chai (or smoothie!) and settle down as we explore some brilliant reads to take on your upcoming yoga retreat!
Don't forget that you can also download many of these to a Kindle or e-Reader to save space in your luggage!
Yoga Books to Enhance your Practice
A yoga retreat is the perfect time to learn more about yoga both on and off the mat. Whether you want to learn about the history of yoga, dive deeper into the spiritual aspects of yoga philosophy or just get an understanding of the chakras, now is the perfect time.
These top yoga books will help you learn more about the rich and multi faceted discipline and are perfect for taking on a yoga retreat. If you want to go deeper into yoga theory you might also want to check out our recommendations for books to read for aspiring yoga teachers too. They can be really helpful even if you just want to learn more for yourself and don't plan to teach.
You'll probably hear a lot about chakras in your yoga classes. If you are confused and need it explaining simply or want to bring harmony into your life by balancing your chakras, this slim volume will help you get started.
The Little Book of Chakras gives an overview of the seven major chakras and their functions. You will learn which crystals, essential oils, yoga postures and mantras work best to try and open, release and balance their energy.
Buy "Little Book Of Chakras" on Amazon
If you've wanted to understand why yoga is so much more than just doing the asanas or physical exercises, then this book is for you.
The Truth of Yoga covers the many elements of yoga in an accessible and easy to read way so that you get a good idea of the history and philosophy of yoga and how it relates to the modern world.
Often recommended for trainee yoga teachers but will enhance anyone's practice and an ideal book to take on a yoga retreat for those who want to deepen their yoga knowledge.
Buy "The Truth Of Yoga" on Amazon
Paramahansa Yogananda was an Indian Hindu monk, yogi and guru who introduced millions to yoga and meditation and was influential in spreading yoga to America and the rest of the world.
The Autobiography of a Yogi is a hefty volume that covers Paramahansa Yogananda's life and spiritual development. This book introduced yoga and meditation to the West and Steve Jobs claimed it influenced his life and success. Your yoga retreat might just provide you with the inspiration to tackle this!
Buy "Autobiography Of A Yogi" on Amazon
Best Books about Yoga and Travel
Travel can open us up to different cultures and new ways of living that can be truly lifechanging. No matter whether you are traveling to somewhere exotic for your yoga vacation or staying closer to home, these books about the transformational effect of yoga and travel are enjoyable and inspirational reads perfect for a yoga retreat.
This influential book, and popular movie, based on a true story has become a modern classic for women wanting to change their lives and helped to create a boom in the Bali yoga scene.
Following her divorce the author, Elizabeth Gilbert, travels to Italy, India and Bali on a yearlong journey of self-discovery looking for inspiration, love and fulfilment. If you haven't read Eat, Pray, Love yet, perhaps now is the time!
Buy "Eat, Pray, Love" on Amazon
Are you wondering what happened to women after reading Eat, Pray, Love? This book tells you some real life stories – some funny, some inspiring of how the famous novel inspired women to change their own lives. Easy to read, short stories to dip into when you have a moment to spare by the pool.
Buy "Eat Pray Love Made Me Do It" on Amazon
Part travel, part yoga, part memoir, this is Lucy Edge's amusing account of how she escaped a corporate Western lifestyle aspiring to become a yoga goddess and live a more serene meaningful life. Did she manage it? You'll have to read it to find out!
This light-hearted true story is a must read if you have ever contemplated traveling to India to learn yoga from the source and perfect for your yoga retreat reading list.
Buy "Yoga School Drop Out" on Amazon
Another entertaining travel and yoga memoir. Full of aspirations to find spiritual awakening through yoga in Bali, the author gives a hilarious account of some of the extremes of yoga culture. Be warned – it might make you want to book your ticket to Bali but it's ideal for reading on a yoga retreat in Bali!
Books to Get You Thinking
A yoga retreat is the ideal time to slow down, contemplate and reflect on your life. These books all contain an interesting message and will get you thinking. Sometimes a change of perspective or new insights can lead to a big change in your life.
The Five People You Meet in Heaven is an uplifting book about the meaning and value of life and the way even simple interactions can affect us and others. As you read, you'll have the chance to imagine your own life's purpose and the lives you've touched along the way.
Buy "Five People You Meet In Heaven" on Amazon
The Midnight Library is a "closing doors" style storyline that covers the many different ways our lives could go when we make different decisions. Which one is best? Or do they all have their benefits and drawbacks? Great to read if you feel like you are at a turning point in your life.
Buy "The Midnight Library" on Amazon
Most of Paulo Coelho's books are great for reading on a yoga retreat. The Alchemist is perhaps his most famous. It's a classic novel about a shepherd boy who follows his dreams and finds contentment. The key message is about how you can be true to yourself and find your own path.
This book became an instant best seller when it was released in the 1970s. Zen and The Art of Motorcycle Maintenance is a philosophical tale of travelling across America looking for a better way to live. It has its fans and detractors. Which side will you take?
Buy "Zen And The Art Of Motorcycle Maintenance" on Amazon
Books About Meditation and Mindfulness
Meditation and mindfulness are key aspects of the yoga experience. Whether you want to enhance your meditation practice or learn more about Buddhist philosophy these books are great to take on a yoga retreat.
The Dali Lama's Art of Happiness is one of the most popular books about Buddhism and mindfulness. Written with American psychiatrist Dr Howard Cutler, this book explores many aspects of daily life from a Buddhist perspective. If you have ever wondered how to live a calmer, less complicated life then this book is worth a try and a great choice to read on a yoga retreat.
Buy "Art Of Happiness" on Amazon
Things You Only See When You Slow Down is a great example of Buddhist philosophy for the modern age. This text is accompanied by some lovely illustrations and inspirational quotes. A great little book to dip into during your yoga retreat and help you slow down to accompany your mediation practice.
Buy "Things You Only See When You Slow Down" on Amazon
Björn Natthiko Lindeblad, a former Buddhist monk, shares his advice on how to face uncertainty and doubt in your life. Written in the form of short stories, it helps us to come to terms with things we can control and how to let go of those we can't.
Buy "I May Be Wrong" on Amazon
Fiction Books with a Yoga Setting
If you just want to relax and be entertained by a good story while on your yoga retreat, or maybe you want to escape while you wait for your next yoga getaway, these books are all easy fictional reads with a yoga setting.
Five women meet weekly at their yoga class and become firm friends sharing their lives, loves, hopes and problems. What will happen when the studio closes? Perhaps you can recognise yourself here!
Buy "Tales From The Yoga Studio" on Amazon
Addictive fictional story, that was also recently made into a TV series, about nine people at a wellness retreat and the strange events that occur there. Let's hope your retreat doesn't turn out like this!
Buy "Nine Perfect Strangers" on Amazon
Set in Devon, England, The Retreat is another compelling story about what might go wrong on a yoga retreat! Hopefully you can put this down long enough to get back to your downward dogs!
Fictionalising her experience from Yoga School Drop Out, the author gives us a light hearted, humorous story reflecting on many of the yoga characters you might have met yourself. There's also some more in-depth thoughts too about what yoga is really about. The perfect easy read for your retreat.
Buy "Down Dog Billionaire" on Amazon
Books to Empower You
A yoga retreat is also a great time to take time for yourself and invest in self care. These books are an inspirational additional to your yoga retreat reading list that will leave you feeling empowered.
Psychiatrist and women's mental health specialist Dr Lakshmin, offers a real insight into how to practice self-care. Instead of being persuaded by the latest product or service that promises "a cure", she talks about how women can become in control of their lives by making choices that align with their own values and treating themselves with compassion.
Buy "Real Self Care" on Amazon
This book tells the remarkable story of Indra Devi, a woman who helped bring Hatha yoga to the world. It covers a huge historical landscape as it covers her life from Russia, Mexico, Germany and India.
Buy "The Goddess Pose" on Amazon
This book has stayed with me forever! A bird that wants to be special and who is determined to stand out from the flock.
Buy "Jonathan Livingston Seagull" on Amazon
While you probably won't be bumping into many penguins on your retreat, this short book will touch your heart. The Penguin Lessons tells the story of a man who rescued a penguin on his South American journey and the life lessons he learnt.
Buy "The Penguin Lessons" on Amazon
Books about the Power of Walking
Like Yoga, walking, trekking or hiking is so beneficial for body, mind and soul. Even if your retreat doesn't include hiking or trekking you can escape into these books and maybe next time you'll be booking a yoga and hiking retreat instead!
This true story is about how a life changing event can make you re-evaluate your life. The author and her partner walk 630 miles around the South West coast path facing both challenges and life affirming meetings.
Wanderers is a collection of the stories of ten women covering over 300 years. This book tells you about their love of the outdoors and the transformative affect they've found through walking. A great book to read whether you already you love walking – or need to be persuaded!
Set in the US, Wild is another story of how a woman took to her feet to make sense of life and find solace by walking 11,000 miles of the west coast of America alone. This uplifting and inspirational tale of courage and self discovery became an international bestseller and a film starring Reece Witherspoon.
I hope you've enjoyed my recommendations for the best books to read on a yoga retreat. Whether you're searching for something to learn more about yoga and meditation, an inspirational memoir about the transformational power of yoga and travel, or simply want an entertaining novel to relax with in a hammock, I hope you've found the perfect book to accompany you on your next retreat!
* This post may contain affiliate links. When you make a purchase through links on our site we may make a small commission, at no additional cost to you. We only recommend products that we love and genuinely use ourselves. All prices stated are correct on the date of publishing, but can be subject to change.
© loveyogalovetravel.com 2022-2023. Unauthorized use and/or duplication of this material without express and written permission from this site's author and/or owner is strictly prohibited. Excerpts and links may be used, provided that full and clear credit is given to loveyogalovetravel.com with appropriate and specific direction to the original content.